I'll be honest: I have always wanted a ute. When it was time to buy a new 4WD a few years ago, I had my eye firmly on the D-MAX. However, with a young family, the seven-seat MU-X made more sense and I have been very pleased with this decision.
In the meantime, Isuzu has overhauled the D-MAX since 2018, when I nearly bought one. A revised turbo-diesel engine and transmission, along with a suite of electronic safety features, were among the key changes.
This year, Isuzu UTE Australia (IUA) launched the LS-U+ variant. This model sits between the LS-U and the flagship X-TERRAIN and comes with a few extra features over and above what you'll find as standard in the LS-U. We've secured this vehicle for long-term testing and intend to use it to tow vans of all shapes and sizes over the next six months.
ENGINE AND TOWING
The updates to the D-MAX in 2020 represented the first time the vehicle had received major revisions since it was launched in Australia in October 2008. The new 3L 4JJ3-TCX engine produces 140kW at 3600rpm and a peak torque figure of 450Nm between 1600 and 2600rpm, a modest-but-useful 10kW/20Nm increase over the old engine, which was shared between the previous-generation D-MAX and MU-X.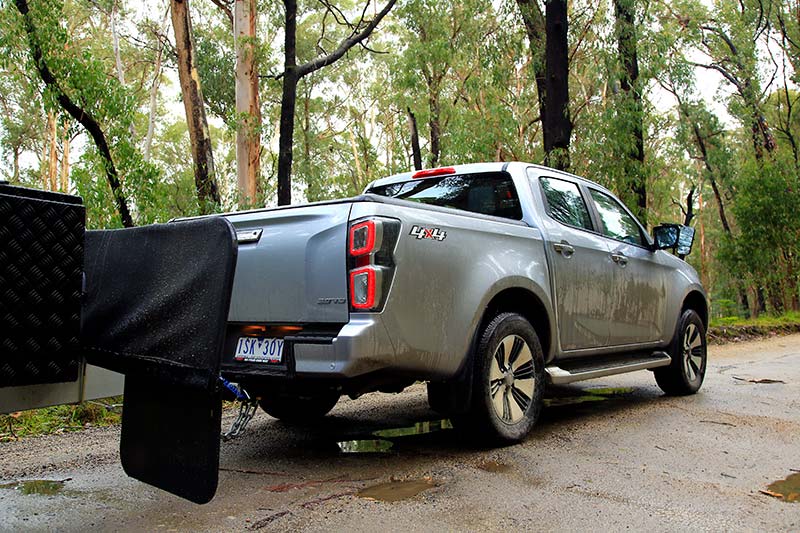 A healthy 300Nm of torque is available at 1000rpm, giving decent torque from a virtual standstill – ideal for starting up an incline and especially when towing a heavy van.
Goldstream RV loaned us a van for the day. Hitching it up presented no problems – the vehicle was fitted with the factory Isuzu towbar, which can support up to 350kg, along with a 12-pin trailer plug.
The van weighed about 2400kg and we subjected the vehicle to a mix of highway driving, wet gravel roads and, when unhitched, off-camber tracks. You know when people say that they could "hardly feel the van back there"? That was how I felt when lugging the Goldstream with the D-MAX.
When taking off from the lights, the LS-U+ D-MAX confidently got up to speed and had no difficulty keeping up with the steady flow of traffic. Of course, there's a bit of that dreaded turbo lag, which is to be expected, but it's only a moment before the turbo kicks in. The six-speed automatic (manual isn't available o this variant) shifts reasonably smoothly. There are no issues on that front – the transmission has a nice spread of ratios. The grade logic transmission means it will shift down when descending steep hills in order to utilise engine compression braking, or hold a lower gear when ascending a steep incline.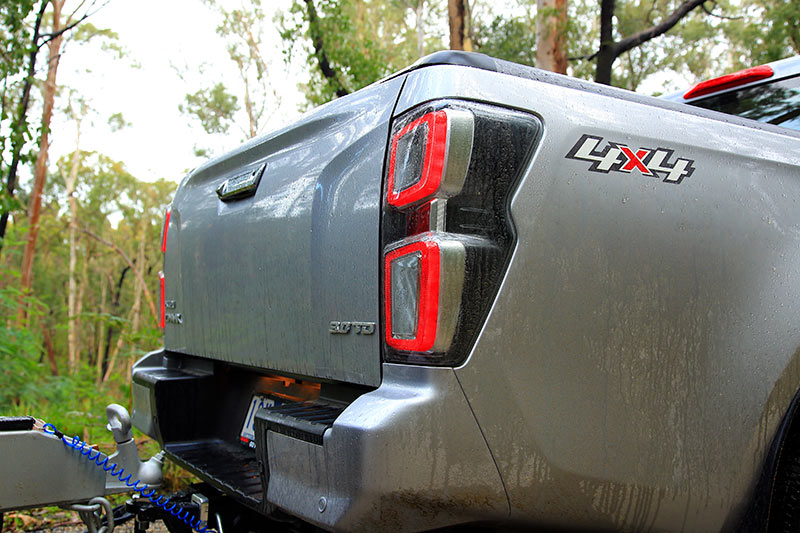 The overall ride quality was a surprise, particularly when (sensibly) ploughing unhitched through a few potholes and along ungraded gravel roads. For a vehicle designed for carrying significant loads, with stiff three-leaf rear suspension, the ride was unexpectedly supple. When hitched, with a small load sitting on the towbar, the suspension felt even more settled.
Isuzu has given the vehicle a new independent front suspension system with a higher spring rate, intended to improve composure and cornering stability. Overall, it felt stable and predictable.
WEIGHTS
The LS-U+ D-MAX comes with a 3500kg braked towing capacity, with 350kg allowed on the ball. The kerb (unladen) weight is 2112kg, which includes 76L of fuel, while the Gross Vehicle Mass (GVM) is 3100kg. This gives the vehicle a very decent payload capacity of 988kg.
As always, though, it's important to factor in the Gross Combination Mass (GCM). This vehicle is rated to 6000kg GCM. So, if you were to tow bang-on 3500kg worth of van (including the ball weight), the vehicle itself could be loaded to 2500kg – a payload allowance of 388kg. (This calculation is based on figures provided by Isuzu and includes the weight of the towbar, but doesn't account for other optional accessories you might add, which would have to be factored in as well.)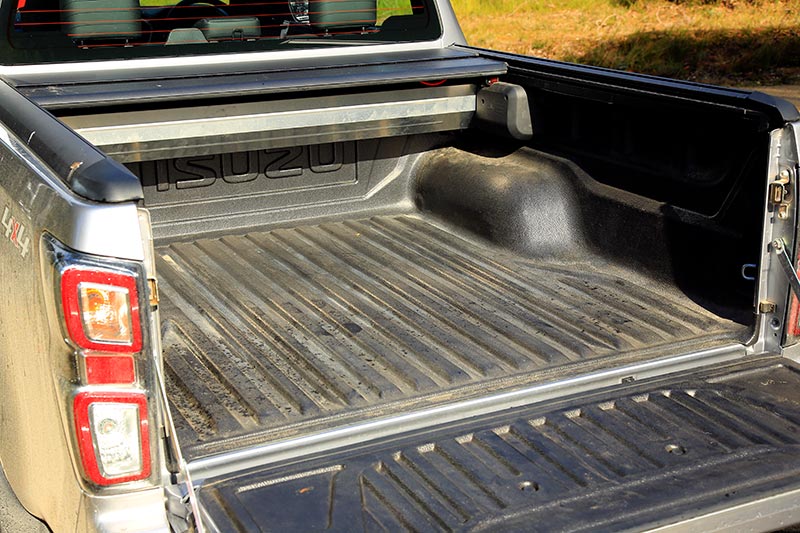 Depending on how you travel, the after-market accessories fitted, the number of passengers, etc., that doesn't seem too unreasonable. Of course, this equation also relies on the van being exactly 3500kg (including the ball weight), which is unlikely. Tow 3400kg instead, for example, and the payload allowance of the vehicle would increase to 488kg, and so on.
My apologies for the caveats, but there are always variables to consider when sorting out towing weights.
D-MAX INTERIOR
The interior of the LS-U+ is, well, in comparison to my 2018 MU-X… there is no comparison. It's night and day. Switching back to my MU-X after a couple days behind the wheel of the new D-MAX left me somewhat disappointed. When it was relaunched in 2020, IUA gave the D-MAX (and later on the MU-X) the interior it deserved.
The LS-U+ gets a premium black leather steering wheel and gear knob, black leather-accented upholstery and interior trims, variable heated front seats, power-adjustable driver's seat, dual zone climate control, rain-sensing windscreen wipers, push-button starting and much more. In terms of technology and comforts, it's truly now a 21st century vehicle. In this format, the commercial origins of the D-MAX are much less apparent.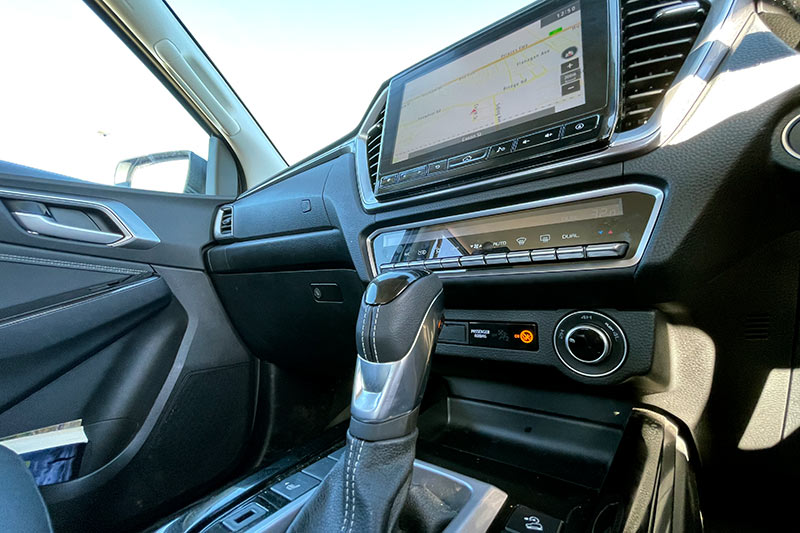 The 9in infotainment screen features Apple Car Play and is also Android-compatible – obviously it has satellite navigation and even voice recognition.
As part of the D-MAX's 2020 overhaul, it was given a suite of safety features collectively known as IDAS. Key among this system are Lane Keep Assist, Lane Departure Prevention and Autonomous Emergency Braking with Turn Assist. When I first tried this, a couple of years ago, I found these features slightly disconcerting – if the vehicle travelled too close to a lane marking, the wheel would 'tug' as the vehicle automatically repositioned itself. However, I quickly became used to it and it has become a welcome safety feature. It's worth noting that you can toggle these lane-keeping features off, if you prefer.
IDAS also includes Rear Cross Traffic Alert, Traffic Sign Recognition, Driver Attention Assist and a Blind Spot Monitor. I found these systems all worked as intended – and was rather impressed by Traffic Sign Recognition, which accurately and consistently 'noticed' revised speed limits in areas of road works.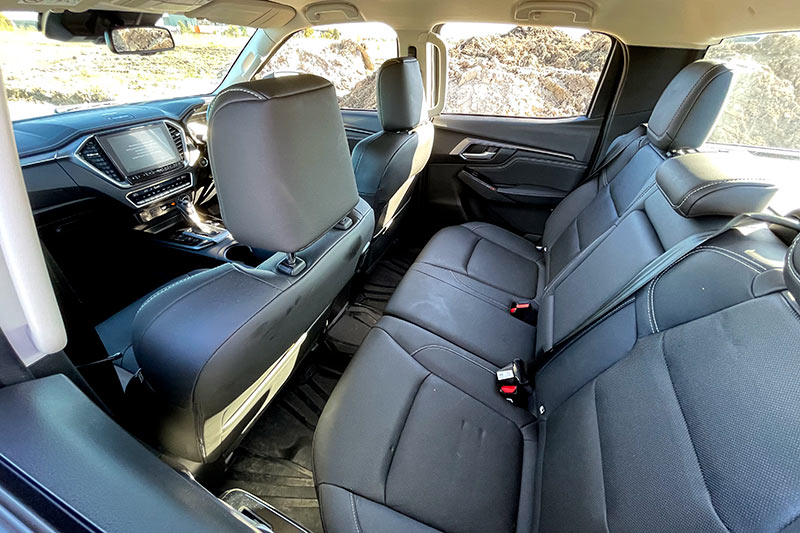 Externally, you've got rear parking sensors, LED fog lights, 18in alloy wheels, and one optional feature that I quite liked is the electric roller tonneau cover for the tub. Press a button on the supplied fob and the cover will open or close as required. Neat.
But what else does the LS-U+ get in comparison to the lower-spec LS-U? Among the features, there's a towbar receiver as standard, as well as a tub liner and an addition 100kg worth of GVM – particularly useful for caravanning.
A feature that should be of interest to vanners: the vehicle gets a 120A alternator to deliver ample power for appliances, such as a portable fridge.
SUMMING UP
As mentioned, we will be testing this vehicle with different, heavier vans over the coming months and will have more to say about its fuel-efficiency and performance as a heavy-duty tow vehicle. I can say right now, however, that when towing a mid-weight van, the D-MAX proved why it's been gaining so much traction among caravanners.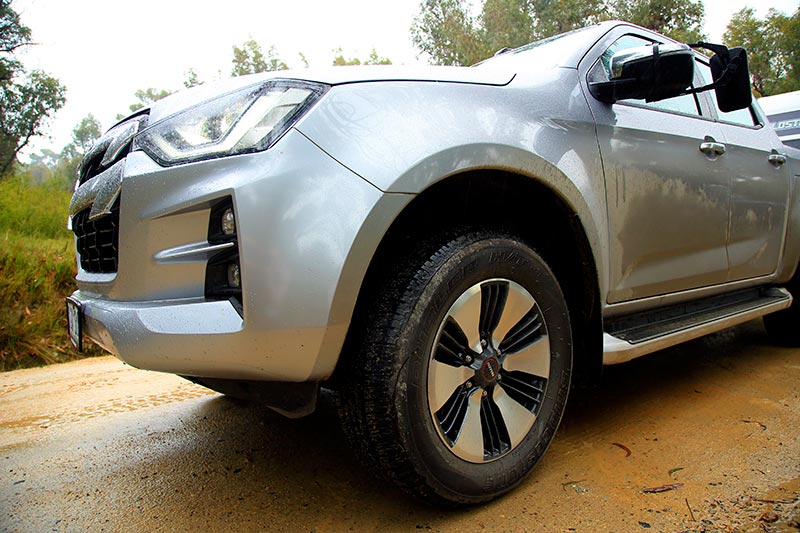 It mightn't offer the same power and torque outputs of some of its competitors, but when viewed as a complete package, the D-MAX is a very serious proposition.