Just a tad west of the Queensland capital, the Brisbane Valley is somewhat of a local secret. At its heart, Lake Wivenhoe is a huge lure that is sure to hook the attention of the most fervent adventurer. 
On a recent winter's day, the rolling hills that surround the mirror-like water of Wivenhoe didn't have me angling for a boating adventure. Instead, Lake Wivenhoe provided the perfect destination to check out a new Windsor Genesis 196RD built by Apollo RV.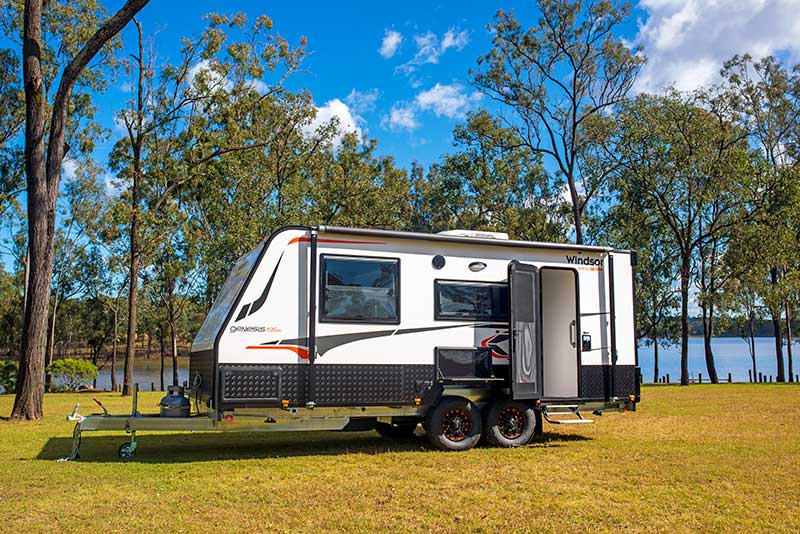 With almost 40 years in RV rental, manufacturing and sales, Apollo has a distinct RV pedigree. That meant, like Lake Wivenhoe, the Windsor Genesis offered a promise of something special. I was keen to see if this Genesis would be the first or last word in affordable caravanning adventures.
CREATING THE WINDSOR GENESIS
At first glance, the Windsor Genesis has a smart look, tidy and stylish. It has the look of a van that decades of experience have built.
First up, it has a sturdy hot-dipped-galvanised steel chassis with 150mm RHS drawbar and chassis rails. Add in the Al-Ko drum brakes and independent rubber suspension, the van starts to look like a very capable blacktop tourer.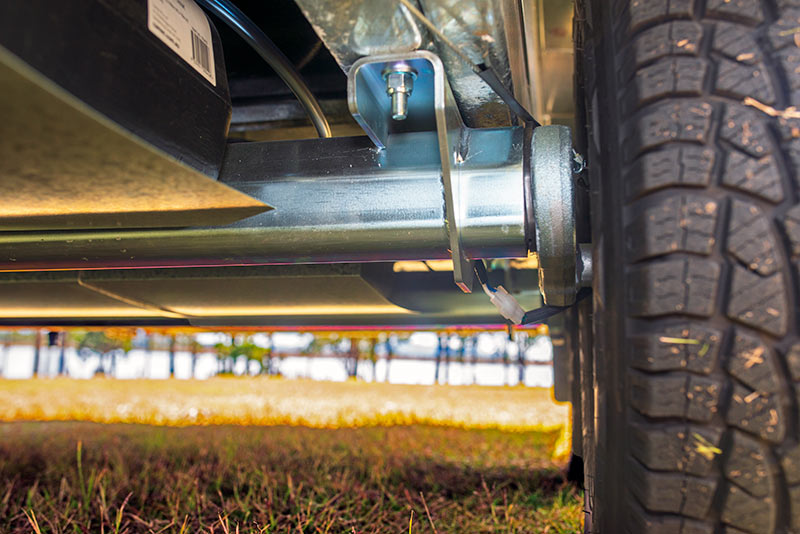 The IRS suspension certainly allowed the Genesis to trundle along behind our tow vehicle quite nicely on the highway and through the curves, twists, and turns en route to Wivenhoe.
The fibreglass sandwich panel construction of the van provide a quality, modern look, not to mention the strength and rigidity that comes with such construction. Its single-piece composite floor means you're not likely to take damage from underneath the van when rolling along a country lane somewhere. The Genesis has additional stone protection in the form of aluminium checkerplate on the front and sides.
If you were to crawl underneath, you would find two 82L water tanks that are very well protected. What's more, all the visible plumbing underneath the van was neatly placed out of harm's way.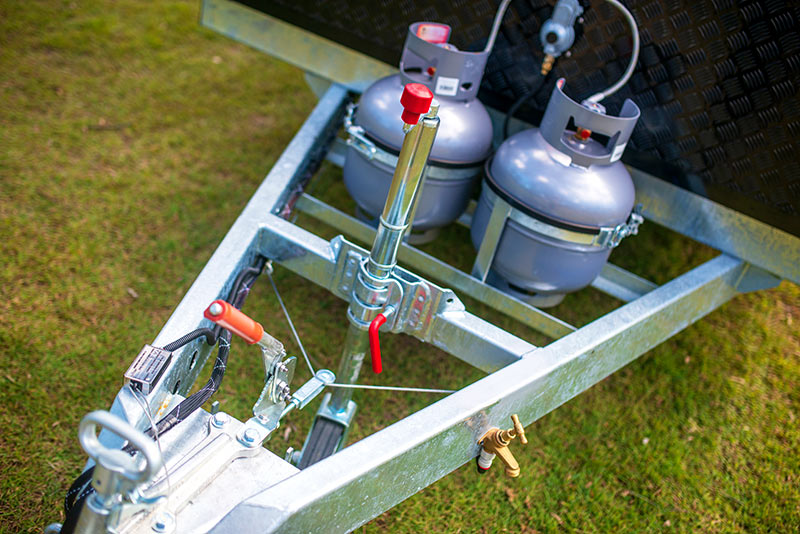 However, when it comes to stone protection, it would have been good to see a stoneguard on the A-frame and perhaps for the tap to be set further back behind a stoneguard of its own. Having said that, we're told future production models will be fitted with a stoneguard on the A-frame.
The all terrain tyres on 15in alloy rims make a practical and stylish combo. Tyre-wise, it was interesting to see that Apollo had craddled the spare tyre underneath the caravan, near the door. 
For those looking for a longer adventure, exterior storage is important. The Genesis has a good tunnel boot that is home to the awning winder and 120Ah deep cycle battery just inside the offside end of the tunnel boot. Although it uses a little bit of the available storage space, it is reasonably convenient.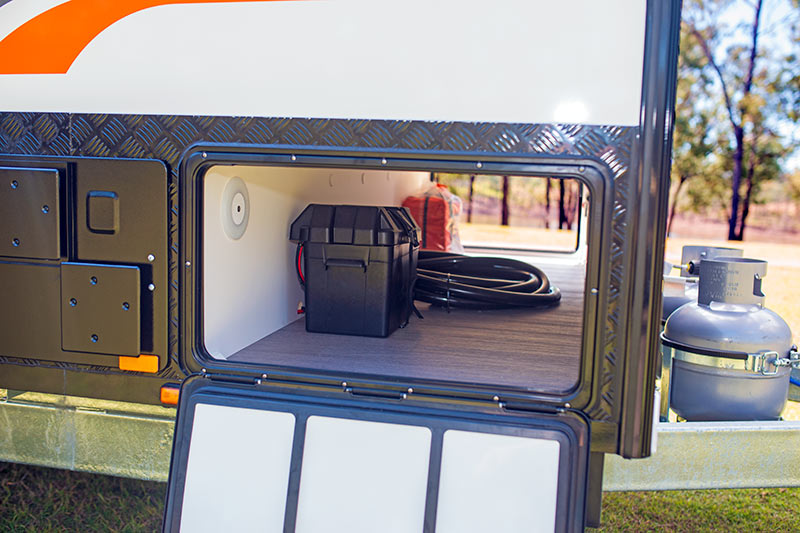 Talking about power, a single 190W solar panel and regular complement the electrical specs. This might be a bit on the light side for those that want to add aftermarket creature comforts down the track, but it's a good starting point. When it comes to convenience, there's also an external hot and cold shower.
Out the front, the drawbar boasts two gas cylinders in conventional holders and a standard 50mm ball coupling. While an articulated coupling like a Cruisemaster DO35 would have been nice, the traditional ball is more than fine for a blacktop touring van such as this. 
STEPPING INSIDE
The interior of our review caravan was very comfortable. Apollo had kept the colour palette reasonably neutral, providing the opportunity to jazz things up with your own decorative touches.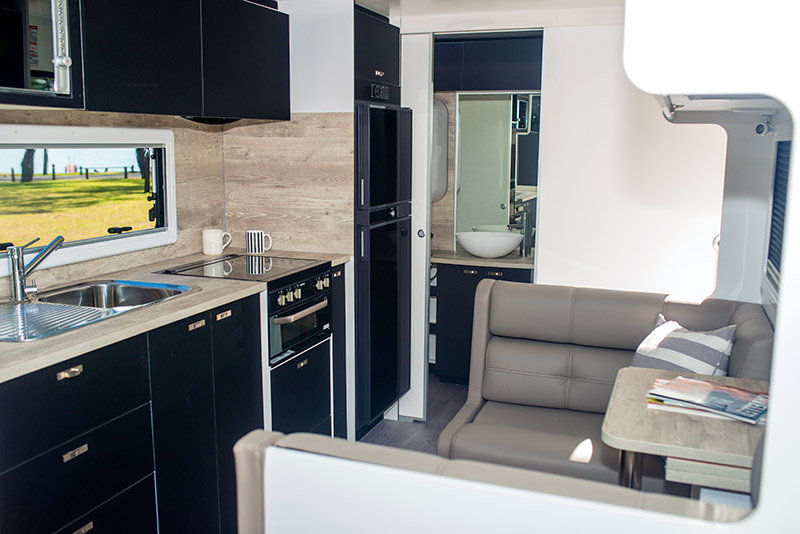 Double-glazed windows fitted with privacy screens and reverse-cycle air-conditioning are among the features. The kitchen is complete with a reasonable amount of bench space, a quality fridge, four-burner cooktop and griller, and even a microwave.
The kitchen also has convenient storage space in the form of deep drawers, an under-sink cupboard, a small pull-out pantry adjacent to the comfy leather-look dinette with fold-out table.
I felt that the dinette would have benefitted from the inclusion of flip-out footrests, but overall it was cosy, with the seating hitting that Goldilocks level – not too hard, not too soft – just right.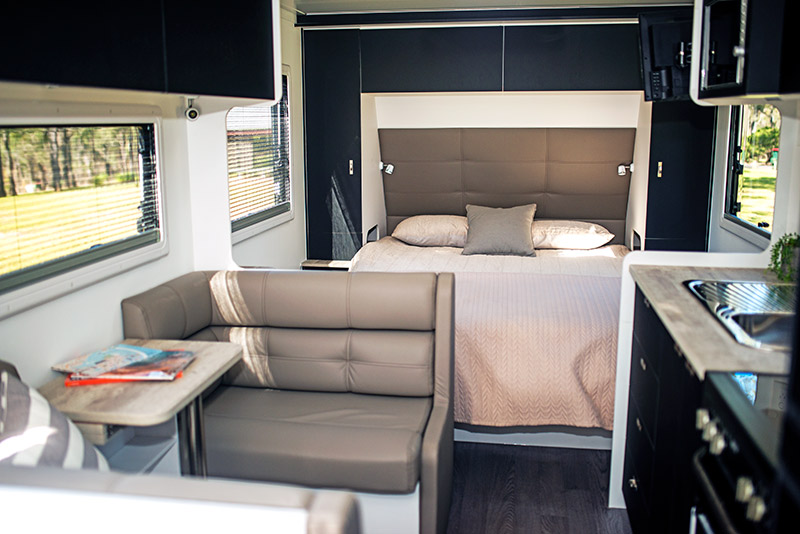 The bedroom, meanwhile, is complete with a comfortable queen-size bed, along with a flatscreen TV. A Fusion stereo system is also among the entertainment features. The bedroom has ample storage, including a decent amount of room for hanging up clothes in the bedside wardrobes, drawers, overhead lockers, and under-bed storage.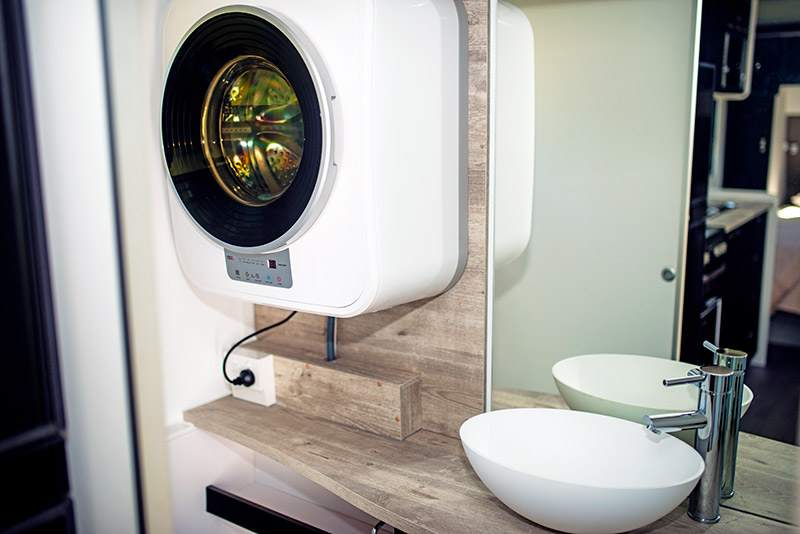 The ensuite comes complete with a wall-mounted front-loading washing machine beside the stylish vanity and shower. Although the shower is a bit tight for larger folk, it is vented with a roof hatch and extraction fan to remove the steam. The shower is obviously plumbed to the van's water supply, which includes a 20L hot water system.
GORV'S VERDICT
With a price-tag of $76,000 tow-away, the Windsor Genesis 196RD comes in around about par in a high-demand market.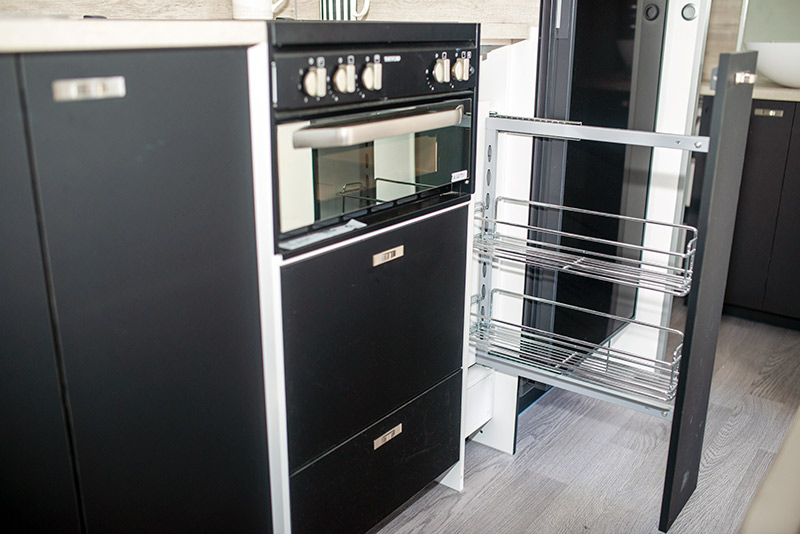 With enough space for two, a payload capacity of 470kg, ample storage for a weekend away or a much longer adventure, good suspension, sturdy construction, great towing characteristics and a quality Apollo build, it is worth including on your list of new-van contenders.
THE SCORE
FIT AND FINISH –

LAYOUT –

INNOVATION –

HITS & MISSES