The GoRV tow vehicle has been on its last legs for, well, a long time. The mighty red 80 Series that you might've seen within our pages had a great run, and I'll be sorry to sell the old girl. But it was  time to upgrade.
There were some crucial standards our new vehicle had to meet, though. First, budget. Until I figure out how to make money grow on trees, a Land Cruiser 200 or Discovery 4 was out of the question, and I didn't really want to buy a second-hand vehicle – again.
Second, towing capacity and performance. We tow vans of all shapes and sizes, though we estimated 80 per cent had an ATM of less than 3000kg. Did we really need a vehicle that could haul 3500kg?
Finally, family-friendliness. With three kids, two of whom remain in booster seats, a dual-cab ute was (though tempting) out of consideration. If you've ever tried cramming an 11-year-old between two booster seats in the back seat, you'll understand. So, third-row seating was important, too.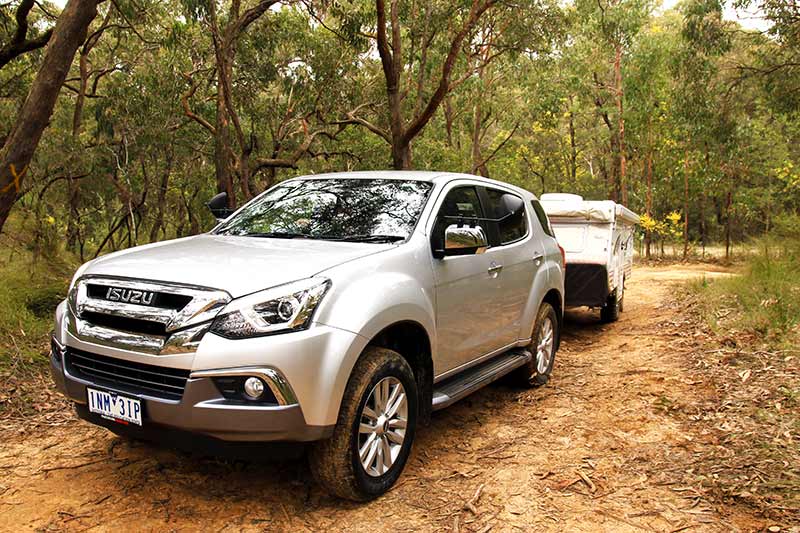 After weeks – or months – of pondering the situation, I settled on the Isuzu MU-X LS-U 4×4, with six-speed manual transmission. So far, I'm glad I did.
TOWING THE ISUZU MU-X
The Isuzu MU-X is built on the same platform as its stablemate, the D-Max, and shares the same 3L four-cylinder turbodiesel engine.
It's been on the market since 2013, and has undergone some revisions since, including to the engine, which can produce 130kW and 430Nm (up from 380Nm a few years ago).
Its performance as a tow vehicle is, so far, impressive. Its 3000kg towing capacity and 300kg towball download makes it a sensible, affordable option for most caravans on the market, including mid-sized family rigs and offroaders. The big beasts, with their 3500kg ATMs, put the MU-X out of contention.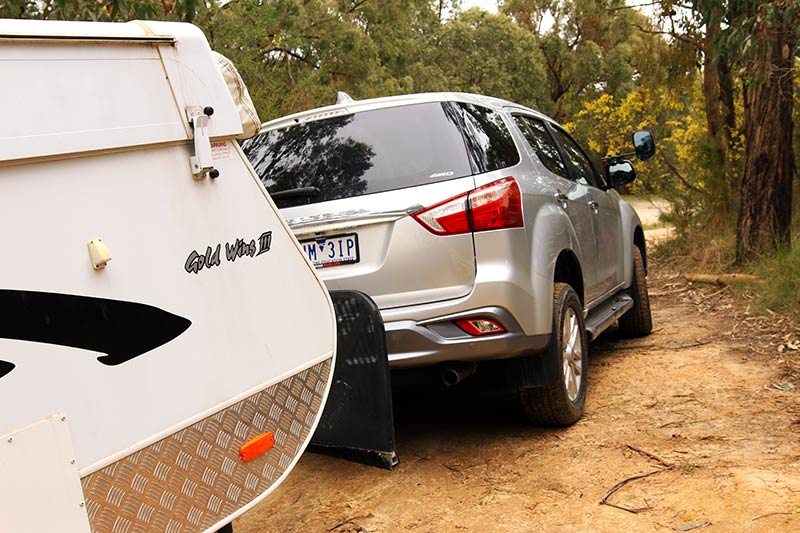 We hitched up our office camper, which weighed around 1900kg at the time, and hauled it along the freeway and along some local tracks. It was obviously necessary to hold the lower gears for longer, especially on take-off, but the vehicle was as stable as the QE2.
Since filming the accompanying video, we hitched the Isuzu MU-X to a van weighing 2770kg (see page XX), with about 210kg on the ball. The difference was pronounced, though not disconcerting. At highway speeds, the front end felt just a little 'floaty'. Unfortunately, Isuzu doesn't recommend or endorse the use of a weight distribution hitch.
With the lighter camper hitched, the MU-X was relatively quick to get going and held its speed reasonably well up hills, with some power in reserve to perform overtaking manoeuvres if necessary. The heavier caravan, however, had the vehicle huffing and puffing a little more.
FEATURES
The biggest change for the Isuzu MU-X this year is that it now comes with trailer sway control, a welcome feature for what has become a well-regarded tow vehicle.
Anti-lock brake system with electronic brake-force distribution, electronic stability control, emergency brake assist, hill start assist, and hill descent control are also standard.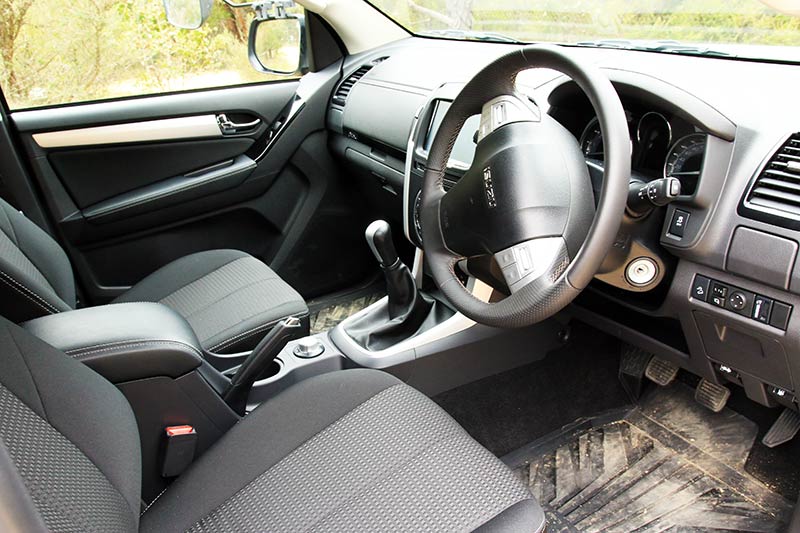 Some would say that the MU-X rests on the basics. A neat but uncomplicated dash. A cupholder and a 12V and USB point here and there. But considering the price, any shortcomings in this respect are easy to overlook. Having driven a 20-plus-year-old 4WD every day for the last five years, I'm more than happy.
The driving position is comfortable. While the engine noise is there – a healthy diesel clatter – it's not intrusive.
The Isuzu MU-X comes in three levels of specification: LS-M, our LS-U, and the top-end LS-T, each available in 4×2 and 4×4 variants. Both the middle and top-spec models get 18in alloys, while the entry level LS-M only gets 16in wheels.
The manual transmission is only available in LS-U trim. Unless you need a built-in DVD player, leather seats and push-button start, the LS-U is a good option, in my opinion. Unlike the LS-M, the LS-U incorporates an in-dash GPS, rear cabin cooling vents, aluminium side steps, front fog lights, an 8in touchscreen Bluetooth-compatible media player (the LS-M's is a 7in screen), and more.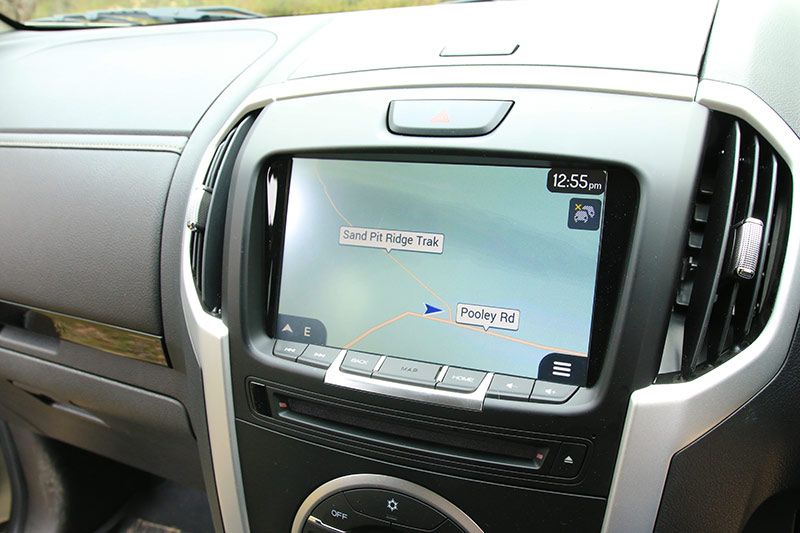 The media player, I'll note, works well but, annoyingly, it seems to randomly choose a song from the phone it's connected to each time the ignition is turned on.
The interior is quite family-friendly, but in my case, with all kids on board, I really do need to have the eldest in the third row. It's just too much of a squeeze to fit him between the booster seats.
The third-row seats fold flat to open up the cargo area, which also has nearby cupholders and a 12V point for the kids. I love the hidden compartment at the rear of the cargo area – it's great for tools and other bits and pieces.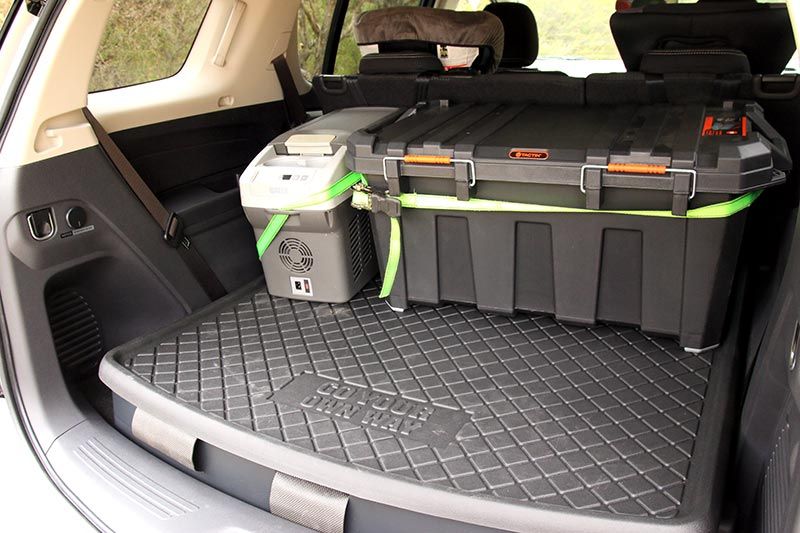 A minor letdown: the 65L diesel tank, though it's not a major issue for me (yet). In stop-start driving, I average about 9-10L/100km and a little less in highway conditions. Bump that up a few litres per 100km when towing. In any event, compared to the $110-a-week habit of my petrol 80 Series, the fuel efficiency is an absolute revelation.
SUSPENSION
Around town and offroad, the coil suspension offers a supple, pleasant ride. It presents as a reasonable compromise between passenger comfort and load-carrying ability. Its 'Terrain Command' 4WD system (two-high, four-high, and four-low range), is very capable.
GORV'S VERDICT
When it comes to my ability to tow massive loads, the Isuzu MU-X is something of a compromise vehicle. Our decision came down to balancing budget and performance against towing capacity. And though it can't tow those 3500kg ATM monsters, it does, as I discovered, an admirable job towing very close to its 3000kg limit, even without load levellers.
While my experience with this vehicle is still limited, I'd happily recommend it to caravanners in the market for a mid-size, affordable towing platform.
THE SCORE
TOWING ABILITY –

RIDE QUALITY –

VALUE FOR MONEY

HITS & MISSES
Engine: 3L four-cylinder turbo-diesel
Max power: 130kW at 3600rpm
Max torque: 430Nm at 2000-2200rpm (manual and automatic)
Transmission: Six-speed manual (or six-speed automatic)
Length: 4.825m
Width: 1.83m
Height: 1.86m
Wheelbase: 2.845m
Ground clearance: 0.23m
Kerb mass: 2075kg
Gross vehicle mass: 2750kg
Gross combined mass: 5750kg
Towing capacity: 3000kg
Towball maximum: 300kg
Fuel tank capacity: 65L
Suspension: Front: independent, high-ride coil, gas shock absorbers, upper and lower wishbones, stabiliser bar; Rear: Multi-link coil, gas shock absorbers, stabiliser bar
Gear ratios (six-speed manual):
1st: 4.942
2nd: 2.430
3rd: 1.428
4th: 1.000
5th: 0.749
6th: 0.634
Reverse: 4.597
Price: $48,990 (drive-away), excluding options
More information: www.isuzuute.com.au