Australia's RV manufacturing and import regulations have been overhauled in a move that should prove to be a gamechanger for the industry. New legislation set to come into effect will put the squeeze on 'lemon' manufacturers, and dodgy importers are about to feel the heat, too. Find out what it means for RV buyers in this important issue…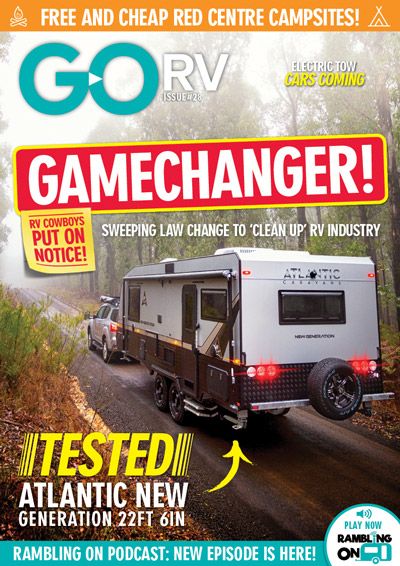 The pros, the cons, the heated debate! Do you prefer RVs that have a coupling, or an engine and transmission? Whether caravan or motorhome, there's more to this question than meets the eye. This issue of GoRV is packed with essential information – don't miss it!.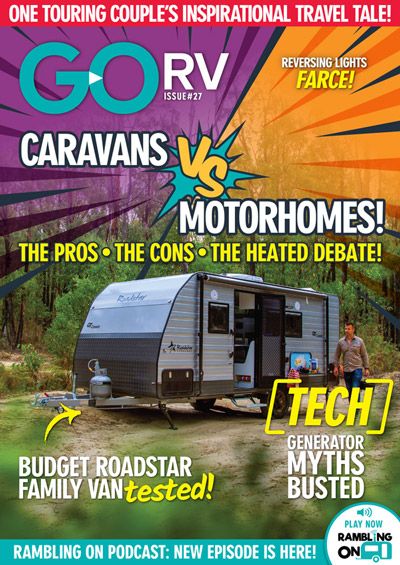 Gross Trailer Mass, caravan axles, a massive offroad coupling guide… this issue is packed with essential information for all serious caravanners.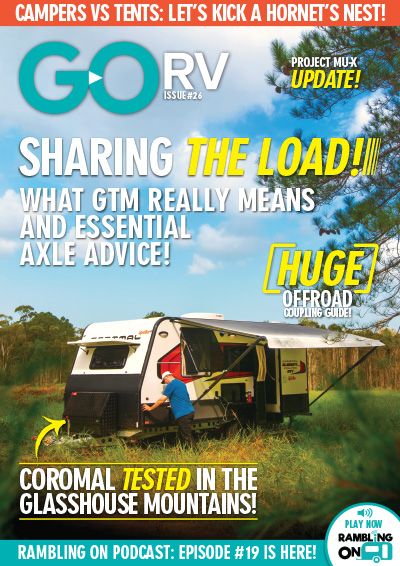 Though they're uncommon, caravan rollovers can and do occur. And there's one very important reason why. In this issue, we explain the facts behind caravan rollovers and what you can do to help prevent them. We've all reviewed two new vans and have a special report on a device that replaces the trailer plug with a wireless signal.
A hybrid-drive system that can 'drive' a caravan while it's being towed, tow hitches with built-in ball weight scales, an app that can control new Jayco caravans… and even the installation of Powerfold towing mirrors. This issue is packed. We also have advice on free-camping , maximising your van's solar setup, tips for carrying and sourcing water when on a long trip, and reviews of a couple of new vans. Enjoy this issue – it's a must for anyone who loves technology or who loves to camp off-grid.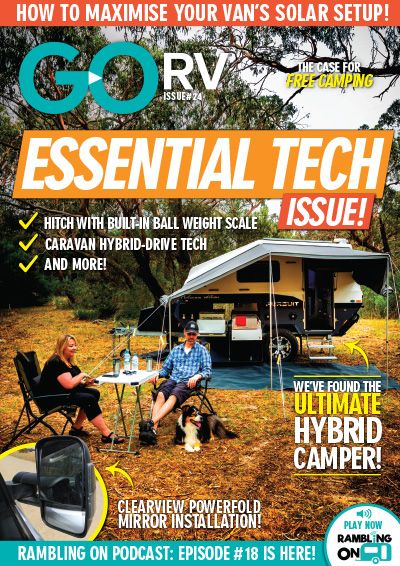 Looking for a new tow vehicle? There's no shortage of options. In this issue, we reveal our top three under-rated 4WDs, vehicles that are more capable with a van on the back than many people realise. We also attempt to make the case for caravan parks – sure, some seem too expensive while others don't live up to expectations. But could Australian travellers really manage without them?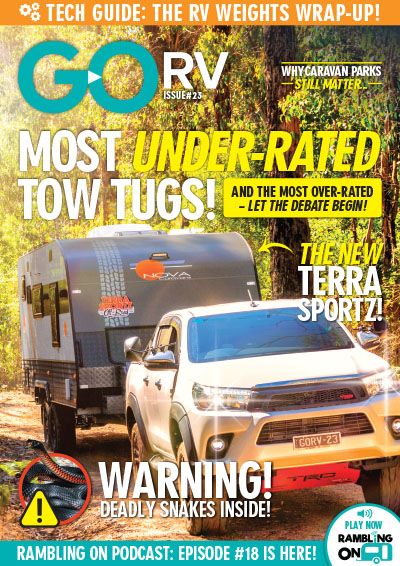 Despite their marketing hype, many vehicles are ill-equipped to handle caravans loaded to 3500kg. In the last two issues, we've explained how to determine the weight-carrying limits of your tow vehicle and your caravan as separate vehicles. In this issue, we examine what happens when you combine the two and, trust us, this is where it gets very interesting…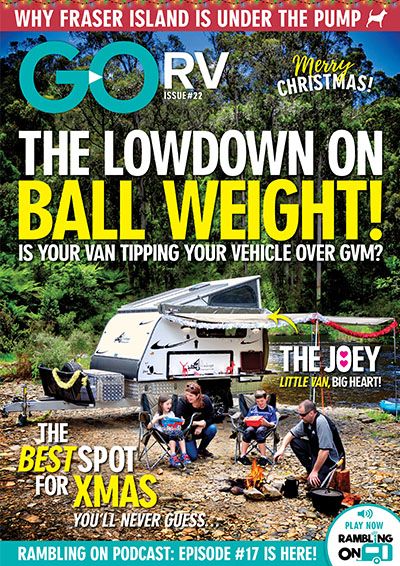 Understanding caravan weights, and how to remain legal when towing, remains ones of the largest topics of confusion. In this important issue of GoRV, we demystify the terminology and problems every caravanner must reckon with. This is essential reading for all vanners, new and old hands alike.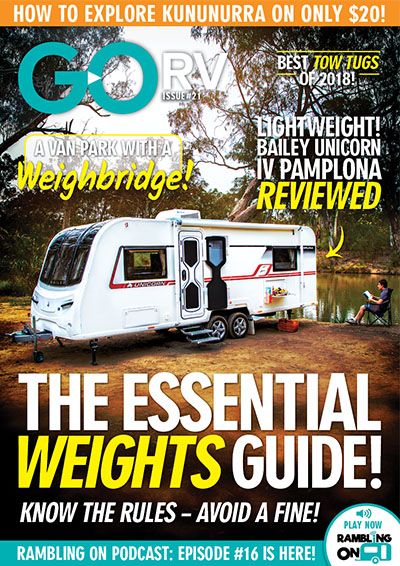 Towing is not a 'dark art' but it does require skill, experience, confidence and the right equipment. In this issue, we explain the various weight limitations imposed on tow vehicles by their manufacturers, as well as common pitfalls. We've also developed a guide to some of the 'rules' to follow for a safer towing experience.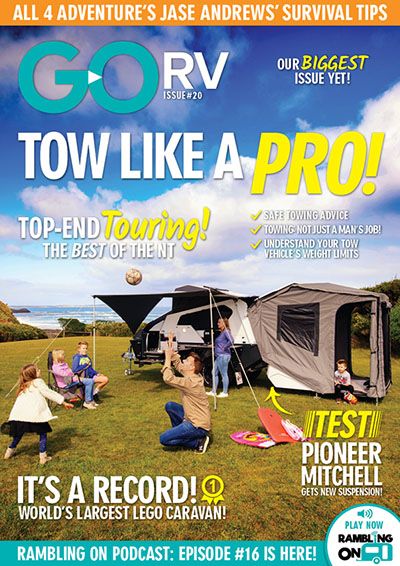 How safe are we, and our belongings, when we're on the road? The terrifying story of a couple exploring WA, which we present in this issue, has shone sad light on the fact that RVers are potentially easy targets for crooks. How prepared are you to guard against theft or a break-in?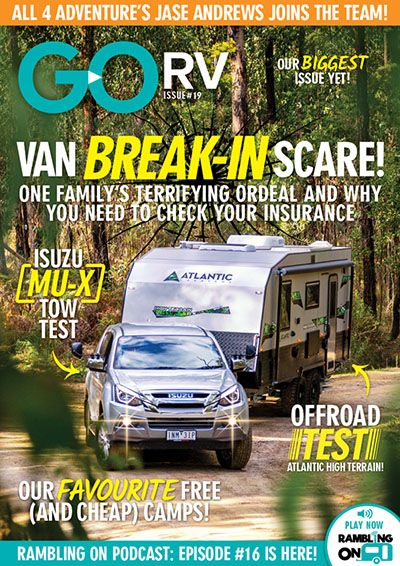 How do you get the most out of freedom camping, and what makes a good campsite in the Back of Beyond? In our biggest issue ever, a couple of avid caravanners share not-to-be-missed tips on the freedom camping lifestyle. We've also tested a Jayco Adventurer caravan on WA's…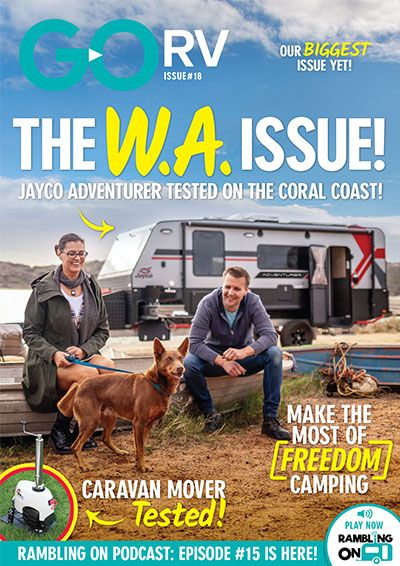 This issue is packed with useful advice, from choosing the right suspension for your caravan and understanding the crucial signs of wear and tear, to the must-pack gear for a successful trip and even a DIY washing machine!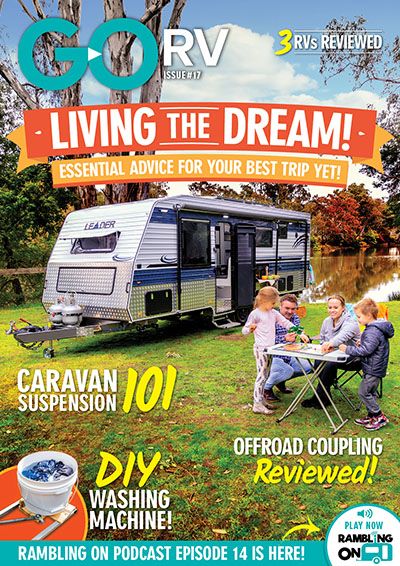 Does the law require you to use extension mirrors when towing? Or are they simply an optional accessory? In this issue, we delve into this important subject for the final word on when to use tow mirrors.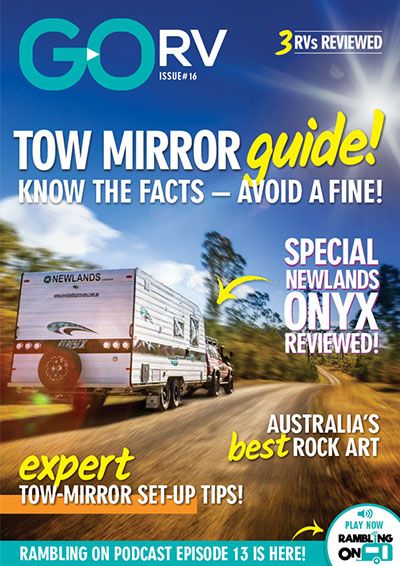 Is Australia's caravan registration system a virtual rip-off? The costs to register caravans around the country vary greatly. And in some states it is shockingly expensive. Find out what it will cost to register your van in our state-by-state guide.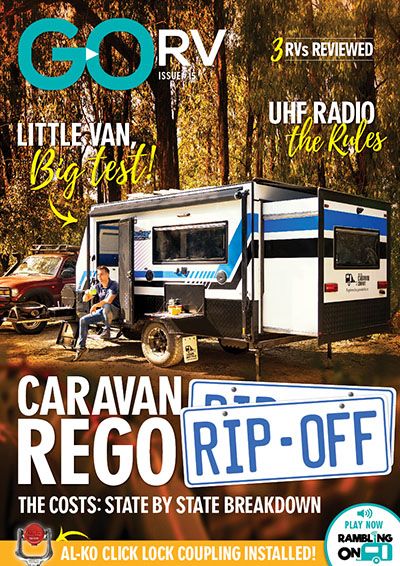 One full-time caravanning family shares the tips, tricks and advice that have made their adventures around Australia so successful. These tips are not to be missed!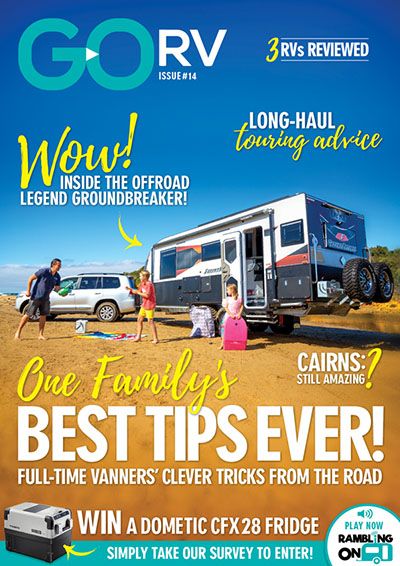 RVers are facing more legal scrutiny than ever before. But what actually occurs during a roadside police inspection of an RV, and what are the penalties for being overweight?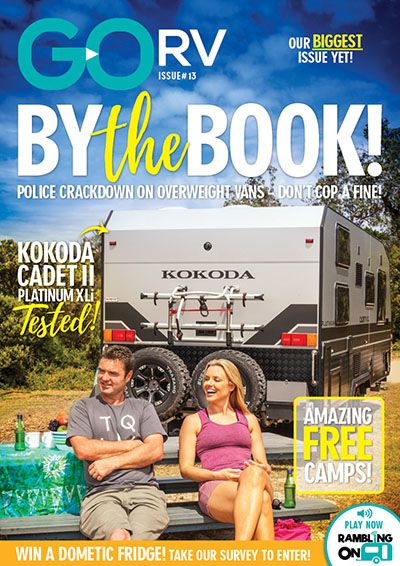 When it comes to driving those holiday dollars further, it's hard to debate the appeal of free campsites, but will shelling out a few bucks for a paid site lead to a better trip? Let the debate begin…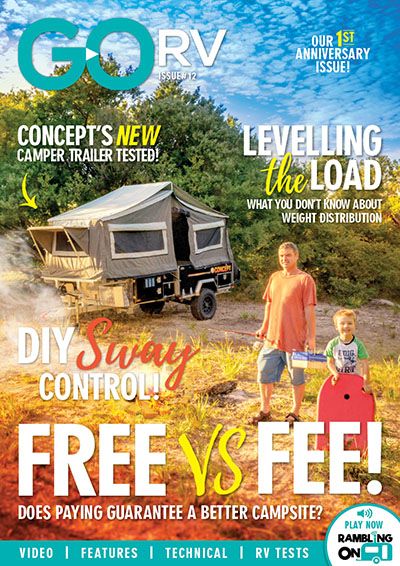 It's the latest fashion to portray caravans as a danger on the roads in the media and A Current Affair is leading the charge. Here's what we have to say…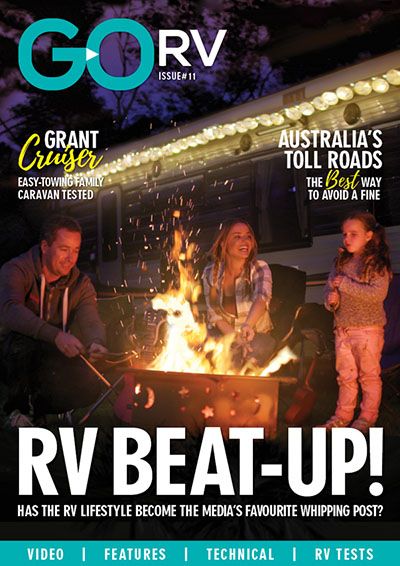 GoRV Digital Magazine Issue Ten
In search of an amazing beachside campsite? Look no further. Issue 10 of GoRV features five of the best that Australia has to offer. It's also full of advice for safe touring, including pre-trip vehicle checks, as well as RV reviews. We even found time to head to Broome, WA!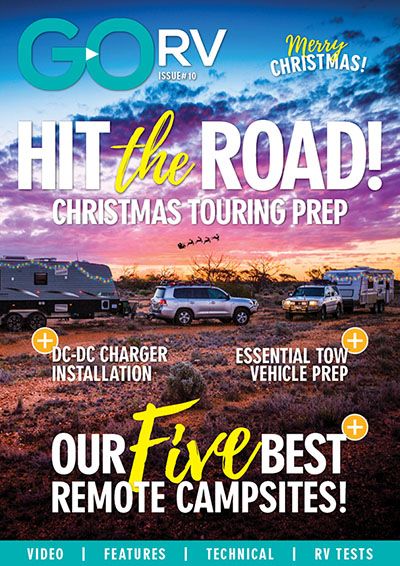 GoRV Digital Magazine Issue Nine
Bush camping, away from the crowds, is one of the reasons we love the RV lifestyle. In this issue, we spill the beans on five campsites on the east coast that you have to put on your list. Meanwhile, we've also reviewed a few new vans and even headed to Kununurra, WA.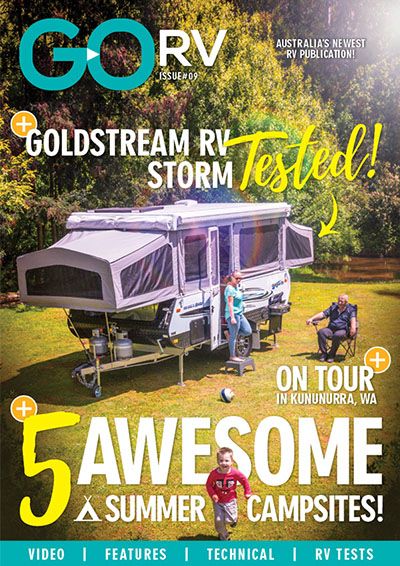 In this issue, we take a technical look at some of the most common misconceptions about harnessing the power of the sun. Let's get some facts straight…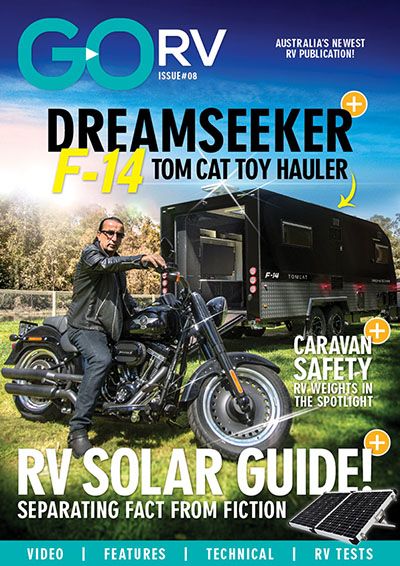 How you load your van has serious implications for its towing stability. We set the record straight. Once and for all.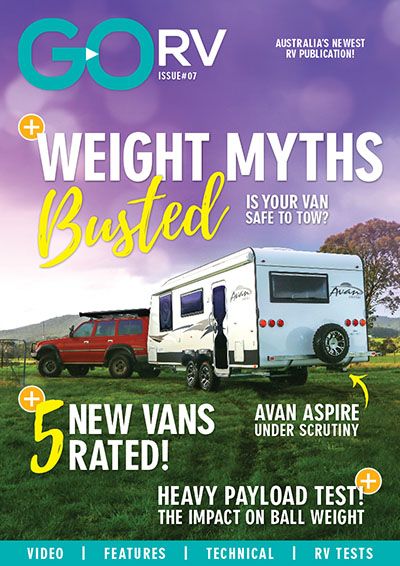 GoRV Digital Magazine Issue Six
What not to do when it comes to carrying out RV repairs. In this issue, we look at why some things are best left to the experts. We even have a caved-in caravan roof!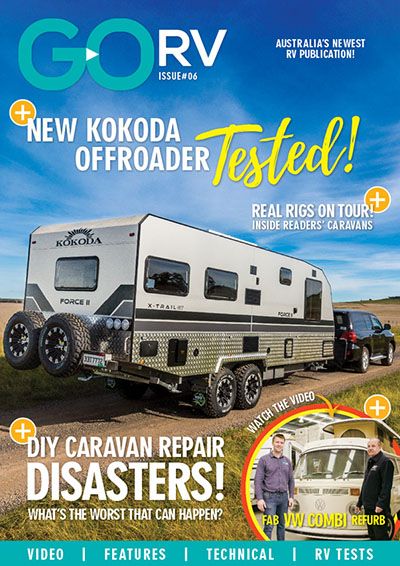 GoRV Digital Magazine Issue Five
Is your RV's payload adequate, or even legitimate? In this issue, we look at the ins and outs of payload and what you can do to increase it. Things are going to get a little heavy.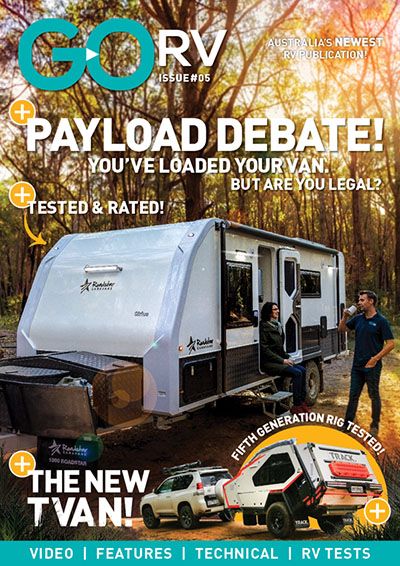 GoRV Digital Magazine Issue Four
Whether you're new to towing a caravan or camper trailer, or an old hand, a few tips never go astray. This issue, we've compiled five of the most common mistakes that vanners make and offer up a few solutions. Meanwhile, we also test a new Trakmaster Adventurer, the Roadstar Little Rippa, and a Golden Eagle family van.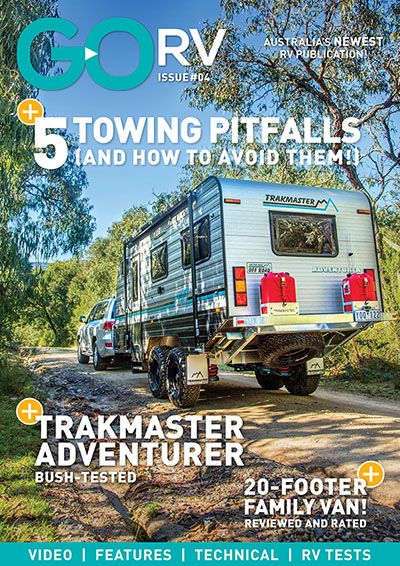 When is an offroad caravan not an offroad caravan? In this issue, we look at what you need to know about the differences between purpose-built offroad caravans and bitumen-bound vans fitted with 'offroad' packs.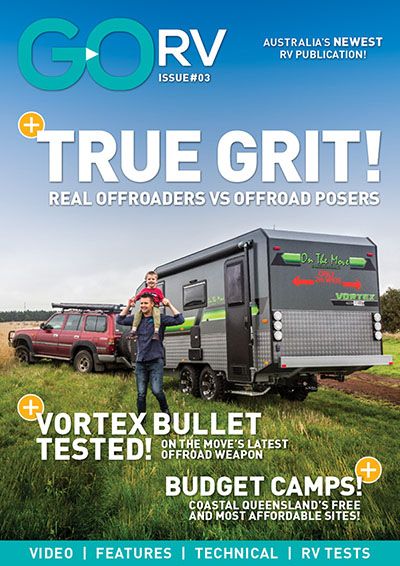 GoRV Digital Magazine Issue Two
This issue of GoRV is all about caravan compliance. Why has the Australian RV industry developed a reputation for non-compliant manufacturing and what is it doing about it?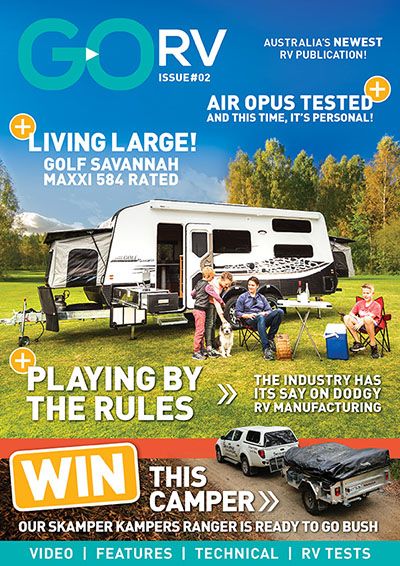 GoRV Digital Magazine Issue One
Welcome to GoRV, a digital magazine all about the RV lifestyle. This issue, we review two new caravans and bust common vanning myths.