Joe is one experienced camper and means business when it comes to surviving off the grid! He's been camping and four-wheel-driving for over 20 years now and loves to travel with his wife Giada and children. He is the President of the Yarraman 4×4 Club and past member to several other four-wheel-drive clubs in Victoria. When it comes to cooking, his experience is truly centred around a camp-fire over the coals (which we know you all love), but also camp oven and pan grill cooking.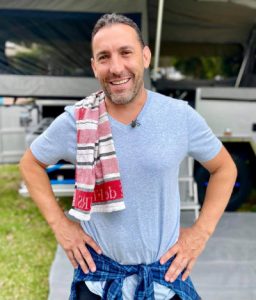 EPISODES
GoRV campsite cook Joe Glavic shares his delicious recipe for honey soy ginger salmon with baby potatoes. Ingredients 
1-2 tbs honey 
A splash of soy sauce ½ tsp ginger powder 
½ tsp garlic powder 
1...
GoRV's new camp cook, Joe Glavic, whips up an easy pan-fried chicken with a creamy corn sauce – who would've thought camping could be so delicious? INGREDIENTS 3-4 rashers of streaky bacon Chicken fillets, butterflied...