Like many people who travel around Australia as often and for as long as possible, we started with a tent and ended up with a caravan. Of everything in between, our Jayco Swan Outback was the most fun because it took us to great places with little effort in terms of towing and then folded out to give us plenty of comfort and room at a campground. This was never more so than along the Savannah Way.
START OF THE SAVANNAH WAY
Cairns marks the eastern end of the journey and the road lifted us into the Misty Mountains like a drunken snake. While there are plenty of reasons to linger longer in this area, we continued on to Undara Volcanic National Park, setting up camp at the Undara Experience. This is, indeed, an experience, with walks to open grasslands teaming with eastern grey kangaroos and numerous bird species. 
A tour with one of the many superb Savannah Guides into the national park's colossal lava tubes, created in a period of intense volcanic eruptions, was fascinating and not to be missed. Though we could have stayed for days (this became our chant along the entire Savannah Way), we continued on to Cobbold Gorge via Georgetown.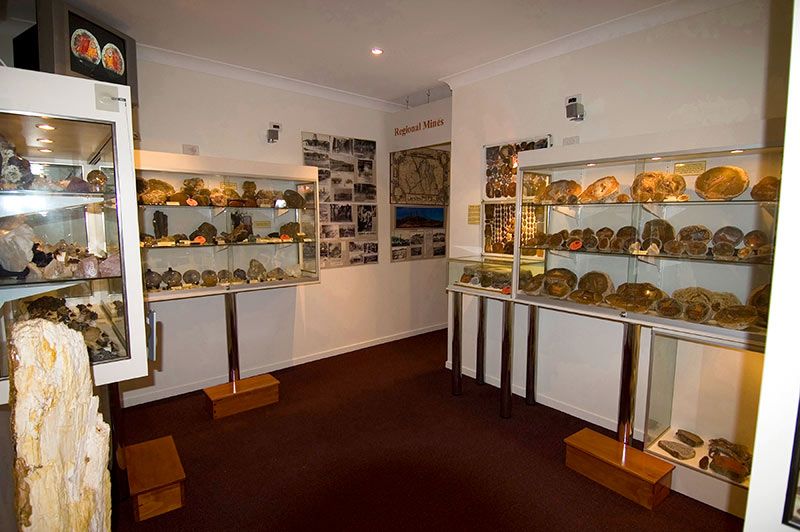 Fossickers should note that this is gem country, and a few days spent at Mt Surprise's Bedrock Village will surely yield some bling. For a sample of what can be found, the TerrEstrial Centre in Georgetown offers a glittering collection of minerals (not to mention information).
COBBOLD GORGE
Cobbold Gorge is a 6km long chasm cleaved into a sandstone plateau on Robin Hood Station. Cobbold Gorge Village has terrific camping under shady trees decorated with pink galahs and the guided tour to the gorge is sensational. Four-wheel-driving fossickers can venture to Agate Creek for the day; others can take a tour of this working outback station. We loved it and thought the 170km unsealed side trip was most worthy of the effort.
Back on the narrow bitumen of the Gulf Developmental Road, there is the historic gold rush town of Croydon, then Normanton with its Gulflander Train Station, Karumba where fishermen spend entire dry seasons drunk on fishing and then Burketown, the "barramundi capital of the world".
Our favourite stops along this section included the nostalgic Leichhardt Lagoon Camping Park with a flock of saurus cranes dancing in a wetland across the road and the Leichhardt River crossing (55km SE of Burketown 18º13'17"S 139º52'37"E approx.) with fabulous bush camping on the flats above the falls.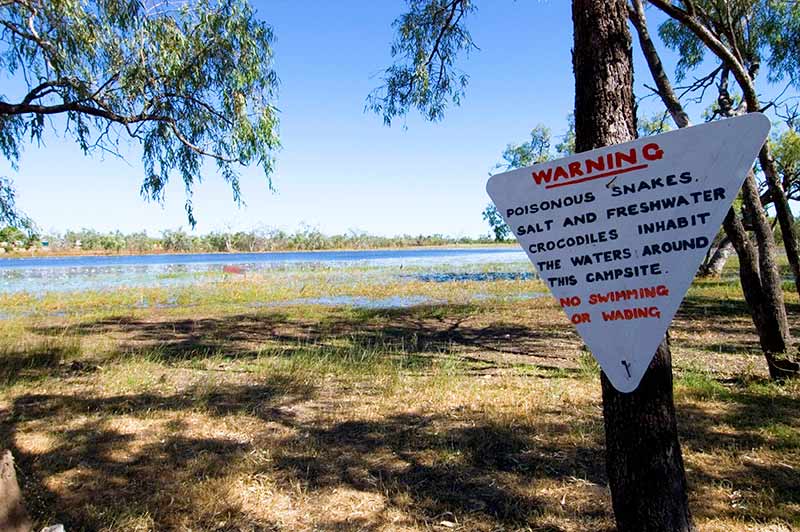 BOODJAMULLA NATIONAL PARK
Our camper trailer had served us well so far, and it continued to do so on the unsealed 420km side tour to Boodjamulla National Park.
We stayed at Adels Grove, which was excellent; we were lucky enough to be there in July when visiting palaeontologists, working in the World Heritage Riversleigh Fossil Fields (within Boodjamulla), gave riveting nightly lectures.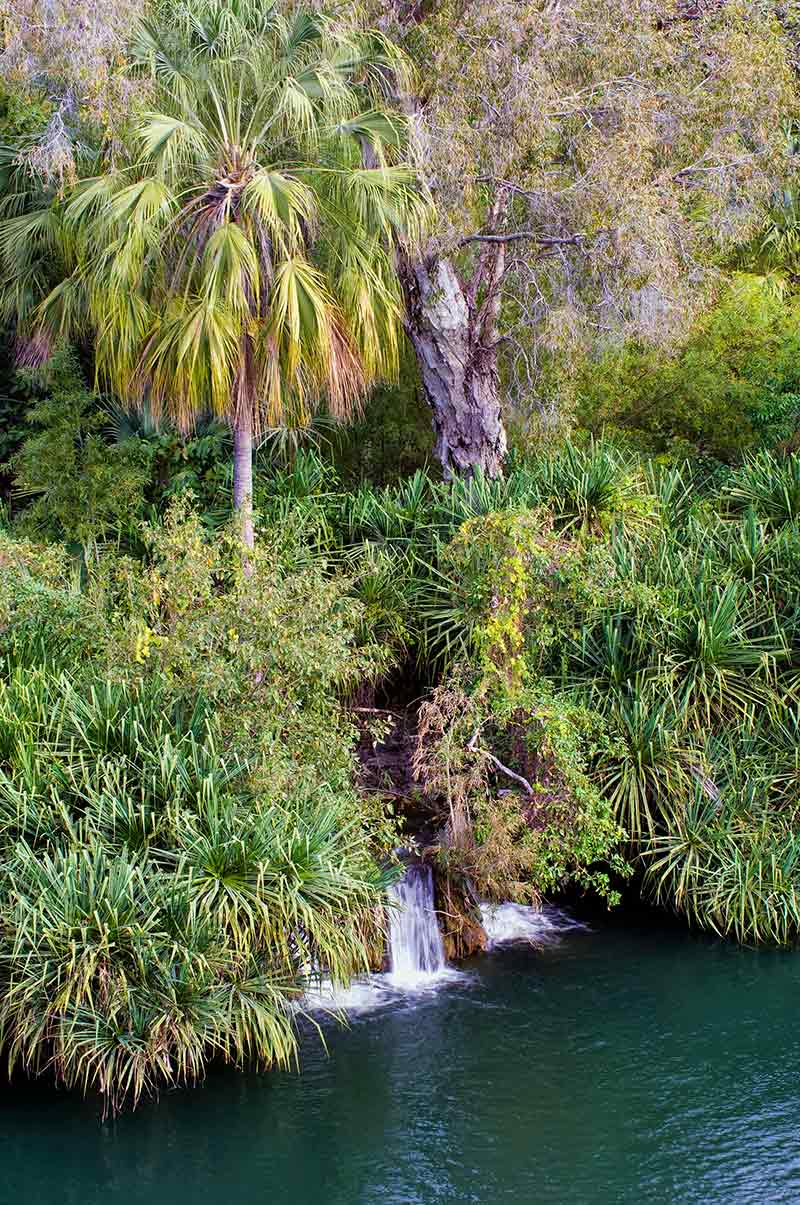 The national park campground is also outstanding with immediate access to stupendous Lawn Hill Creek. We rented a canoe and took a day to do both sections of the creek; it was one of those days we will treasure forever. 
EAST TO BORROLOOLA
Back on the Savannah Way, it was a bumpy, dusty ride to Borroloola with yet more barra fisherfolk gone slightly troppo and, possibly, a tad mildewed. (Note that Kingfisher Camp, a great spot between Adels and Doomadgee, is now closed).
Our hope was to venture up the Nathan River Road to Roper Bar and Mataranka, but a number of river crossings brought us face to face with the limitations of our Jayco. It simply did not have the necessary clearance or water-tightness to safely make it through the deeper crossings, so we opted for the Carpentaria Highway heading west to the Stuart at Daly Waters.
A night spent at the Daly Waters Historic Pub is a thoroughly Aussie experience you'll be dining out on for years to come.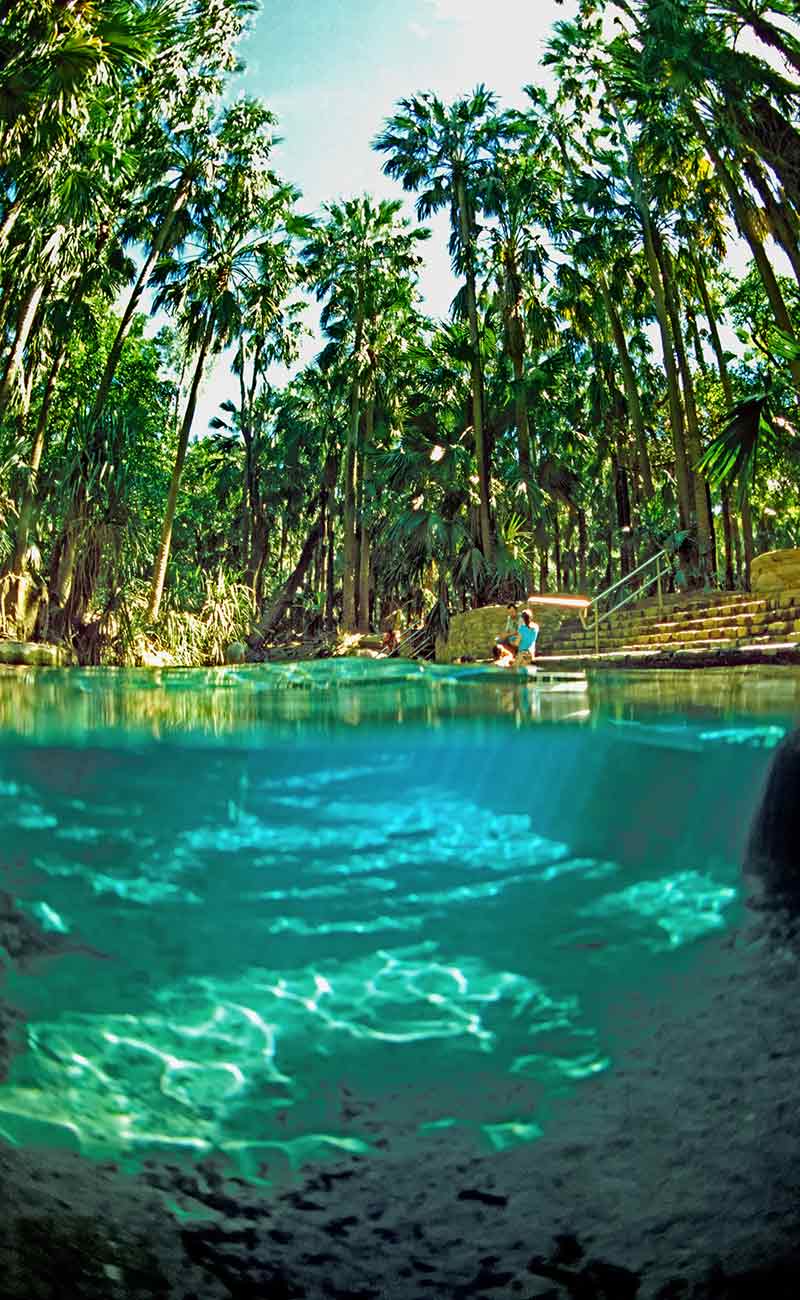 Elsey National Park in Mataranka, where we would have emerged if we had come up Nathan River Road, gave us a taste of the Roper River with a thermal pool and camping at Mataranka Homestead. Fresh barramundi is always on offer at the pub along with entertainment in the evening. A quieter option is Bitter Springs with nearby Bitter Springs Cabins and Camping.
The busy town of Katherine followed, with the nearby awesome Nitmiluk (Katherine Gorge) National Park. Nitmiluk Tours runs the caravan park there and is a perfect base for the numerous walks in the park, along with a guided tour on the river. Even better: hire a canoe and go for a peaceful paddle on your own.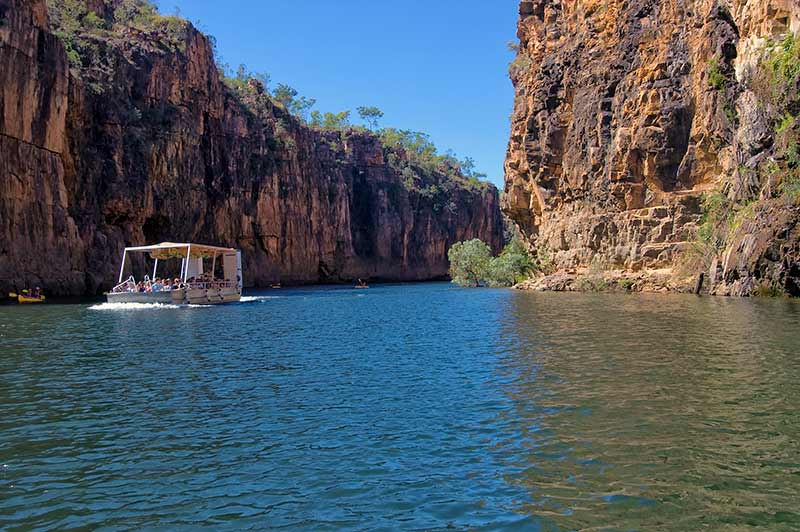 Each evening we walked over to the restaurant and visitor centre to watch thousands of delightful fruit bats fly off for their nightly foraging. If time allows, I highly recommend the short drive up the Stuart leading to Leliyn (Edith Falls) in the western section of the national park. The campground is basic but with nice sites; the somewhat challenging walk to the Upper Falls for a swim is unforgettable.
KATHERINE TO KUNUNURRA
The Savannah Way continues from Katherine to Kununurra along the Victoria Highway, and is one of the most scenic drives in all of Australia. Places to stop and camp along the way include Giwining (Flora River) Nature Park, Judbarra (Gregory) National Park and Keep River National Park.
Caravan parks include the Victoria River Roadhouse with the Escarpment Lookout and Joe Creek Loop nearby, and Timber Creek with a croc tour on the Victoria River. We enjoyed a number of the panoramic scenic lookouts on the way, including a great one-night stop at the Saddle Rest Area. Lake Argyle with the Homestead Museum and a boat tour on the lake was absorbing, offering an informative insight into this massive, man-made inland sea and the Ord River Irrigation Scheme. 
Downstream of the Ord is Kununurra, where we happily set-up camp beside Lake Kununurra and took an enjoyable Tripe J Tour back up the river to the Lake Argle dam wall. Kununurra is where one must make a choice: continue along the Savannah Way via the Great Northern Highway, or take on the considerable challenge of the Gibb River Road. We will leave the Gibb for another story; suffice it to say it presents a very rough ride and one stunning highlight after the other.
ON TO THE BUNGLES
After stocking up on all supplies, we continued on the Great Northern Hwy. Our next stop was Purnululu National Park, and again, we knew our Jayco was not up to the challenging 4WD track in. Van storage is available at Warmun Roadhouse, 53km from the turn-off to Purnululu, or at the Bungle Bungle Caravan Park shortly along the turn-off. The latter also offers helicopter tours and 4WD day trips into the park.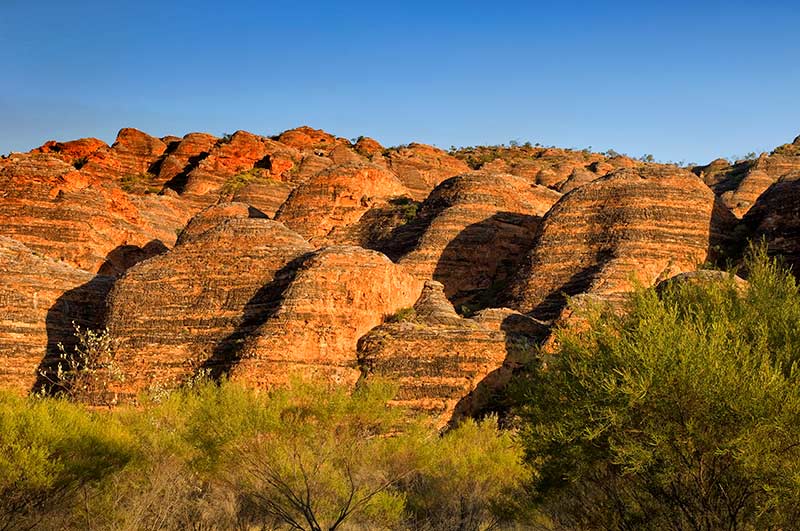 We proceeded with our 4WD and stayed for two memorable nights at the Bungle Bungle Wilderness Lodge (also check the Bungles Safari Camp). If the budget allows, the scenic splendour from a HeliSpirit helicopter tour is nothing short of breathtaking. The walks and birdlife were outstanding… I will never forget the sunsets over the beautiful Bungle Bungles.
Halls Creek is, well, hard to describe (nicely). Suffice it to say that Wolfe Creek Crater, best seen from the air or on a hike, is only 130km to the south. Options include a 4WD self-drive side trip to the national park or an aerial trip with a company like Kingfisher Tours.
Besides Purnululu, our favourite stop along the Great Northern is just south-east of Fitzroy Crossing: the Fitzroy River Lodge. The caravan park at the bottom of the property is remarkable, and every time we have stayed there, we have added more days to enjoy the birdlife. An added bonus is a national park boat tour to Danggu Geikie Gorge.
Broome pins the western end of the Savannah Way, and what a way to end this journey. Spend a bit of time here before you move on. 
And there you are: it's just a bit of a drive between Cairns and Broome.
The dry season, usually May through October.
Take a full supply of all medications with you as these will not be available along the way except (possibly) in Atherton, Katherine, Kununurra and Broome. Cairns is the best place to stock up on all your important supplies.
The days of rocking up to a popular campground without a booking are gone. Book in advance whenever possible, and particularly where side trips are required (Cobbold Gorge, Budjamulla, Adel's Grove, etc.).
Scour the Savannah Way website and purchase a Hema Savannah Way map.
Always drive to the conditions and drop tyre pressures on unsealed roads.
This is 4WD territory; carry two spares for your vehicle and offroad camper trailer or van, emergency supplies, UHF radio and/or HF radio, SAT phone or personal locator beacon.

 
Roads include sealed single-lane with wide shoulders for passing, unsealed two-lanes, 4WD-only, river and creek crossings, extreme dust and corrugation.
Check information centres and Savannah Way road reports for up-to-date information. Always give way to road trains.