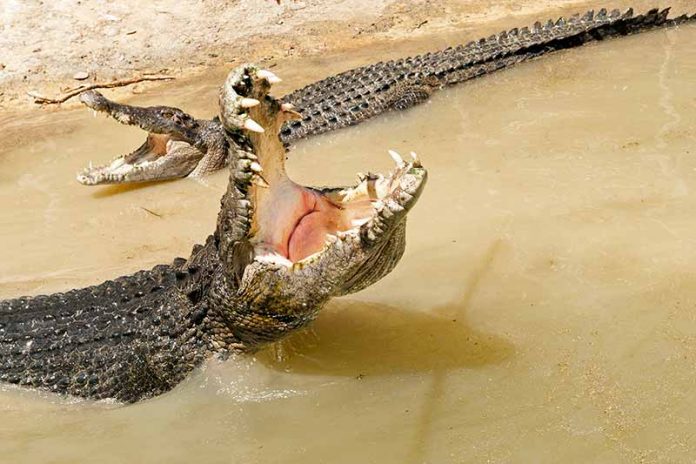 Cairns is one of those destinations where it is easy to come for a week and stay for a month. Indeed, many caravanners migrate there for the entire winter, and while visiting it would be a shame to not see some of the sights. So let's get out from under that annex and go exploring.
EXPLORING 'FREE' CAIRNS
A walk along the Cairns Esplanade is a must. For birdwatchers, low tide attracts a number of wading birds, including stilts. The Lagoon is the dominant feature here at the south-east end; this 4800sq/m pool has an artificial beach with filtered salt water giving everyone a fun and safe place to swim. The array of woven fish statues is a Cairns icon; however, a walk further along the Esplanade reveals other works of art along with fitness stations.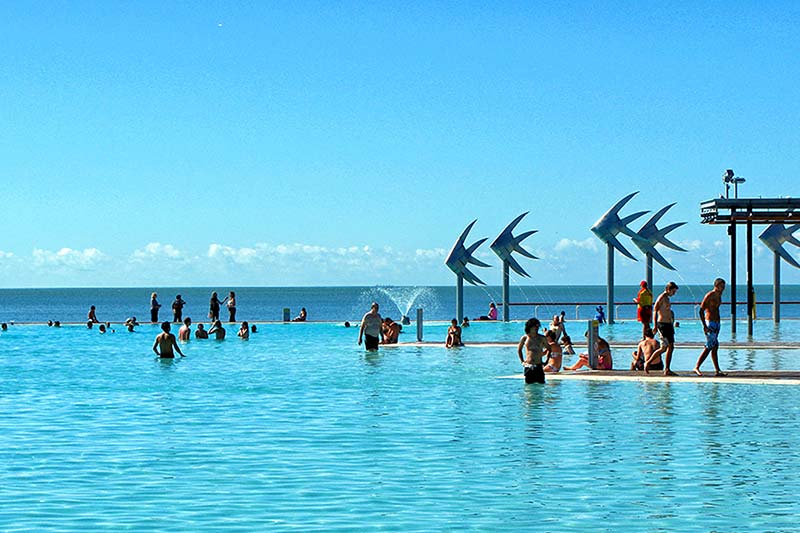 There are regular free concerts and plenty of spots for a picnic under the massive, fern-studded fig trees that line the Esplanade. The Marlin Marina, with its visiting mega-yachts, is also worth a look.
The Cairns Botanical Gardens is another must. Clustered together, these parklands are nothing short of a gift. Flecker Garden features tropical plants and a conservatory with orchids, water lilies and a butterfly garden to name only a few highlights.
The Gondwanan Evolution Garden is educational and fascinating. The Tanks Art Centre is an imaginative series of venues in colossal, restored water tanks. The Rainforest Boardwalk meanders through a number of wetland habitats to finish at two little lakes.
For bushwalkers, there are three grades of walking tracks to the Mt Whitfield Conservation Park. Several hours can easily be spent here, and a nice lunch at one of two restaurants will not go astray.
More information: The Esplanade: www.cairns.qld.gov.au/esplanade, (07) 4044 3715; Cairns Botanical Gardens: 47 Collins Ave, Edge Hill, www.cairns.qld.gov.au/cbg, (07) 4032 6650
CAIRNS ZOOM AND WILDLIFE DOME
They don't call this area the Wet Tropics for nothing. It is likely, at some point, that visitors will encounter a rainy day, and the all-weather Cairns Zoom and Wildlife Dome, unexpectedly perched inside the glass dome rooftop of The Reef Hotel Casino, is a great place to spend part of a day. In fact you can spend several days here, because your entry fee includes a four-day re-entry ticket.
The wildlife collection includes reptiles (with both estuarine and freshwater crocodiles), birds including Papuan frogmouths, bush stone curlews and a number of parrots and finches, amphibians, fish, and smaller marsupials such as koalas, sugar gliders, pademelons and bettongs.
There are presentations and feeding tours through the day in this immersive park that allows you to be in the same enclosure as the animals (but gives them the chance to hide away if they want to). My favourite is the small bird enclosure where finches, budgerigars and fig parrots flit from branch to branch.
More information: 35/41 Wharf Street, www.cairnszoom.com.au, (07) 4031 7250
SKYRAIL RAINFOREST CABLEWAY
If the budget allows, this is a must-do. The Skyrail takes you on a 7.5km (90-minute) rainforest canopy ride above North Queensland's Wet Tropics World Heritage Area. There are two rainforest stations along the way: Red Peak provides the chance for a rainforest stroll with a ranger, with fascinating information on the flora and fauna; and Barron Falls offers another walk and an Interpretive Centre.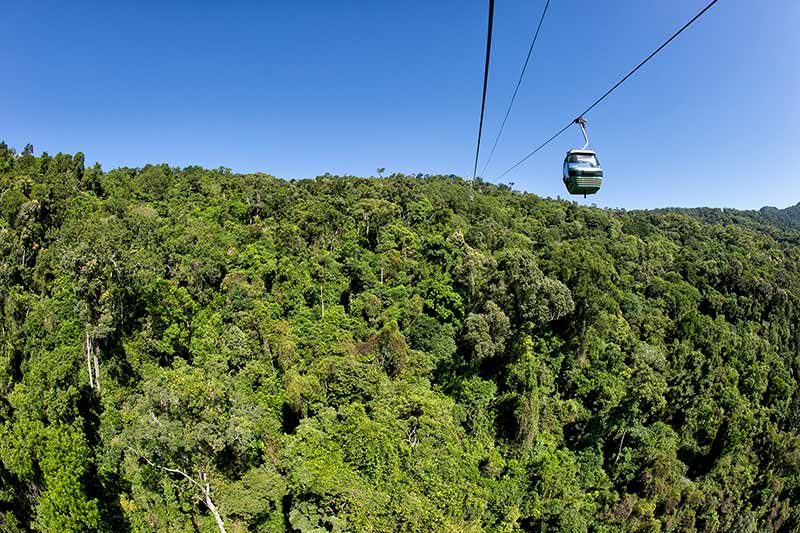 You can return on Skyrail; better yet, though, is a historic ride on the Kuranda Scenic Railway back down the mountain. After wandering around Kuranda for a while, head for the Kuranda Train Station, allowing time to appreciate the charming station festooned with enough hanging and potted plants to start a tropical nursery.
The train trundles along through another section of the rainforest, and an advance reading on the website of the history will add immeasurably to the journey.
The 75km of track involved the excavation of earth and rock by hand, costing the lives of men who were paid about 0.85c per day. Spare a thought for them on this beautiful scenic ride.
More information: Skyrail: corner of Captain Cook Highway and Cairns Western Arterial Road, Smithfield, www.skyrail.com.au, (07) 4038 5555; Kuranda Scenic Railway, Freshwater, www.ksr.com.au, (07) 4036 93333
KURANDA MARKET AND ATTRACTIONS
Kuranda, 25km from Cairns, can be reached by car, by Skyrail or by the Scenic Railway. If you go by the latter two, give yourself three or four hours to explore this lovely little village.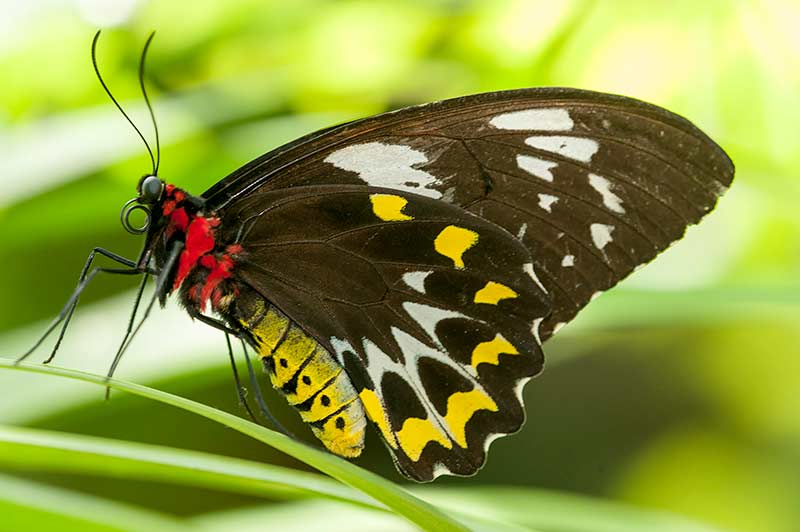 In years past, Kuranda was looking decidedly haggard, but today the shops (and there are plenty of them) seem to have a new lease on life. You can buy anything from tea towels to tee-shirts to beautiful artwork here. For those who would rather walk than shop, there are a number of bushwalks through the rainforest and to various lookouts.
Check at the Kuranda Visitor Information Centre for walking maps and suggestions. There are also a number of wildlife parks – one that should not be missed is the Australian Butterfly Sanctuary: join a tour and then wander through the enclosure on your own. Cairns birdwing butterflies and Ulysses butterflies grab everyone's attention, but a number of other species are equally lovely.
A short distance away (everything is within walking distance in Kuranda) is the Koala Gardens: this compact park offers koalas, wombats, kangaroos, wallabies and a number of reptiles. Birdworld leads you into an aviary where you are one with the birds – be prepared to have a parrot land on your shoulder. Check websites for packages that include entry to all three parks.
Lunch tip: the restaurant Frogs offers meals on the Water Dragon Deck; its barra burgers are particularly good.
More information: www.kuranda.org; Australian Butterfly Sanctuary: www.australianbutterflies.com, (07) 4093 7575; Birdworld Kuranda: www.birdworldkuranda.com, (07) 4093 9188; Kuranda Koala Gardens: www.koalagardens.com, (07) 4093 9953
BARRON GORGE NATIONAL PARK
If you do the Skyrail and/or the Scenic Railway, you will have seen much of Barron Gorge National Park from up above and from the window of a moving carriage.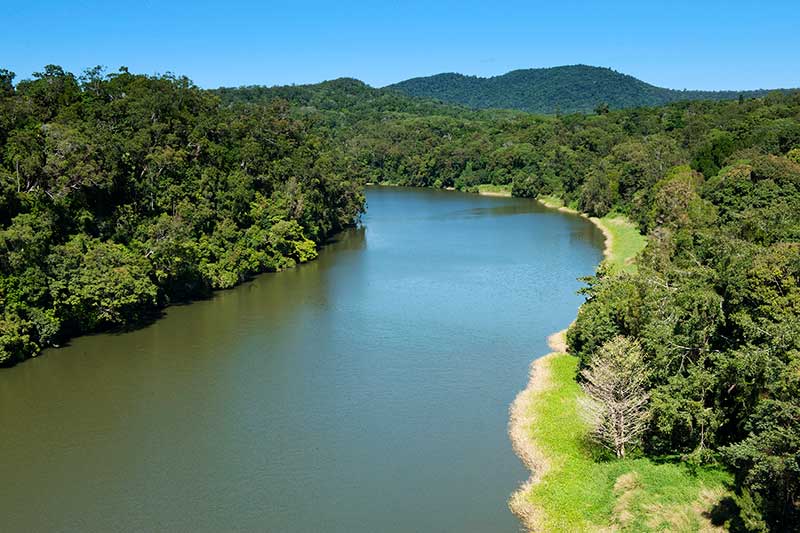 The gorge was carved by the Barron River stretching 60km from Mount Hypipamee to the Coral Sea; this national park and a number of others is contained in the Wet Tropics World Heritage Area.
A walk in the rainforest here is a pleasure. A park map can be downloaded from the NPRSR website, but here are the basics. The lower section is in the Cairns area, the upper section in the Kuranda area. In Cairns, access Lake Placid and the Hydro Power Station from Lake Placid Road and Barron Gorge Road – these provide nice views and the chance for a short walk and a picnic.
The better walks are accessed via Stoney Creek Road, where you will find the trailheads for Smiths Track, Stoney Creek Track and Douglas Track. By linking these you can walk until you drop.
Up in Kuranda, there are several lookouts and two tracks that link the ones mentioned from Stoney Creek. The Speewah Conservation Park provides access to the western part of Barron Gorge NP, and it too links with various short, medium and long distance tracks.
More information: http://www.nprsr.qld.gov.au/parks/barron-gorge, http://www.nprsr.qld.gov.au/parks/barron-gorge/long-walks, http://www.nprsr.qld.gov.au/parks/barron-gorge/pdf/barron-gorge-map.pdf
RAINFOREST STATION NATURE PARK
Up the mountain road on the way to Kuranda is a wildlife park (21km from Cairns) tucked into a patch of rainforest that looks just like the rest of the rainforest. In fact, it has been 'restored' after life as an orange grove. This is well worth a drive and a very interesting way to spend a day. Tours are scheduled so that you can move from one feature to the next.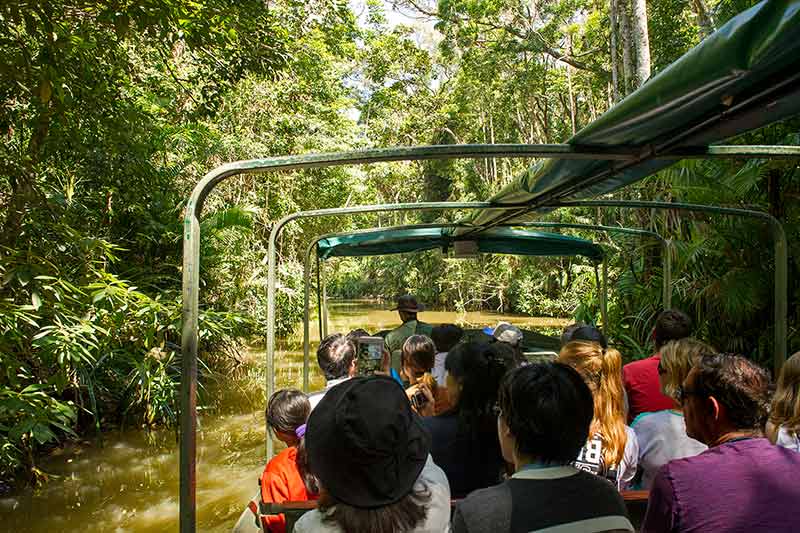 The Nature Park tour provides information on all the animals there, including Jack the Ripper (an estuarine crocodile with the distressing habit of killing his girlfriends) along with a Tasmanian devil, koalas, wallabies, dingoes and more. A highlight of this park is the amphibious Army duck tour through the rainforest with extensive narration on the plants and animals that live here (watch for Ulysses butterflies, bolts of blue lightening careening through the forest).
The Pamagirri Aboriginal Experience is a must with a fantastic dance and instrument corroboree followed by some cultural education, such as boomerang and spear-throwing.
A bush tucker tour is also on hand, and don't forget to save some time on your own to watch the wildlife in the park and to feed the wallabies. Three restaurants are provided on the premises.
More information: 1030 Kennedy Highway, Kuranda, www.rainforest.com, (07) 4093 9033
THE WILDLIFE HABITAT
The Wildlife Habitat (60km from Cairns), formerly the Rainforest Habitat, has been one of our favourites for many years. This is probably because you wander among the animals in 'immersive' exhibits; in other words, you are not separate from the creatures going about their daily lives.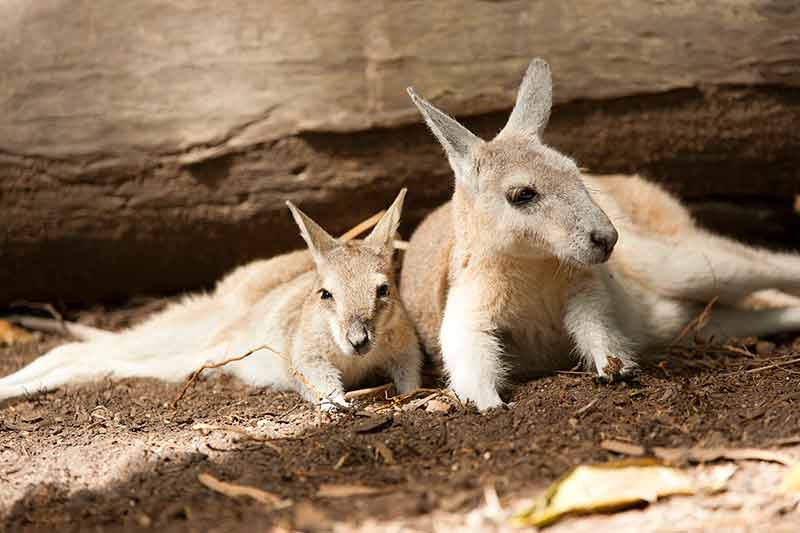 In the main aviary you can count on finding a friendly eclectus parrot (the red eclectus is the female, the green is the male) and this is what you should look for when you hear a voice calling 'hello' from the tree canopy. In the outside exhibit, you will walk among agile, swamp and northern nail-tail wallabies. There are crocs, of course, and some larger birds wandering about (pelicans and magpie geese).
Be sure to look in the tree kangaroo enclosure. Near the cafe, the hub of the habitat, look for both Papuan and tawny frogmouths along with bush stone curlews. Toward the back is the koala exhibit along with black cockatoos snoozing on their perches.
A pair of black-neck storks has been nesting and breeding here for several years, a happy success story for the habitat. The savannah immersive exhibit presents Gouldian finches and fig parrots.
All in all, the Wildlife Habitat is well worth a drive up the dazzlingly scenic Captain Cook Highway.
More information: Port Douglas Road (just after turn-off from Captain Cook Highway), www.wildlifehabitat.com.au, (07) 4099 3235
HARTLEY'S CROCODILE ADVENTURES
Hartley's Crocodile Adventures (40km from Cairns) gives visitors the chance to wander on their own through a number of wildlife exhibits, as well as the chance to learn about various animals during feeding tours and crocodile shows.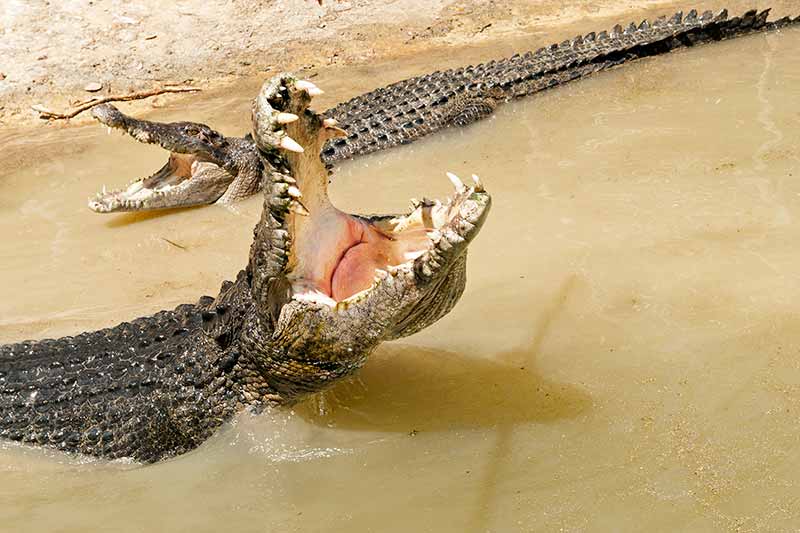 The boat cruise in Hartley's Lagoon will have you staring down the gullet of an estuarine crocodile from the safety of an enclosed craft. Crocs are the main attraction, but a walk through the Gondwana Gateway will bring you to other reptiles, emus, quolls, wombats, koalas (of course) and an up-close encounter with kangaroos and wallabies.
The new Predatory Bird Aviary includes owls and raptors; this is just past the cassowary exhibit with a number of those magnificent birds. On the Wildlife Discovery Trail there are yet more 'salties', the more docile freshwater crocodiles and the Tropical Walk-Through Aviary.
The guided Crocodile Farm tour provides insight into the commercial aspect of the park: estuarine crocodiles are raised here for their meat and skins.
This is a good destination on a cloudy day, and the scenic drive along Captain Cook Highway is a bonus.
More information: Wangetti, off Captain Cook Highway, www.crocodileadventres.com, (07) 4055 3576
GRANITE GORGE NATURE PARK
Granite Gorge Nature Park (75km from Cairns) is a bit of a drive but oh so worthwhile. Since it is also a caravan park, some may choose to move up there for a few days after a stay in Cairns.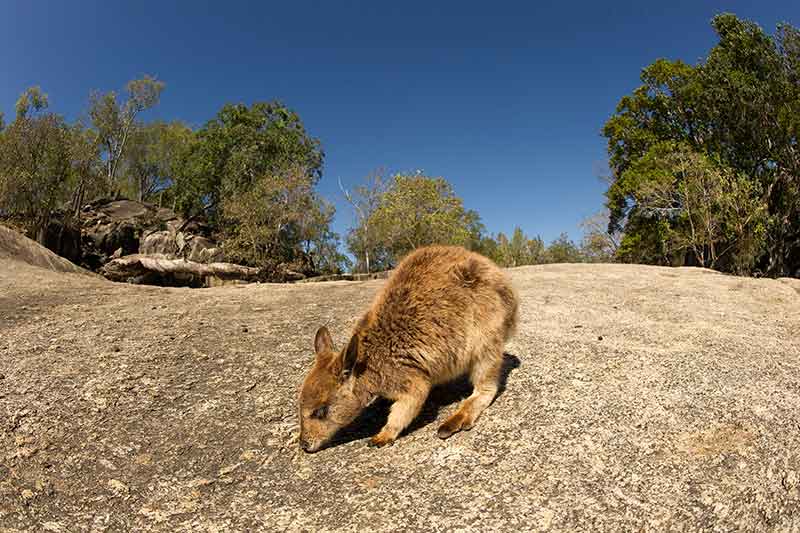 In either case, it is wonderful. The owners are clearly animal lovers, for wandering through the extensive grounds are ducks, exotic chickens and a turkey.
There are several native reptiles on display and a number of parrots. The main attraction, though, is down from the reception area on a massive granite plateau: the Mareeba rock wallabies. These delightful little marsupials, standing at no more than 2ft tall, are so used to people that they will come right up to you hoping for a handout (you can buy a bag of wallaby pellets at reception).
Mothers with babies in their pouches are plentiful, as are youngsters out of the pouch. To sit a while on a granite rock and watch these sublimely agile animals dash and chase each other over the precarious rocks is amazing.
There are three marked trails over the granite region, and a river with a swimming hole. If you are looking for a nice lunch, try the Mareeba Deli and Wellbeing Cafe at 192 Byrnes Street.
More information: 332 Paglietta Road, Mareeba, www.granitegorge.com.au, (07) 4093 225
THE GREAT BARRIER REEF (OF COURSE)
If you are staying in Cairns, it makes sense to experience the reef from here. The further out on the reef you go (the outer reef), the more you will see and the clearer the water will be. So, while closer, Green Island and Fitzroy Island do not offer the best reef experience.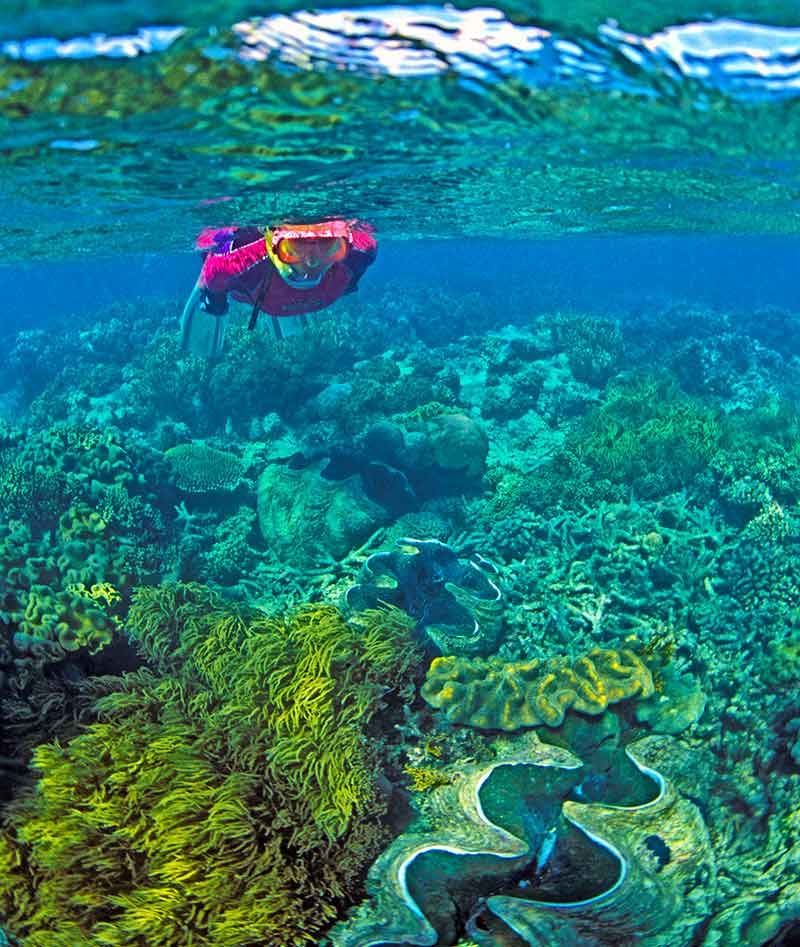 Colourful brochures present numerous options, so, how to choose? First have a careful look at several weather forecasts and try to pick a sunny day with low wind and a low tide around midday. Wind is the primary factor.
The next consideration is, what does the tour offer? A scuba dive, an introductory dive, snorkelling on your own or with a guide, a semi-submersible or glass-bottom boat, snorkelling gear and wetsuits? Also, how do you access the water or reef platform from the boat?
Some careful research on what each boat offers and how long it spends on the reef will help everyone in the group choose activities that give each a great day. Look for brochures at caravan parks, information centres and the Cruise Terminal (at the marina), and research carefully before you book!
If you are prone to seasickness, I can vouch for Sea-Band, a wrist pressure point band that is miraculous (available from chemists and dive shops in Cairns). Motion sickness drugs will only make you feel foggy through the day.
Weather forecasts: www.seabreeze.com.au, www.marineweather.net.au/marine/qld/north-tropical-waters, www.bom.gov.au
– Images: Steven David Miller