There can be no doubt about it: Broome has a certain something. It might be the harmonious blending of nationalities, cultures and cuisine including Aboriginal, European, Malaysian, Indonesian, Japanese and Chinese. It might be the colours of Broome, with its saturated turquoise waters and its intense red-orange sandstone cliffs.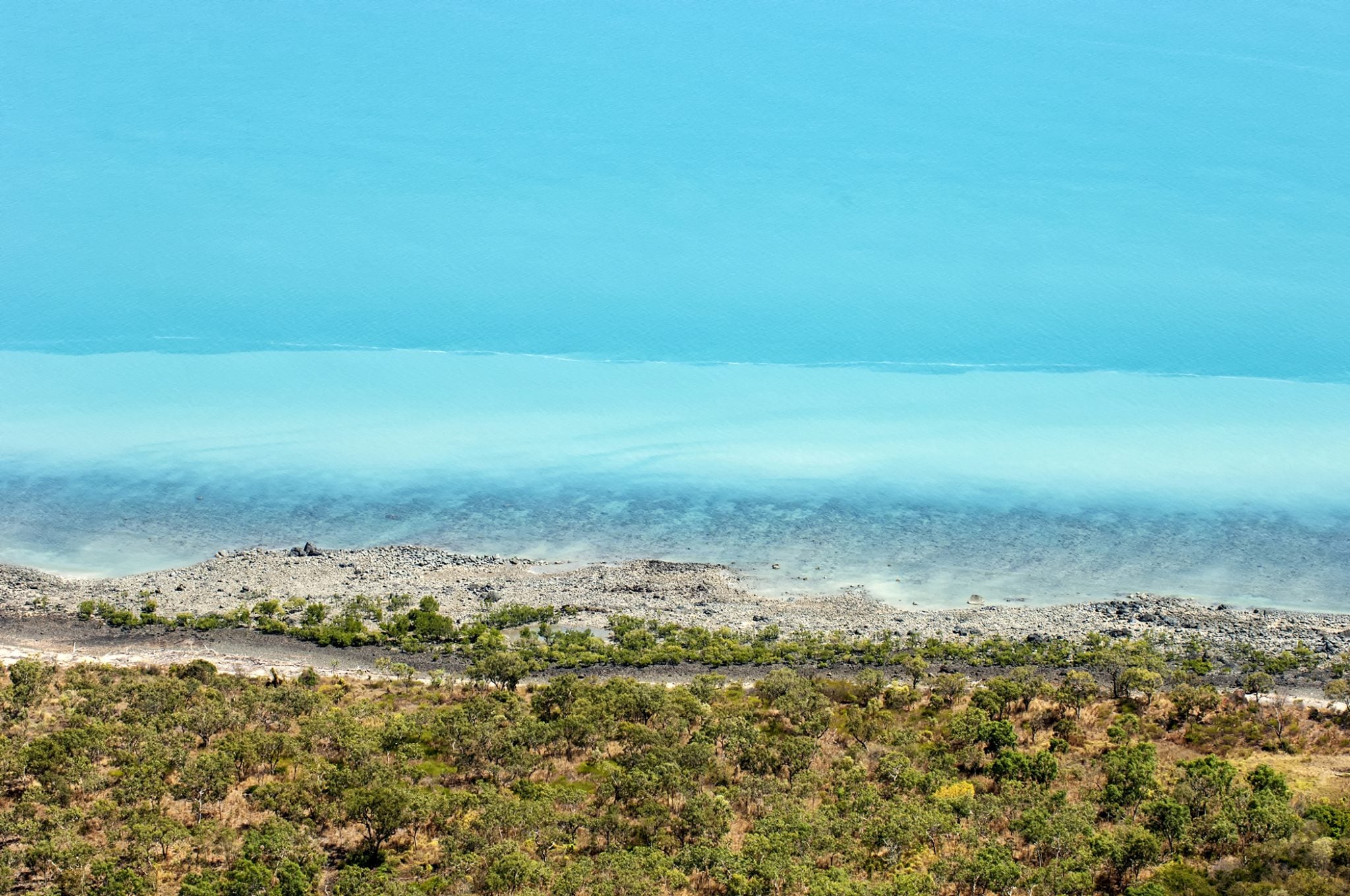 It most definitely is its fascinating history, which includes the treacherous job of diving for mother-of-pearl shells and later for south sea pearls, along with Japanese bombing raids during WWII. Or it could just be the weather: balmy in winter, sultry in summer. The fact is, it is all of these things make it one of the best RV destinations in Australia.
BROOME'S HISTORY
The name of the game for RVers is to book in advance; expect numerous neighbours and plenty of activity during the tourist season that starts in May and peters out in September. A great way to begin your stay is with a visit to the Broome Historical Society and Museum; this will give you insight into the history and culture of the area. The pre-WWI pearling boom centred on harvesting shells for mother-of-pearl; post WWII pearling saw the farming of shells seeded to grow cultured, 'south sea' pearls in huge underwater beds.
Many of the early pearl divers were Japanese; they worked in highly dangerous conditions for little or no pay, trying to pay off their passage to Australia and suffering a 50 per cent death rate. During WWII, these same divers were interned in prisoner of war camps in Australia. Ironically, the Japanese bombed Broome on March 3 1942. Using a battalion of Zeros, they damaged the town and destroyed 16 flying boats anchored in Roebuck Bay, the remains of which can sometimes be seen on a very low tide.
Nothing brings the drama of the pearling industry to life like the Willie Creek Pearl Luggers Tour in Chinatown. The venue is nestled beside two restored pearl luggers and includes an array of pearl diving memorabilia and a riveting presentation that cannot fail to intrigue even the most apathetic visitor.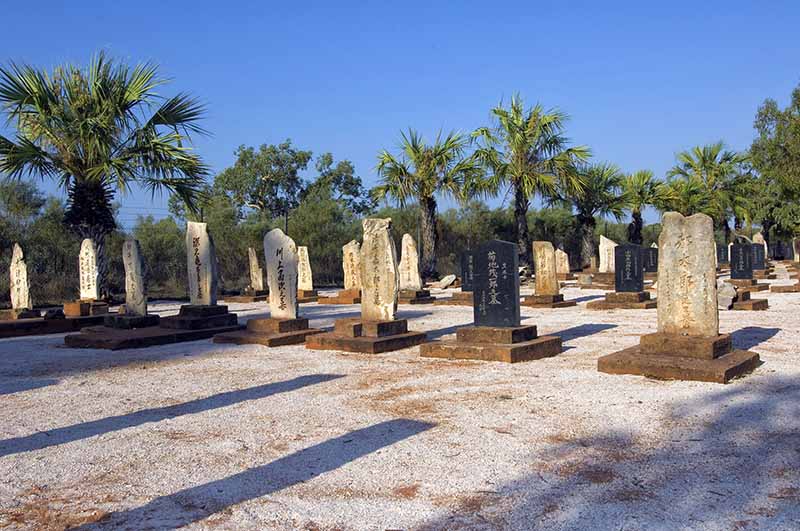 This tour should be followed by a visit to the Japanese Cemetery that houses the graves of 900 Japanese, mostly men who died in diving accidents. Cyclones, too, took a toll: four storms between 1908 and 1935 hit pearling fleets out at sea, destroying 100 boats and killing 300 men of various nationalities.
To one side of the Japanese Cemetery is the Chinese Cemetery and to another side is the general cemetery which, very oddly, has burial mounds above ground that have a 'dig-your-own-grave' look about them.
BROOME CENTRAL
A walk around town is most certainly in order. Cafes serving lovely lunches sit beside jewellery shops selling strands of pearls costing $8000-plus. There is other shopping too, of course. An evening stroll around town is also worthwhile with a meal out somewhere and a film at the Sun Picture House, an outdoor cinema where you can sit in a heritage-listed building and watch a flick under the stars.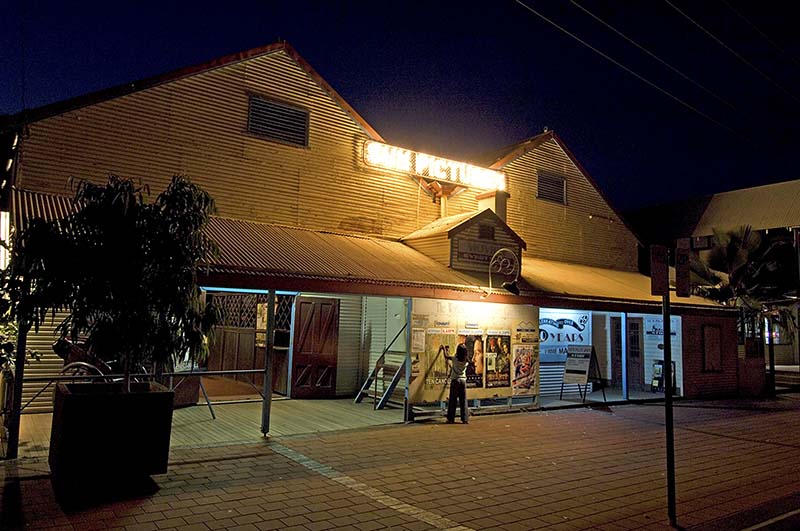 If the scenery in town attracts you, then a drive out to Gantheaume Point is a must for its spectacular vistas. The Lighthouse Keepers House is my idea of the perfect home in the perfect setting. Within a couple of hundred metres of the house is a sandstone flat; at low tides less than 2.16m, you can carefully pick your way across a dangerously slippery surface to find the 130-million-year-old footprints of a megalosaur dinosaur.
If you are a traveller in the grey nomad brigade, then you surely remember Malcolm Douglas and his many adventures in the Top End and the Far North. Malcolm was killed in a car accident in the Kimberley in 2010, but his crocodile farm remains in Broome and is still in his family. There are crocs, of course, along with a number of iconic Australian marsupials and birds.
CABLE BEACH
Nomads both young and not-so-young migrate to Cable Beach every evening to watch the sunset and to join in on a camel sunset ride. A drink on the verandah of one of the hotels is also a great way to spend an evening. Minyirr Park, behind the beach, is a must with three self-guided walks: Magula, Lurujarri and Minyirr.
So far, we have covered modestly priced and free activities in the area. One of Broome's most popular tours is to the Horizontal Waterfalls, and I am always amazed at how many visitors do this tour – not because it doesn't sound fabulous – but because it is bloody expensive. Horizontal Falls Seaplane Adventures offers a 24-hour-stay and this is definitely on my bucket list (as soon as I have a spare $1500 per person). For tour options, visit the company's website and also check with the Broome Visitor Centre for other tours.
Speaking of tours, another Willie Creek Pearls tour is to its pearl farm and, like the Pearl Lugger tour, it is fascinating. This can be booked with transport to the farm or you can drive yourself. Keep in mind that the 38km drive from Broome is along a shatteringly corrugated road with chocking red dust; in other words, take the tour with transport and leave your vehicle back at camp. The pearl farm is at beautiful location, and if the budget allows, provides a most worthwhile tour.
BROOME MARKETS
Broome also offers its residents and visitors a number of markets; at these, you will witness the area's multicultural diversity. There are markets at the courthouse every Saturday and also Sundays during the dry season. Markets at Town Beach run on Thursday nights through the tourist season and, for the first two days of a full moon, a Staircase to the Moon market is also on offer. The Staircase to the Moon refers to the reflection of the full moon shimmering over the beach flat of Roebuck Bay on a low tide: it is lovely.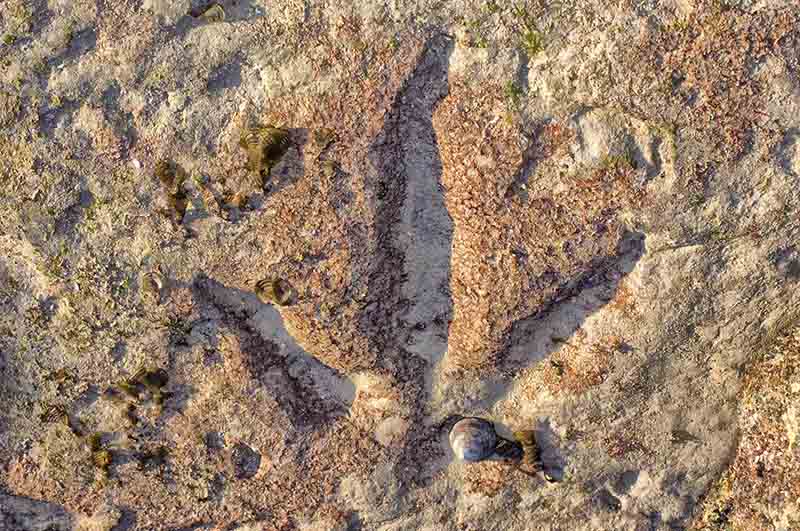 As if all of this doesn't offer the RVer plenty to do and see, the RVing bird-watcher will have even more to do in Broome. Visit the Broome Observatory website to download its bird list and also the list of birds seen in 2016; the latter includes locations and is a great way to get ideas on where to go bird-watching.
The observatory, located at the north-east corner of Roebuck Bay, also offers a basic campground for tents, camper trailers and vans under 16ft. It has birding tours, or you can just go and wander along the shoreline where as many as 150,000 shorebirds visit during the summer migration season. This is actually a nice place to camp for those who want to get away from the hustle and bustle of Broome; do keep in mind, though, that the Crab Creek Road is unsealed with plenty of corrugations and dust – phone to ask about road conditions before driving out in a 2WD.
Some RVers go to Broome for the entire winter season. With so much to do, it is easy to see why. In the wild, wild north-west of Australia, it is a cosmopolitan town with a certain something that will captivate you as it has so many others.
– Images: Steven David Miller
BROOME LINKS