Many Australian towns were established to provision a particular industry. In the case of Kununurra, it was to support the 1963 construction of a diversion dam which, in turn, was the first step in developing the bold and ambitious Ord River Irrigation Scheme. The goal of this scheme was to capture the daily wet season flow of 2500 gigilitres of water into a reservoir that could then be used to irrigate the fertile Ivanhoe and Packsaddle plains.
It is mind-boggling to see this tiny dam, a structure made of rock and soil quarried from a nearby site and stretching across a narrow passage in the Carr Boyd Ranges, and to comprehend that with an added weir, it now has the capacity to hold 10763 gigilitres of water, equal to about 21 Sydney Harbours. A hydroelectric power station at the base of the dam saves 60 million litres of diesel annually for the Argyle Diamond Mine, Kununurra and Wyndham. It provides 100 per cent renewable energy, and the controlled flow of water irrigates 12,500 hectares of farmland with availability for another 32,000 hectares.
LAKE ARGYLE
If you are going to Kununurra, it is well worth a stop at Lake Argyle. You can spend a night or two at the caravan park there or take one of the guided day tours on offer from Kununurra.
Your visit should include a cruise on the lake (the sunset tour is lovely) and a stop at the Argyle Homestead Museum; the homestead was dismantled and reassembled at its current site before the dam was completed and the area flooded.
Here you will learn about the legendary Durack family, the owners of Argyle Station. In the mid-1880s, Patrick Durack drove 200 horses and 7250 head of cattle across 4828km from Queensland to the Kimberley region. It took two years and four months, costing tens of thousands of pounds, the loss of half the cattle and the lives of a number of drovers.
If the budget allows, a scenic flight from the village with HeliSpirit is most interesting, giving you an aerial view of the same terrain you experienced on your cruise.
KUNUNURRA ATTRACTIONS
Kununurra is very busy during 'the season' (June, July, August). There are a number of caravan parks, including a few that sit beside Lake Kununurra.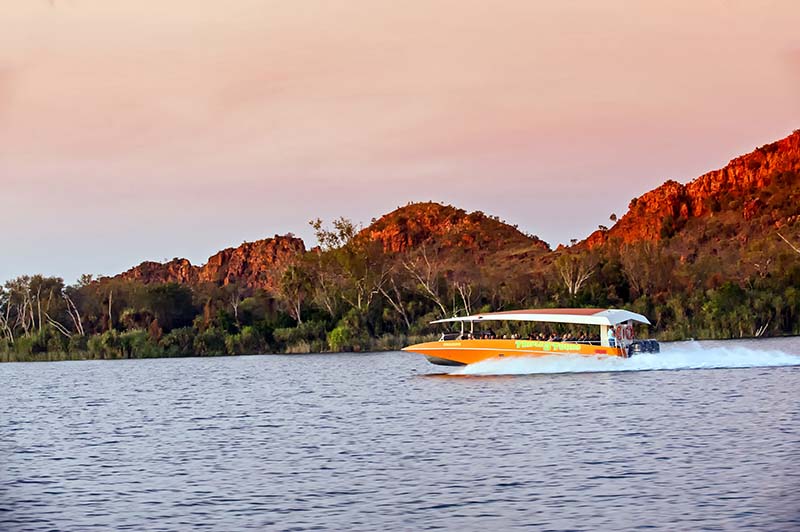 If Lake Argyle and the dam intrigued you, or you missed Lake Argyle altogether, a cruise on Lake Kununurra and the Upper Ord River is in order. Triple J offers a cruise that whisks you up the Ord to the dam wall with plenty of scenic highlights, and dam facts, along the way. A few of the caravan parks offer canoe rentals for a paddle on the lake, or you can hire a boat for your own tour (a boating license is required in WA).
Other things to do in Kununurra include a short drive to Mirima (Hidden Valley) National Park. A day-use area provides access to four walks through a landscape reminiscent of the Bungle Bungle Range in Purnululu National Park. It is well worth a visit and is a lovely spot for a picnic. Another short drive, with an appointment made in advance, is to the delightful Kangaroo Haven Wildlife Rescue where Mandy gives afternoon tours of the numerous orphaned and injured marsupials she and her partner have rescued. Mandy's love for the gorgeous little animals in her care is inspiring. This is a must-do if you are travelling with children, giving them (and you) the chance to cuddle a baby kangaroo.
KUNUNURRA GEOLOGY
Geology enthusiasts will take an interest in the various rock venues in and around town. Zebra rock, with its striped patterns, is a particularly interesting ornamental stone. Drop by the visitor centre and pick up a map leading you to rocks, Aboriginal art, pink Argyle diamonds, sandalwood products, a rum distillery and other venues.
Kununurra has discovered cake, and at almost every place you visit there is the chance for a cup of tea or coffee, accompanied by a large, delicious slice of cake. Call it a rock crawl, call it a cake crawl, either way it gets you out and about where you will see the vast agricultural area.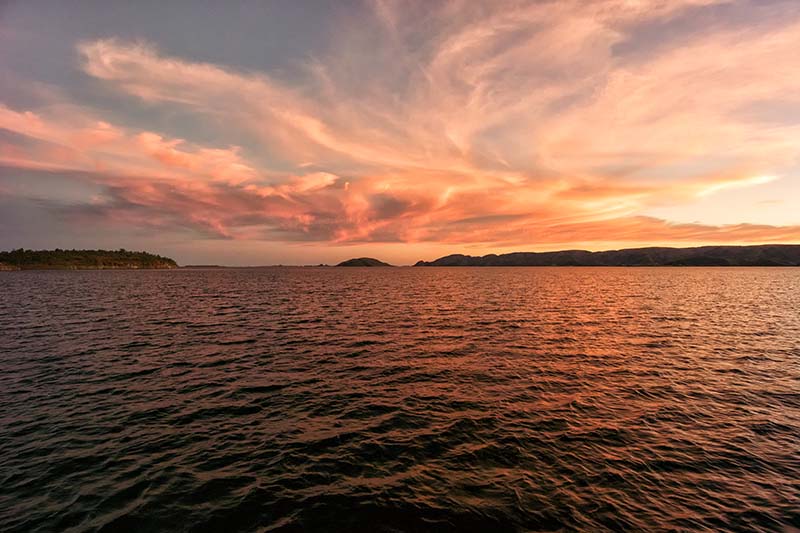 Don't miss Ivanhoe Crossing, a concrete causeway over the Lower Ord River. It is one of those places that four-wheel-drivers feel compelled to cross even if they don't need to. In times of high water, the crossing is closed (be croc wise at all times).
For a ride a bit further out of town, head up toward Wyndham. Look for signs for the Five Rivers Lookout and proceed up the winding road to a view where the Ord, Durack, King, Pentecost and Forrest Rivers converge and spill into the Cambridge Gulf. It is a stunning, panoramic scene. Two stops on the way up to, or back from, Wyndham are worthwhile. The Grotto Waterfall (15°43'43.7″S 128°15'55.9″E) is 22km from the rest area at the Great Northern and Victoria highways intersection; it involves a rocky hike down to a lovely natural pool surrounded by cliffs and vegetation.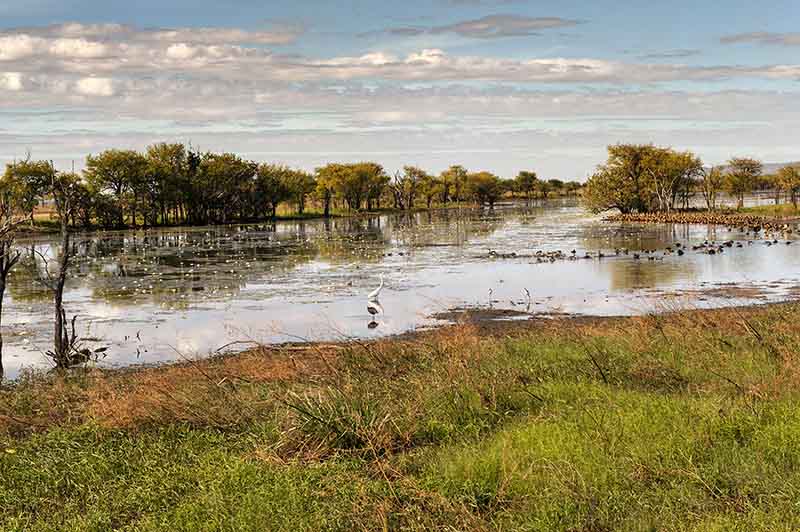 Marlgu Billabong in Parry Lagoons Nature Reserve is a must for birdwatchers. You can access it from a horrible road branching off from the road to Parry Creek Farm (where you can camp), but a much better option is to continue on the Great Northern Highway past Parry Creek Road for 4.4km. Turn east at 15°33'05.4″S 128°11'56.0″E and follow the unsealed road for 7.2km to -15.549391, 128.260016.
The billabong at sunset is ravishing. The number of boab trees standing guard over the surrounding plateau will thrill botanists. If you are driving back to Kununurra after dusk, please be extra mindful of agile wallabies coming out to feed.
A TASTE OF THE GIBB
If you are not up to doing the entire Gibb River Road (let's face it, it will challenge you, your vehicle and your RV) but would like a taste of the Gibb, then take a 25km drive from the east end of the Gibb to Emma Gorge Resort on El Questro Station. You can park at the resort and take the moderately difficult one-hour hike to Emma Gorge and its lovely waterfall. This is a great spot for a picnic and a swim on a hot day (or you can have lunch at the resort). Eleven kilometres further along the Gibb is the turn-off to El Questro Village (with camping). The turn-off for Zebedee Springs is 10km along, a true oasis at the end of short, easy walk.
To soak in these warm waters, surrounded by stunning palm trees, is an unforgettable experience in an enchanting Garden of Eden. Note that a $12 day pass is required for all adults, and, Zebedee Springs is closed in the afternoons. Contact El Questro for more information.
Last but not least, for RVers lucky enough to have a very generous budget, HeliSpirit has a number of wonderful ways to part you from a substantial sum of money. Destinations include the Bungle Bungle and Mitchell Falls, both departing from Kununurra.
That's Kununurra for you, with as much or as little to do as you please.
Images: Steven David Miller / Natural Wanders
MORE INFORMATION
Lake Argyle Resort: (08) 9168 7777, www.lakeargyle.com
Lake Argyle Cruises: (08) 9168 7687, www.lakeargylecruises.com
HeliSpirit: 1800 180 085, www.helispirit.com.au
Triple J Tours: (08) 9168 2682, www.triplejtours.com.au
Kangaroo Haven Wildlife Rescue: 0438 921 942, www.kangaroohavenwildliferescue.com.au
WA Parks & Wildlife Service: www.parks.dpaw.wa.gov.au
El Questro: 1800 837 168, www.elquestro.com.au
Kununurra Visitor Centre: (08) 9168 1177, www.visitkununurra.com