I was getting ready to do the washing when a ping told me I had an email. Oh dear – it was the editor asking for my column and I hadn't written a word!
So I put on my thinking cap to recall some of the more interesting, frustrating and amusing things my friends and I have experienced over the years.
STRUNG OUT
It was, I think, 2009 and I'd bought another bike. It's bright yellow and if it fell off the back of the van, it should be easy to see. I thought of having a string from it coming along the van and into the driver's window so I would know at once should the bike go walkabout. But someone who knows me and our travelling companion said, "Don't do that, with your luck you would get tangled up in the string and fly out the driver's window!"
A REAL WINED UP
A few years ago, bloody Murphy played one of his more humorous tricks before we left for a rally. I had to wrap up a bottle of Lambrusco for a present and put it down next to the bottle of red I was taking to drink. Of course, he mixed the two bottles and the wrong one was beautifully wrapped. After carefully opening the bottom of the wrapping and gently sliding the bottle out, I found the other bottle was bigger and the wrapping wouldn't fit. You would have guessed that it was the last piece of Christmas paper left in the house!
LOCKED IN!
At a caravan club rally about 10 years ago, one couple had gone to bed and all was quiet until around 3am when nature called and he needed to go to the loo. The door wouldn't open! They were securely locked in.
What he called his wife's 'noisy breathing exercises' had stopped by now and she was also awake. I'll let him tell the rest of it: "After using every knife, screwdriver, flexible lead and anything else that I could lay my hands on from within the caravan, the fact was we were still locked in. Then, I thought my friend on the adjoining site usually goes to the toilet two or three times a night and I might as well wait until there is some activity and give a call like a yell for help.
"Unfortunately, there was absolutely no noise coming from that direction. I then began to examine the door in greater detail and concluded that if the worst came to the worst I could open the door window, cut a hole in the fly wire and unlock the door. Fortunately, I discovered that by putting a bit of pressure on the fly wire it started to come away from the door frame and after some time and a considerable degree of patience I was able to slide my hand through the hole and release the catch – one hour and 10 minutes later."
How did it happen? I hear you ask. Our couple had gone to bed early but their son-in-law had gone to their van and, thinking they were still out, had fastened the latch. I didn't ask how the bladder had stood the ordeal or if my informant still needed the loo when the door was finally open and they could escape.
SURELY MURPHY ISN'T REAL
Also about 10 years ago, this time at the Adelaide Caravan Show, a man once accused me of making up incidents involving Murphy so that I could write about them. Then Murphy and I proved him wrong. I had taken the van to the show on the last day in the hope of getting a quick start on the road home when the show finished.
Cars had parked pretty close to the van and as I carefully drove forward and started to turn, the man tapped on the window to tell me that if I kept going I would scratch the car next to me with the tail of the van as it swung out as I turned. I had to unhook and manually extricate the van using the jockey wheel.
I wish that same man could have been with me to see what happened when, some time after midnight and a few kilometres from the rest area where I planned to kip, Murphy broke the fan belt. Pitch black, a hot motor and tired eyes were not a combination for laughter and I didn't fancy trying to fit my one-size-fits-all, you-beaut emergency belt on the roadside with huge trucks roaring past.
An extremely gentle drive with a very light throttle got me to the rest area without ruining the engine and I collapsed thankfully into bed. Murphy had made certain the van was parked at an angle so I kept feeling that I was falling out of bed all night and was pleased when daylight came.
I then rang the RACV for help and had breakfast while I waited. By just after 8am I was back on the road and on my way home – just 400km to go with a strong, gusty headwind making the old girl consume LPG the way I swill red wine.
MAKE HISTORY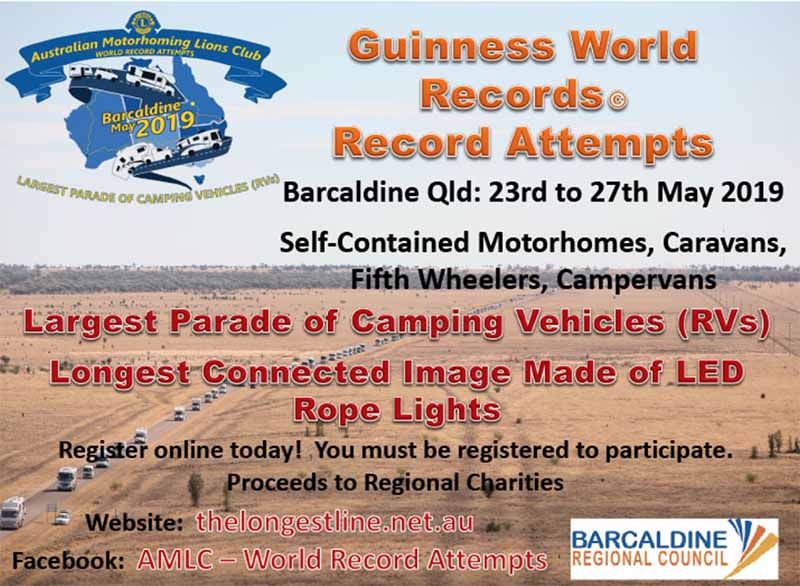 If you are anywhere near Barcaldine, Qld, in May you can join in this world record attempt.
FAMILIES CAN BE GREAT
I'm so fortunate to have a wonderful family and it's been great to have both my daughters here over Christmas and the New Year.
I have a pic of all my 'girls' together some years ago although unfortunately my mum and Vi have passed away since the photo was taken. It's a good memory but unfortunately the pic is too blurry to use so here's one of me with my two lovely daughters.
See you down the track.