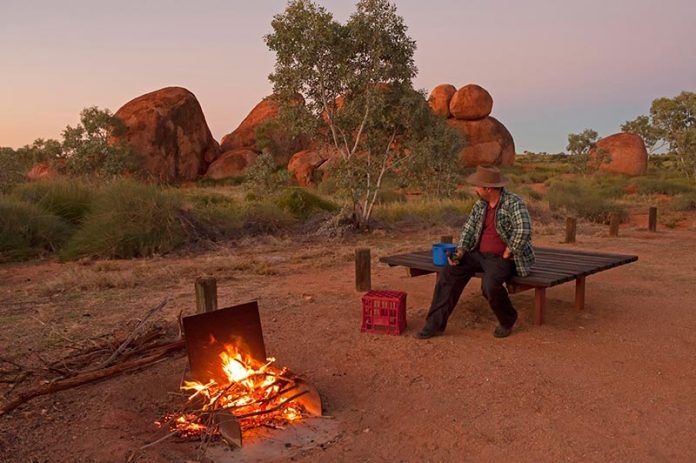 Your dream is about to come true: that longed-for lap around Australia is within reach. But before you hit the dirt, there is planning to do. Regardless of how much time you'll have on the road, the preparation you put in now will allow you to take full advantage of that hard-earned time and money.
CHOOSING A VEHICLE
Most important is your choice of vehicle. A 4WD with low range, high clearance, a snorkel and a long-range fuel tank will allow you to plunder any track along the way. Anything less than that will limit where you can go; however, that's okay because there will still be plenty of places to visit and explore.
Of course, you will also have to choose a vehicle capable of towing your chosen, fully loaded RV, with ease. Don't forget that the payload weight on a vehicle reduces its towing capacity. Some careful adding and subtracting will be required. 
A diesel 4WD will give you greater towing torque, better fuel economy and access to fuel everywhere. Petrol may not be available at roadhouses in Aboriginal communities. LPG is hard or impossible to find in remote areas. 
OUTFITTING A 4WD FOR A BIG LAP
Regardless of what vehicle you have, there are a number of after-market accessories to consider. 4WD shops and caravan/camping/4WD shows will make your heart soar and bank balance drop.
Suspension system: this needs to support a fully-loaded vehicle and tow a fully-loaded van or camper trailer. With the hammering you take on corrugations, top-of-the-line springs are essential.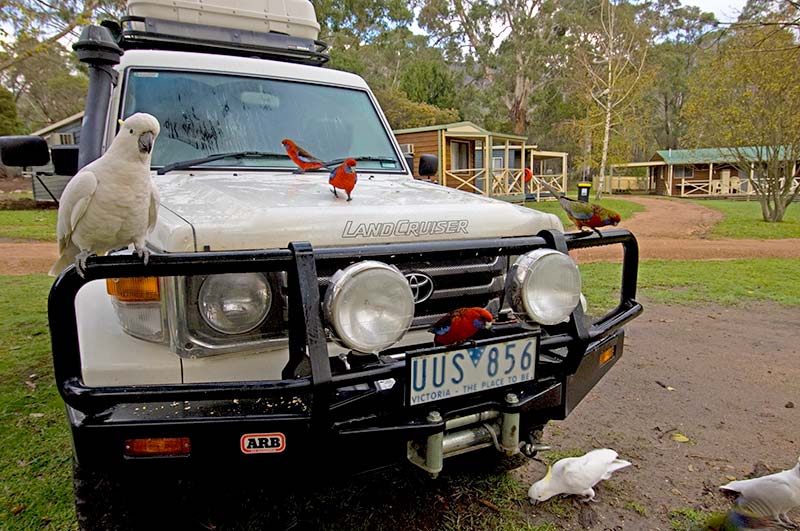 Bullbar: something sturdy that won't crumble on impact; otherwise, what's the point?
Driving lights: consider how much night driving you'll do and select accordingly. Lights are expensive, so invest a bit extra in clear, protective covers. 
Winch (if needed): choose one rated to pull your fully loaded vehicle, and/or caravan or camper trailer, out of a worst-case scenario sand or mud situation. Have the winch water-proofed before you leave.
Pre-packaged recovery kits are available from most 4WD suppliers. Make sure all straps, shackles and other parts are rated for your vehicle and winch. Learn to use the recovery gear before you go. A viable alternative to a winch is a couple of pairs of Maxtrax: a pair for the vehicle and a pair for the RV.
Air compressor: when driving on sand and unsealed roads, you need to drop your tyre pressure and re-inflate them back on the bitumen. Don't forget a good tyre gage.
A rear step bar and wheel carrier can solve the problem of how to carry two spares: there are a number of configurations designed by ARB and by Kaymar. 
Roof-rack: while these reduce vertical clearance and change the centre of gravity if the vehicle is overloaded, they can also give that bit of extra space. Don't exceed your vehicle's recommended load and adjust your driving accordingly. Rhino makes a roof system that is low-profile and versatile.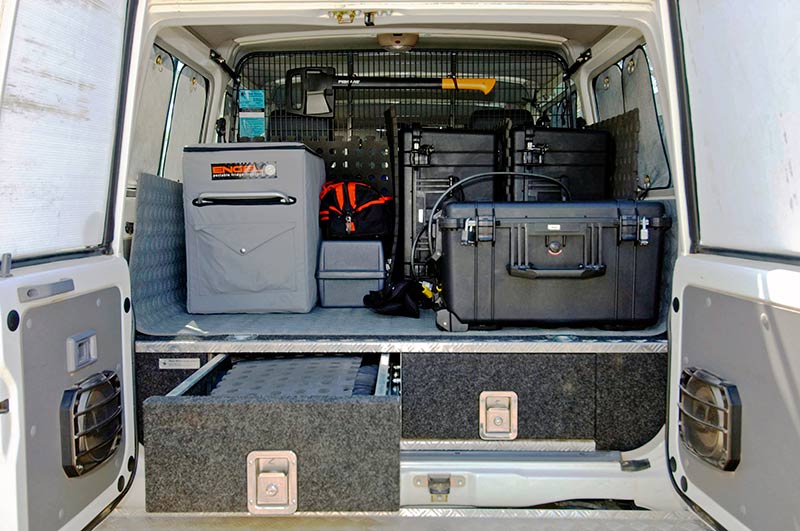 Drawer system and cargo barrier: this allows you to take full advantage of space in the back of the vehicle and to keep everything in its place. There are a variety of systems set-up with fridge slides, boxes and drawers suited to most 4WD models. These can add a lot of weight to your payload, though, so do some research and consider an aluminium option.
Fridge: Engel and Waeco are the most popular, and after all, a cold one could be considered essential after a long day of driving.  
Dual battery system and Anderson plug: dual batteries isolate the car's battery from a second battery that runs extras such as a fridge. An Anderson plug allows you to 'top up' the battery in a van or camper trailer in a short time. 
Hydraulic jack: the one supplied with your vehicle along with a back-up is a good idea. High-lift jacks and bull bags are only suitable if you are an expert at using them.
Fire extinguisher: this should be easily accessible in the vehicle and be large enough to put out a realistic fire. Also carry a fire blanket.
Spare parts: assemble a range of hoses, clamps, belts, coolant, basic spares, oil and tools to suit your 4WD. With a bit of lateral thinking, it's amazing what you can fix with putty, cable ties, wire, zip-lock bags and duct tape. 
Tyres: a matter of choice, but don't ignore the light truck tyres that probably came with your vehicle. Think in terms of what can easily be replaced in isolated areas. Always carry two spares for your vehicle and at least one for your van, along with a tyre patch kit and extra tubes. In some cases, you can match your vehicle tyres to your RV tyres.
Radios: UHF radios are short-range (relatively speaking) and will keep you in touch with anyone monitoring a particular channel within range. High frequency (HF) radios are long-range. With a VKS-737 Radio Network membership you do not need an RFDS license for HF.
KNOW BEFORE YOU GO
If you are a beginner or you are not comfortable with your 4WD skills, take a 4WD course from a registered training organisation; ask your state 4WD club to recommend one. Pick a course that covers driving through various types of terrain (mud, sand, corrugation, etc.), controlling a skid on an unsealed road, and the use of high and low range.
Other courses will cover safe winching, the use of recovery equipment, basic navigation, how to use a radio and other skills. These are skills that all drivers in your party should have. 
CHOOSING LIVING SPACE
Your other decision is what to live in throughout your Big Lap. The key is to match a caravan or camper trailer to your tow vehicle. Know the towing capacity, the ground clearance and the suspension capabilities of your 4WD and choose something that will follow along happily to the destinations you most want to see. 
A day spent at a large caravan show is the best place to start. Don't just look inside though; look underneath to see what you need to protect since exposed PVC plumbing and wiring won't survive rough or unsealed tracks!
While at the show, also check out solar panel systems and generators for power when you are bush camping. GoRV offers a number of caravan reviews: check https://www.gorv.com.au/category/rv-tests/. Also check the GoRV RV Tech section for lots of helpful advice https://www.gorv.com.au/category/rv-tech/, in particular Max Taylor's review of the Hitch-Ezy coupling.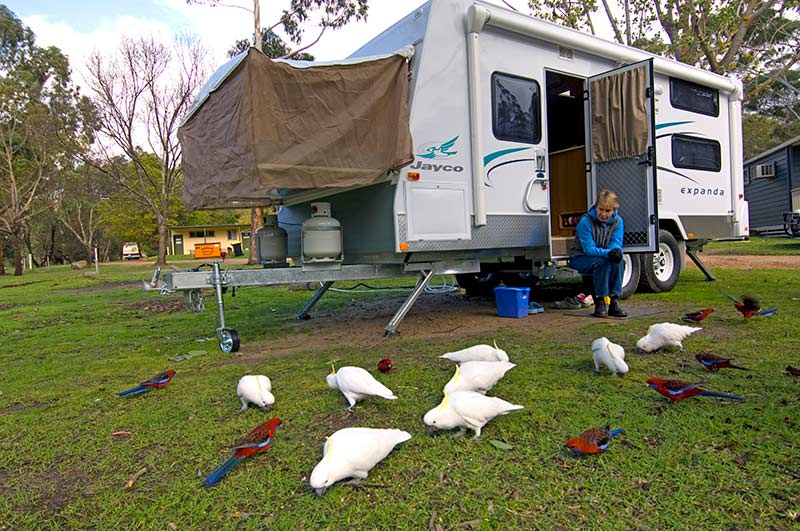 Caravans offer the most comfort, and at the end of the day, you just open the door and that's it (well, after unhitching, levelling, dropping the jacks, hooking up hoses and power…). However, no matter how sturdy the van, its size and weight will dictate where you can take it and your freedom to roam will be restricted.
If you do want a caravan that can follow your 4WD to the back of beyond, make sure it is truly offroad with excellent suspension and remember that smaller equals more freedom.
There are a number of baffling choices, but simpler is better in remote areas. For example, Trakmaster's Pilbara S Series van comes with independent coil springs, which are oblivious to rocks, and AGM deep cycle batteries that can be easily replaced almost anywhere.
The Pilbara Extreme version comes with airbag suspension, not oblivious to rocks, and lithium batteries that are not easily replaced almost anywhere. Look at every aspect of the van and consider how well these will hold up on the roads you intend to travel on.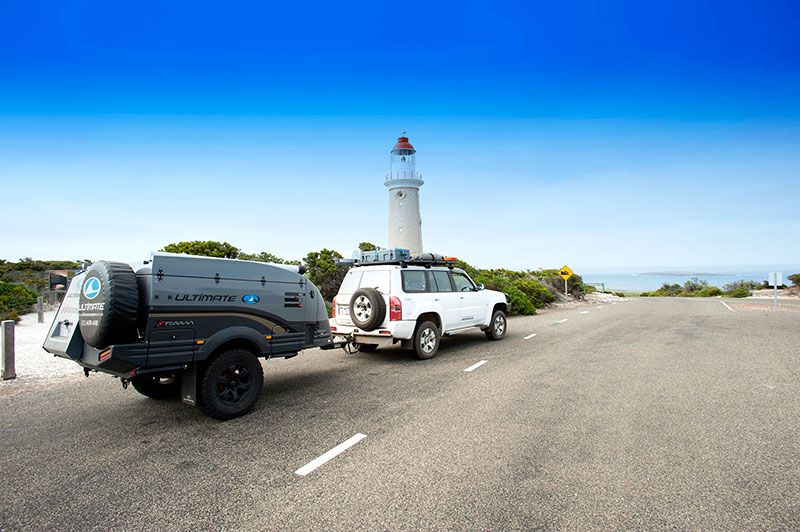 An offroad camper trailer with a sturdy suspension system and high clearance will take you almost anywhere, but you have to set it up and take it down on every single travel day and in many cases, you have to cook outside. 
A number of companies have gone under due to cheaper imports from China. You get what you pay for, so if the budget allows, stick with a 'made in Australia' camper. For a family, it is hard to beat the Outback version of Jayco's camper trailers.
If it makes the difference between going or not, consider a good tent and basic camping gear stored either in your vehicle or in a simple (and far cheaper) offroad trailer. 
The basic rule for packing up is don't exceed the RV's payload. Assemble everything you think you have to have and then eliminate half of it. If possible, check into a caravan park close to home and try everything out for a week. This way you can add and subtract gear as you need to.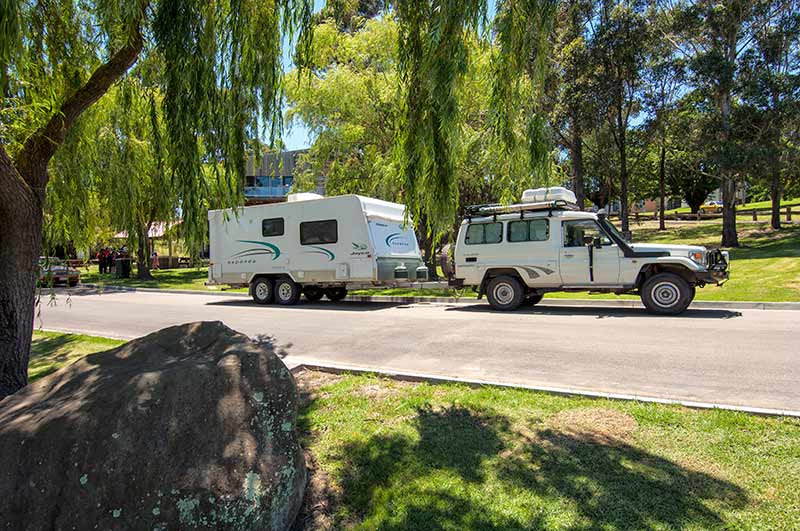 Take your van or trailer to a truck weighing station and weigh it fully loaded with water in all the tanks, gas bottles filled, etc. If you are over the payload, you must reduce the weight. It is against the law to exceed the manufacturer's specified payload (ATM) and doing so may affect your warranty and insurance.
TOWING
If you have never towed a caravan or camper trailer, then practise before you leave. An empty parking lot is a good place to learn to reverse as you will need this skill when manoeuvring into narrow campsites.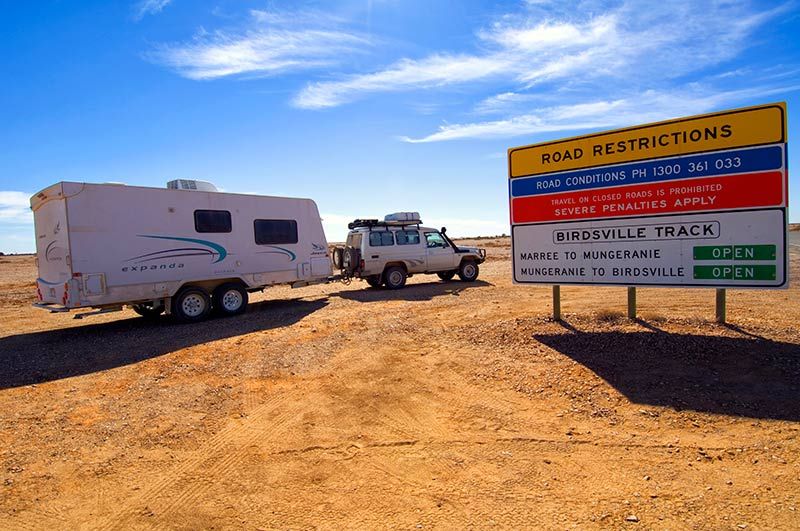 Every driver in your party should have towing skills in case of an emergency (visit GoRV for safe caravan towing) and be sure to obtain a copy of the Caravan Industry Association of Australia's towing guide. Pay particular attention to learning how to adjust your vehicle's electric breaks and how to attach sway bars to the van.
Towing a van tosses up stones that can shatter the rear window of your vehicle. Make a template of pre-cut pieces of corrugated plastic sheeting that can be taped to the back windows before driving on unsealed rods. For something you can see through, try Plasweld's Rear Window Savers. A piece of cardboard will always do in a pinch. A stoneguard for your RV will reduce stone damage to the front of the unit.
PLANNING YOUR ROUTE
If time is unlimited, then you can tour at your leisure. If you are restricted to leave or holidays, then consider picking one region to concentrate on at a time. That way you won't be rushing, burning up fuel and missing great stops along the way for the sake of covering as many kilometres as possible. 
Determine when and where. The Centre and the Top End offer the best touring in winter or through the dry season, leaving Tassie, Victoria, New South Wales and the southern parts of South and Western Australia for the summer. Plan your Big Lap based on what you most want to see and when the best time is to see it. Keep in mind that everyone pretty much goes to the same area at the same time: sadly, this means the days of total travel flexibility are gone, especially during school holidays.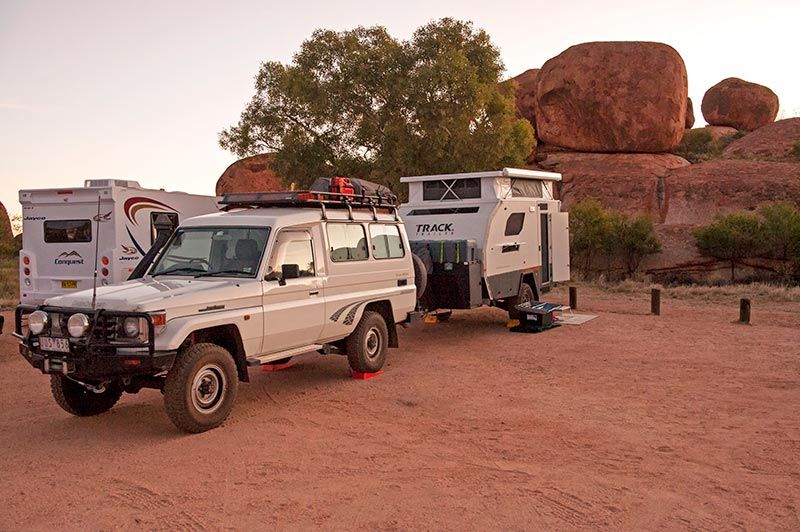 There are a number of excellent touring guides and maps, but for our money, we find Hema Maps to be unbeatable. The Hema Australia Road & 4WD Atlas is mandatory and for a closer, more detailed view of particular regions, more specific maps are available. Remember that sheet maps take up a lot less room and weight than guide books.
For planning, a tablet can be loaded with Hema's 4WD maps app and Explorer app, the Explore Australia website and so on.  A GPS is very handy, especially in towns and cities, but never rely on them entirely. Always double-check on a printed map. (Hema's Navigator includes 4WD routes, touring, street navigation and Camps Australia Wide). 
BANKING
Most post offices in Australia are also bank outlets with withdrawal and deposit facilities, giving wide access to funds. 
A debit card is essential to access funds and for cash out when using EFTPOS facilities; however, remote businesses generally do not offer cash out.  
Set yourself up with internet banking to pay credit cards, bills and to transfer funds between accounts. Many institutions, such as Australia Post, offer online banking. Of course, this means you need a laptop, tablet or Chromebook: select a robust model that can take a few bumps and store it in a sturdy, dust-proof case. 
Have a friend or family member collect and forward your mail. Mail can be sent to caravan parks or to any post office c/o your name, Poste Restante, and the address. Online package purchases can also be sent to post office locations for collection. 
BUDGET
Allow for fuel, food, caravan and camping fees, park entry fees, tour operator fees, vehicle and caravan insurance and registration, vehicle maintenance, bills at home and other personal needs. Don't make the mistake of thinking that touring is cheap – it isn't!
STAYING CONNECTED
Telstra has the widest mobile phone and internet coverage in Australia with the NextG network. Most smart phones will allow you to use the phone as a hot spot for internet access on your computer.
For prepaid mobile internet access, both Telstra and Optus have mobile devices and plans (a plan that rolls over unused data is worth considering). Load emergency numbers such as 000 and 112 on your mobile before you leave along with Flying Doctor numbers. The WIRES app helps you find rescue information in case you accidentally injure, or find an injured, animal along the way. 
In an emergency, you can't beat a satellite phone. An alternative to that is a Personal Locator Beacon, PLB (not an EPIRB).
INSURANCE
Make sure you have full replacement coverage for your vehicle and RV. If you break down in a remote area, are you covered for towing and retrieval costs? 
Health insurance is a matter of personal choice, but ambulance coverage is a must. If you take it out in one state, you will also be covered Australia-wide (but confirm this!).
STAYING HEALTHY AND SAFE
Take a St Johns Ambulance first aid course before leaving home and carry a first aid book and a fully stocked first aid kit that includes a pressure bandage for snake bites, a broad-spectrum antibiotic, an analgesic for pain and an anti-inflammatory.
If you have an allergy or health condition, get a summary from your doctor. Have a card in your wallet with an emergency contact, your blood group and the details of the doctor who treats you for these.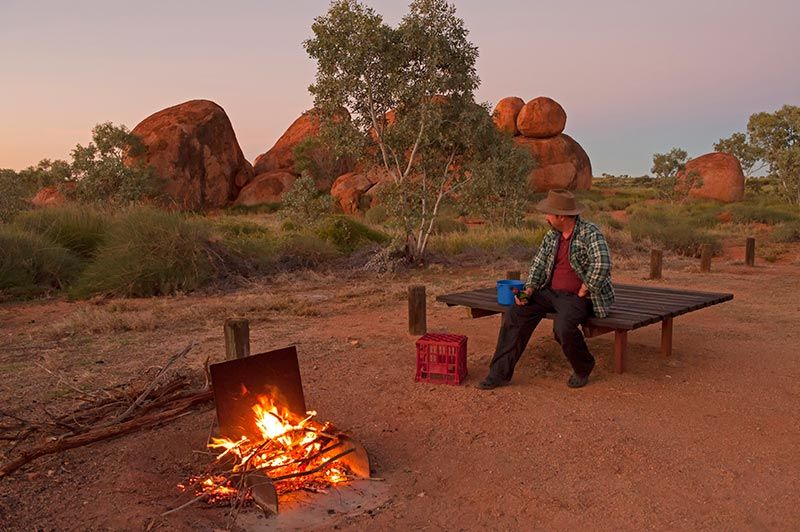 Always fill prescriptions in towns with chemists and take extra. In some cases, out-of-state scripts may not be accepted. In some parts of Australia, there can be as many as 1900km between chemists, for example along the Savannah Way. 
Keep a survival guide in your 4WD such as the WA Police Academy Bushcraft & Survival Guide, which can be downloaded onto a tablet or printed.
Have an emergency plan in place and a survival kit with at least 3L of water per person for at least four days. Food should include high-energy items that do not require cooking or preparation.
That satellite phone we mentioned could be the thing that saves your life in an emergency. Ask yourself what you will do if one of you is incapacitated. How will the other person manage? The saying 'plan for the worst and hope for the best' comes to mind.
A FINAL WORD OF CAUTION
You may never want to go home again. Many travellers just keep going around and around for decades at a time. Others stop and work along the way, having caught a fatal case of wanderlust. So, what are you waiting for?  
And…
TRAVELLING WITH CHILDREN
A child's education becomes a primary issue when you are on the road beyond school holidays. Distance education is a solution to this where you tutor your child based on a curriculum given to you by a school or district.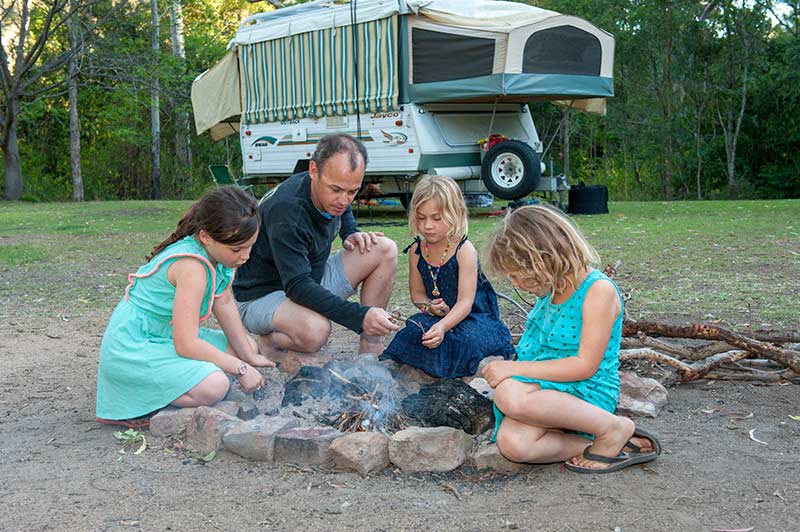 Start by asking at your child's school. Do not underestimate the time tutoring will take out of each day and plan accordingly. The best way to keep children occupied is to involve them in planning itineraries, reading maps, identifying reference points, studying information at historical sites and national parks, and engaging them in camping chores.
There are a number of excellent field guide apps that can be used to teach children about the flora and fauna of Australia.    
A BIG LAP WITH PETS
Dogs are not permitted in national parks, conservation parks and many nature reserves. They are allowed, on a lead, in state forests. Many caravan parks do not welcome dogs.
It is critical to note that most states use poison baits to kill feral animals. A piece of meat laced with poison can and will attract your dog, resulting in death. Baits such as 1080 in Western Australia are placed in national parks, state parks, state forests and nature reserves. Station owners also use poison baits. 
Always keep your dog on a lead and if it takes a bait, induce vomiting and get it to a vet as quickly as possible.
Happy, and safe travelling!
– Images: Steven David Miller/Natural Wanders