Roadstar Caravans is continuing its aggressive push into the budget caravan market.
The company, owned by Ken Nizam, is attempting to make serious inroads in the important $50,000 to $60,000 caravan market which, for many years, has been a kind of 'sweet spot' for budget-conscious buyers.
Since Ken took over Roadstar in 2009, he has focussed on top-end rigs, like the Daintree, Safari Tamer and, more recently, the Sirius. At the same time, he ramped up the company's technical abilities, developing production processes and tooling to build his vans however the customers want them, either with fibreglass sandwich panels, timber frames or aluminium frames.
While Roadstar has never neglected the 'budget' end of the market, the GT Classic range represents its first serious push to appeal to customers who need to watch their pennies.
A couple of months ago, we looked at the 18ft 6in GT Classic, a couple's van with full rear bathroom.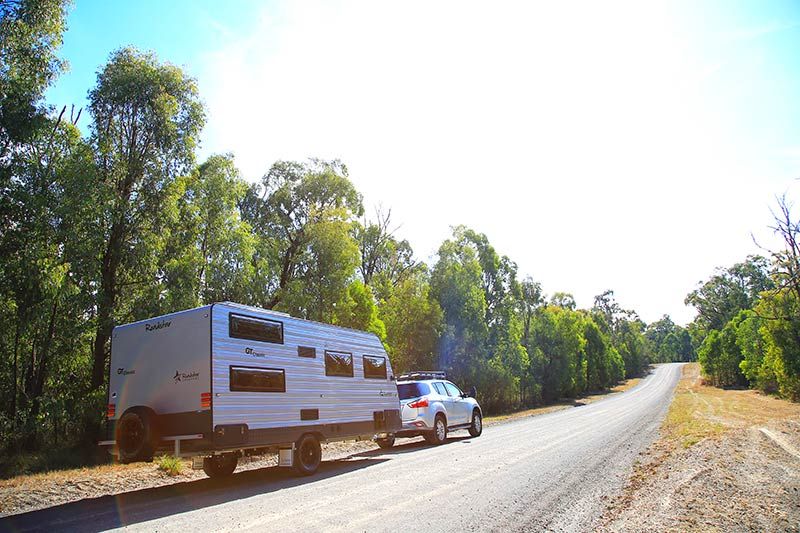 This GT Classic, however, is not only smaller at 17ft 6in (internal), it fits all the features for mum and dad, as well as a couple of bunks. And a combo bathroom.
Yes, for its size, it packs a punch. Interested in a compact family van? Read on.
FIT AND FINISH
In my review of the Roadstar Caravans 18ft 6in GT Classic, I wrote that Roadstar had maintained the excellent fit and finish found in its top-end vans in it budget offering. The same is true of the smallest of the GT Classic brothers – it represents an opportunity to get the family into a Roadstar rig at a much lower price.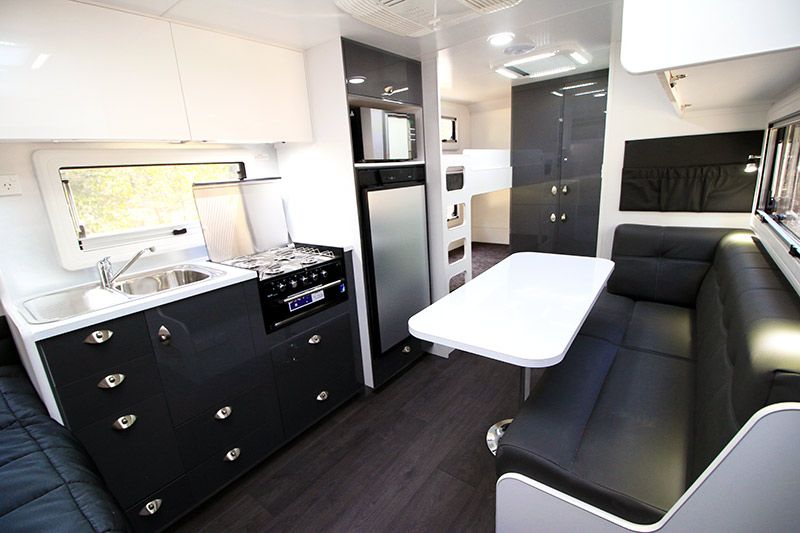 However, for any caravan of compact dimensions to offer bunks, a bathroom, and a queen-size bed, there will have to be a trade-off. In this case, it's the east-west main bed, which is fitted in the nose of the van, with only one wardrobe. This wardrobe has a niche for easy access to the reading glasses, phones, etc., but if I could change one thing, it would be to add a 240V and 12V powerpoint inside the wardrobe.
Roadstar Caravans has fitted 'his and hers' drawers beneath the bed – a fantastic idea.
Bench space in the kitchen is, obviously, on the small side, which is to be expected; however, the fitout is first class. Not a single rough edge or poor join to be found. A Swift four-burner cooktop with griller is standard, as is a microwave and stainless steel rangehood.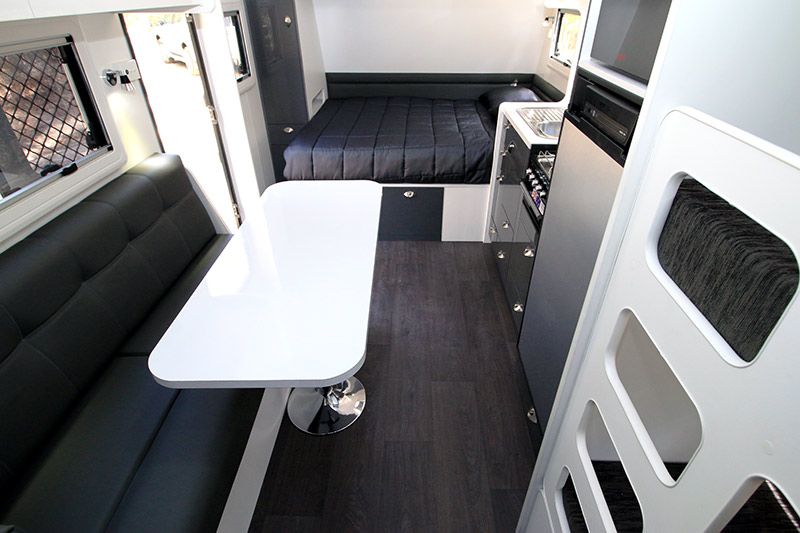 In one overhead locker, Roadstar has centralised all electrical switches and control panels, including the gas and electric switches for the hot water service, the water pump switch, Projecta battery charger, stereo system, and solar regulator. This is a good move as it 'declutters' the walls of the van, leading to a clean, tidy finish.
The kitchen also comes with a 150L three-way fridge with a microwave above, while an L-shaped dinette sits directly opposite, on the nearside. Reading lights are fitted as standard, naturally.
The rear of the van is a highlight. The offside is home to two bunks, each with multiple 12V and 240 powerpoints, a window, two storage drawers underneath, and a massive cupboard at the back, between the bathroom and the bunks.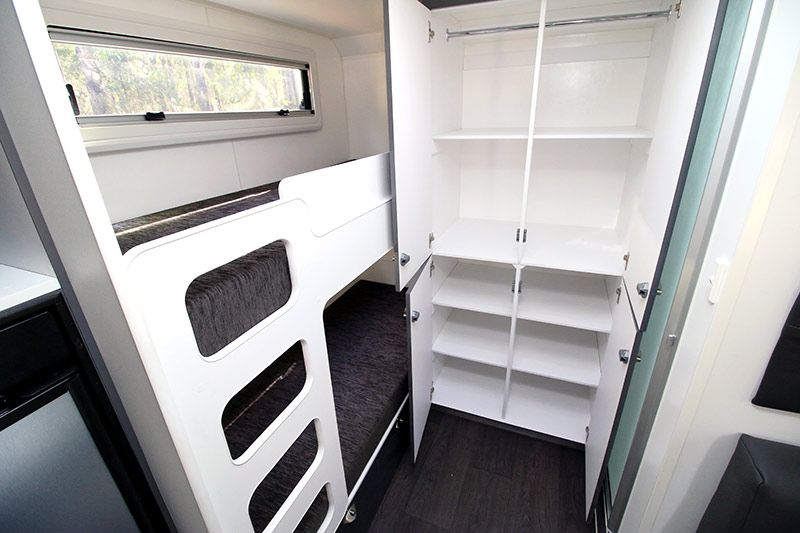 This cupboard should be more than sufficient to house all the kids' clothes and gear. It would also be the perfect spot to fit an optional washing machine.
The combo bathroom, positioned in the nearside rear corner, has a hand-held shower rose and bench-style cassette toilet.
This family-friendly van also comes with an Aussie Traveller reverse-cycle air-conditioner, and the handle-free doors on the overhead lockers – typical of Roadstar – add to the overall sense of style. There is very little to fault. Though it's a relatively small family van, it doesn't present as entry-level.
TOWING THE ROADSTAR CARAVANS GT CLASSIC
Pleasingly, the 17ft 6in GT Classic family van is quite light. At 1840kg Tare, it has a payload capacity of 450kg and an unladen ball weight of 170kg. These stats, to me, are very reasonable. In fact, while my 3000kg-rated MU-X towed it like a dream, it should sit nicely behind the 2500kg-rated Prados and Pajeros out there.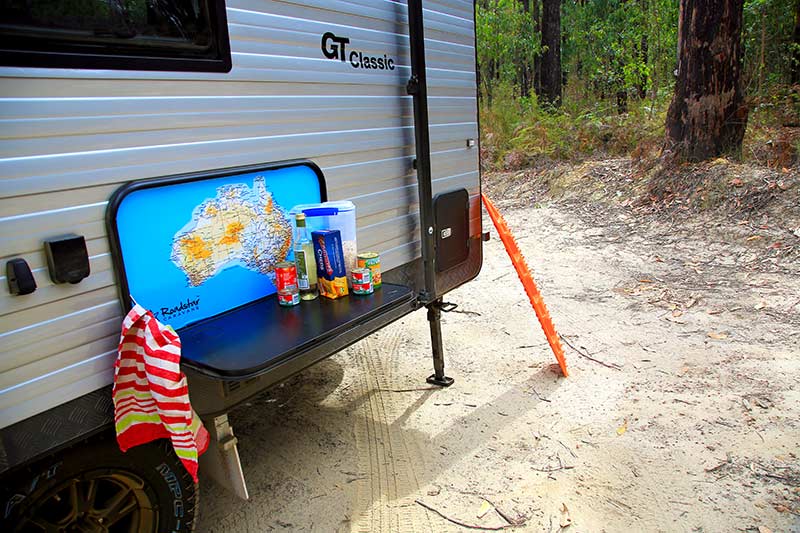 It rides on a 4in chassis with a 2in raiser and independent rubber suspension. It is not an offroad van, I should point out, but over mild corrugations, gravel tracks, etc., we experienced no issues.
Like with the 18ft 6in model I reviewed a couple months ago, Roadstar Caravans fits a single 9kg gas cylinder to the 4in drawbar of this van, though you can easily add another. 
A ball coupling is fitted as standard and the drawbar has plenty of room to fit load levellers, should you need them.
Instead of a front boot – which would add to the overall length of the van (or decrease the internal living space) – Roadstar has installed a gal-lined tunnel boot. A good move.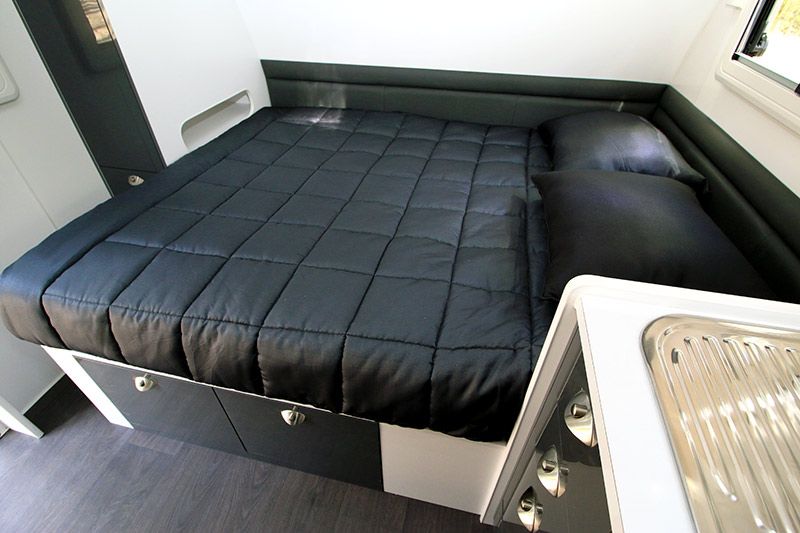 The nearside has a full-length roll-out awning, a 12V charging point, two speakers, LED awning light, and a fold-down picnic table. I noticed, however, that the dinette window has to be closed in order to fully open the door.
As with its other models, this van is available with a meranti timber or aluminium frame, ribbed aluminium cladding or smooth composite aluminium, and fibreglass sandwich panels. Our review rig had traditional ribbed aluminium over a timber frame, but the composite aluminium front and rear is a nice touch.
Given that the black checkerplate on the sides doesn't come up very high, I suspect it's mostly decorative; however, the front and rear checkerplate should afford some protection.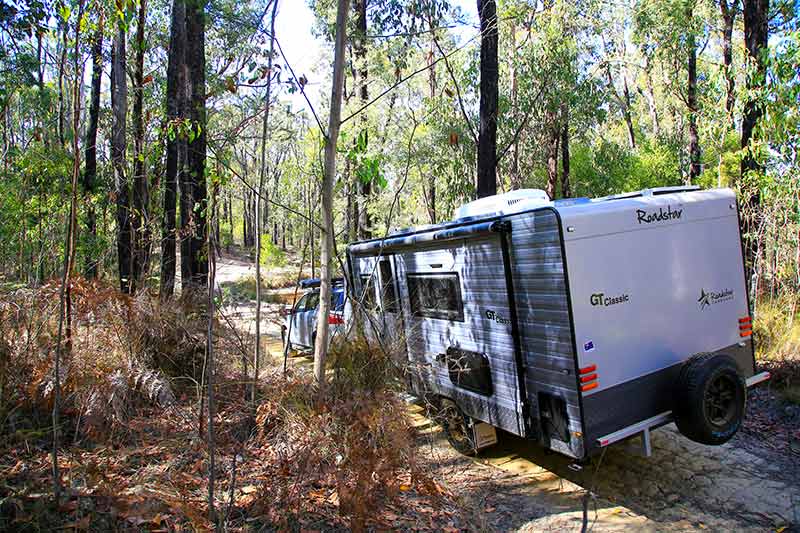 Underneath, the van is fitted with dual 95L water tanks. A grey water tank isn't standard, but can be fitted as an option. A 100Ah deep-cycle is also standard, as is a 150W solar panel. As with the inside, the external fit and finish is of a high standard. 
GORV'S VERDICT
Being a budget van, the 17ft 6in GT Classic by Roadstar Caravans doesn't have all the bells and whistles, but much of you could add yourself as time and money allows. What it does offer, however, is solid construction, a near-faultless finish, and the essentials for family touring. Highly recommended.
THE SCORE
FIT AND FINISH –

LAYOUT –

INNOVATION –

HITS & MISSES