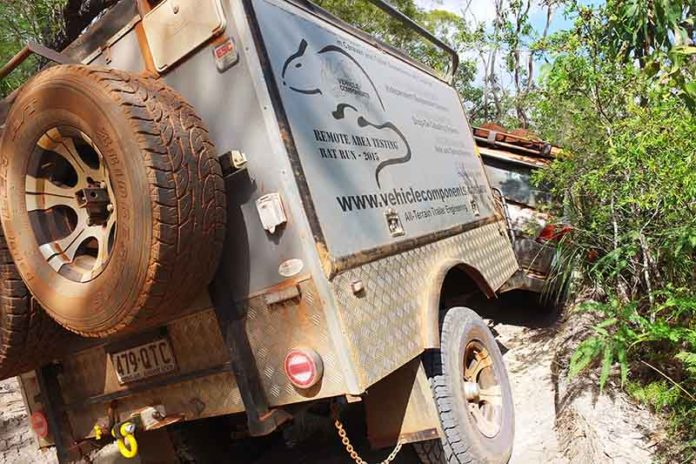 When is an offroad caravan not an offroad caravan? According to some of Australia's best-known offroad caravan manufacturers, a genuine offroad van will be purpose-built for such duties. And, yes, it's only logical. But wait.
As anyone who's shopped for a caravan before would know, the market offers a range of options and upgraded fittings for a standard blacktop tourer as part of various 'offroad' packages. But does this make them truly capable in tricky terrain, or do we need to further define the term 'offroad'?
THE FINE PRINT
There's no shortage of opinions on what constitutes offroad touring. Some might describe the Oodnadatta Track, SA, as offroad terrain, while others might say that a corrugated gravel road isn't sufficiently gnarly to warrant such a designation.
As Roy Wyss, the owner of Sunland Caravans, says, the term 'offroad' has a wide range of applications and is open to interpretation. It could refer to grass tracks or any unsealed road, river crossings, "bolder bashing", or even the van's self-sufficiency for off-the-beaten-track touring.
There is, unfortunately, no agreed standard on the definition of offroad caravanning and, therefore, no corresponding criteria to guide the make-up of offroad RVs.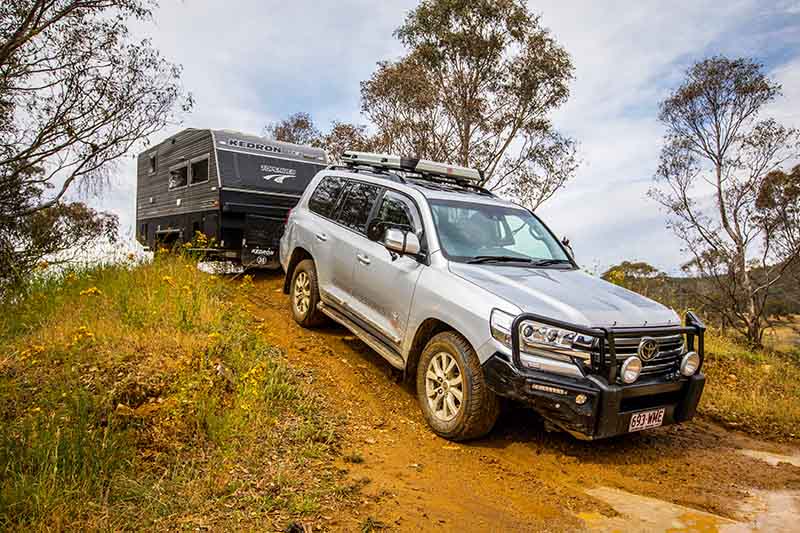 So what does that mean for people in the market for an offroad touring weapon? Should they believe that because a van has the word 'offroad' or 'extreme' in its model appellation, the van is fit for that purpose? Not quite.
Always look at the fine print and ask lots of questions. Jayco, for example, is sensible in this respect. Australia's largest RV manufacturer has long offered a suite of upgrades to its standard vans known as the Outback Pack. Note that it's not called the 'Offroad Pack'. And on its website, Jayco points out the limitations of the Outback Pack, including what isn't covered under warranty. Fair enough. The company isn't claiming that the Outback Pack transforms a standard Jayco into a hard-core offroad warrior and is transparent about the terms and conditions of the pack.
The point is, satisfy yourself in terms of what the van is, and is not, built for and whether or not its manufacturer warrants the van and 'offroad pack' for the kind of touring it is said to be capable of. For example, have the internal fittings been reinforced, or will the benchtop potentially delaminate once the van is off the beaten track?
Again, it's important to define your terms. Sometimes, an 'offroad-ready' caravan would be more at home in the Southern Flinders than on the roughest terrain in the Kimberley. You could, with varying degrees of credibility, argue that the gravel tracks in the Flinders qualify as offroad and that therefore the van in question is, in fact, an offroader. In these instances, it would probably be better to save the confusion by describing the van instead as a 'dirt-roader' or 'rough-roader'.
OFFROAD PACKS
Standard vans that have been fitted with an optional offroad-style pack certainly have their place. These packs usually include the fitment of independent suspension and a fully articulating coupling, and sometimes an extra onboard battery, greater ground clearance and rear departure angle, a grey water tank, and other bolt-on accessories. The idea is to turn a standard blacktop-touring van into a rig that offers greater range. And there are plenty of manufacturers who do it well.
Take Goldstream RV, a manufacturer with a reputation for solid, versatile caravans, pop-tops and campers. To its standard rigs, Goldstream offers the Adventure Pack as an option, which includes some of the above mentioned items. As its name suggests, it's a package designed to let the van be taken into the bush or national parks, rather than down Gunshot. Think of it as a package that fills the 'gap' between on-road and offroad vans. Sure, there are actual offroad vans in the Goldstream range, but they've been built from the ground up with the Gibb River Road in mind – it's not a case of slapping on some bigger wheels and calling it 'offroad'. For example, the chassis of Goldstream's offroaders has been built to its spec based on 25 years of manufacturing, and the cabinetry is reinforced, mindful of the teeth-chattering corrugations and stomach-churning undulations in the van's future.
THE REAL McCOY
True offroaders, vans built specifically to withstand a beating, should have virtually no limitations on their warranty. And it seems many builders of such caravans agree.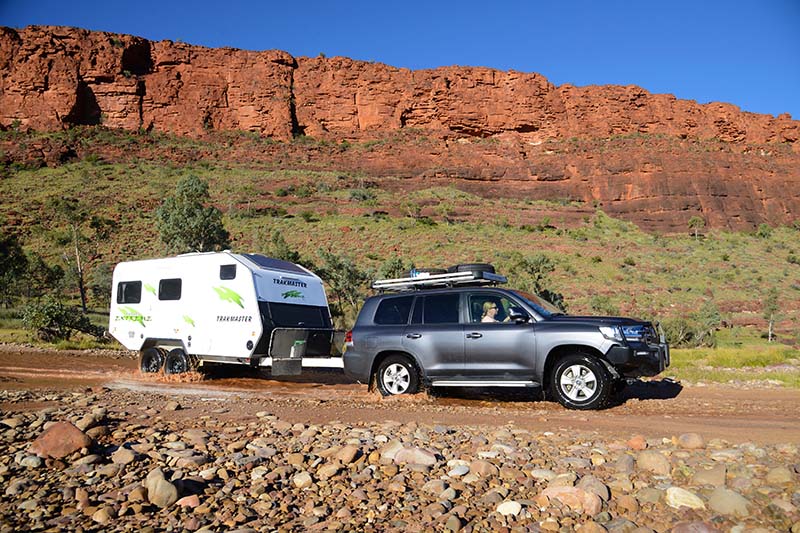 Russell Seebach is the founding director of Trakmaster Caravans. He has travelled around remote Australia for 55 years. "A true purpose-built, offroad caravan will have no limitations as to where it can be towed. If the tow vehicle can handle the conditions, then so can the caravan; only the size of the caravan may limit where it may be physically taken," he told GoRV.
Having built some of the most respected offroad vans in Australia since 1995 (he retired in 2016), Russell's perspective is particularly pertinent. We asked him if the warranty on a caravan that was purpose-built for offroad touring should be, in any way, limited.
"Warranty should not be reduced or limited; in other words, if the manufacturer offers a two-year warranty, then it is a full warranty on the build for that period and that duty as an offroad caravan."
Granted, that's one person's opinion, albeit an opinion borne of more than two decades in the business, and decades more touring experience. It's also an opinion shared by Lennie Mifsud, the owner of On the Move Caravans.
"I think 'offroad' should mean that the van is capable of going anywhere it can fit, and the warranty should cover the van, no matter what road it goes down, and not have so many clauses that you can't go on a dirt road without voiding your warranty, as long as the owner does what is required from the manufacturer, such as maintaining correct tyre pressures, driving to road conditions, etc."
We asked Russell if he believed it was a case of 'buyer beware' when it came to purchasing an offroad caravan.
"We often see TV ads for SUVs that seem to indicate the vehicle will go anywhere and do anything when we in the know are aware that the vehicle is not suitable for the High Country or the Simpson Desert, for example," he said. "But if you want to get into remote outback areas, you need a vehicle that is designed from the ground up for that duty. The same applies to an offroad caravan that is designed for long-term remote-area travelling. So, yes, there should be greater accountability by some manufacturers.
"All too often we hear of people who have purchased an 'offroad' caravan and have been bitterly disappointed when they find their purchase can't handle the conditions.
"A purpose-built offroad caravan will be designed and engineered from the ground up for that duty. Importantly, the chassis, suspension, body structure and cabinet work must be designed to handle all offroad conditions, year after year, just as any real 4WD."
But how to sort the champagne from the warm beer? Russell's advice: find out how long the company has been in the offroad business, and whether or not its staff have broad experience in remote travelling.
NO LIMITS
Matt Johns of Queensland's Zone RV agrees that a true offroader should have virtually no limitations in where it can travel.
"The only limiting factor for a true offroad van should be the width and height of the track and undulation of the terrain, and how the ground clearance copes with that," he said. "Being offroad means a caravan should be able to take consistent corrugated roads and high levels of dust and water without ingress. Insulation and storage are the other factors that can limit caravans and their capacity to be truly offroad.
"An offroad caravan should be built with materials and technologies that will withstand the high frequency vibrations and shock loading found when towing a van at speed offroad. The common fastening and construction systems that rely on screws, staples and rivets are clearly not suitable for this abuse.
"Maximising ground clearance is another key feature. Front-of-body clearance is commonly compromised by under-laminated drawbars. A single chassis rail with re-enforced drawbar gives the maximum clearance from the vehicle back to the caravan wheels. The ability to increase rear clearance with airbag suspension systems is a bonus for those doing rough country. Along with this, the positioning of underbody components and services is critical. Nothing should transverse under chassis cross rails as this leaves it prone to projectile damage."
Matt Johns said the caravan's body should be constructed to withstand impacts, be easily repairable, with no problems concerning repairing internal framing if an accident does happen when in the bush.
Asked if the warranty of an offroad caravan should be limited in any way, he said, "As long as the caravan is being used for its intended purpose with a duty of care, there should be no limit to the warranty."
As for whether the purchaser bore responsibility for ensuring their van was truly up to the task, Matt said, "The purchaser should make informed decisions based on transparent information provided by the manufacturer. There is a huge number of options when buying an offroad caravan; be sure to read the warranty document but, more importantly, make sure you see how the caravan is built and choose a van constructed with the appropriate materials."
SUSPENSION
Of course, any offroad van worth its salt has independent suspension. There are a number of well-regarded suppliers in this field, including Al-Ko with its Enduro setup, and the Cruisemaster range by Vehicle Components. But what performance characteristics should you expect from a quality system?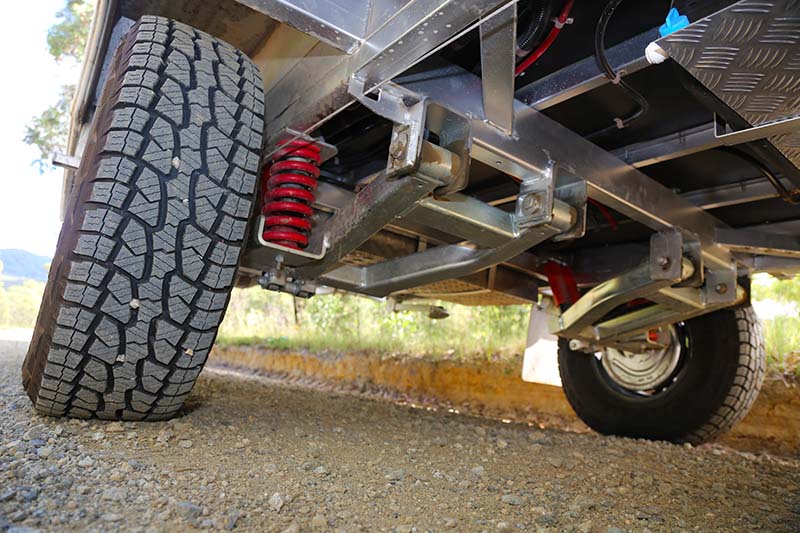 Vehicle Components' managing director, Chris Goddard, said the suspension arms must be strong enough to handle stresses from severe jarring when the van is fully laden, it must be fatigue resistant so as to perform well on extensive corrugations, and torsionally stiff to prevent unwanted camber 'adjustments' when loaded.
The suspension system should be comprised of high-quality bearings, lubrication and seals, with properly matched shock absorbers that won't overheat when worked hard. The system should have high performance coils or air springs, and strong mountings that spread load into chassis sections.
The spring rate should be soft enough to absorb bumps yet stiff enough to control body roll on high vehicles.
FACEBOOK FEEDBACK
What are the hallmarks of a true offroad caravan? We threw it open to Facebook – here is a sample of the responses.
Larry Newbury: What is your definition of 'offroad'? The surface and shoulders of many of our so-called major routes are far worse than many of the places I have towed a van.
John Butler: Beauty or, in this case, resilience, is in the eye of the beholder. Horses for courses. You get what you pay for. You must have a manufacturer that you trust to build your van. Design and construct it to suit your needs.
Bob Coventry: Light, strong, and tracks within the [tracks of the] towing vehicle, storage space for tubs (no fancy cupboards or drawers). Above all, well balanced when loaded with sufficient water and stores and able to tow equally well on the road as off it.
Roy Wyss (owner of Sunland Caravans): A true offroad van should be able to handle whatever is thrown at it dependent upon the size and weight of the van. It should offer self-sustainability, keep out the dust and dirt, it should be able to handle thousands of kilometres of corrugated dirt and gravel roads. It should tow as well in the rough as it handles the blacktop. It should be equipped with enough water and supplies to enjoy long periods off the grid. It should have good protection and be well insulated. It must be warranted for the intended use. It must have a decent payload.