It's every caravanner's worst fear: a sway that quickly gathers steam until, like an unpredictable double pendulum, it jerks out of control. On the eve of the festive season, this dash-cam footage acts as a necessary warning about safe towing.
While it's unclear exactly how this particular accident happened (which presumably occurred in the US), the outcome is serious. And it starts with that same gentle sway we've all felt before. However, sticking to some cardinal rules – from loading the van to towing it properly – will greatly reduce the chances of jack-knifing and overturning a caravan.
THE TOW TUG
This one is obvious: make sure your tow vehicle is legally able to tow the trailer. Is the towing capacity equal to or greater than the van's Aggregate Trailer Mass? Is the vehicle's towball maximum sufficient once the van is loaded?
While some vehicles have no problems towing what their manufacturer claims they can, other vehicles are simply too light or don't have the wheelbase to be a stable towing platform to haul heavy trailers, regardless of what the manufacturer says about its towing capacity. Some judgement and common sense will go a long way here.
My own vehicle, for example, is rated to tow 2500kg (250kg towball download), but it performs best as a tow tug when lugging no more than 2000kg.
Now, this is not true of all vehicles. Larger, heavier 4WDs, such as the Land Cruiser 200 or 70 Series, the Y62 Patrol or Jeep Grand Cherokee, each rated to tow 3500kg, do it well. But some of the one-tonne utes that are claimed to tow 3500kg are somewhat… marginal when loaded right up – they are just too light.
The moral: don't assume it's okay to tow a trailer that weighs exactly what your vehicle's manufacturer claims it can. It might, strictly speaking, be legal. But is it smart?
LOADING THE VAN
How you load your caravan is crucial. To be stable, a caravan must have a certain amount of towball download weight. Place the heaviest items over the van's axle and load gradually towards the front of the van, not the rear.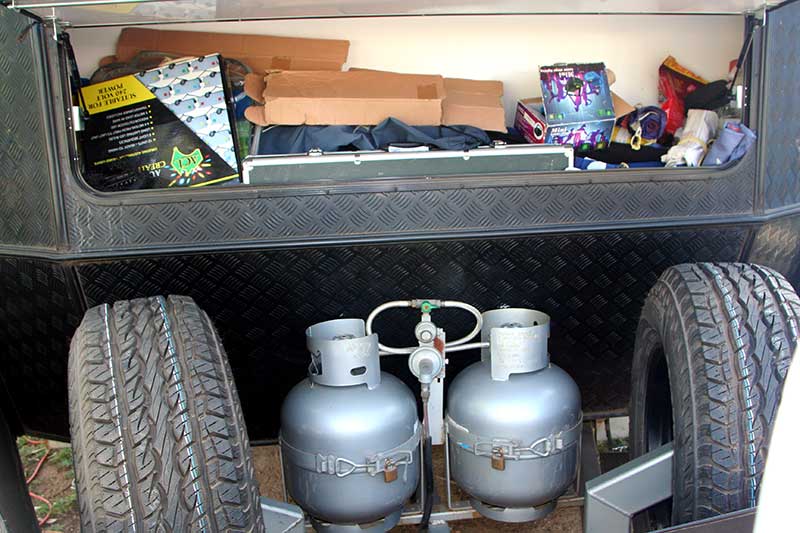 Putting heaving loads behind the axle will reduce the weight being imposed on the vehicle's towbar by the van's coupling. And while this may sound like a good thing, it will, in fact, only set-up the van to sway.
Never exceed your van's Aggregate Trailer Mass. If it says 2500kg ATM on the compliance plate, then that's all your van can weigh (disconnected from the tow car) after it's been loaded up. End of story.
LOADING THE VEHICLE
What does your vehicle's manufacturer say about its Gross Combined Mass? This figure refers to the total permissible weight of the van and vehicle combined. The vehicle might be rated to tow, say, 3500kg, but what if the vehicle's Gross Combined Mass is 6000kg (total weight of the trailer and vehicle combined)?
In this example, towing 3500kg would mean there's only 2500kg left to account for the weight of the tow vehicle, its occupants, the fuel, luggage and aftermarket accessories.
STOPPING SWAY
This one is controversial. Campfire lore has it that a driver should speed up to counter a swaying van. "My dad reckons you should just floor it." Words we've all heard before.
But is there any truth to this?
Well, sort of. The principle is that by accelerating, you're 'stretching out' the combination. But in reality, there are few tow vehicles with the necessary engine performance to carry out this feat. Vehicle such as the aforementioned 200 Series and the Range Rover Sport might be up for it, while others would struggle mightily.
But you can achieve this same affect by maintaining your speed and pressing the override button on the electric brake controller, thereby independently slowing the van.
Caravan sway control is also highly recommended. This will kick in as soon as sway is detected and stop it in its tracks.
LOAD LEVELLERS
These are important devices, certainly, but they are not a substitute for a properly loaded caravan.
As you'd know, load levellers work by 'levering' some of the force being applied at the rear of the van to the front end of the vehicle, thereby returning traction and handling to the vehicle's front wheels. They can also have the happy side-effect of reducing some sway, but it's important to note that this is not their primary purpose.
DRIVING AND BRAKING
It should go without saying, but drive/tow according to the prevailing conditions and within the limitations of your rig. Some caravan/vehicle combinations perform well at highway speeds, while to sit on 100km/h for others is a bit too much to ask.
It's good practice to periodically check the setting of your electric brake controller at low speed on a quite stretch of road. Over-adjust the van's brakes and you will chew through its brake pads in no time. Under-adjusting will create a dangerous over-reliance on the vehicle's brakes (also leading to premature wear of its brake pads).
Adjust the controller until both the van and the vehicle brake together as a single 'unit', without the van pulling or pushing the vehicle.
How else can a driver avoid caravan sway? Leave your comments below.