It would be hard to put Western Australia in a nutshell, but that is exactly what we are going to do as an introduction to the top spots in this amazing state.
KUNUNURRA
Travelling north to south, Lake Argyle greets you just beyond the Northern Territory border. A sunset cruise is a must; it will include insight into the hydro-engineering feat behind the diminutive, 335m wall that holds back a massive inland lake with the volume of 18-plus Sydney Harbours. In Kununurra, a cruise up the Ord River to the other side of the dam wall is also a wealth of hydro-information.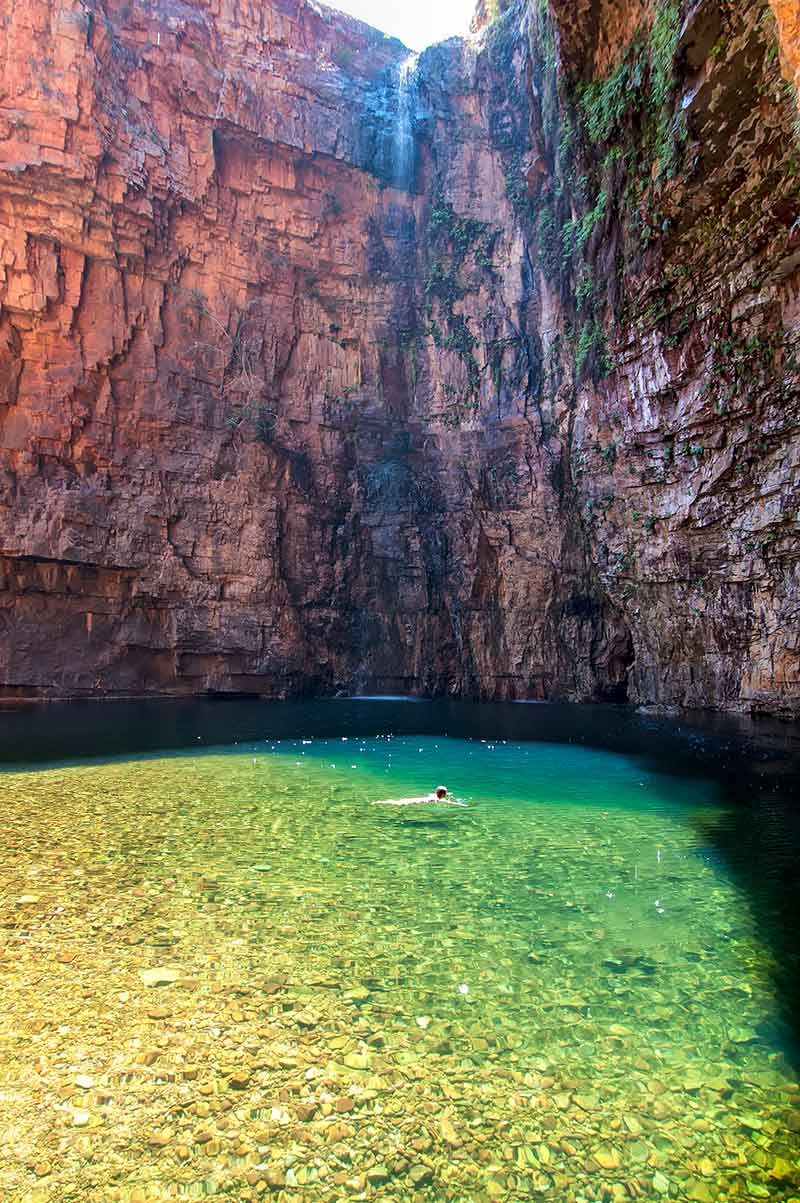 Kununurra is the eastern gateway to the Kimberley, and a visit to the information centre will present you with numerous things to do, such as a visit to Parry Lagoons for birdwatchers. One thing is for sure, standard caravans should not be towed along the Gibb River Road, so to explore this top spot, leave the van in Kununurra and travel with a tent or stay in accommodation. El Questro is superb and, at the very least, should include a walk to Emma Gorge, a soak in Zebedee Springs and a boat trip along Chamberlain Gorge. Home Valley Station is just up the brutal road with the option to camp on the Pentecost River.
GREAT NORTHERN HIGHWAY
South along the Great Northern Highway is the 52km track to Purnululu National Park (the Bungle Bungles). Helicopter tours are on offer at the Warmun Roadhouse or you can leave the van checked in at the caravan park there and drive yourself in (experienced drivers with a high clearance/low range 4WD only).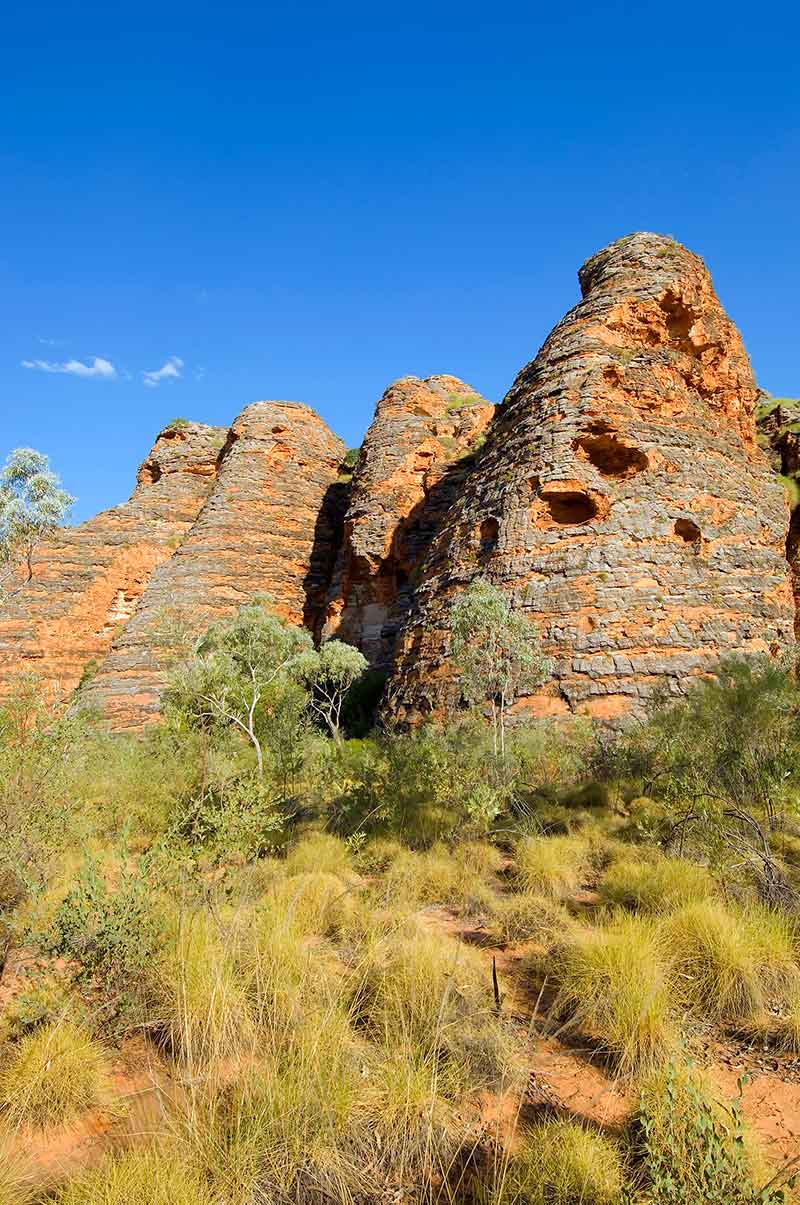 There are two national park campgrounds along with the Bungle Bungle Wilderness Lodge and the Bungle Bungle Savannah Lodge. HeliSpirit also has helicopter tours from within the park.
From Halls Creek there are scenic flights out to the Wolfe Creek Meteorite Crater. The Fitzroy River Lodge is the top place to camp along the entire Northern Highway. From this base, you can take the national park boat tour at Geikie Gorge, or take a day tour (guided or drive yourself) to Tunnel Creek National Park and Windjana Gorge National Park (with camping). To explore the King Leopold Ranges Conservation Park, camp in the ranges or stay at the Mount Hart Wilderness Lodge.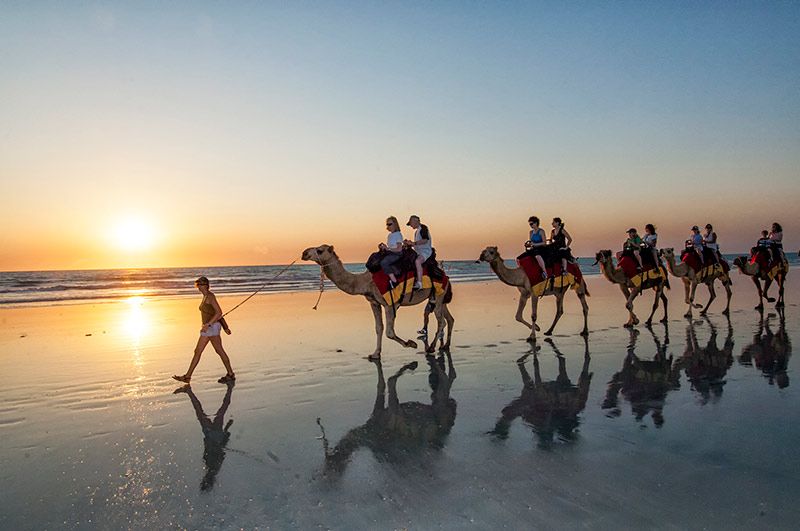 Broome is at the west end of the Kimberley and, again, the visitor centre will arm you with information galore. We all know about the camels on Cable Beach, but for an insight into Broome's pearling history, take the Pearl Luggers Tour in Chinatown and the Willie Creek Pearl Farm Tour. A 4WD trip up to Cape Leveque is something you won't forget; there is camping up there and accommodation. For the thrill ride of a lifetime, take one of the horizontal waterfall tours (hint: the greater the tidal difference, the more extreme the ride).
Heading south on the Great Northern Hwy, both Barn Hill and Port Smith are popular with fishermen. Eighty Mile Beach is one of those spots you intend to visit for one night and stay for two weeks.
KARIJINI NATIONAL PARK
From Port Hedland, a diversion south to Karijini National Park is mandatory. Camp with your van at Dales Gorge and take 4WD side trips to Kalamina Falls, Joffre Falls, Weano Gorge and Hamersley Gorge. Karijini Drive is sealed to Tom Price and you can continue west to Nanutarra via Parburdoo, but then you would miss Millstream, which would be tragic.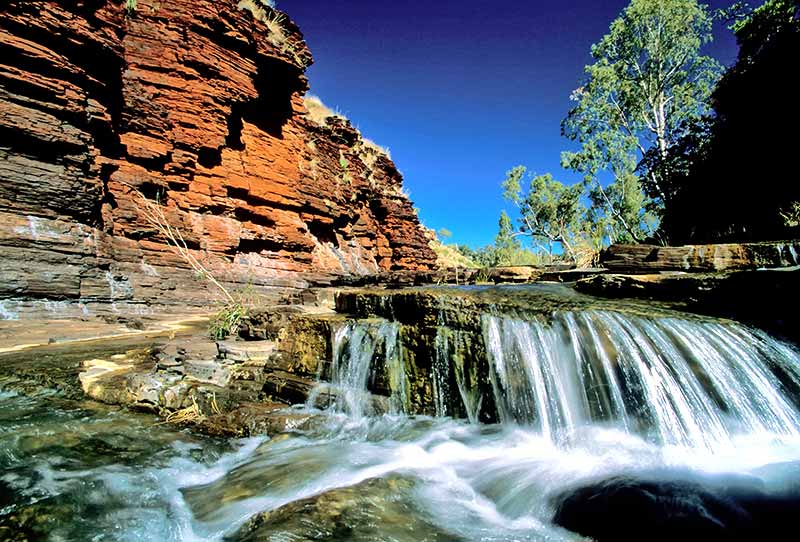 So instead, head north again toward Port Hedland and turn west on the North West Coastal Highway to Karratha. From there, the Karratha-Tom Price Road is sealed to Millstream. Set-up a base camp in this top spot, and take a 4WD day tour to Python Pool.
Back in Karratha, anyone interested in Aboriginal rock art should take a ride out to sensational Deep Gorge on the Burrup Peninsula; the visitor centre can provide directions. Continuing south, a diversion to Exmouth is the next top spot. Cape Range National Park has camping and a number of scenic drives entering from the east. Mind the kangaroos here on the west of the range; they are everywhere. If you loved the turquoise waters of Ningaloo Marine Park, then stop in at Coral Bay as well.
CARNARVON TO PERTH
About 900km north of Perth is Carnarvon, a good place to stock up on supplies and take care of chores; the coastal drive up to Point Quobba is very nice.
To say that Shark Bay, about 330km south of Carnarvon, is a top spot is obvious, with the stromatolites at Hamelin Bay, the fishing village of Denham, the dolphins and beach at Monkey Mia and a never-to-be-forgotten 4WD trip to the tip of Francois Peron National Park.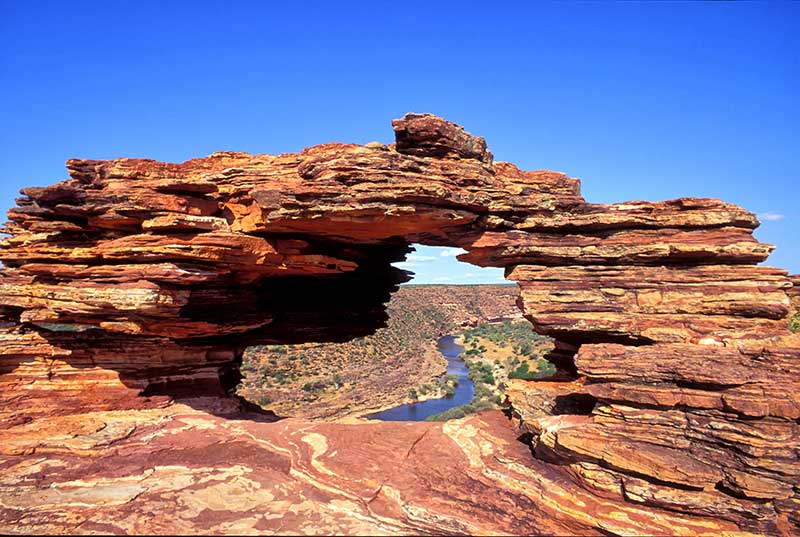 Next on the top spot list is Kalbarri, with a national park split between the Murchison River and gorge, and the coastline. A base at one of the caravan parks will provide several scenic day trips to highlights such as Z Bend, Nature's Window, Ross Graham Lookout and some stunning walks on the coast.
From Kalbarri, hug the coastal roads as often as possible, especially Indian Ocean Drive from Cliff Head to Cervantes. The Pinnacles of Nambung National Park are the tops, literally, of an eroded sandstone plateau. Nearby Hangover Bay is gorgeous on a nice day. Continue on Indian Ocean Drive to Perth via Yanchep.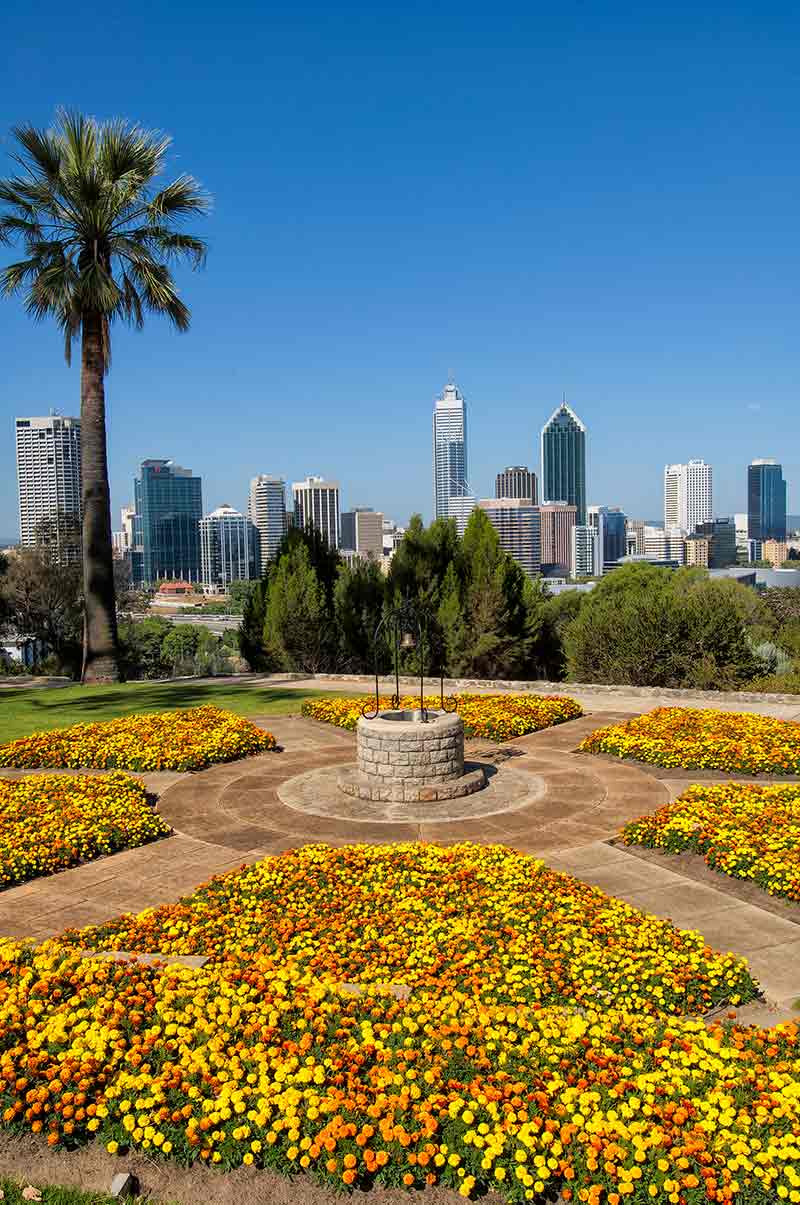 Perth is a top spot for a week or two of exploring; in fact, it is the perfect place to wait out school holidays when every place else is jammed. Visit the Perth Zoo, Kings Park, Caversham Wildlife Park, the aquarium, take a cruise up the Swan River for a wine-tasting tour, drive up to New Norcia for a monastic town tour, take another drive out to Fremantle, take a boat trip to Rottnest Island – the visitor centre has all this information and more.
ON TO ROCKINGHAM
Leaving Perth, it's a short drive to Rockingham where a visit to Penguin Island is a must: take the short ferry ride to the island along with the glass-bottom boat tour, or join a Rockingham Wild Encounters Tour.
From Mandurah, a side trip to Dwellingup with a few nights of camping in Lane Poole Reserve, is very nice. The Old Coast Road from Mandurah to Bunbury is pretty, with the Bussell Highway leading to Busselton. A few nights here should include a walk on the jetty to the Underwater Observatory, and a drive to Cape Naturaliste for a tour of the lighthouse.
CAVES ROAD
The Caves Road (Cape Naturaliste to Cape Leeuwin) is a top drive (and the Cape to Cape Walking Track is a top walk). The drive should include the Ngilgi Cave tour and stops at Sugarloaf Rock and Canal Rocks.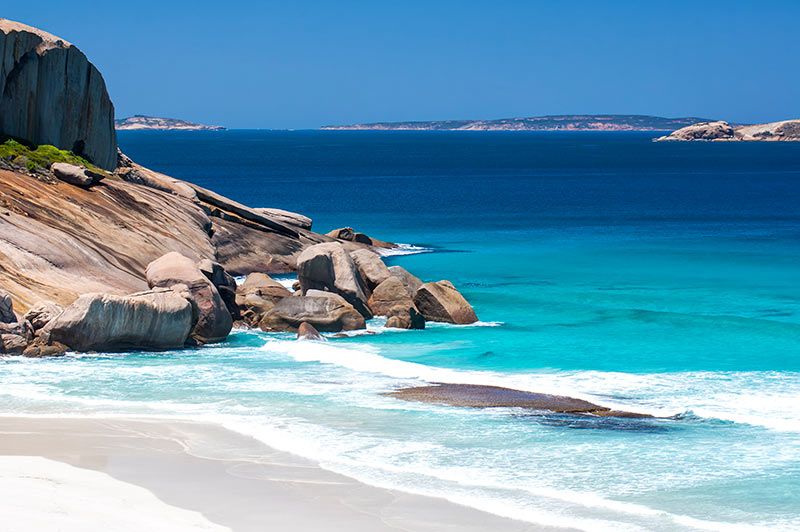 Margaret River is usually chaotic but worth a side trip; Prevelly to the west is where some of those famous surf beaches are. A number of self-guided and guided cave tours follow with Augusta at the end of the drive.
In the south-west, Pemberton is where all those staggeringly tall karri trees are. A modest caravan park provides a good base from which to do the outstanding forest drive featuring a number of fire lookouts with ladders 153 rungs high. The abandoned town of Shannon has a caravan campground and the outstanding 48km Great Forest Trees Drive. A stop at the Walpole Visitor Centre will provide information on the Valley of the Giants Tree Top Walk for a canopy view of the surrounding forests.
WILLIAM BAY NATIONAL PARK
A most definite top spot is William Bay National Park and Greens Pool about 12km west of Denmark (spend a few nights at Denmark with at least a full day at Greens Pool). This breathtaking tableau marks the start of one jaw-dropping coastal scene after another known as The Great Southern.
Albany, about 115km away, sets the pace with a side trip north to Stirling Range National Park via Porongurup. Holiday parks right along the foreshore of King George Sound are the perfect base for a scenic drive along Frenchman Bay Road to Torndirrup National Park with gorgeous coastal bluffs, gorges, blowholes and lookouts.
Along the South Coast Highway, a side trip from Boxwood Hill leads to Bremer Bay, with sugar-white beaches and jewelled blue water that puts the South Pacific to shame; same for Hopetoun via Ravensthorpe.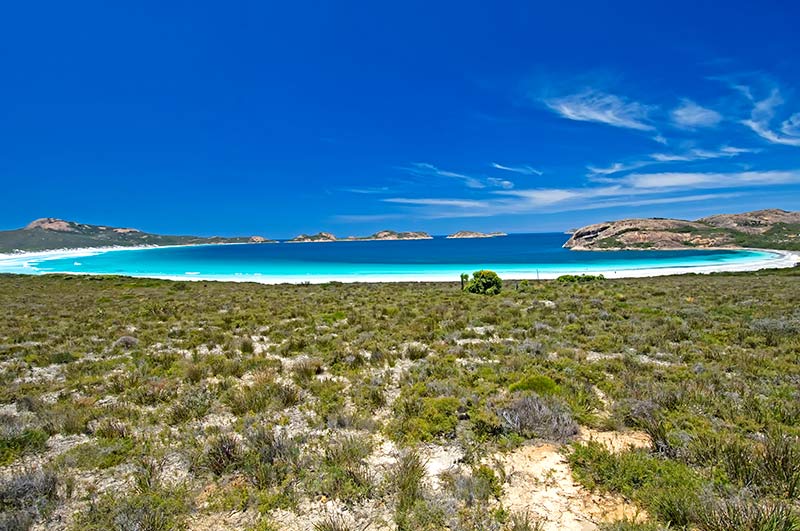 For those who don't want to miss Wave Rock, the drive from Ravensthorpe to Hyden is only 125km. From Munglinup, a road leads to the beach with a nearby caravan park. And then there is Esperance, with a coastline that is too blue to be true. Here, at the end of the Great Southern, is a 38km coastal drive and day trips to Woody Island. Nearby Cape Le Grand National Park offers caravan camping at Lucky Bay – it's so beautiful it makes your heart ache.
North of Esperance via Norseman and Kalgoorlie is not so much a top spot as a curious spot. The eerie statues at Lake Ballard are definitely worth the drive, and for those willing to take on a much longer 4WD/AWD adventure, the Golden Quest Discovery Trail is a road trip back in time.
From Kalgoorlie, it is west again to Perth, or back to Norseman to cross the Nullarbor. Either way, by now you will know just how huge Western Australia is, and while we've tried to give you some top spots in a nutshell, we have scarcely done it justice. Go find out for yourself.
Images: Steven David Miller / Natural Wanders
FAST FACTS
Book caravan parks as far in advance as possible, especially in Kununurra and Broome.
Be 'croc wise' at all times in the Kimberley region: Kununurra to Broome.