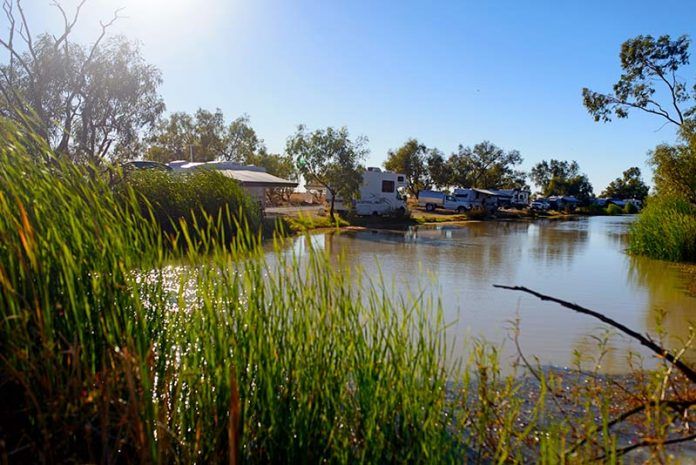 Free camping. We all love the idea of it. The trouble is knowing what free camping is and understanding how to get the best of it.
Here's the word: the best way to approach free camping is to start by calling it 'freedom camping'. That's because the idea of free camping suggests a camping experience that's chaotic, carefree and without cost, consequences or consideration. Now, that's just wrong.
Freedom camping, on the other hand, suggests setting up camp and enjoying the great outdoors without the constraints of formal arrangements, probably at low or no cost but with consideration for the surrounds and for others who might be hoping to enjoy the same freedom experience.
After all, the most unlikely camper, the late Nelson Mandela said freedom allowed us to "live in a way that respects and enhances the freedom of others". Although that's the essence of this idea of freedom camping, veteran caravanning guru Barbara Rutherford and her caravanning-pundit husband, Bob, know just how to turn your next freedom camp into a memorable caravanning experience that allows others to also find their own freedom experience in yours or any neck of the woods.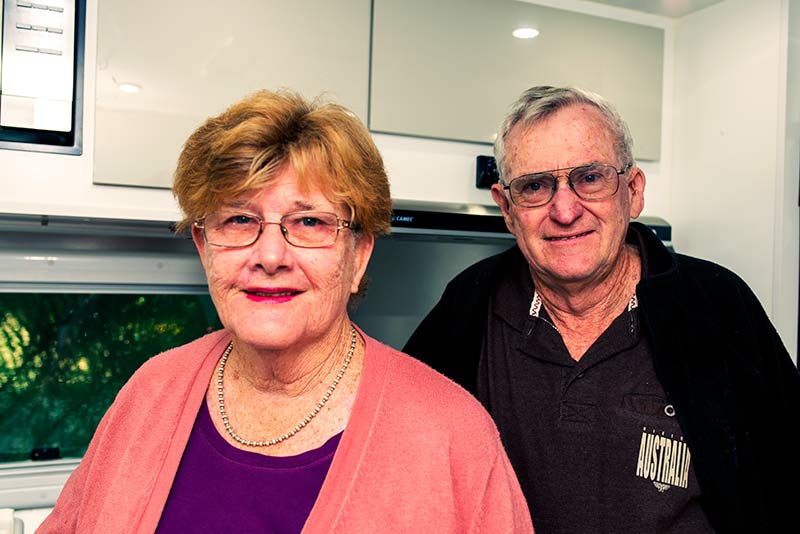 This is what Barbara and Bob had to say on what to look for in a potential freedom campsite and how to help make freedom camping worthwhile for everyone.
KEEPING CLEAN
Barbara and Bob put clean toilets and rubbish bins at the top of their freedom camping wish list. Barbara agreed that the presence of clean toilets was perhaps somewhat superfluous, given that many caravans had their own toilets and rubbish bins, but as a wish list item these things topped the list.
In terms of cleanliness, doing your bit to keep the grounds, and even the communal drop pit loo, tidy, certainly goes a long way to sharing and enjoying your creekside adventure.
"We do expect to have to contribute because it's going to cost councils or whatever money to keep those toilets clean and bins empty," Barbara said.
This might mean looking out for freedom camps that have an 'honesty box' for campers to leave a donation for the upkeep of the few simple amenities that might be provided.
On the same theme, if there are no toilets and you're using your van's facilities, look out for a location with a dump point and remember to keep it clean. If there are no bins, stow your rubbish and take it with you. Bob and Barbara reckon there's nothing worse than a campsite that looks like a tip.
A LEVEL PLAYING FIELD
Picking a good campsite anywhere demands attention to at least one essential: level ground. After all, if you're always looking up at the wide-open skies, the outback stars and the endless horizons, your failure to look down means that you're likely to trip over if the ground's not level.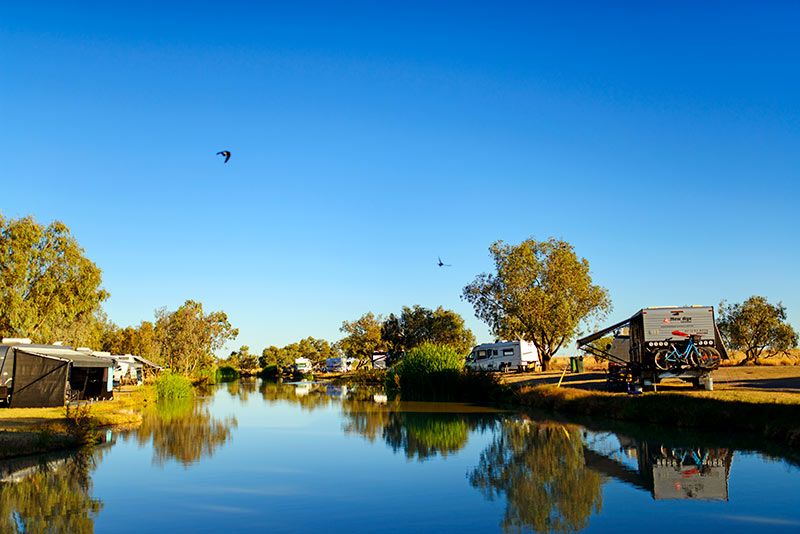 What's more, when you're inside, there is nothing worse than constantly fighting gravity and having to brace yourself against the kitchen bench just to haul open a drawer that happens to be on the downhill side of the van.
Avoid the lop-sided campsite and opt instead for a level site and you'll never have to explain that while you understand her need for her personal space in bed, gravity kept bundling you together tighter than a sucker fish on mossy aquarium wall.
TURN, TURN, TURN
Bob and Barbara reckon a good campsite is one that offers plenty of turning space or the ability to drive through it, rather than a tricky reverse when it's time to make tracks again.
Anyone who's lived through the infamous 'left-hand down,' argument where the driver, sweating while backing the van into a tight and tricky campsite squabbles with the significant other over which way to turn to get beyond that old tree, low shrub or clifftop drop, will know the value of a large, open site.
OUT OF THE WAY AND ISOLATED
The whole point of caravanning is it offers the chance to explore, find adventure and ultimately find a little happiness. And sometimes the happiest experiences and the greatest adventures are not found in the crowded spots scattered by the roads most travelled.
In fact, according to intrepid explorers Bob and Barbara, some of the best experiences have come from freedom camping in quiet isolation somewhere few others ever venture.
Bob's advice: the further out of town, the better. He says that's because the trouble-makers who might cause you some concern "are not going to travel a long way from town just to see if someone is there". For his money, the location to avoid is the combo of isolated or lonely spots close to town.
They say that's the sort of spot that hoons love to visit. With that in mind, both agree you always should be aware of your surroundings and, if you're worried, don't unhitch. Stay hitched and ready to drive off if necessary. For them, their many decades of experience have taught them that getting away from town is the best shot because you can't always be sure that your phone or radio communications will work, even in an isolated spot near town, so calling for help might be impossible anyway. Instead, they recommend remaining alert.
It's interesting advice from a couple who've had their fair share of belligerent hoons menacing them while they tried to sleep in their caravan. That included one episode when some thugs found them in an isolated Western Australian camp and chose to drive a small fleet of noisy cars, kicking up dust, circling their caravan for hours on end. The bottom line: caution is key. They didn't unhitch, the slept in their day clothes, on top of the bedclothes and with the car key at the ready. With that in mind, Bob admitted, "Sometimes, the best protection is to camp with two or three other vans."
A LITTLE COMFORT FOR ALL
Barbara and Bob reckon that you're made if you can find a little shade and perhaps a picnic table near a good campsite. Add to that a fire pit, and you're well set for a caravanning community chinwag around the glow of a barbecue.
As far as they're concerned, other considerations that make a great freedom camp include camping permits that allow for only 24-hour stop-overs. That means nobody settles in for prolonged periods and everybody gets a go. Pet owners, Bob says, should look out for pet-friendly locations, so that no one can grumble about pets in the camp.
The Rutherfords say that the magic adventure in a well-established and scenic freedom campsite is a key on which you can build wonderful and cherished memories.