Picture this. You've bought a secondhand caravan or motorhome with an onboard toilet. Wouldn't it be nice if you could freshen up that toilet? No matter how many times you clean the seat and the cassette, it would just be better to start with new ones. You know what I'm talking about.
That's why Thetford's Fresh-Up Set caught our eye. It includes a new seat, lid and cassette for your van's Thetford toilet, and as we discovered, it's a very quick and easy to fit the kit.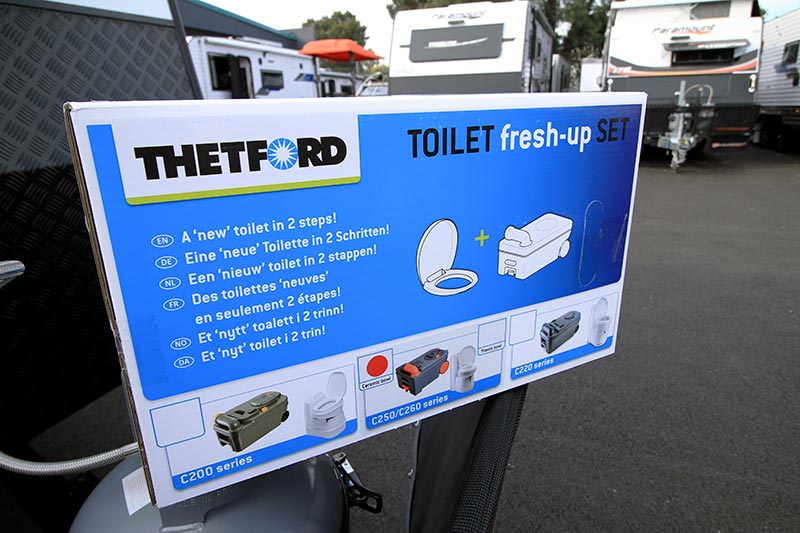 There is a Fresh-Up Set available for the Thetford C200, C220, C400 and C250/C260 series (ceramic and plastic) toilets.
If you have the older C200 Series, which came with a cassette that didn't have wheels, you can even upgrade to a Fresh-up Set that comes with a cassette that does have wheels!
In the box, you'll find a new seat with lid, a new cassette, instructions on how to replace the seat/lid, and in the case of the C250/C260, new bolts.
THETFORD FRESH-UP INSTALLATION
We were replacing the seat on a C260 toilet and it was a simple matter of popping open the plastic cover at the rear of the seat to expose a couple of small bolts, and opening a cover at the rear of the toilet itself, which provides access to the plastic nuts that help to keep the seat in position. Because Thetford toilets swivel, it's not difficult to access the rear.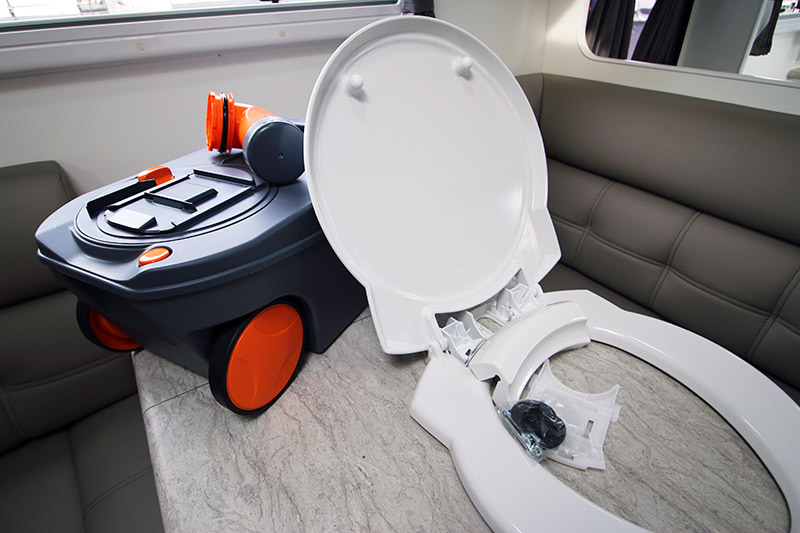 The bolts require a suitable Allen key to undo; however, it's worth pointing out that all other models of Thetford toilet require no tools at all.
Using a flat-head screwdriver, it's then just a matter of popping up a couple of plastic clasps to finish removing the seat.
The new seat will directly replace the old seat. The plastic clasps will click into place, and then you can re-fit the bolts, plastic nuts and all covers.
You can then replace the van's toilet cassette with the new one from the box. Even better: by storing the old cassette somewhere, such as in the van's tunnel boot, you'll have a secondary toilet cassette for those times you can't access an appropriate dump point when you really need to.
A quick maintenance tip: to prolong the life of your toilet cassette, use a small amount of olive oil or a water-based lubricant to lubricate its main seal.
And there you have it. What feels like a brand new toilet for your RV in minutes and for a much cheaper price than replacing the entire unit. If you've purchased a secondhand van and it has a Thetford toilet installed, we can recommend the Fresh-Up set.
THETFORD FRESH-UP SET
RRP: $229
MORE INFO: https://www.thetford.com.au/product-category/cassette-toilet-accessories/