I've been bored stiff these past few months. I couldn't even go shopping as my lovely daughter did it all for me to keep me out of harm's way. I did go walking around the Cato Park Lake in Stawell, Vic, but like every one else, the virus has limited what I could do.
But suddenly, it was all systems go as I headed to Mildura for an Australian Caravan Club Lone Trekkers gathering. There were just a few us there but we had a great weekend. More about that in a minute.
JUST IN TIME!
I crossed the Murray just before New South Wales closed the borders to Victoria, and headed for Albury after a night in Deniliquin. I travelled in very thick fog for a couple of hours but I was in Albury by lunchtime and was soon set-up next to my daughter and partner's caravan.
They left on the following Sunday as she had a medical appointment at the Alfred Hospital in Melbourne next day. They have taken over my house – great to have someone in it while I'm away.
MY PLANS
By the time you read this, I'll have left Albury for Hillston, before heading to Bourke and eventually crossing into Queensland. My first stop there will be Charleville. I've got my border pass and have had a virus check that fortunately came back negative.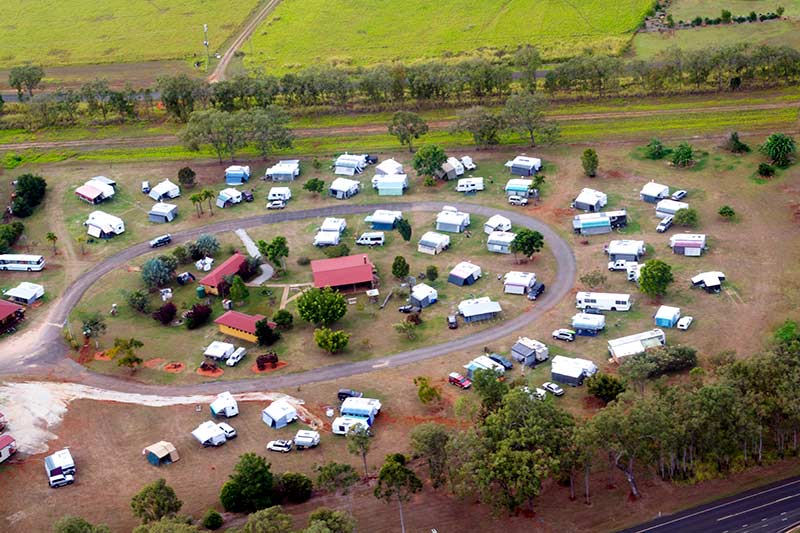 I'll then meander up through outback Queensland to my favourite winter retreat, the Walkamin Caravan Park on the Atherton Tableland.
BIG W TOO CLOSE!
My local Big W store is quite close and I'll be broke soon, as I've been buying some things I think I need. A Dust Buster was the first, followed by a sandwich toaster, a cereal bowl and some bathroom scales! 
People wondered why I bought the scales but I'm a diabetic and need to watch my weight.
BACK TO THE MILDURA WEEKEND
My route to Mildura followed the silo art trail for a lot of the way but, having done the trail last year, I didn't linger.
We held a National Muster and AGM at the Apex River Beach Holiday Park many years ago, but our Trekkers muster was a much smaller affair – but great people plus three lovely dogs.
Michael, our organiser for the weekend, had spent quite a few years living in the area as a stock and station agent, so he was an excellent guide and told us a lot of interesting things as we travelled around the area.
We saw so much in three days that it's hard to remember it all. It included a walk around Lock Island and we saw the weir for Lock 11, we watched a boat come through the lock, then a visit to the white cliffs on the banks of the Murray near Merbein and a large pump used for irrigation in the early days.
A walk in the bush between the Murray and the Darling took us to their junction – there was a lookout in Wentworth that took in the river junction but that was too easy.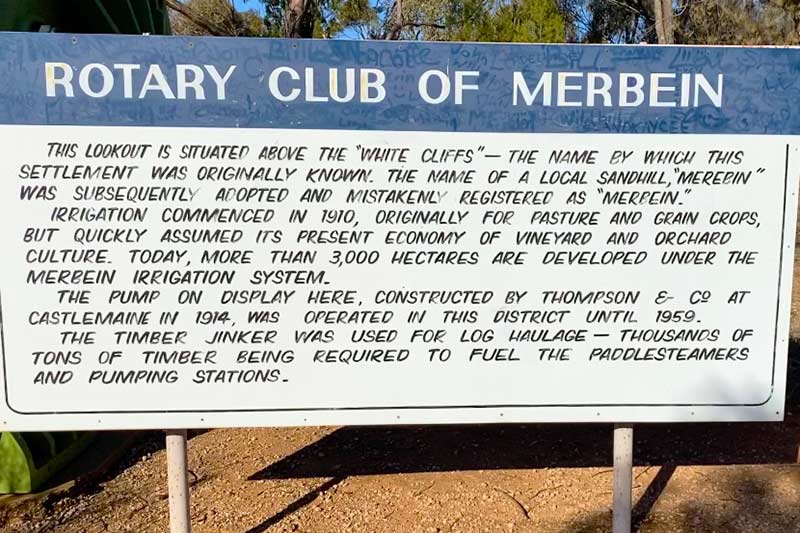 While in Wentworth, we visited the old Wentworth Gaol, which was later used as a school. Fortunately they let us out again!
A shop not to be missed was a hardware shop in the main street of Wentworth where they boasted that they bought and sold 'Nearly Everything'. I lashed out and bought a nice little glass for $1.
The first sight I saw on entering the shop was a huge bookshelf full of secondhand books, but that wasn't all – an equally large bookshelf backed onto the first one. If you had time to search I think you could have found any book ever published!
STEAM WAS THE GO!
The next morning, some of us drove along a long track close to the Murray to visit the early steam-driven pumping station that supplied water to the early irrigation areas.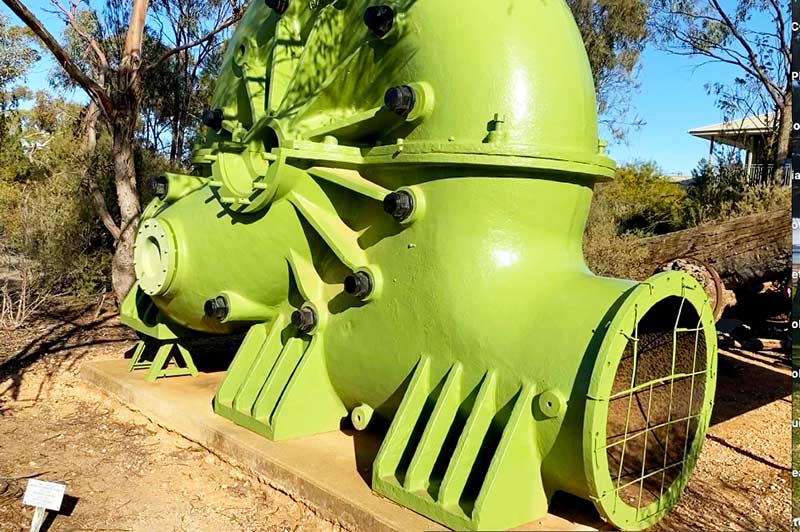 Steam was produced by a huge locomotive boiler and it was then piped over to a building that contained four huge pumps that fed the irrigation system. It was Sunday and a few 'steamheads' were there carrying out maintenance and odd jobs plus giving us an interesting commentary about the way everything worked.
Only three of the pumps were ever used with one acting as a spare if needed.
OUR LAST DAY
Sadly, our last day in Mildura came all too quickly but we made the most of it with our first stop being to a large winery that was unfortunately closed.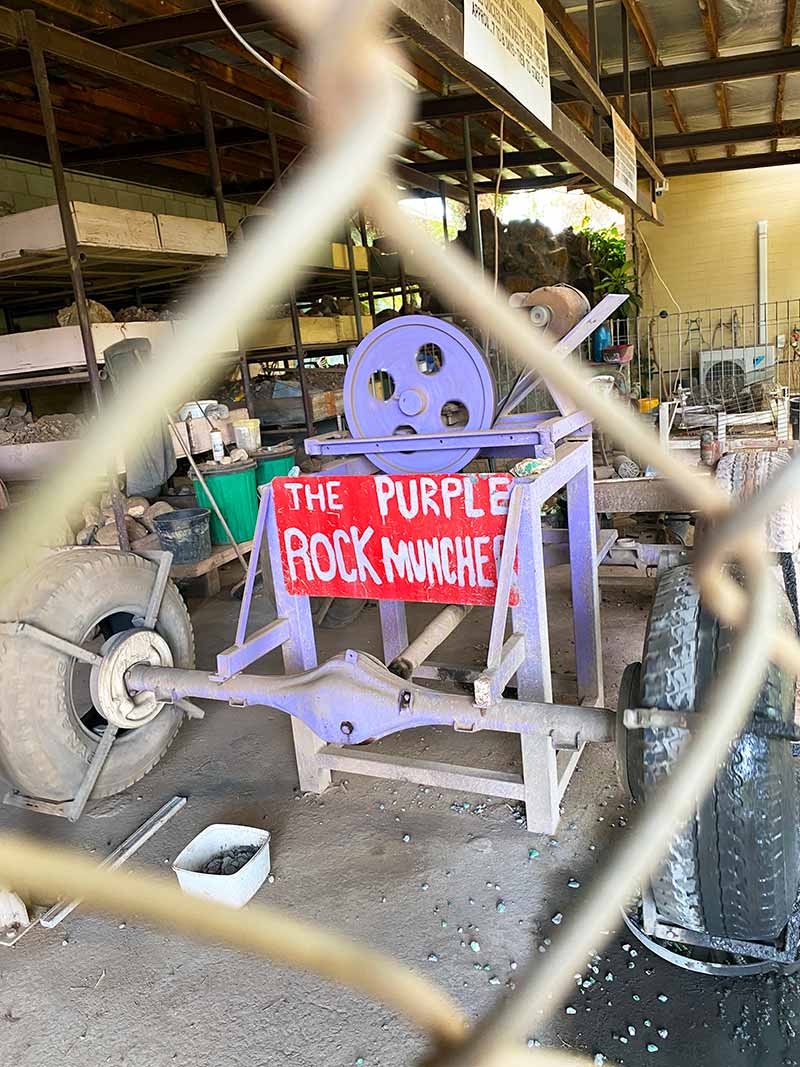 From there, we visited Woodsies Gem Shop, a gem stone outlet where we saw stones being polished in vehicle tyres that were rotated with the raw stones in them for a week.
The gem display was fabulous and so was the lunch we ate outdoors as their indoor accomodation was limited by the virus.
BIG LIZZIE
Our day's sightseeing came to an end with a visit to Big Lizzie in Red Cliffs, Vic. This huge machine had a system that put down planks mounted on the wheels and the wheels rode on them without ever being in contact with the road.
With a speed of about a mile an hour, it took a long time to get anywhere, but as one of the four huge trailers Lizzie towed was a house – an early RV, I guess – they had their accomodation with them. Lizzie also had a workshop on her front deck for running repairs.