The Salute Caravans Garrison is the complete package. By this, I mean it comes from the factory with everything, and more, you're likely to need for easy, convenient travelling. Often, it's a case of adding a solar panel, or an extra battery, or perhaps a rear-view camera. Not so with this 19ft 6in semi-offroader.
For what seems to be a decent price, available through Victorian dealership Melbourne City Caravans, the Salute Garrison is ready to roll and, by all appearances, keep you and your partner comfortable over the long haul.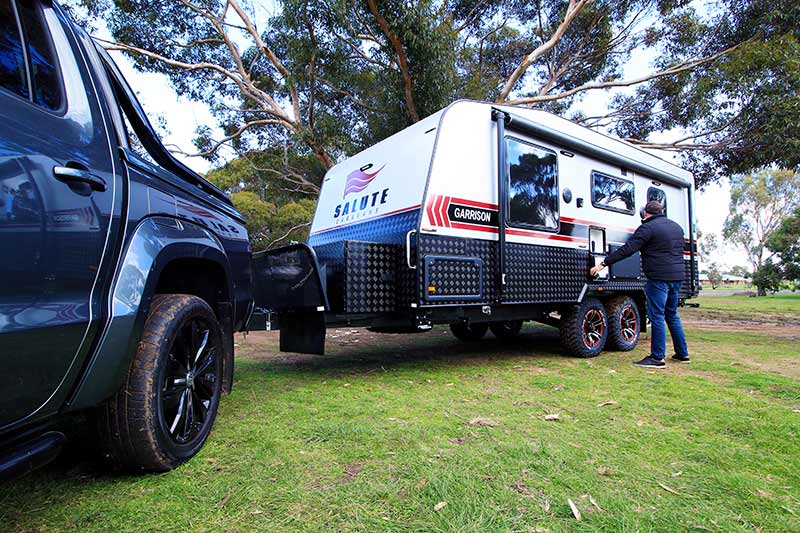 In the competitive mid-size caravan market, the Garrison appealed to me for its spec level as much as its fit and finish.
INTERIOR LIFESTYLE
The Salute Garrison's layout incorporates a full-width rear ensuite, nearside amidships kitchen, and forward north-south bed. Our review van featured an L-shaped dinette and a 190L three-way Dometic fridge with microwave neatly recessed above, between the dinette and bathroom.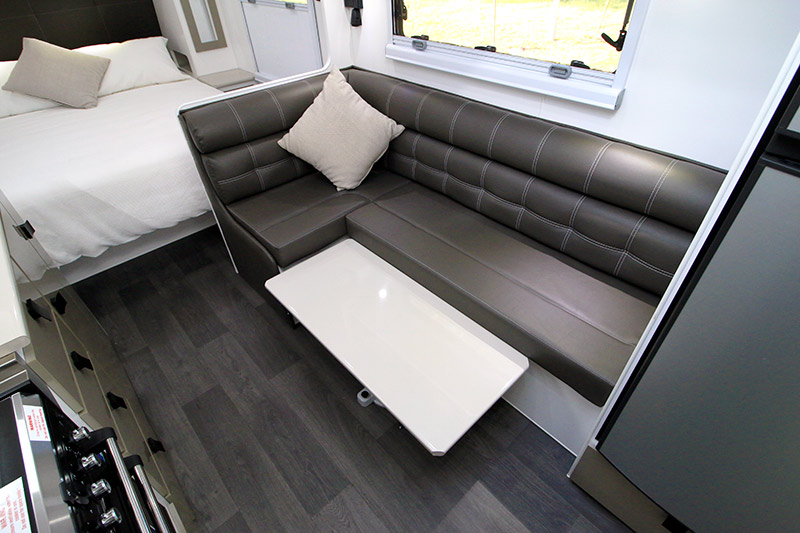 The dinette's table can be lowered to form the base of an additional bed – it's just a matter of pressing the button with your foot at the bottom of the table's pedestal. But if L-shaped dinettes aren't your thing, you can opt for a cafe-style dinette instead.
To access the storage space beneath the dinette's faux leather-upholster cushions, you'll need to remove the cushions, which is a little tedious. Nonetheless, it is a classy setup, with reading lights, a 240V/12V point and four overhead lockers. Only three are usable as storage, though, as the rearmost locker is home to the BMPRO Genius battery management system, the regulator for the dual 170W solar panels that are supplied, as well as the switches for the hot water service, the fridge and water pump.
The forward locker contained an RV Wi-Fi system, which is an optional extra. To me, this does not fall into the 'essential' category. Sure, caravan wi-fi is nice to have, but there are other ways to achieve it.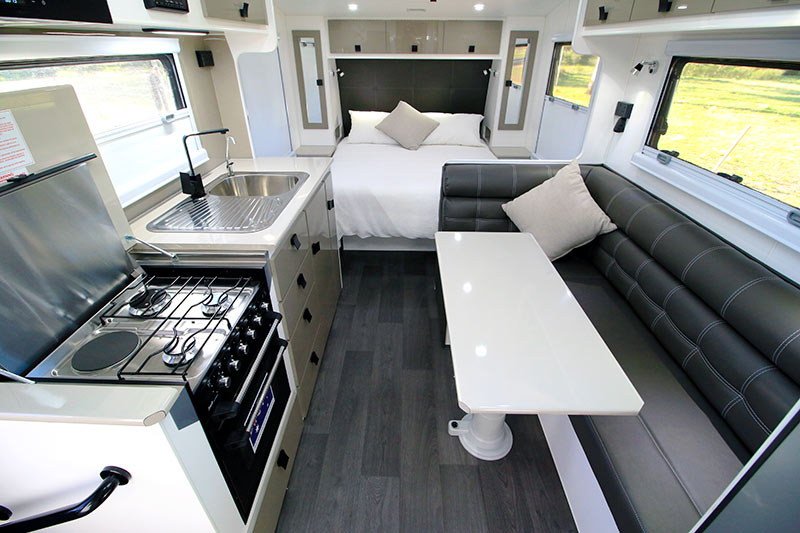 Across the way, you've got the fully-loaded kitchen: an oven, four-burner cooktop and griller, a stainless steel sink with filtered drinking water, enough bench space (and even more with the cooktop's lid closed), and a reasonable spread of drawers and cupboards.
In the nose of the van, there are wardrobes either side of the large and comfortable queen-size bed. Each wardrobe comes complete with niches with both 240V and 12V points inside each. Yes, these fitments have become an expectation these days and I certainly wasn't disappointed. These niches, by the way, are in addition to bedside tables – great!
In the ceiling above the bed is a 12V fan hatch for ventilation; I prefer the Sirocco fans, but that's a personal preference – I don't doubt this hatch does a good job.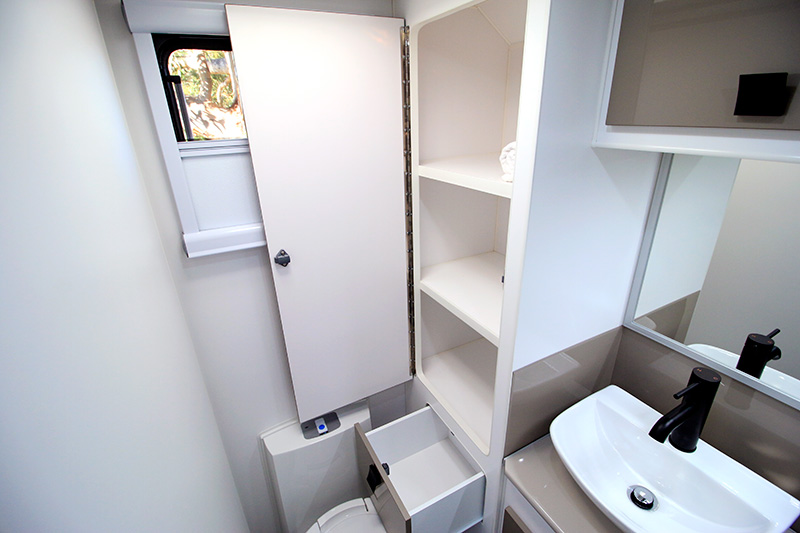 One of my favourite aspects of this van was the bathroom. Not only does it appear to be nicely finished off, it incorporates a large, three-shelf linen cupboard with a separate drawer in the offside corner, without impinging on space around the adjacent cassette toilet.
The central vanity is certainly attractive. A top-loader washing machine is hidden beneath a hinged section of bench beside the washbasin and should you need to access the rest of the machine, there's a cupboard door below the bench.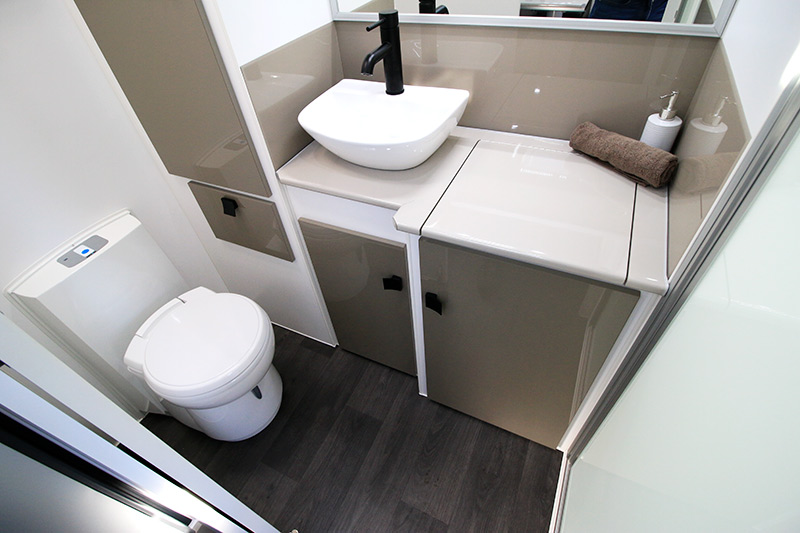 Finally, a one-piece fibreglass shower with hand-held shower rose is fitted to the nearside of the bathroom, with not a glob of silicone to be found.
Lighting throughout the van is provided by a series of LED downlights and touchstrip LEDs in the kitchen and ensuite. A Dometic Harrier inverter reverse-cycle air-conditioner is standard fitment. Notably, the cupboard and locker drawers are on piano hinges, which I always find to be preferable. 
OUTDOOR LIFESTYLE
The Salute Garrison is built in the conventional way, with a meranti timber frame and composite aluminium cladding.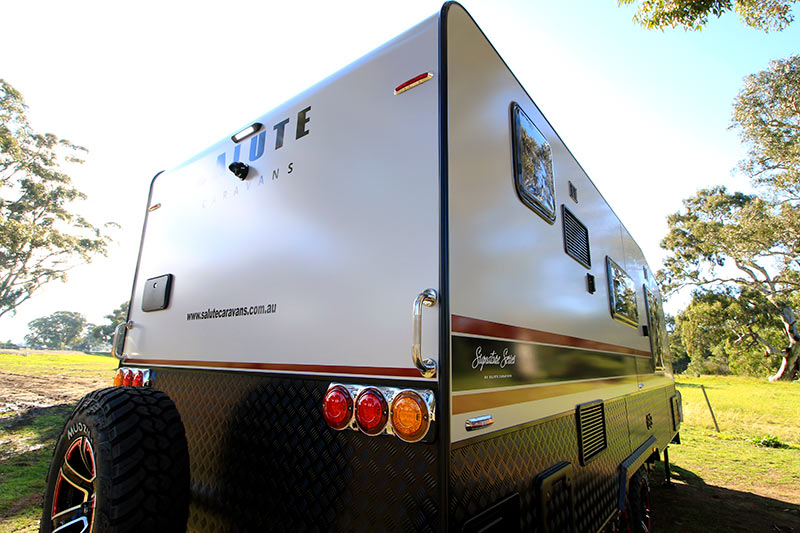 Customers have a choice of three cladding colours (metallic grey, metallic silver or white gloss) and can opt for traditional ribbed aluminium cladding over the smooth cladding seen on our review rig.
As with other Salutes, customers can also choose their van's front profile, from the traditional shape seen here to a modern angled look or a retro rounded shape. The black checkerplate can be swapped for silver checkerplate, too. 
No surprises with the chassis. It is 450-grade SupaGal steel with a 6in A-frame, 4in main members and a 2in riser. Independent coil suspension is part of the package, as are 12in drum brakes.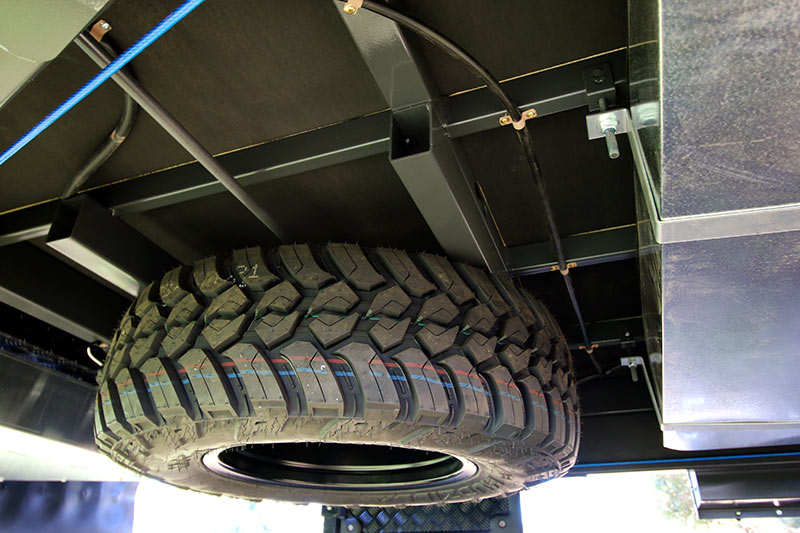 Now, Salute has fitted one spare wheel to the rear of the van (where you'll also find an external shower) while another spare wheel is mounted underneath, towards the front. However, customers can choose to instead fit this second spare at the rear, too.
Forward of the axle, you'll also find two 95L water tanks, while rear of the axle is a single 95L grey water tank and associated plumbing, not to mention the town water inlet that's mounted to the chassis.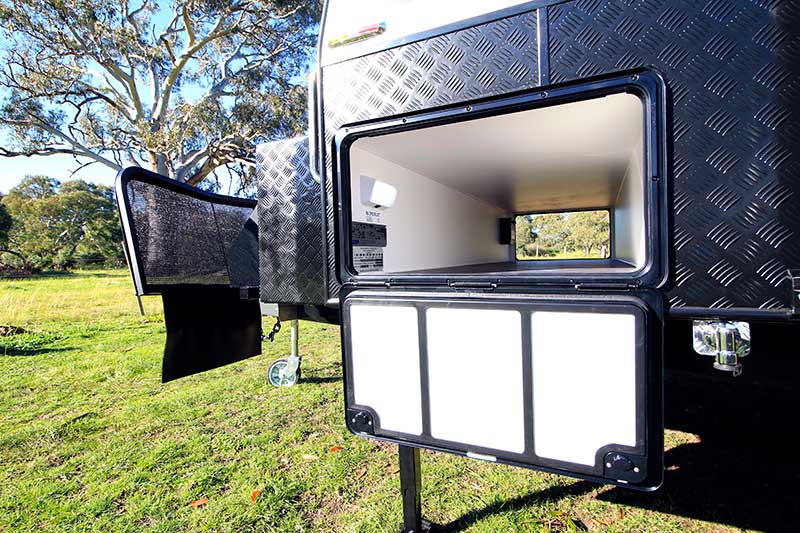 When full, the water tanks will contribute quite a bit to the van's ball weight; however, the unladen weight is a relatively low 155kg. Now, given the van's ATM of 3500kg (giving the van a massive 1023kg load-carrying capacity – the Tare is 2477kg), the tow vehicle is likely to be a rather muscular 4WD with a 350kg towball maximum. That being the case, I see no issues with the position of the water tanks.
On the subject of weights, customers can opt to lower the Salute Garrison's ATM to 3200kg.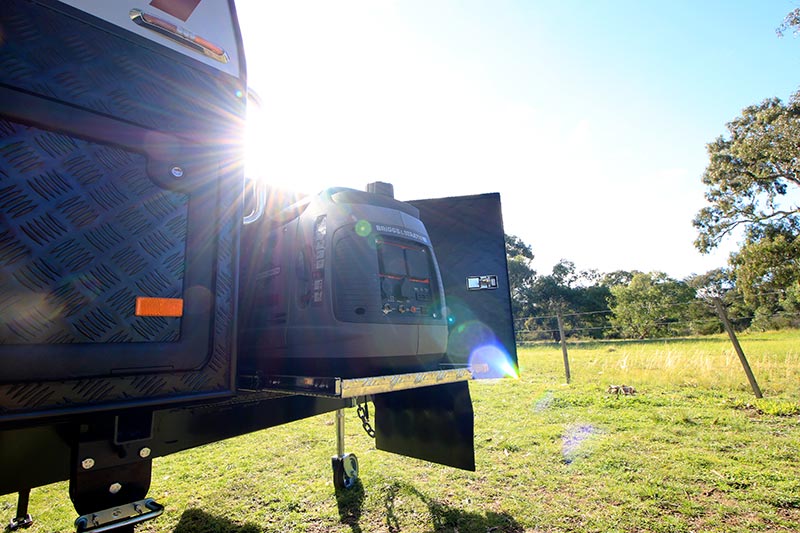 Salute Caravans has secured a checkerplate storage box on the A-frame complete with a nearside slide-out tray to suit a Weber Baby Q or similar, and an offside tray for a generator.
Along the nearside, the Salute Garrison offers a roll-out awning, a fold-down picnic table, and even an entertainment locker complete with relevant TV connection points.
Did I mention that sway control comes as standard, too?
GORV'S VERDICT
It's clear that the 19ft 6in semi-offroad Salute Garrison packs a pretty decent punch. It's hard to argue with the level of equipment that is fitted as standard.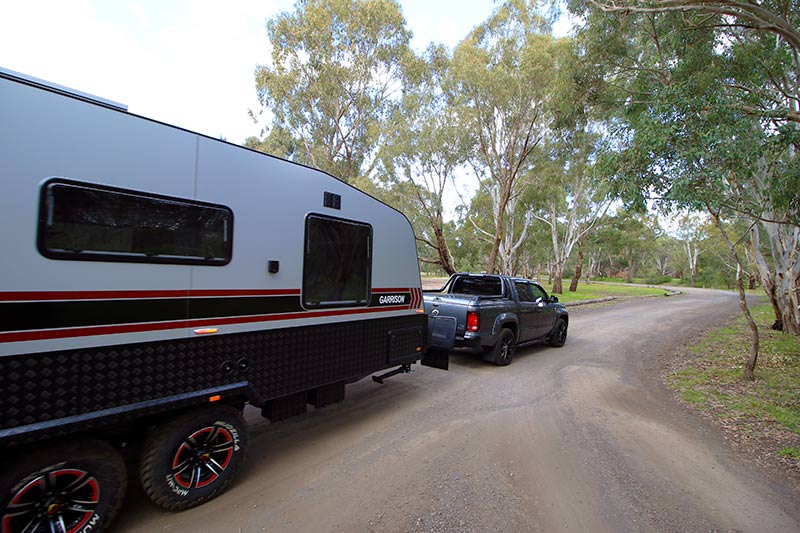 With an attractive, sensible interior, coupled with numerous external features – including a rear-view camera and sway control – not to mention a generous payload capacity and solid 12V system, I believe the Garrison will offer caravanners many years of faithful, comfortable service, at a reasonable price.
THE SCORE
FIT AND FINISH –

LAYOUT –

INNOVATION –

HITS & MISSES
Massive payload capacity
Free-camping self-sufficiency – good water supply and 12V system
Attractive interior, particularly the bathroom
Spec level
Very little to complain about. I'd consider moving the dinette powerpoints to the leg well and adding some protection to the grey water plumbing