It's strange that when you cross a border despite having all the correct paperwork and answering the questions there still seems to be a universal guilty feeling as if you've committed a crime. And then, as you are allowed across, there's a weight lifted from your shoulders as you realise you've made it and are really in Queensland where you have been longing to be for months.
It was touch and go because the New South Wales border had slammed shut a day after I'd crossed the Murray River and entered the next stage of my journey.
I told you in my last story that I'd spent a quite a long time in Lavington in the Albury Big4 caravan park with my daughter and son-in-law but, after leaving there, Yemmy's nose was pointed northwards with a few days at Hillston where I caught up with Sammie, one of my ACC Lone Trekker friends and her two lovely little doggy companions.
We walked to the hotel one night and enjoyed a lovely dinner sitting in the warmth from the fire.
AN INTERNET HAPPY HOUR
Then it was on to the Kidman's Camp at Bourke where I walked to where the Paddle Vessel (PV) Jandra was anchored. It is used for cruises on the river but my feet were itchy for Queensland so I only stayed one night in  that nice camp, as the border was just a couple of hundred kilometres away. 
The camp has two swimming pools and great facilities. When I booked in, I asked the lady if they had internet coverage and she shook her head and said she been trying to send some emails without success.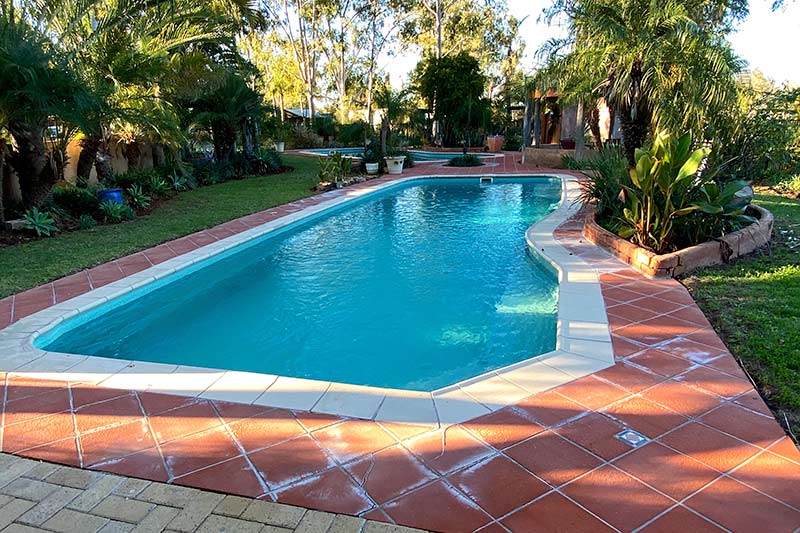 Oh dear! My Australian Caravan Club branch, the ACC Gippsland Gypsies, were holding a happy hour get-together using Zoom on the internet and I had no coverage. 
I rang our secretary and she had the brainwave of putting her phone on loud speak so everyone could hear me and I could hear them. Brilliant! 
OVER THE BORDER
The next morning, I headed for the dreaded border, and to my relief the friendly policeman just checked my border pass and scrutinised the caravan park invoices showing where I'd stayed in New South Wales, and that was that.
WHERE NEXT?
I've already told you about a lovely stay at Charleville but heading north from there, Barcaldine Caravan Park was next on the list.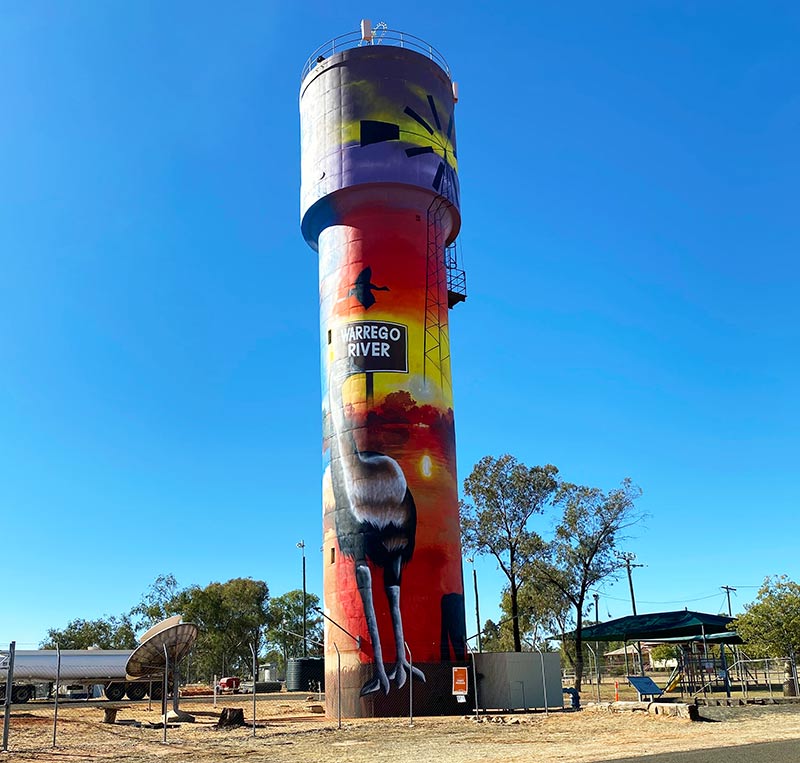 I saw this nicely painted water tower at Auguthella where I stopped to shop on the way.
At Barcaldine, every day at 4pm they brew billy tea and hand out damper and treacle in the recreation area where, yes, we socially distanced.
"How are you, Lionel?" asked the bloke next to me.
"How do you know my name?" I asked.
It turned out he used to read my columns and recognised me from the photo!
The damper was lovely but, for me, billy tea – or any tea for that matter – is a no-no after being forced to drink tea when growing up.
SURPRISE IN STORE
Although the road to Muttaburra was single-lane in parts, it was quite pleasant to be in the outback and free of traffic, and nothing warned me about the next stage of my journey, with Hughenden my destination.
I hadn't looked at the map and just entered Hughenden in my GPS. Mistake! Suddenly, there's a 'gravel road' sign and the gravel went for 200km!
It was bad gravel, too, and just the middle stoney track was drivable as the sides were loose and I nearly bogged the few times I ventured off the centre of the track.
I only met three vehicles during the 200km and one was an idiot coming towards me on a wider stretch.
The wind was blowing from right to left and he made no attempt to slow down.
The huge dust cloud following him blanked out my vision but as I'd slowed right down, it was okay. What wasn't okay was the dust that came in the window as I hadn't wound it up in time. (Yes, Yemmy still has wind-up windows!)
It was a great relief to arrive at Hughenden Caravan Park and sit down to fill out yet another form stating where I'd been for the past 14 days.
ON TO WALKAMIN
The next leg could have been shorter by taking the direct route to the Lynd Junction but this time I did some Googling and saw part of the road was unsealed. It said it was well-maintained, but once bitten twice shy, and I opted for the longer but safer choice via Charters Towers.
There were some vans in the Fletcher Creek free camp, so I took a pic and carried on past Greenvale and the Lynd, and camped overnight in what was once a gravel storage area.
I'd used it last year as well and this year spent my first night without power as it was so much warmer and I didn't need the heater on.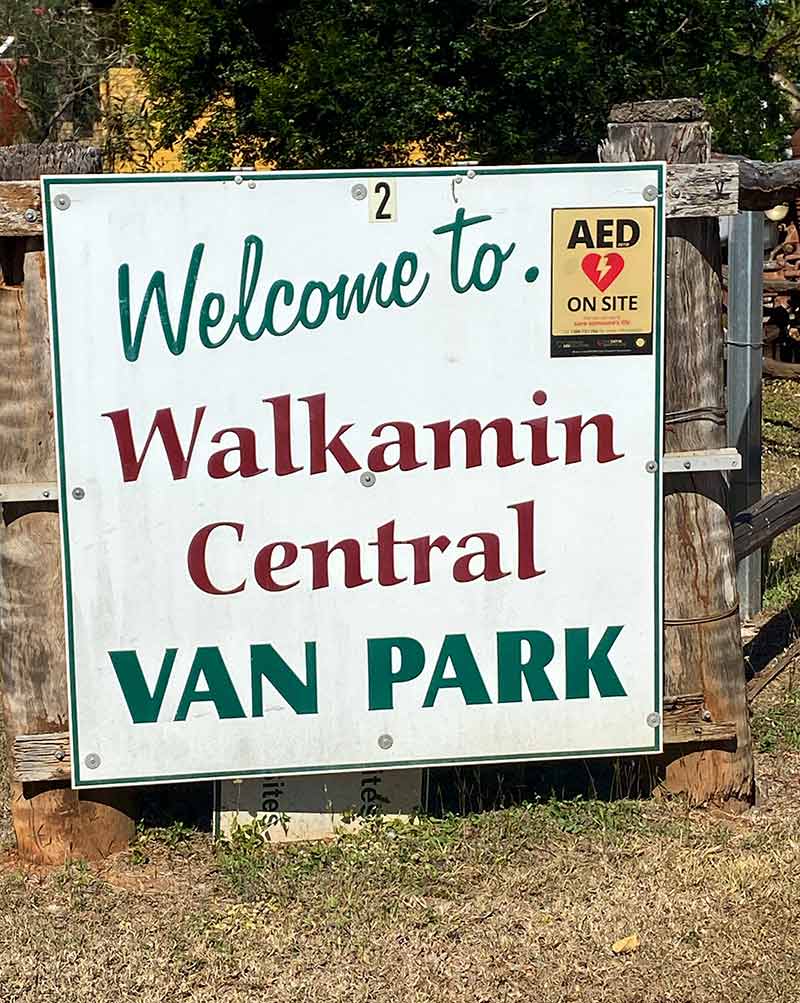 A short shopping restock at the Atherton IGA and I headed for the lovely Walkamin Caravan Park with a smile on my face.
I booked in for a month but I'll probably stay much longer. The new owners, Mark and Dallas, are a nice couple and I feel they are already friends.
There are quite a  few other friends who come here every year and it's been great catching up – socially distancing, of course!