Nova Caravans has been building its dedicated offroad caravan, the Terra Sportz, since 2012. It's fair to say that the Nova Terra Sportz of today, however, is more advance and streamlined that the offroader launched eight years ago.
The 2020 Nova Terra Sportz comes standard with G&S Chassis Control Rider Stage 4 airbag independent suspension, Nova's Pro-Al walls, the new Dometic Dust Reduction System, and even disc brakes.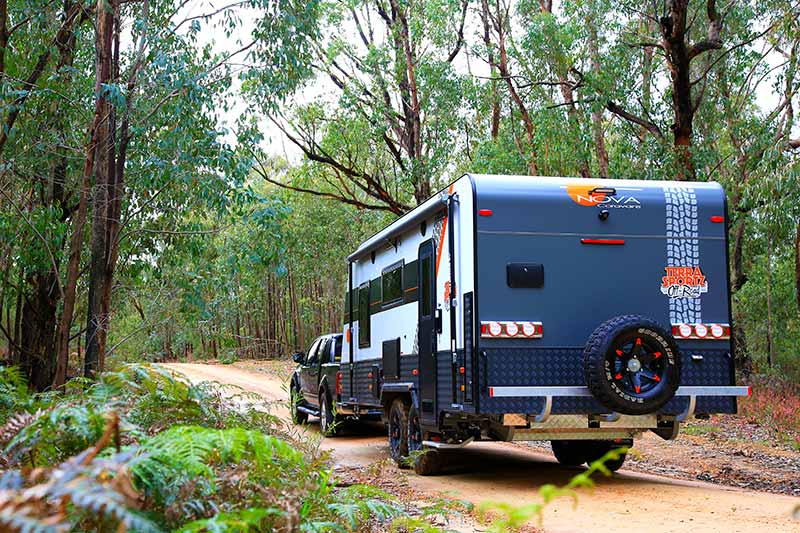 Yes, it's a vastly different van to what Nova offered the offroad market in 2012. And by all appearances, it's a cracker.
STEPPING INSIDE
There are obvious aspects to the Nova Terra Sportz that would appeal to most caravanners; however, I mostly appreciated the evidence of continual improvement. This can be found in the fit and finish of the cabinetry, the overall build quality, and the internal aesthetic.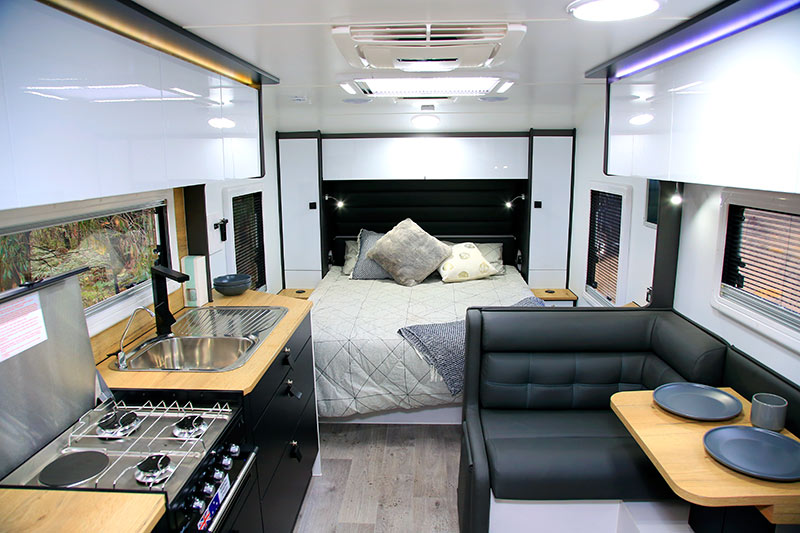 Last year, Nova introduced a new design for the Terra Sportz's soft-close drawers, in which some of them would 'wrap around' the sink's plumbing and other obstacles, and this can be found in the 2020 model – a good thing, too, as it is a great idea.
The Nova Terra Sportz is available in a range of sizes and layouts, from a 15-footer (with ensuite!) to a 22ft 6in toy hauler. Our review van was the 19ft 6in rear-entry model, known as the 196-1R, with a layout comprised of a front bedroom, nearside kitchen, offside cafe-style dinette, and rear ensuite.
The bedroom gets good marks – it really is an elegant, comfortable space. Tall wardrobes and three overhead lockers frame the bed, with two multi-directional reading lights mounted either side. Stitched black padding fills out the space above the bedhead, and wardrobe niches either side provide a spot to place your book or reading glasses. These niches are also fitted with a 240V powerpoint each.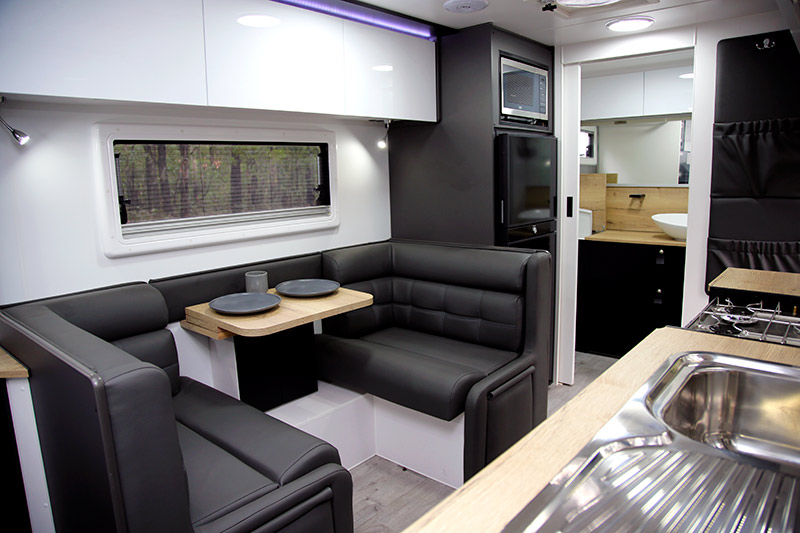 I was pleasantly surprised to discover wireless charging points either side of the bed, too. These only work for new(ish) phones that support this function but for those that do, it's just a matter of placing the phone on top of the circular charging point, and letting 21st century technology to the rest. There is also a USB point located within this charger.
Above the bed, Nova has fitted the new Dometic Dust Reduction System, a much more advanced way of keeping dust outside of the van than a traditional pressure hatch. Though I have not had the chance to thoroughly test this system for myself, by all accounts it works well.
On the bedroom's nearside wall, Nova has fitted a swivel bracket to support the 28in smart TV – on of the many standard features of the Nova Terra Sportz. An RV WiFi system is also fitted as standard, allowing you to stream your favourite shows directly to the telly.
While the kitchen doesn't have a large amount of bench space, the four-burner cooktop is recessed beneath the bench, with a hinged section of bench above – a common feature in vans that helps provide additional bench space.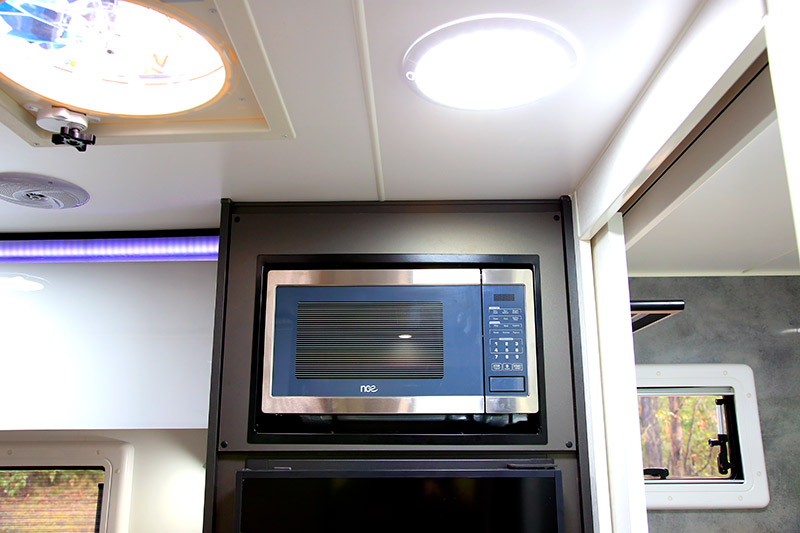 The kitchen feels roomy nonetheless, and there really is a decent amount of storage space here, which is partially due to how the drawers fit so neatly around the obstacles behind them.
The dinette features a trifold table with a small cupboard underneath complete with 240V and 12V powerpoints, allowing you to recharge your devices while you peruse them from the leather-upholstered seats. These seats, by the way, include snap-up footrests, so you can put your feet up while you read.
A 190L Waeco compressor fridge fills the space between the dinette and ensuite and, honestly, the fitout is first-rate. A microwave is recessed into the cabinetry above the fridge and this, too, is very neatly done.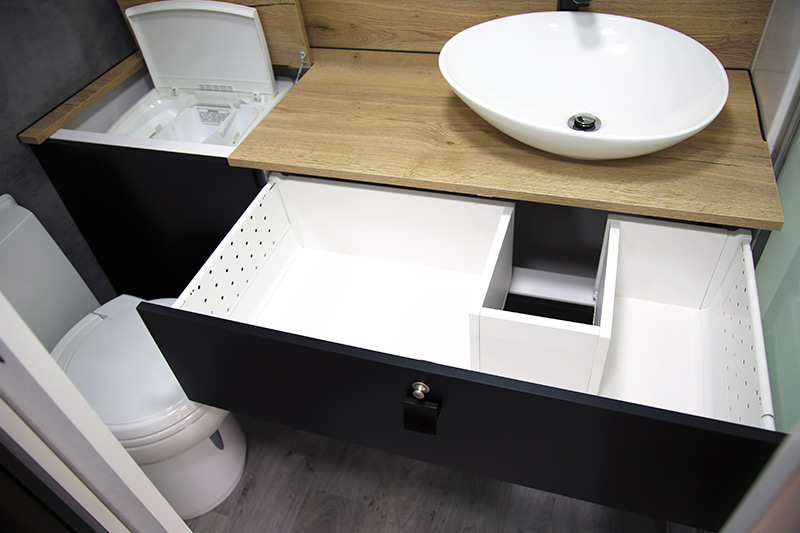 While the bathroom isn't the largest I've seen, it is nicely finished off and, considering the limited room here, Nova has managed to include large drawers beneath the washbasin and a top-loading washing machine beneath the bench in the offside corner.
A cassette toilet is on the offside – space is a bit tight here – and a fully-moulded fibreglass shower cubicle is on the nearside. Honestly, the bathroom is hard to fault.
Naturally, Nova has included a range of other features and fittings, from a reverse-cycle air-conditioner to a double-DIN stereo. Sometimes, though, it's the things you don't see that are most impressive. I'm referring to the fact that all cabling is run strategically inside the van, behind the cupboards but still accessible, rather than inside the walls. This means that should you ever need to get to a 12V wire, you can do so.
NOVA TERRA SPORTZ CONSTRUCTION
The Pro-Al walls are, essentially, a once-piece aluminium sandwich panel construction incorporating high-density structural foam, which should provide excellent insulation properties. In any event, the white sides, gunmetal grey front and rear, and protective waist of black checkerplate, look great.
A few things to point out: the air-compressor for the independent airbag suspension is mounted to the nearside chassis rail, behind some checkerplate, with the 'up-down' controls inside a locker above, along with a TV mounting point and associated connections.
For this van, Nova had fitted two 100Ah lithium batteries to the offside chassis rail behind checkerplate – a generous setup that includes two 160W solar panels and a DC-DC charger. Just in front of the offside wall, also mounted to the chassis rail behind checkerplate, you'll find the actuator for the van's disc brakes.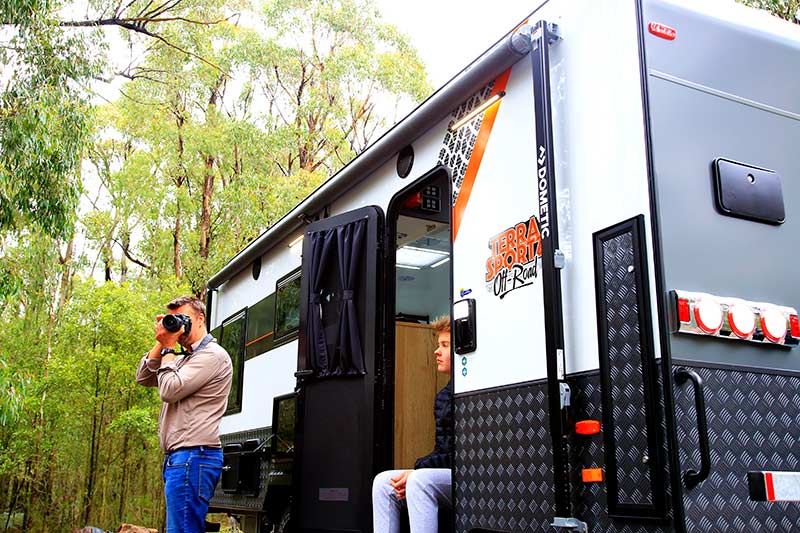 Now, disc brakes for caravans are not particularly common; however, it's fair to say that they do a terrific job at pulling up the van. This is a real benefit to the Terra Sportz over some of its competitors, in my opinion.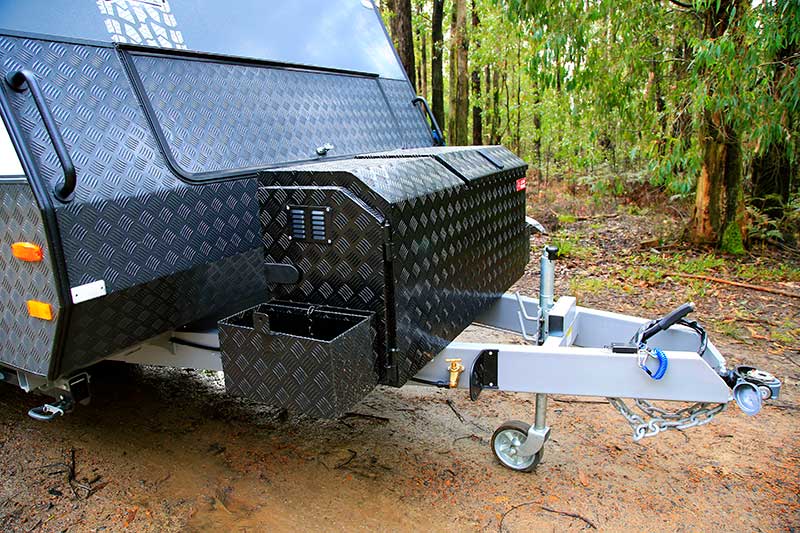 An LED floodlight has been fitted to the front and rear of the Terra Sportz, too, while a storage box fabricated from black checkerplate is mounted to the drawbar. A compartment accessible from the top is home to dual 9kg gas cylinders, and a slide-out tray is fitted on the offside of the storage box that would be suitable for a small generator or portable fridge. A 20L jerry can holder is fitted either side of the storage box, too.
Underneath, the Terra Sportz appears to be well-protected. For example, the van gets two 95L fresh-water tanks (one forward and one aft of the axle) as well as a 110L grey water tank. Each tank is properly protected by checkerplate, and even the dump pipe for the grey water tank is protected – which gets a big 'thumbs up' from me.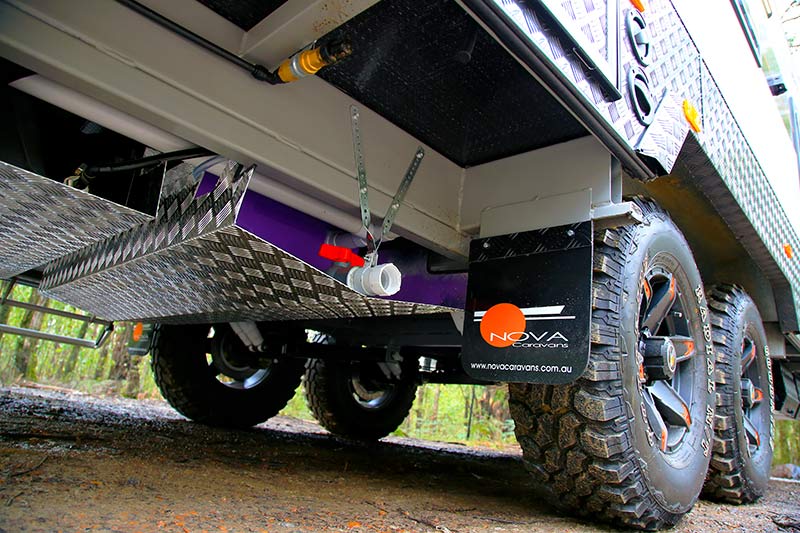 The A-frame water tap is protected, too; however, the nearside gas bayonet to accommodate a barbecue, and the offside mains water inlet look a bit exposed.
GORV'S VERDICT
This particular Nova Terra Sportz will require a substantial 4WD, given its Tare of 2765kg and ATM of 3365kg. This, of course, provides a payload capacity of 600kg. Even after both water tanks and gas cylinders have been filled, there's still close to 400kg to account for your gear – which for a van such as this, should be plenty.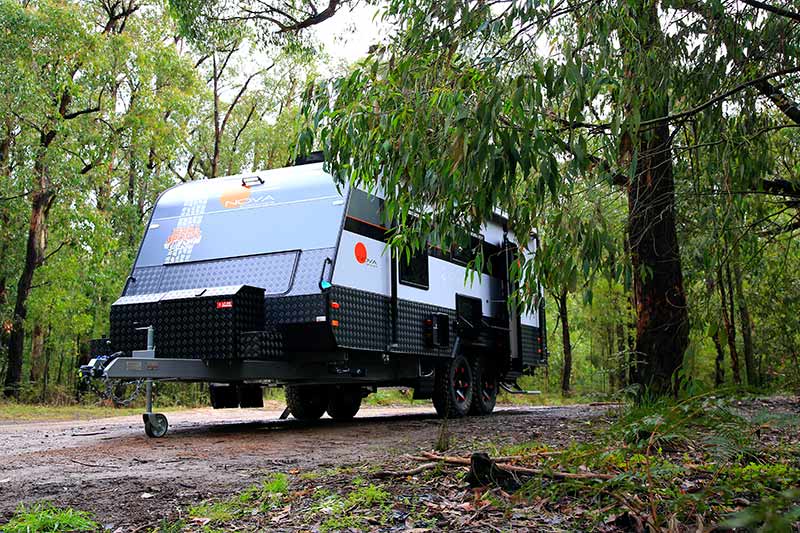 I see this van as being highly refined and sorted. There's very little to complain about – Nova's many years of manufacturing are on display in this rig.
THE SCORE
FIT AND FINISH –

LAYOUT –

INNOVATION –

HITS & MISSES