We recently wrote a story about a few of Australia's outback roadhouses, and sometimes it is hard to distinguish between a roadhouse and a hotel/pub since often a venue is a bit of both.
However, some pubs stand out because of their décor, atmosphere, history and popularity. Take, for instance, the Birdsville Pub at the end of the Birdsville Track, just across the Queensland border. It would be inconceivable to pass through Birdsville and not drop in at the pub; in fact, for many the pub is the reason for going there. 
So, let's visit a few outback pubs, beginning with the Birdsville Pub. 
BIRDSVILLE PUB
A meal at the Green Lizard Room is enjoyable and you will no doubt make a new friend or two. The pub is the centre of town, right across the street from an airport that provides a much softer and faster ride than the track.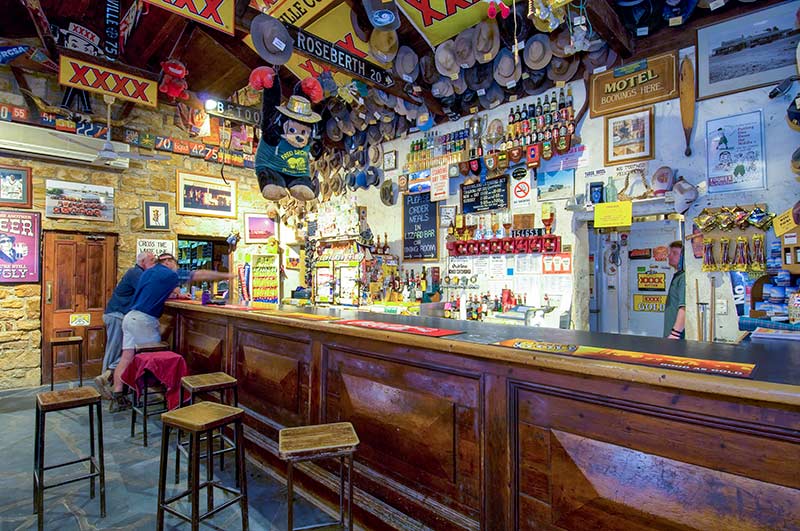 Patrons are encouraged to donate to the Royal Flying Doctor Service and since everything is within walking distance, you don't have to worry about being breathalyzed on the way back to the caravan park (unless, of course, you do decide to drive, in which case drink responsibly).
Every outback pub welcomes contributions to the décor from visitors, and this pub has the tidiest display of all, with hats and flags neatly dangling from the ceiling. We met two men there who were celebrating their completion of the French Line from Mount Dare to Birdsville. 
"We dragged a trailer and two women across the Simpson Desert," they informed us as they swayed alarmingly on the street outside the pub. Normally, I would be annoyed by the sexist implications of this comment, but in this case it was too funny to do anything but laugh.
For many RVers, visiting Birdsville, an afternoon out at Big Red (the first or final dune on the Simpson Desert crossing) to see the sunset, followed by a meal at the pub is a highlight.
MUNGERANNIE
The Birdsville Track offers another outback pub well worth a visit, especially for birdwatchers. We staggered into Mungeranie (oddly, the place name is Mungeranie and the pub name Mungerannie) with a broken valve that had dripped water for the 205km from Marree.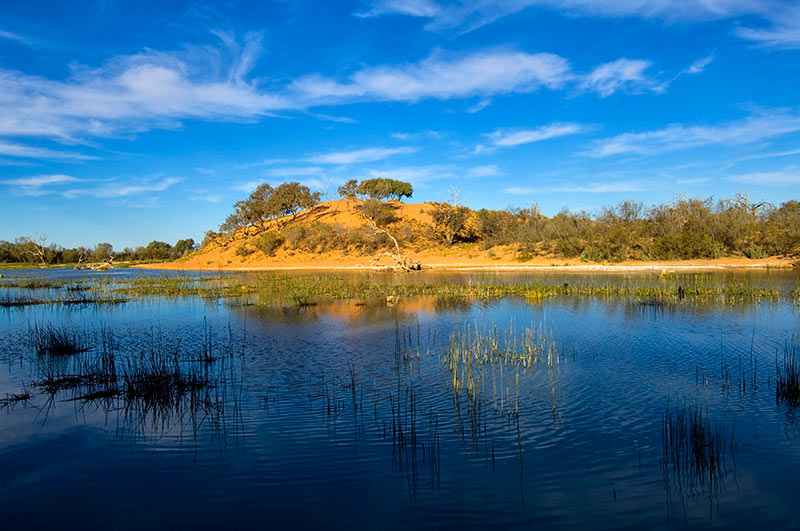 The publican escorted us to a shed where he riffled through boxes of valves, and miraculously found one that was a perfect fit. We booked in for one night and stayed for three.
I will never forget it. The pub was festooned with a hodgepodge of hats, tee-shirts, business cards and various other items, including a few severed ponytails.
We were told by other visitors that the hamburgers were, indeed, the best in the world.
The facilities were good, but the bore wetland was stunning, with around 110 species of birds including galahs, little corellas, brolgas, egrets, and a number of migratory waders. To sit in the warm artesian spa and watch birds is outstanding.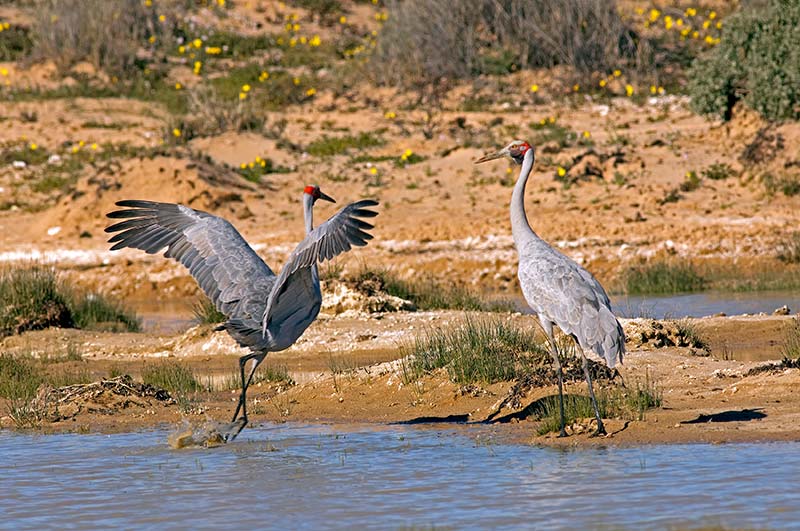 It would be a shame to travel the Birdsville Track, with a mandatory stay at Mungeranie, and not learn a bit about the history of the region: it is as full and rich as it comes. Supporters of the Australian Wildlife Conservancy may want to venture a rugged 58km to the north-west to visit Kalamurina, a former station that is now owned and managed for conservation. 
WILLIAM CREEK HOTEL
Competing with Mungerannie for the most isolated pub in Australia is the William Creek Hotel along the Oodnadatta Track, 200km from Marree (or 166km from Coober Pedy and the Stuart Highway).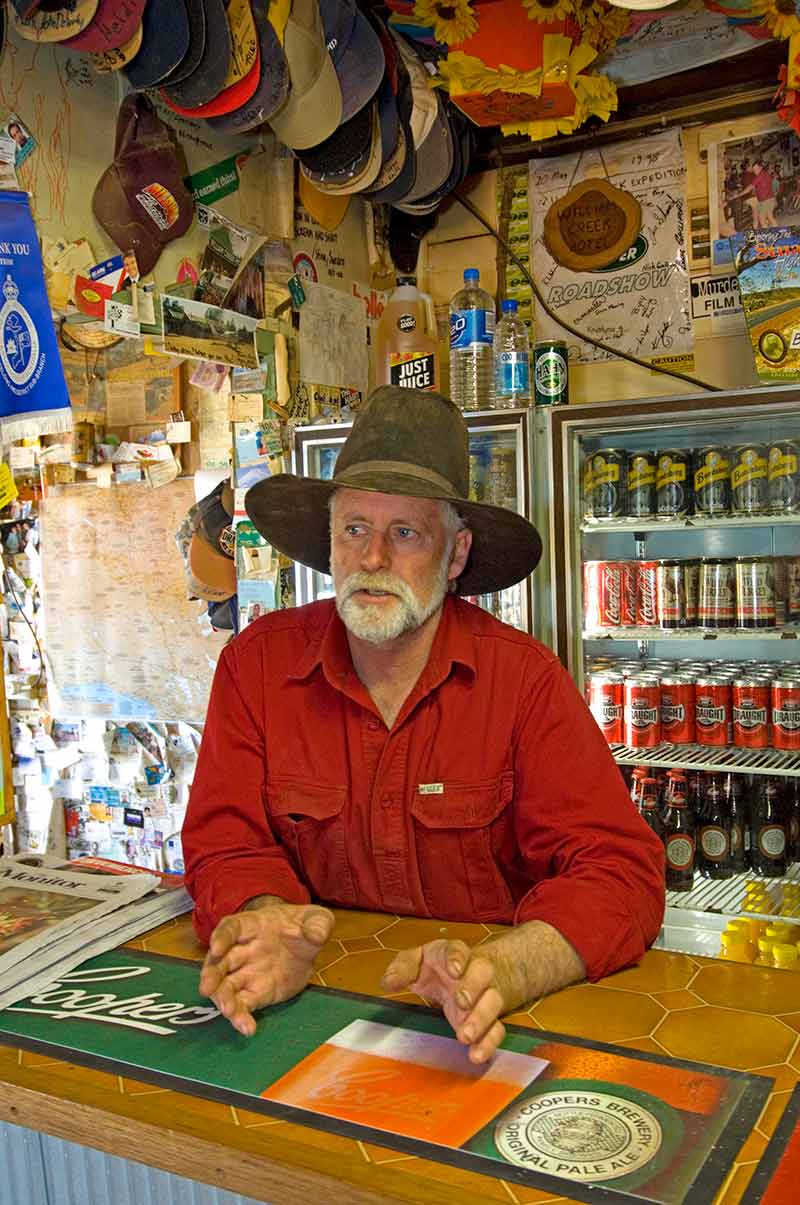 The pub was built in 1887 with old Ghan Railway sleepers and is tastefully decorated with thousands of business cards, notes, licence plates, caps… in fact, any item you might wish to leave behind to mark your passage through William Creek appears to be worthy of consideration.
There is camping at the back of the pub, scenic flights over Kati Thanda-Lake Eyre and/or Anna Creek Painted Hills, and a night sky free of light pollution that will sparkle in your memory for years to come.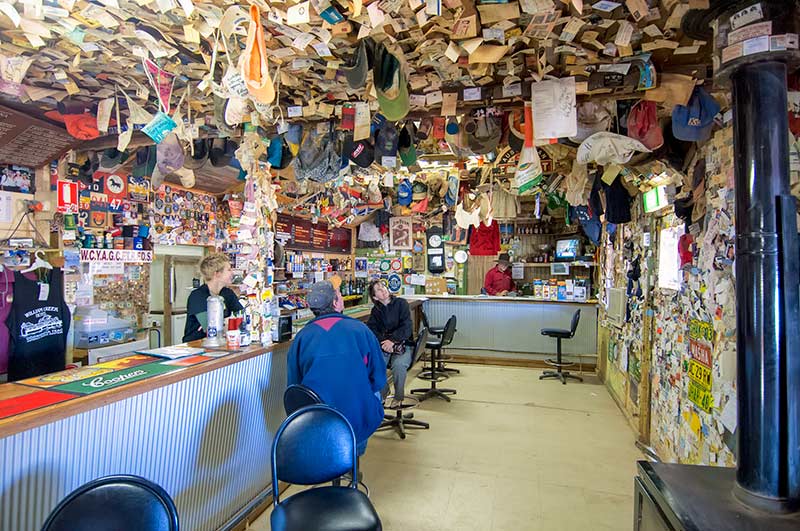 Adventurous, and totally self-sufficient 4WDers with complete emergency supplies can take a ride out to Kati-Thanda Lake Eyre National Park. If that doesn't demand a meal at the pub, then nothing does.
On our last visit, we spent an hour or so chatting with the publican, a businessman from the big smoke who had become fed up with city life and wanted to try something different, and different it most certainly was. He loved it.
MOUNT DARE HOTEL
Up the Oodnadatta on 150km of roads that go from bad to worse is a pub in Witjira National Park. The Mount Dare Hotel, rebuilt in 2006, wins as the most isolated hotel in Australia (sorry about that, Mungerannie and William Creek).
Its nearest neighbour is Finke, along a 105km 4WD track that can only be described as shocking.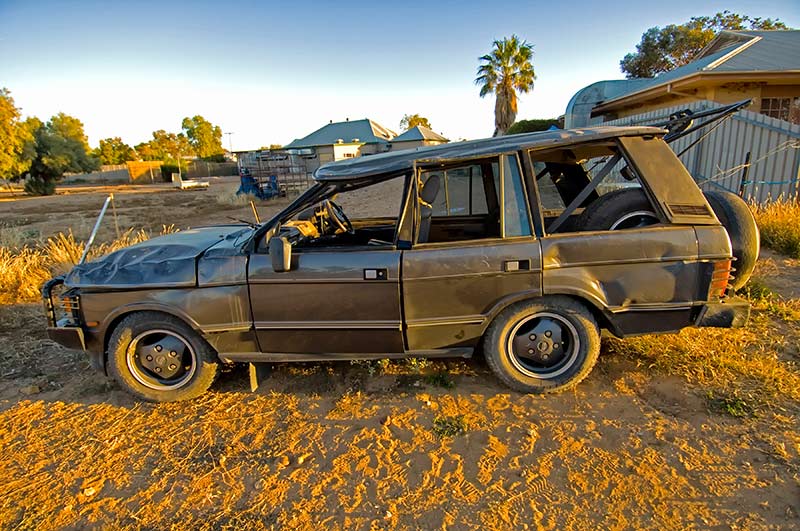 Mount Dare serves customers visiting the national park and either beginning or finishing the Simpson Desert Crossing. The hotel provides a number of essential services such as fuel, satphone hire, tyre repair, shock absorber replacement, new trailer springs and vehicle recovery if it all goes pear shaped on the French Line (these services provide an insight into the condition of the surrounding roads).
There is a campground on offer with hot showers and, of course, cold beers and wine to accompany the hotel's 'world renowned' scotch fillet dinner.
Visiting and camping at Dalhousie Springs is on more than a few bucketlists, and dropping in at the pub before, during or after will give you something to dine out on for years to come.
BARROW CREEK HOTEL
Since the Mount Dare Hotel is only 14-years-old, its décor cannot compete with a far more historic pub, the Barrow Creek Hotel, located 226km south of Tennant Creek on the Stuart Highway.
The pub was built in 1926 and stands near an Overland Telegraph Station completed in 1874. The pub is adorned from floor to ceiling with messages and autographs from the many visitors who have passed through, along with over 10,000 business cards and photos.
But the vibrations here are not all fun because the tiny settlement of Barrow Creek has been marked by murder from the start. The same year the telegraph station opened saw the murder of two men by members of the Kaytetye Aboriginal people, perhaps resentful of the intrusion on land they had occupied for tens of thousands of years.
Retribution was swift, with the murder of 50 to 60 tribal members at the Skull Creek Massacre.
Fifty-four years later, in 1928, after a man was killed at Coniston Station, 70 Aboriginal people were slaughtered at Barrow Creek in the Coniston Massacre.
Seventy-three years later, a terrified woman was delivered to Barrow Creek by a truck driver who found her a short distance away. Her boyfriend had been murdered and she had narrowly escaped the same fate.
The Barrow Creek Hotel has always helped people in strife on the Stuart, so drop in to say g'day and leave a message on the wall. 
DALY WATERS PUB
For a place with a great vibe, you'll have to venture up the Stuart for 632km to the Daly Waters Pub. While not as 'deadly' as Barrow Creek, it does have a raucous past with some bad behaviour fuelled by alcohol.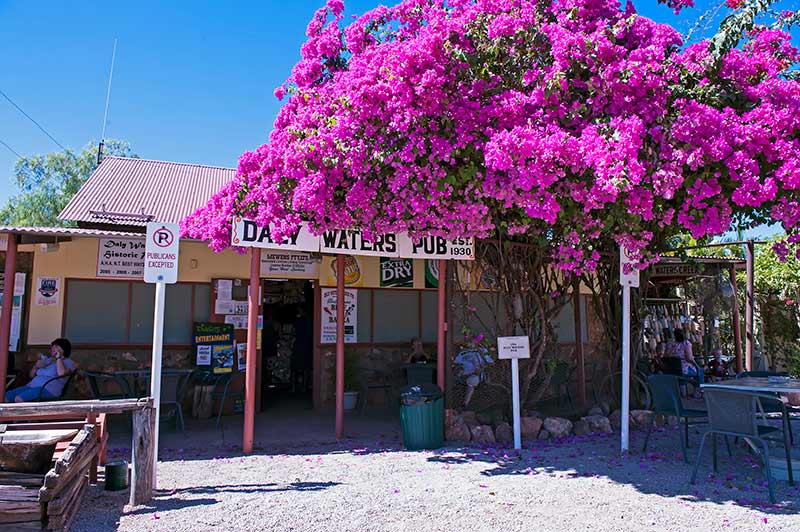 Draped in a shroud of scarlet bougainvillea on the outside, and strung with dangling multi-coloured (and sized) bras and knickers on the inside, this has to be one of the most popular places for travellers of every variety to visit.
Caravan and camping bookings are not available, so RVers sometimes pull a one-night stand at the nearby Hi-Way Inn Caravan Park Motel (9km) or further up the road at Larrimah (93km) so that they can be in line at check-out time for a camping spot beside the pub, and there they spend the day waiting for their steak and/or wild-caught barramundi dinner.
Plenty of people stop by for a look throughout the day and the tiny town easily turns into a parking bun fight.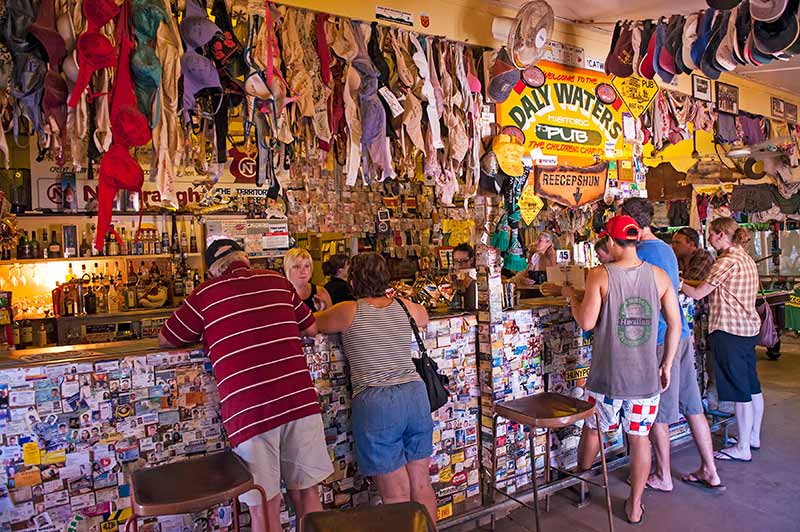 A short walk over to the Aviation Complex is a good reason to tear yourself away from the pub for a while.
Everyone is encouraged to 'leave their mark', so ladies, hang on to that bra you've been wanting to throw away so that you can donate it to the collection at the Daly Waters Pub. This is one pub no one should miss.
Visit a few of these pubs along with some of the outback roadhouses we recently covered, and you will get a sense of Australia that is totally different to anything you'll find in the cities.
For those people living and working out there, it's the 'real' Australia.