If you were to write a list of Australia's oldest caravan names, the most revered amongst caravan enthusiasts, I'd bet London to brick that Windsor Caravans would be on it, such is the heritage behind this famous brand.
Going back decades, Windsor has had numerous owners. The current, and hopefully last, owner is Apollo RV, which bought the brand from Western Australia-based Fleetwood at the same time it acquired Coromal Caravans from the same company.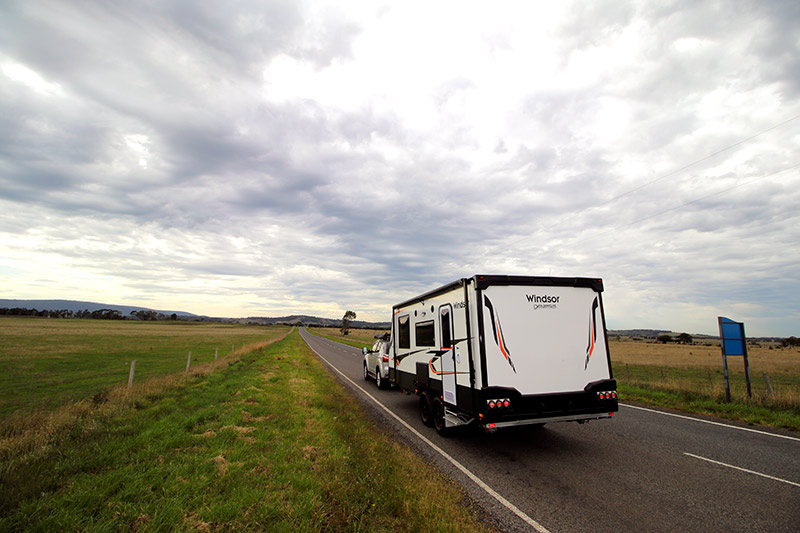 Though it's been over 12 months in development, Apollo only released the new line-up of Windsors a couple of months ago, debuting the range at the Victorian Caravans and Camping Supershow.
The Windsors, leveraging Apollo's nous in fibreglass sandwich panel construction – as seen in the Coromal range – are designed to compete with the 'stick and tin' caravans available in the $55,000 to $70,000 price category.
Why buy a timber-framed van with aluminium cladding when you can buy a Windsor with composite fibreglass panels for a similar price? In a nutshell, that's the thinking behind the redevelopment of this beloved brand.
GENESIS CONSTRUCTION
Our review Windsor Caravans Genesis 196RD (Rear Door) is built with 28mm-thick fibreglass sandwich panels for the walls, floor and roof as well. Aluminium extrusion is used to lock each panel together.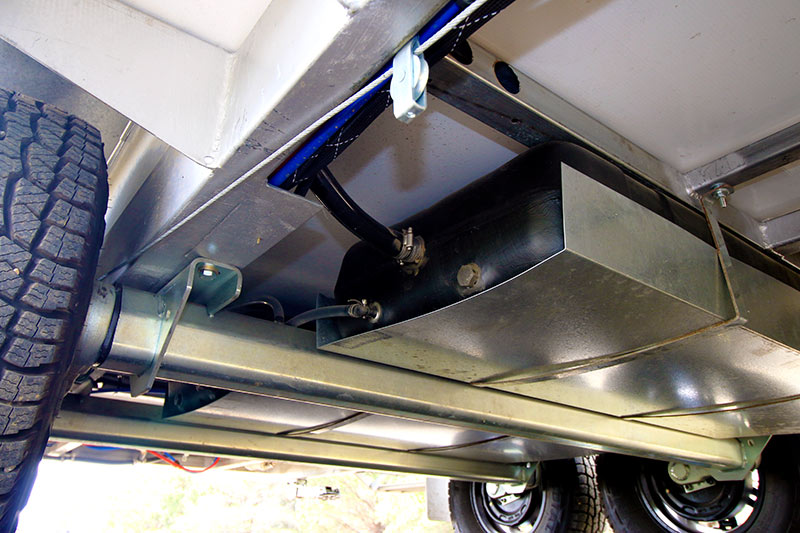 Although it's not an offroad van per se, this tandem-axle van rides on Dual Al-Ko Independent Rubber Suspension (IRS). And, happily, I found it to be an absolute dream to tow – it was a picture of composure as I hauled it north out of Melbourne. 
Weighing 2035kg Tare, and with an ATM of 2500kg, our Windsor Caravans Genesis 196RD offered a payload capacity of 465kg, which seemed quite reasonable for a van such as this.
Externally, it is not extensively fitted out with every conceivable luxury and convenience, but that is reflected in the price. However, it has the essentials covered: a nearside roll-out awning, a couple of speakers, a fold-out picnic table and awning light.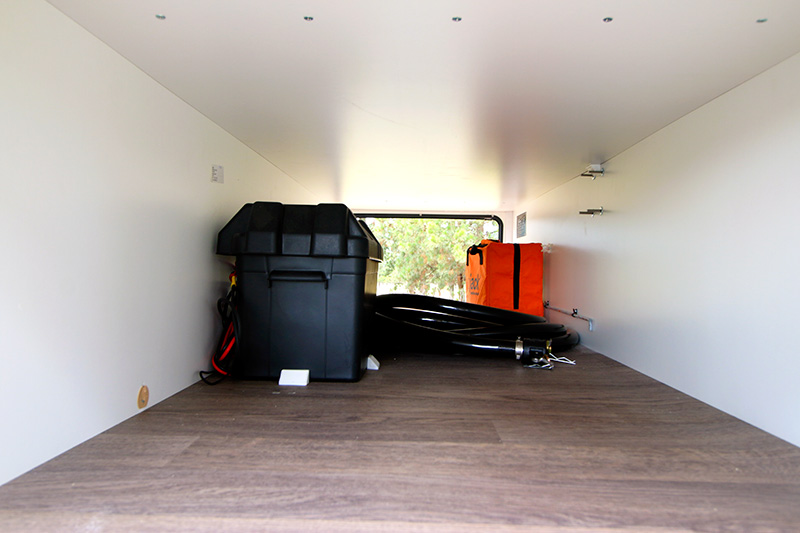 External storage is limited to a front tunnel boot, which is home to the onboard 120Ah AGM battery – 150W of solar comes standard – while dual 9kg gas cylinders live on the A-frame. A freshwater tap is also mounted to the drawbar, which is welcome, but I'd fit a checkerplate stoneguard to protect it. The associated waterline on my van, while not hanging too loosely, did however appear as though it could do with another P-clamp to secure it to the drawbar.
The rear of the van looks quite European, in that it's characterised by attractive fibreglass mouldings rather than a hefty steel bumper bar carrying a spare wheel. The spare, by the way, is slung underneath the van, forward of the axles.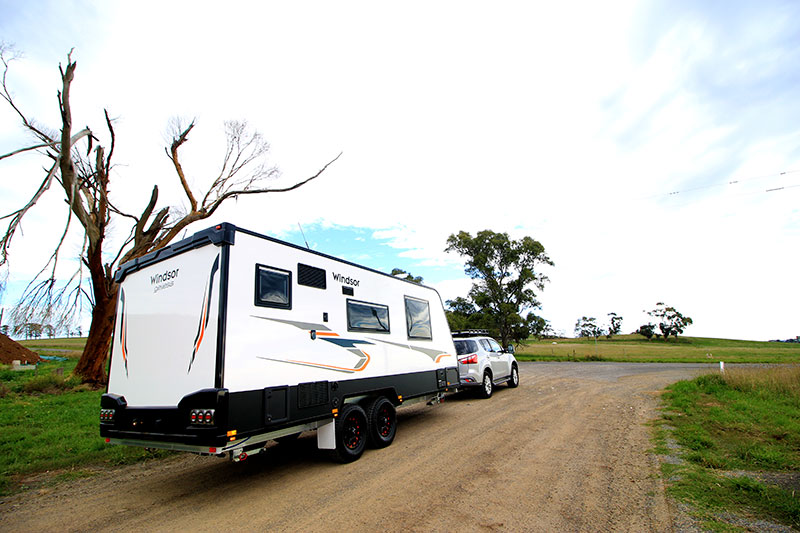 The dual water tanks, meanwhile, are mounted near the axle group, which should mean they have negligible bearing on the ball weight when full of water (the tank further forward of the axle group will impact the ball weight more than the tank between the axles).
The overall quality of the fibreglass finish and joinery was very good – nothing was noticeably out of place or in need of attention, and nor did I spot any unsightly ripples.
Aside from a guard for the tap, the only thing I'd consider adding would be a guard for the gas cylinders. Of course, you could no doubt fit it out with optional equipment such as more solar and a reversing camera, too.
INSIDE THE WINDSOR CARAVANS GENESIS
The inside of the Windsor Caravans Genesis 196RD is the real highlight of this van. Hallelujah – a company has finally done something about the giant gobs of silicone found beneath the sinks of almost every caravan made in this country!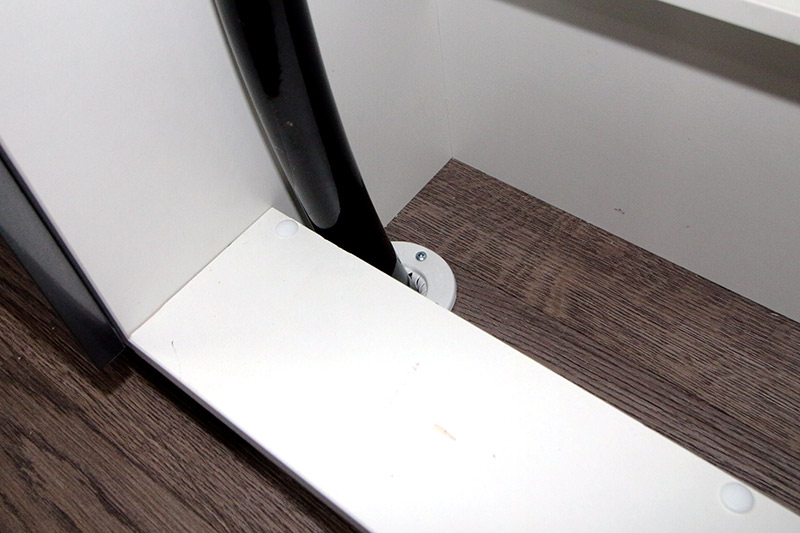 That's right: plastic collars have been fitted on top of the silicone that seals the holes through which the grey water plumbing and water lines run. This small thing makes a big difference.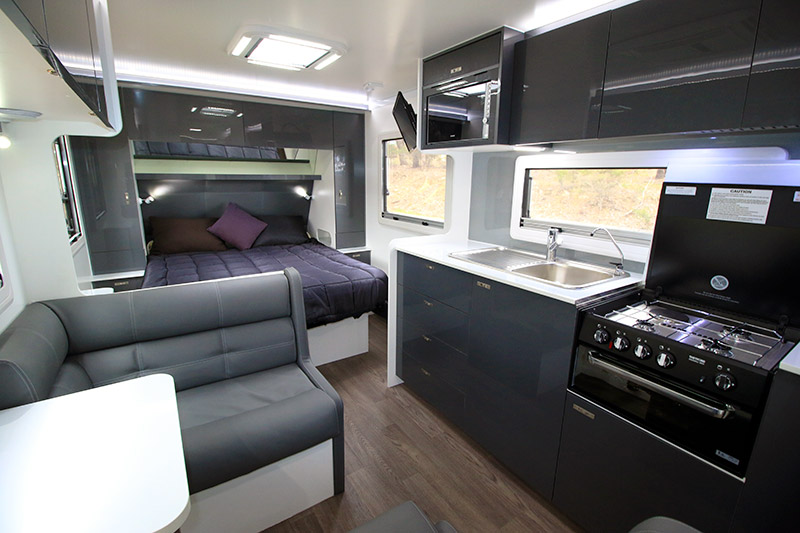 The attention to detail also extends to the ply that supports the dinette seats. This ply on other vans would be a bare, unfinished piece of timber. However, Apollo has taken the time to apply laminate and edge-band it. A silver ring has even been fitted to the hole that you'd use to lift the ply out.
If I seem excited, it's only because I've reviewed countless vans over the years whose manufacturers have overlooked such things on the assumption that because they're mostly out of sight, a poor finish is acceptable. That's not the case here.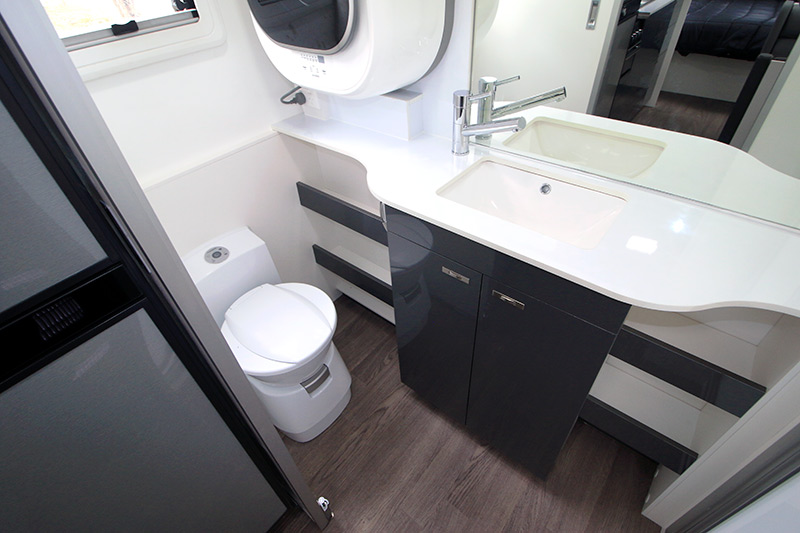 The layout consists of a forward bedroom with side wardrobes, each containing a bedside niche complete with 240V and 12V powerpoint, a nearside cafe dinette, offside kitchen and rear bathroom.
You'll also find 12V and 240V points in a cupboard under the tri-fold table at the dinette, allowing you to plug in your devices while using them from the comfort of one of the dinette's lounges.
The van is fitted out with the expected items: a microwave, large fridge, a TV on a swivel arm in the bedroom, cooktop and griller in the kitchen (no oven as standard), and a reverse-cycle air-conditioner (a Dometic Ibis 4 in this case).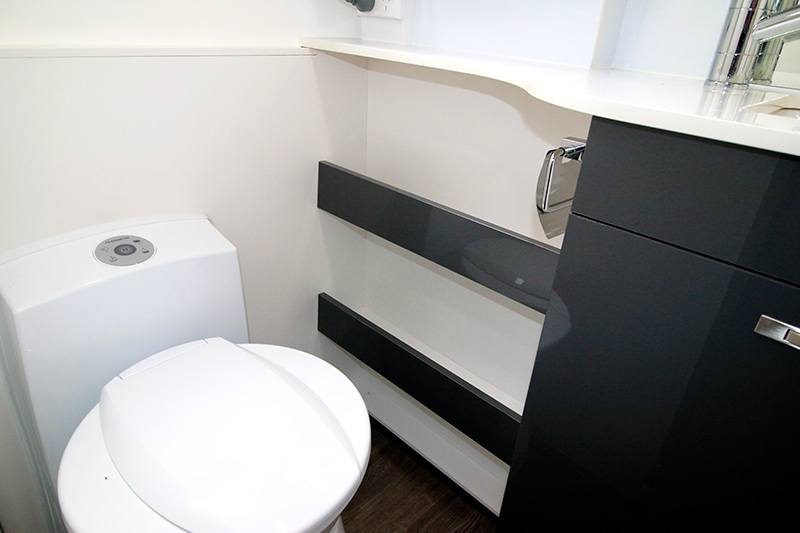 The bathroom, meanwhile, has an offside cassette toilet, central vanity and nearside shower. There are a number of points of difference in the bathroom, though, notable the stylish tapware, featuring a vertical strip with built-in LEDs, in the shower, the front-loading washing machine mounted to the back wall, and shelving system next to the loo.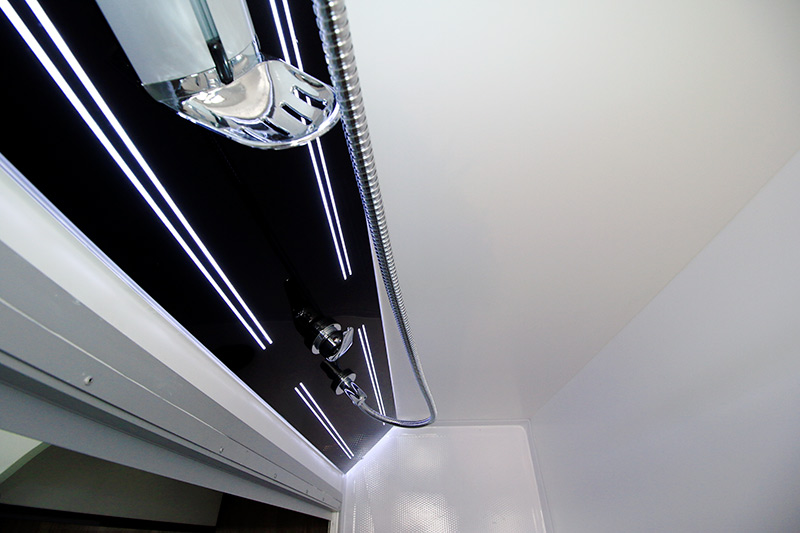 None of this is going to set the world on fire, sure, but it is neatly finished off and attractive. In fact, 'neatly finished off and attractive' is probably how I'd describe the entire van. Having said that, I did wonder if it was possible to hide the aluminium extrusion that's visible above the door and either side of the bed. It has been coated white to match the walls and I imagine many people would not be bothered by it at all. I, however, am picky.
GORV'S VERDICT
At $59,990, the Windsor Caravans Genesis 196RD as reviewed represents good value for money and, in truth, there aren't too many composite fibreglass vans of this size and spec-level available for a comparable price.
If your budget is limited but you'd still like to get into a mid-sized van that isn't inordinately heavy, and fibreglass construction appeals to you, put the Windsor Caravans Genesis range on your list. I think you'll be pleasantly surprised by what Apollo RV has done to this classic Aussie brand.
THE SCORE
FIT AND FINISH –

LAYOUT –

INNOVATION –

HITS & MISSES
Excellent fit and finish/attention to detail
Light weight and easy to tow
Attractive tapware treatment in shower
Fibreglass sandwich panel construction at an affordable price
I'd like a stoneguard for the A-frame tap and gas cylinders
Can the aluminium extrusion inside the van be covered?