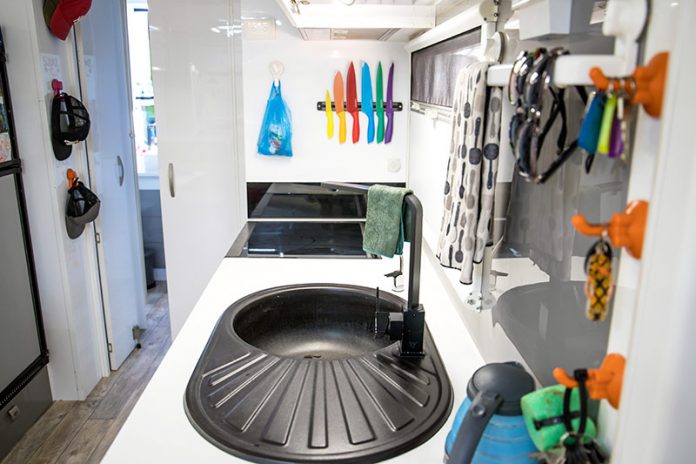 With caravans being a small fraction of the size of the average house, it's easy to feel overwhelmed when attempting to squeeze everything in that you think you will need for your travels.
A minimalist approach always works best. Remember, you have weight limits to contend with, plus, like any space, the less you try to cram in, the greater the functionality and organisation you're bound to have – all of which adds to your comfort level.
That's why we are sharing our most valuable space-saving tips for inside our caravan. We hope they offer inspiration for those of you who are feeling frustrated and in need of fresh ideas.
CARAVAN BEDROOM
One of the biggest space-savers for our van has been opting for shelving in the wardrobes over wasted hanging space.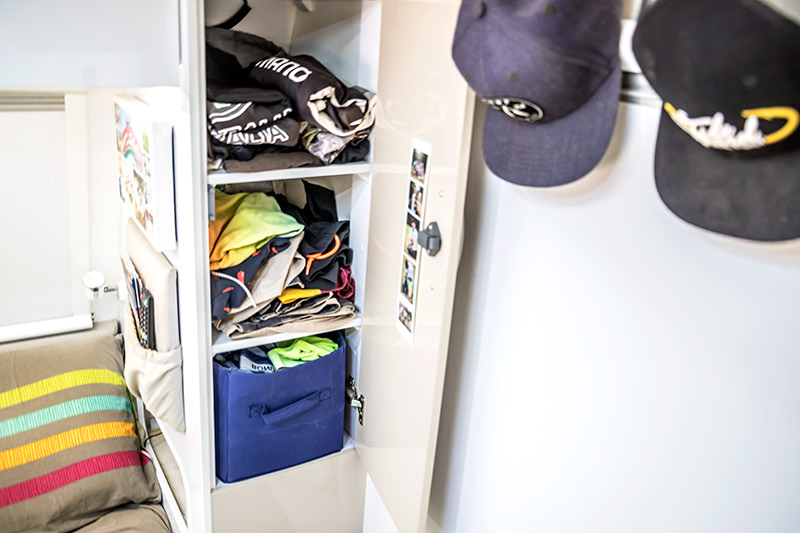 For us, folding clothing allows the space to be used much more effectively, and utilising some cheap boxes from Kmart to maximise the triangular-shaped space has allowed for loose items such as socks and jocks to have a functional home.
For the kids, too, some of the fabric Kmart boxes have made for perfect toy boxes that live in the unused space at the end of their beds.
Our 'map pockets' have been another favourite storage solution. We have one next to every bed and a larger one in our kitchen area. They provide easy storage for books, remote controls and other personal items that are used frequently.
CLOTHING/LINEN
Clothing is rotated based on local weather to enable our wardrobes to remain functional and allow our kids to keep some level of order in their areas. If jumpers and trackies aren't required, they're stored away with our spare linen.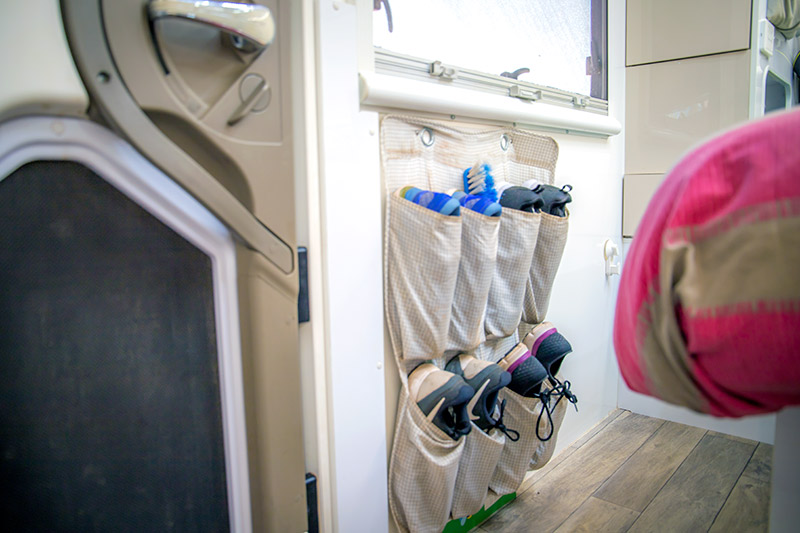 A hanging shoe storage system has been mounted by the inside of our door for our walking shoes, since keeping them in cupboards or under the main bed wasn't practical. This way, they are easy for each family member to grab when needed.
With all of us having multiple hats, we needed to find a storage solution that wouldn't ruin their shape or give the kids an excuse that they 'couldn't find' one when heading out.  A handful of suction-cup hooks has been a handy solution that didn't require finding additional cupboard space or screwing anything into the walls.
CARAVAN KITCHEN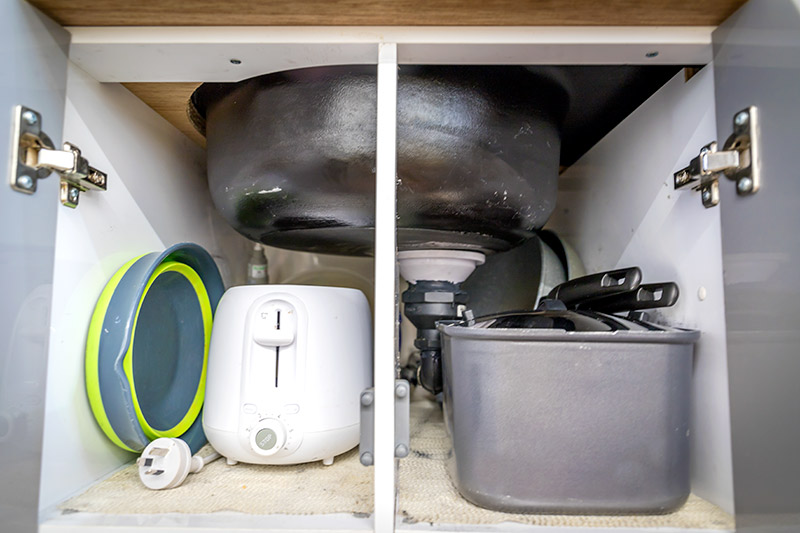 Our most notable kitchen space-savers would have to be our pots and pans. They're stackable and have removable handles, which allows us to easily fit three different saucepan sizes, a wok and a frypan all in one side of the cupboard, even though the kitchen sink and piping protrudes through the middle of the available space.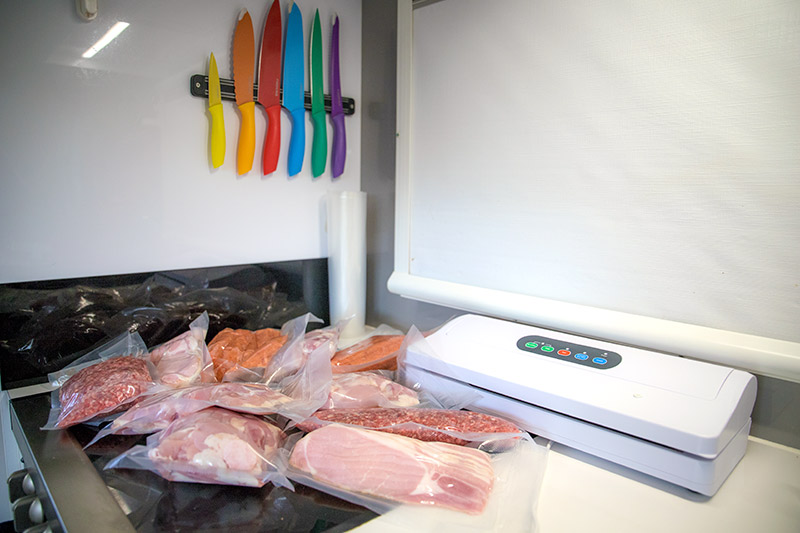 For fresh meat, we use a vacuum sealer to make packaging as small as possible, allowing for more room in our tiny caravan freezer.
We have found using a little basket for all of our herbs and spices is fantastic. It not only reduces movement while the van is being towed, but the basket can be stacked, which also saves space.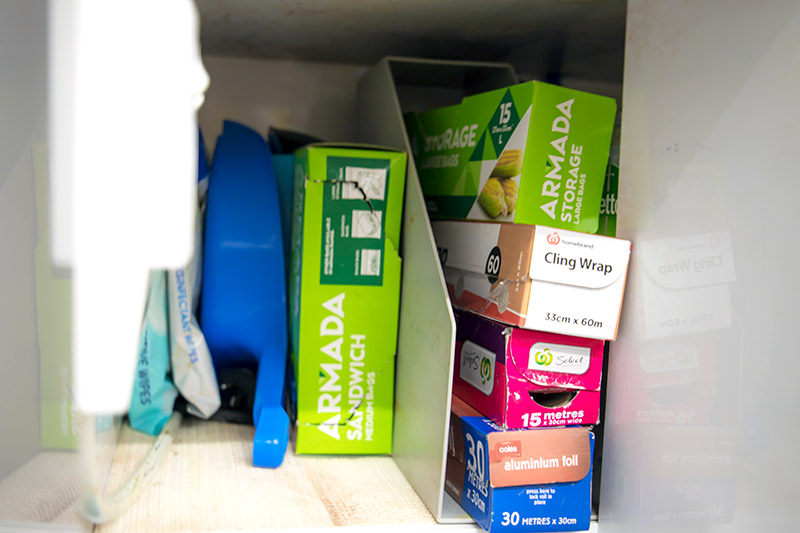 A stand-up magazine holder has been a great addition for under the kitchen sink to hold weird-shaped items, like the cling-wrap, aluminium foil and snap-lock sandwich bags.
With a vast array of pop-up kitchen items, from kettles to mixing bowls, and even Tupperware-inspired containers, you can find any shapes and sizes to fit your needs. Our pop-up kettle is great. Our other essential pop-up item used in the kitchen is a mixing bowl.
Our plates and bowls are stored in the dish rack we purchased before we left. We found it didn't get much use for the original intended purpose because the dishes are always dried and packed up straight after washing. During transit, our plates and bowls have minimal movement when stored this way.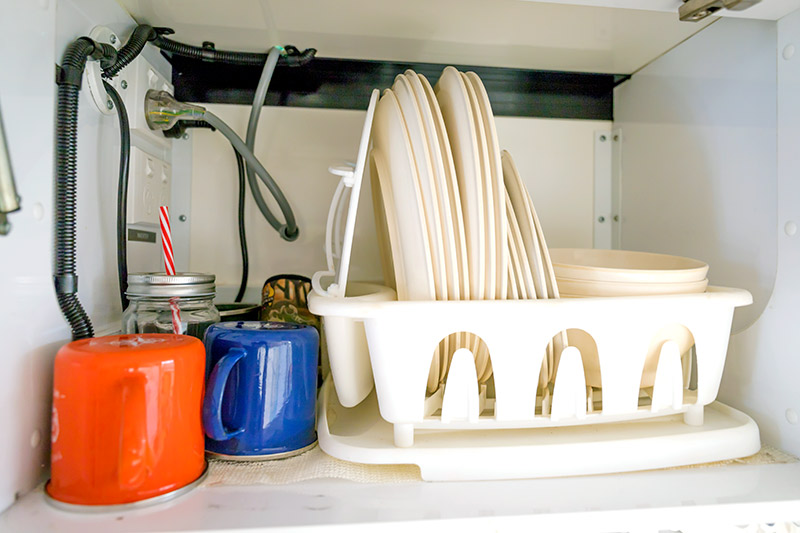 As far as utensils go, we fit most of what we need in our two kitchen drawers. Having young kids, however, we keep our sharpest knifes out of their reach. A strong magnetic strip holds them in place away from little hands, which has never faulted – even when doing some of the roughest tracks Australia has to offer!
For a little more functionality in the kitchen, we also have suction-cups for a small rubbish bin bag, for holding our keys, a special rack one for hanging our tea-towel right by the sink, and sunglasses close to the door.  
BATHROOM/LAUNDRY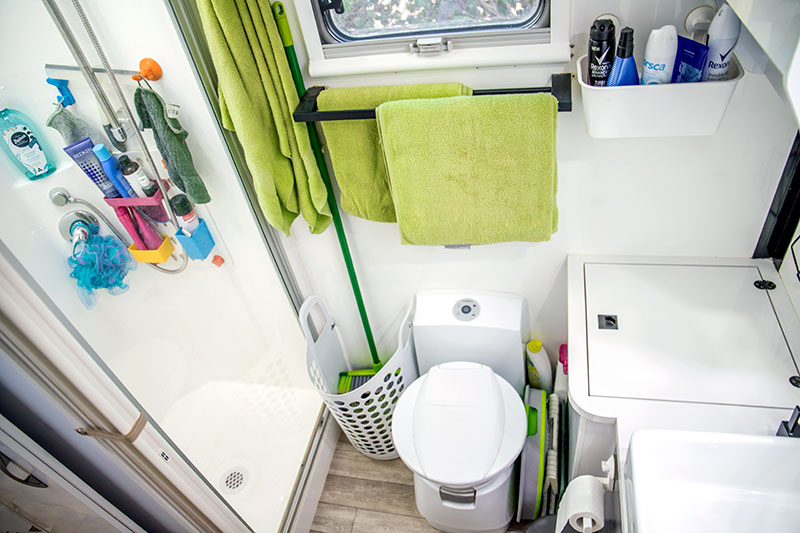 Sticking with (no pun intended!) our love affair for the suction-cup variety of storage options, we added a heap more functionality to our bathroom area as well.
An additional hook next to the shower provides a place for an extra towel to hang when needed, as the towel rack will really only hold two (and we're a family of five!)
Regularly-used items, such as deodorant, that's too tall to fit on our little bathroom shelf are kept in a suctioned shower caddy opposite the bathroom mirror.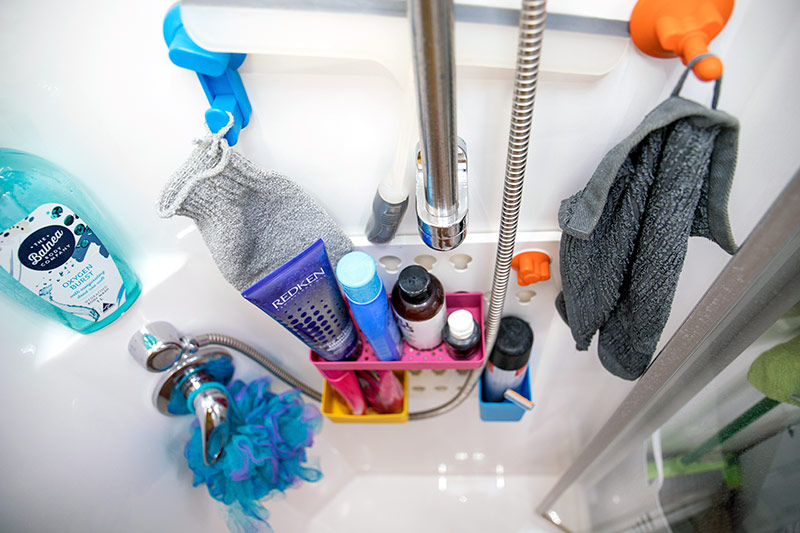 The shower has a fun and colourful Ikea caddy attached, complete with multiple mini baskets.
Our toilet roll even lives on a suctioned toilet roll holder fixed next to the loo, since our van didn't come with one as standard!
Having five people living in our caravan can mean we end up doing a stack of laundry. To stop the kids leaving dirty clothes around, we made our own laundry basket for next to the toilet. Given this is where the shower door swings open, there wasn't really anything else that this space could be used for and it never gets in the way.
Who else has a unique way of storing some of their caravan essentials? Whether it's something you've purchased, or something you made yourself, we'd love to hear your ideas! Email them, along with a picture, to info@gorv.com.au with Caravan Storage in the subject line.
FOLLOW KOOL KAMPERS