It sometimes seems that every van is a jacked-up, hard-core offroader with aggressive styling, garish decals and checkerplate that goes on for ever. I found it somewhat refreshing, therefore, to step inside the understated, elegant caravan known as the Kokoda Aussie Spirit.
This 19ft 10in (internal) tandem-axle van is built for highway cruising, exploring the highways and byways of Australia. It has no pretensions about doing battle with the Old Telegraph Track; rather, the Kokoda Aussie Spirit offers itself as a comfortable, traditional couple's van capable of gravel roads, national parks and long hauls on the bitumen.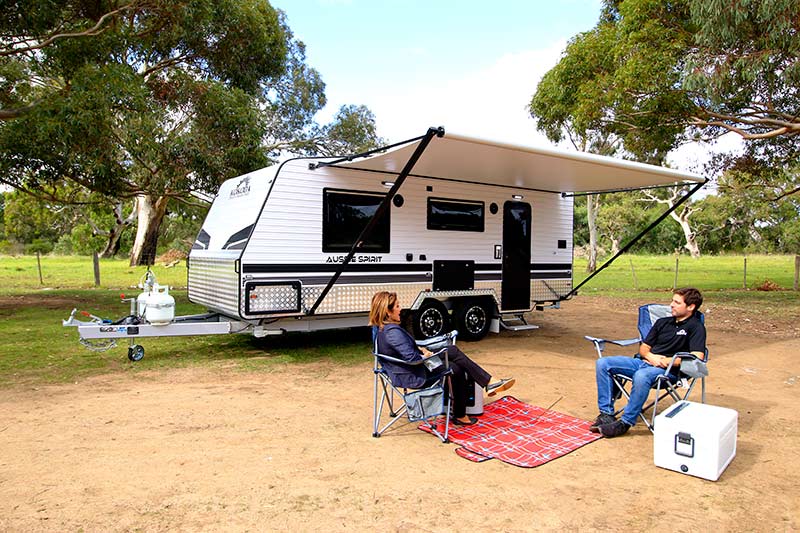 Kokoda Caravans, which changed ownership in 2019, continues to offer a large range of rigs to suit all tastes. I, however, lean towards this one. It's equipped with the necessary mod-cons, it's priced quite well, and it is not inordinately heavy. 
APPEALING LAYOUT
While not mould-breaking, the layout of the Kokoda Aussie Spirit is functional and aesthetically appealing. It features a forward queen-size bed complete with pillow-top mattress, a nearside kitchen, offside cafe-style dinette with leatherette upholstery, and a rear bathroom.
The bed, by the way, offers lots of walk-around space. Nothing feels cramped. This sense of space is partially achieved by a lack of shelving behind the bed – the bed is hard up with the front wall, with wardrobes either side.
There are a couple of optional 12V fans mounted to the ceiling at the foot of the bed, which is a great addition; however, some 12V points next to the 240V points either side of the bed would be welcome.
The bed base lifts on gas struts to reveal a large storage space, and this is terrific, but I did wonder if the bare meranti timber framing would be better finished with some laminate.
A flatscreen TV is well-positioned on a swivel arm on the nearside, at the foot of the bed. It can rotate to be viewed from either the bed or the dinette.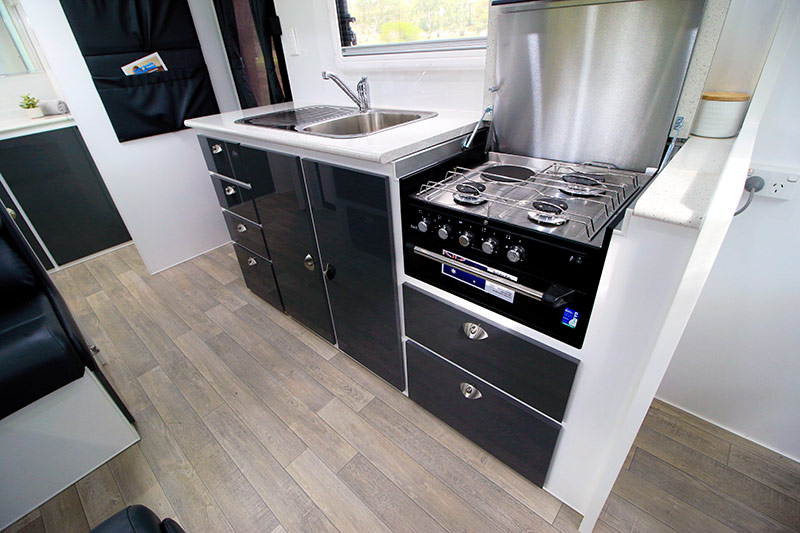 With post-formed benchtops and a decent amount of bench space, the kitchen in this van is a winner. It includes a four-burner cooktop and griller with a drawer and floor-level cupboard beneath as standard, rather than an oven, which I actually prefer. In truth, there is a lot of cupboard space in this kitchen, but you can never have too much. 
The dinette gets a tri-fold table with a small cupboard below that hides a 240V and 12V powerpoints, a good amount of overhead locker storage, reading lights, and a sound system mounted to the furniture above.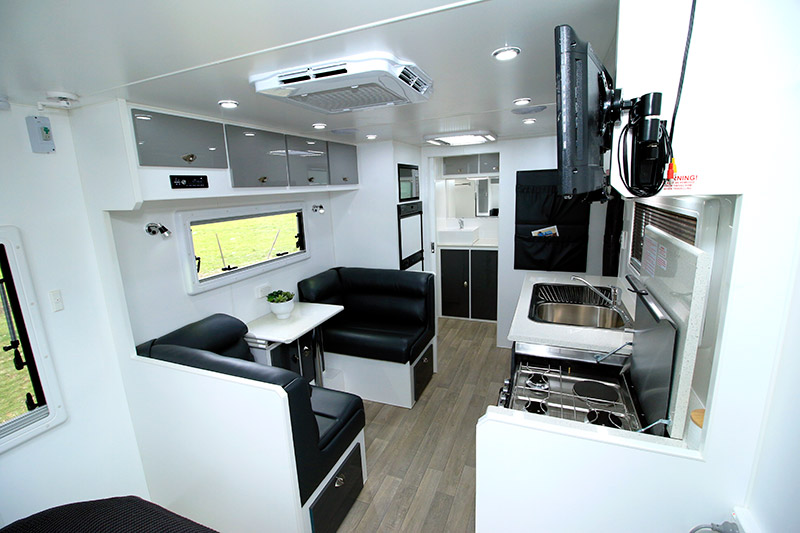 While hatch doors are fitted, the better bet to access to the storage space below each seat is to remove the cushions and lift the ply bases. Again, like the bed base, could these be laminated for a better overall finish?
A large fridge is positioned between the dinette and bathroom, with a microwave neatly recessed into the furniture above. Kokoda hasn't fitted a locker above the microwave, even though there is potentially room for a small one. This is just an observation, rather than a criticism, as there is plenty of storage space elsewhere.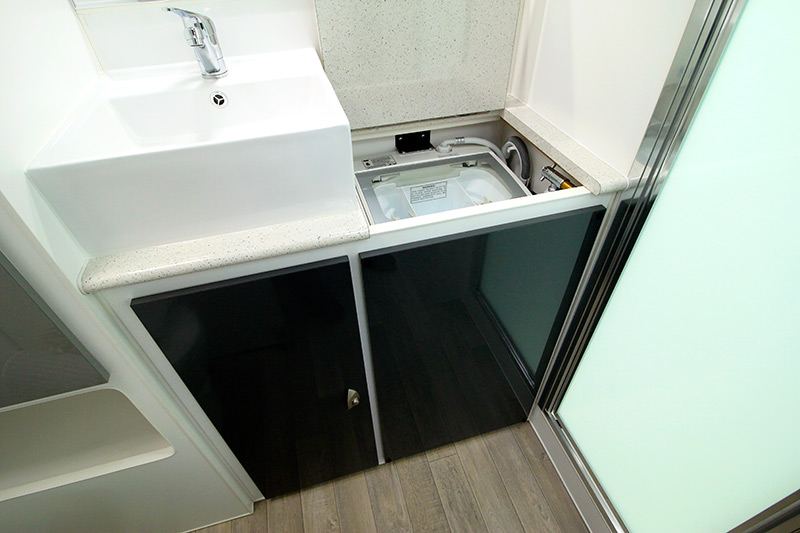 Along with the kitchen, the rear ensuite is a highlight. It is very nicely finished off and I particularly appreciated the large linen cupboard next to the toilet. It is easy to access and comes with multiple shelves. Kokoda has also included a top-loading washing machine hidden beneath hinged benchtop, and a fully-moulded fibreglass shower. 
A couple of overhead lockers and a sizeable cupboard beneath the washbasin complete the picture.
With double-glazed windows, a reverse-cycle air-conditioner, LED lights and a genuine sense of space, the interior of the Aussie Spirit is genuinely classy and highly liveable – I think travelling couples would be very comfortable in this rig. 
KOKODA AUSSIE SPIRIT HAS TRADITIONAL VALUES
The Kokoda Aussie Spirit is, as mentioned, built in a traditional way: a meranti timber frame, ply floor, ribbed aluminium cladding, all on an Australian-made heavy-duty steel RHS comprised of a 6in drawbar that runs back to the suspension mounts and 6in main chassis rails. There is a lot of steel under this van.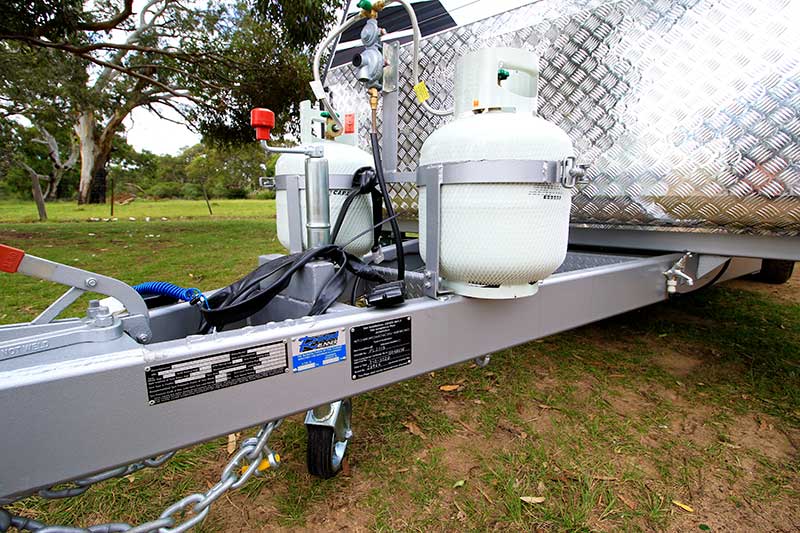 It does quite well in the self-sufficiency stakes. Two 100Ah AGM batteries are mounted to the offside chassis rail behind a protective 'door' of checkerplate, and one 150W solar panel comes as standard.
Two 95L water tanks are also standard fitment; however, because they are mounted forward of the axles, they will contribute somewhat to the ball weight when full. However, the unladen ball weight is a relatively low 120kg, so I personally don't foresee any issues here, considering the required tow vehicle is likely to have a towball maximum of at least 250kg but more likely 300kg.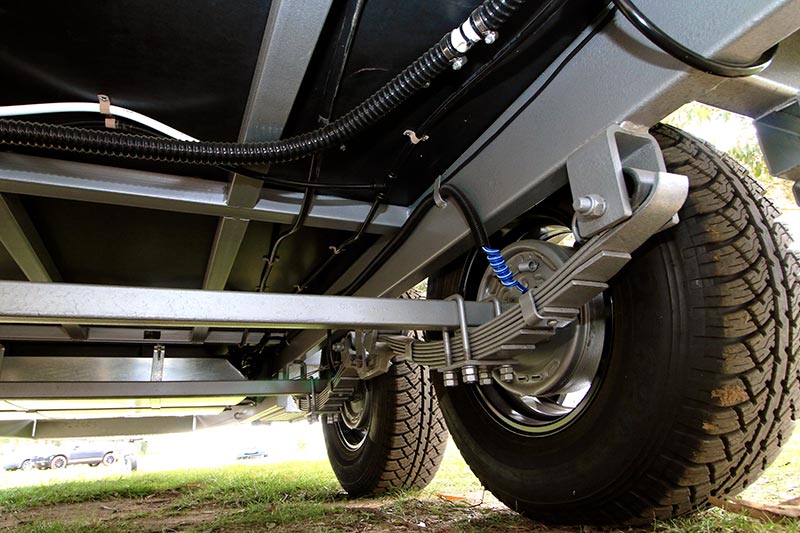 As expected, the 19ft 10in Kokoda Aussie Spirit van rides on tandem-axle leaf-spring suspension, and it comes standard with dual 9kg gas cylinders on the drawbar. No front boot is fitted. Instead, Kokoda has opted for a decent tunnel setup at the front – aside from the break-away unit, this space is completely free for you to fill as required.
The fitout beneath the van is as expected, too. Yes, there is exposed grey water plumbing, etc., but given the nature of this van, it didn't bother me. I was pleased to note, though, that the wiring to the electric brakes is very neat – not a dangling, vulnerable terminal block to be seen.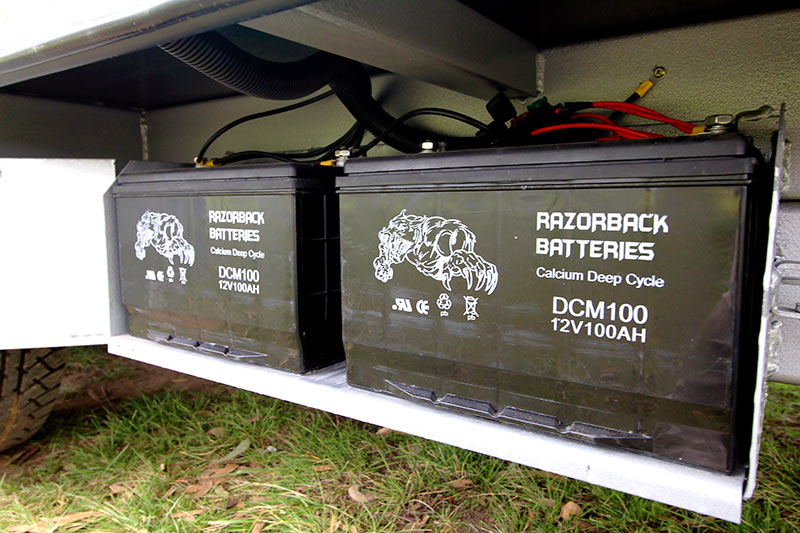 The rest of the external fitout comprises a full-length nearside awning, a couple of speakers, a fold-down picnic table with nearby 12V point, a rear bumper carrying the spare wheel, and let's not forget the dash of checkerplate all-round.
GORV'S VERDICT
Given its very generous load-carrying capacity (Tare: 2180kg; ATM: 2880kg), the Kokoda Aussie Spirit really calls for a mid-range 4WD tow vehicle, most of which have a towing capacity of around 3000kg. The 2500kg-rated Prado would be out of contention.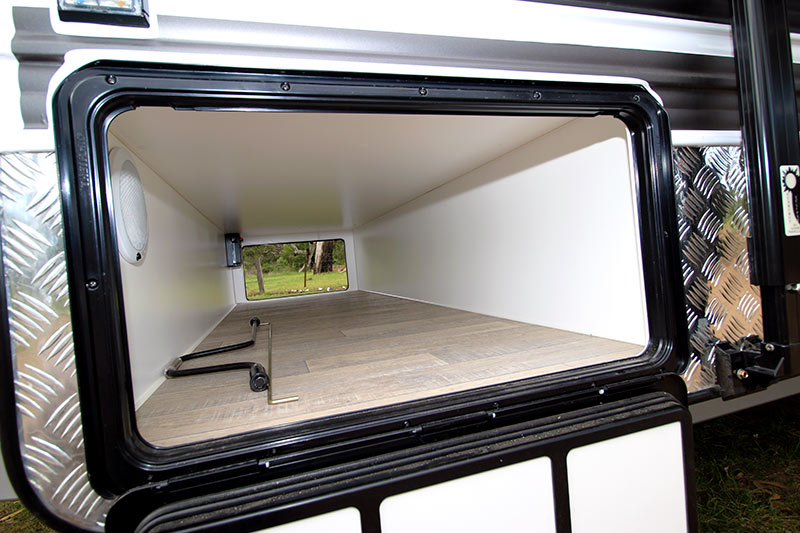 Overall, I liked this caravan. It is a good, honest rig that should provide years of faithful, comfortable and reliable service.
THE SCORE
FIT AND FINISH –

LAYOUT –

INNOVATION –

HITS & MISSES