Sometimes, when time and opportunity don't coincide, it's still possible to get a glimpse of the outback. Just north of Brisbane, within the Moreton Bay region on the outskirts of Caboolture, you'll find a historical village that offers just the thing.
So when Sunland Caravans' Roy Wyss asked GoRV to head to the Caboolture Historical Village to check out the latest of Sunland's flagship range, the Phoenix, it was hard to resist. Here's what we found…
TRUE OFFROADER
My first impression was one of immense promise. From the unique Sunland-sculptured front onwards across its burnt orange livery, this van certainly looked the part – rugged, bold yet stylish.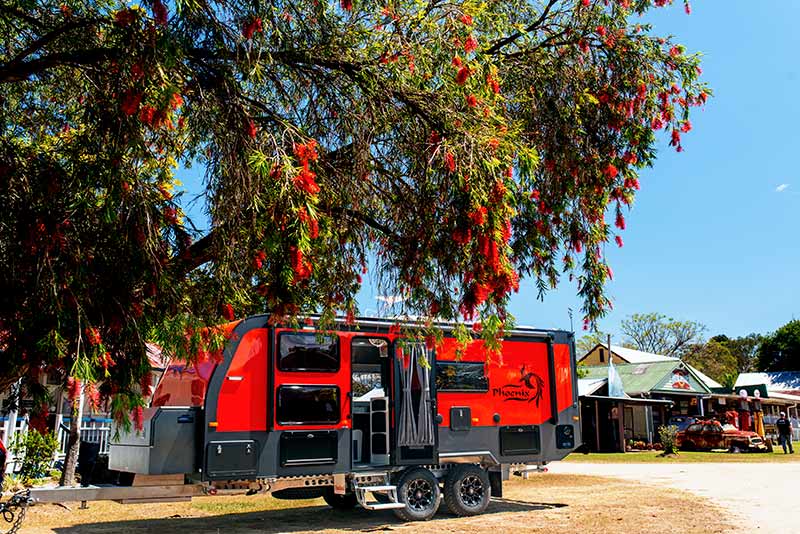 According to Roy, the rugged front wall styling provides an aerodynamic face when travelling. The idea is that it engages better with the airstream flowing from the tow vehicle, reducing resistance, increasing towing stability and even reduce fuel consumption.
That aside, the shape offers a visual suggestion of a sturdy, rugged van ready for the open road and whatever it may deliver. I saw the lack of a front window as a benefit – less opportunity to leak during a downpour or allow in road dust. 
The front also boasts a large vented toolbox suitable for gas storage and partitioned to help keep your kit ordered.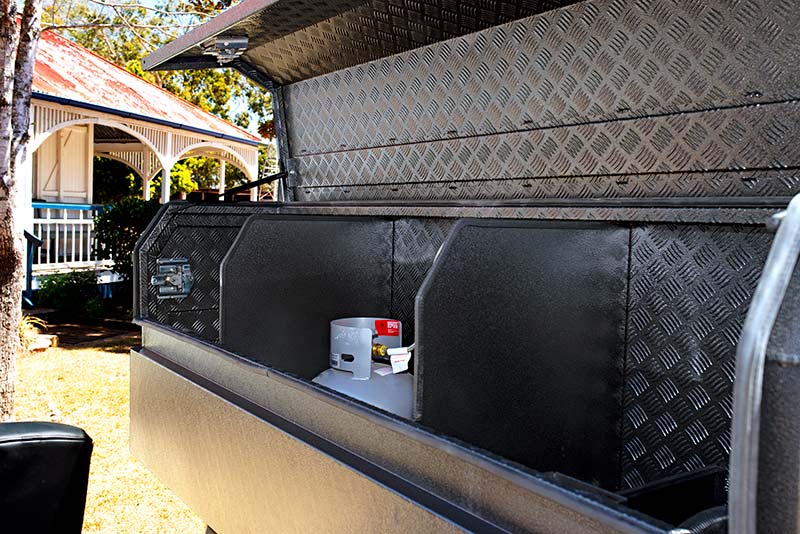 When it comes to exterior innovation, this van uses Wi-Ti technology. This means you don't need any cable connection to get power to your van's lights or electric brakes when towing. It works by converting the lighting and braking signals from your vehicle and transmitting them wirelessly to your caravan or trailer. This is a must for technophiles looking to embrace the latest equipment.
Although features like the Cruisemaster self-levelling airbag suspension, lithium power and ample rooftop solar are common on other manufacturers' top-end rigs, it's the details that matter. Sunland is innovative in the way it integrates and blends its features, setting this caravan apart from others. With its resin core fibreglass walls and extensive features list, it is a true offroad or remote-camping rig.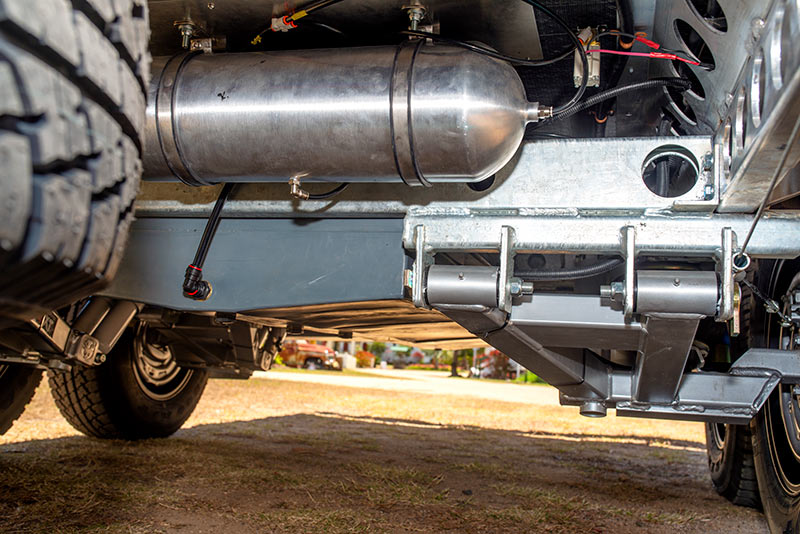 Consider Sunland's rainwater capture feature, which traps rainwater runoff and feeds the van's 190L main poly-plastic fresh-water tank, or its separate 60L dedicated drinking water tank. Water usage is maximised with the addition of a red water valve that drastically reduces water wastage while heating. 
The 12V system on this van is quite extensive and you shouldn't have any issues maintaining your power supply when you're away from civilisation. Our review Phoenix was fitted with four 180W glass solar panels, which are set at an angle in order to to improve sun exposure (with the added benefit of being likely to gather less dirt). These panels should have no difficulty keeping the dual 200Ah lithium batteries (with 3000W inverter) charged. These batteries, in my opinion, are a major benefit to this van.
Around the back you'll find an alloy pole carrier and rear body hatches that house the van's major plumbing and electrics.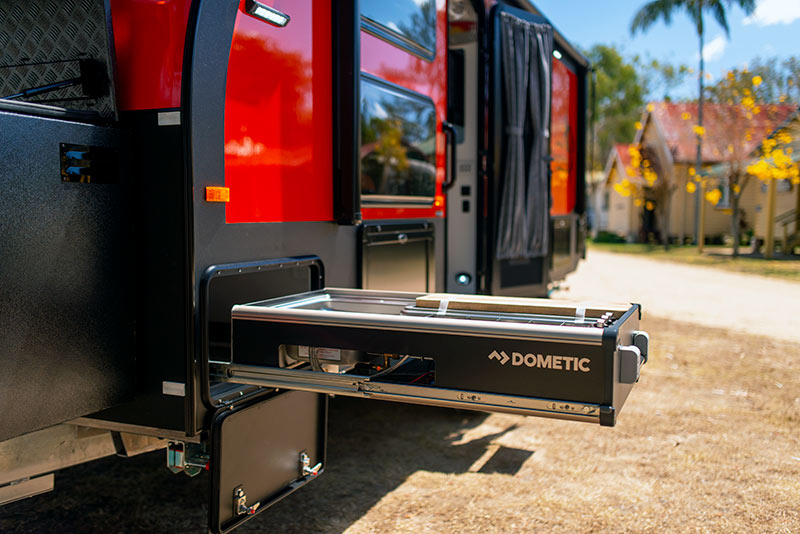 Under the awning, there's a convenient Dometic slide-out kitchen with well-placed gas, hot and cold-water connectors that look stylish and are well protected by the chassis rail.
Underneath the Phoenix, you'll find Sunland's specially-designed chassis – a mixture of steel and aluminium. "It's stronger than a normal chassis while being considerably lighter and with a 20-year offroad warranty to back it up. Our chassis is one of the things that really stands us apart," Roy Wyss told GoRV. 
The lightweight welded-aluminium frame is clad with a 4.5mm-thick moulded fibreglass exterior, making for a strong and well-insulated rig.
The custom-built water tanks set between the axles, while the grey water tank is immediately behind the suspension subframe – the caravan stays balanced no matter how low your water supply gets.
INSIDE THE PHOENIX
Aside from the obvious wow factor, the interior of this caravan is about the details, which I'll focus on here.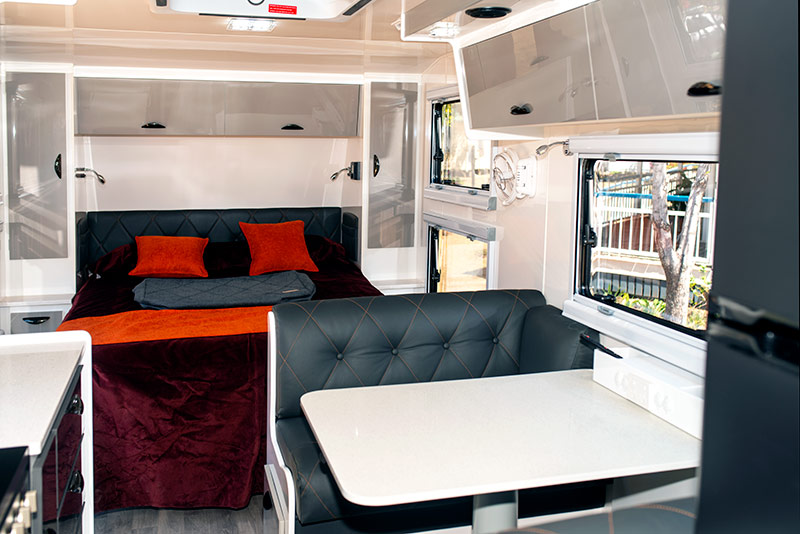 Now, the interior of the Phoenix – which has an unmistakable high-end 'feel' to it – is extensively appointed with every conceivable luxury and comfort – perhaps too many to detail here. The bed is very comfortable but my favourite space in this caravan is the spacious dinette.
Although the van's leather upholstery is a nice piece of luxury, the remote-control-operated, leather upholstered footrest is a particularly appealing feature. The footrests can open to any angle you like at the push of a button. This means the long-legged of us can find as much comfort as those with a shorter distance between the floor and our caboose.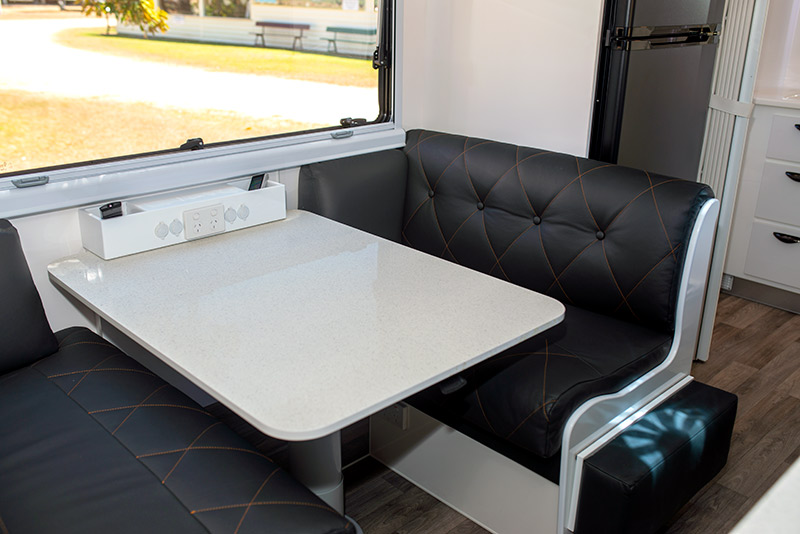 I also particularly liked the special module at the dinette table for holding your personal devices – it even includes built-in 12V and 240V powerpoints. This welcome feature is something you won't find on too many vans out there.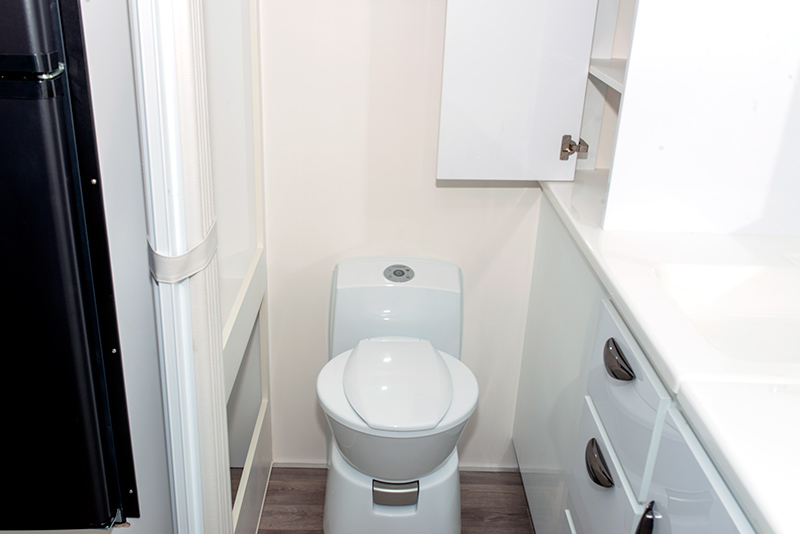 The ensuite is comprised of an offside cassette toilet, a central vanity unit and an offside shower. One feature of the bathroom that appealed to me was the recessed towel rails – again, not something you'll find on many caravans. When it comes to washing off the day's dust, the shower is plumbed to ensure that no water pools or spills out of the shower tray.
There's even a handy magazine rack by the door, quality storage drawers throughout, a tidy (if slightly small) slide-out pantry, and a four-burner cooktop and oven.
The Sunland Phoenix is even fitted with smoke, heat and CO detectors inside.
GORV'S VERDICT
Now, our review van was fitted out with a load of options, hence the price tag of about $155,000.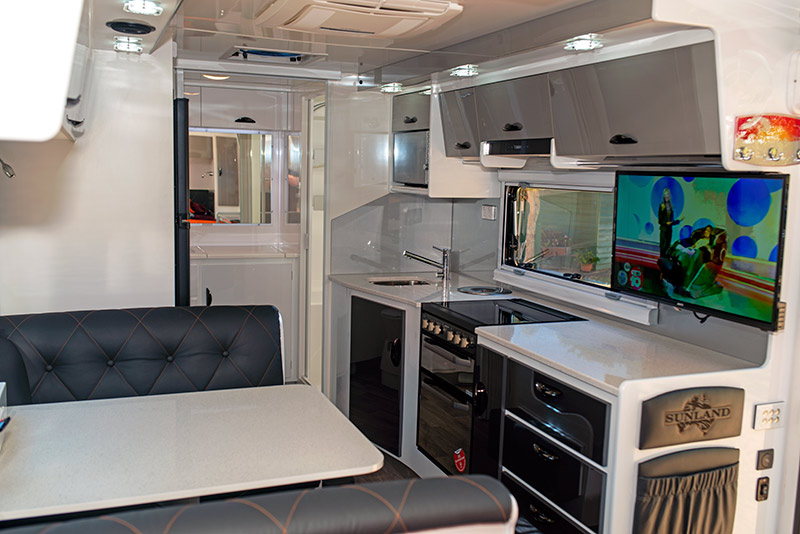 But its construction quality, comfort and the innovation of its design make it a serious contender for anyone looking for offroad adventure.
Sunland Caravans has a well-earned reputation in the luxury offroad caravan market and the Phoenix more than lives up to expectations.
THE SCORE
FIT AND FINISH –

LAYOUT –  

INNOVATION –

HITS & MISSES
A bold burnt orange exterior colour heralds the van's bold style.
Ample travel height with good entry and departure angles
A generous toolbox that also provides safe gas-cylinder storage
Tilted solar panels to catch more sunlight.
Recessed towel racks
The high entry point requires an extra portable step.
The slide-out kitchen pantry is quite small.