Anyone would think that an 89th birthday was something special. Well, it was, and thanks to my two daughters and their partners it did indeed turn out to be a swell party that lasted for a day and a half.
It started with a formal printed invitation with an RSVP. It said to wear my best bib and tucker and to be ready at 5pm on the Saturday when I, plus my eldest daughter Jackie and her partner 'Duck', would be picked up by a chauffeur.
The chauffeur turned out to be my youngest daughter driving their Ford Ranger, and I asked wasn't her partner Shaun coming? She said yes but didn't elaborate. The mystery deepened when we turned left out of the gate. That doesn't lead to town and restaurants, but to Horsham some 60km away.
We turned right at the junction and that was the road to Lake Lonsdale! We turned into one of the tracks leading to a campsite and I thought that perhaps a barbie was planned.
Shaun was already there and had set-up a table with beverages plus a game of Finska was ready to go. No sign of food!
The wind was a bit cool but we had a few enjoyable games before it was back in the car for the next stop. We returned home! Mystery solved when we went into Sue and Shaun's house because there were lots of balloons plus banners and the table all set-up for dinner. The dinner was great – helped by a few sips of my birthday present of brandy and ginger ale.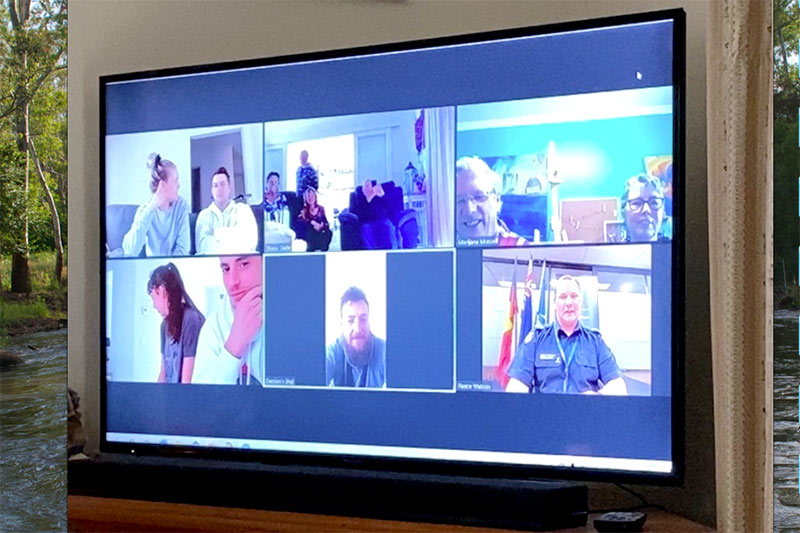 The next morning came an email – come across at 10.20am and wear something warm. A bit puzzling but when we got next door they had set up an online hook-up and connected to the telly were my son and daughter-in-law from Adelaide, plus grandsons and families from Melbourne. What a great idea – and of course we had quite a bit of catching up to do.
They were still on the screen when Shaun said, "Come on Lionel, you are wanted outside." 
Outside was a restored 1929 Chevrolet farm truck belonging to our next door neighbour. He took me the long way around to Stawall's Cato Park. It had no doors or windows so the ride was a little chilly! To my surprise Sue, Shaun, Jackie and Duck were there before us and had brought coffee in a flask plus the birthday cake.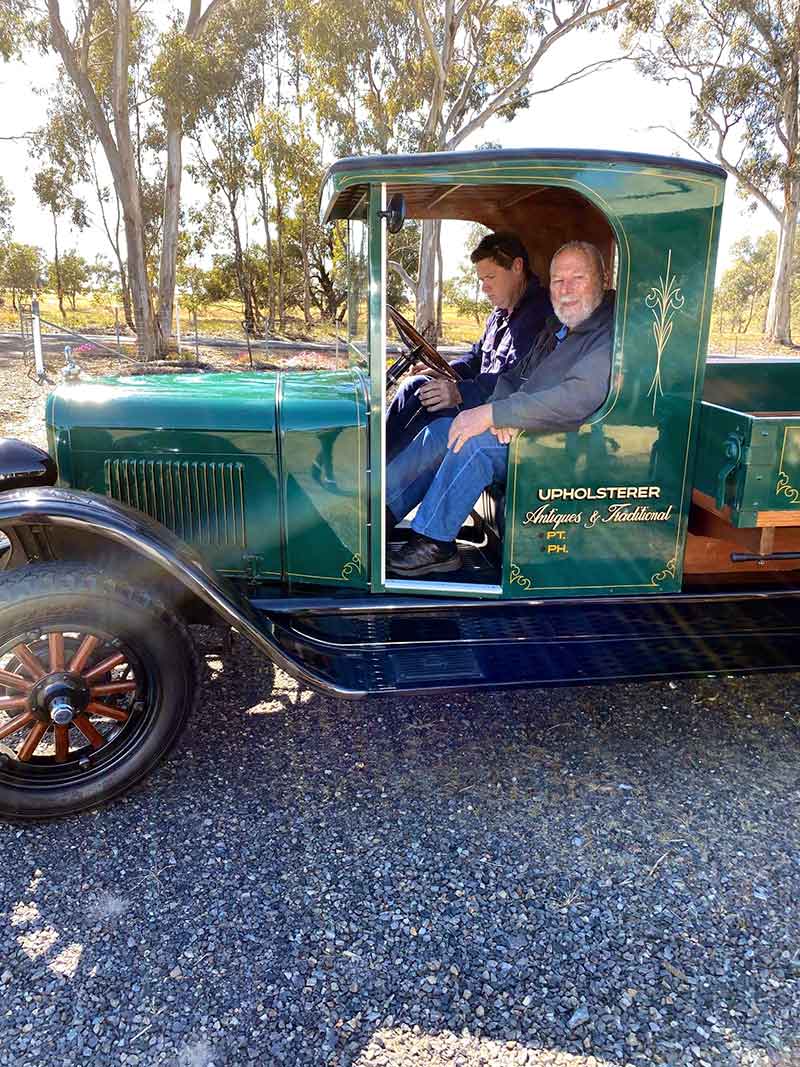 We walked a lap of the lovely lake before going home in a much warmer vehicle.
The day full of lovely surprises, which ended with me choosing what take-away we would share for dinner and my pick was fish and chips.
It was a wonderful birthday weekend that was organised by my great family and my youngest  daughter Sue in particular.
ALL WAS BRIGHT AT BRIGHT
Our first Australian Caravan Club Gippsland Gypsies muster for months was held at the NRMA Holiday Park in Bright, Vic, and although we were down a little on numbers, we had a great time – especially when we went exploring in the alpine areas, such as Mt Buffalo.
It was obvious the covid lockdown was over because the hotels and eating places were doing a roaring trade when I went wandering about in the Main Street. I was so interested in all the shops and cafes that I forgot which way I had come from the caravan park and had to consult WikiCamps on my phone to find my way home!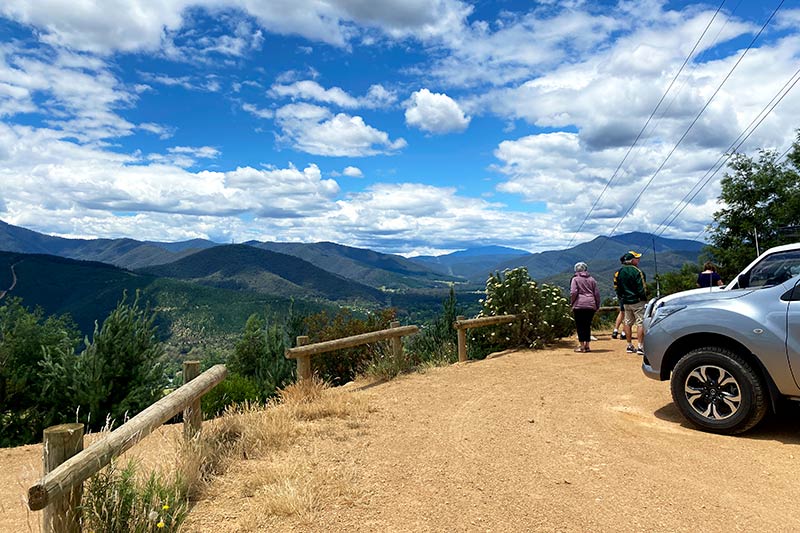 On the Saturday afternoon, we had a visit from a red-clothed fellow – yes, you've guessed right, if you said Santa. He arrived with a lot of ho ho-ing, holding the reins of two reindeer and everyone received a present from the jolly old gentleman.
We had to book a very early start for dinner at a local hotel as they had a number of sittings and were very busy.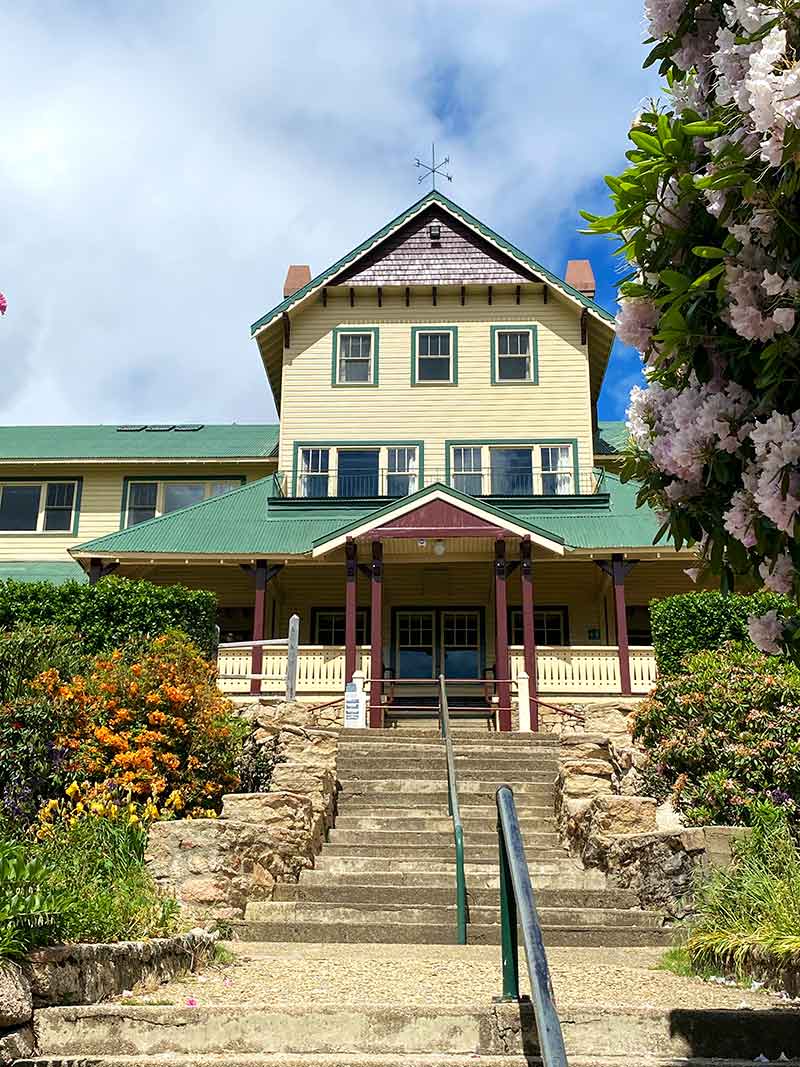 Sunday saw us heading up to the High Country and the magnificent Mt Buffalo Chalet. The views of the chalet and the surrounding area were superb. It's a shame the chalet is not open for business these days.
Lunch sitting on the edge of a lake was as enjoyable as was the company.
As I passed through Colbinabbin on the way home, I saw a sign showing the way to some silo art. It was quite recent, having been painted by artist Tim Bowtell in March 2020.
AND THEN THERE WERE FOUR!
We held an ACC Lone Trekkers  muster – a group for members who travel on their own – at my place in Illawarra, Vic. And although seven members booked in, circumstances reduced our numbers to just four.
It didn't mean we didn't have a great time as we dodged wind and rain to do an interesting trip through the Grampians. Our volunteer driver for the weekend was Wayne, and he did a fabulous job. We did get a bit damp when we stopped in Halls Gap for coffee and cakes on the way back.
Sunday saw us taking in highlights of Stawell and district, including the very active gold mine. We were lucky as a fully loaded ore truck came roaring up from the tunnel soon after we arrived at the visitors area.
After lunch from the bakery, we walked around the Cato Lake, admiring the lovely fountains that add so much sparkle to the scene.
After lunch, we had a look at Lake Fyans and then headed for Lake Lonsdale and it's excellent free camps before getting home and relaxing a little before firing up the barbie and cooking dinner. 
Monday dawned and a final cuppa after everyone had got ready for the road, with Wayne heading home to White Cliffs, Michael going visiting in Adelaide for a week before Christmas, and Barbara taking it easy as she had a while to wait for the ferry to take her across the bay – the easiest way to get to her home on the Mornington Peninsula.
IT'S THAT TIME!
Once Christmas and the New Year are over, it will be great to look forward to 2021 and try to forget the mess that was 2020!