I arrived at Regal Caravans with great expectations. About six months ago, I had the opportunity to climb behind the wheel of one of Regal's first attempts at a motorhome, a Sprinter-based van.
Regal has for many years built well-regarded caravans. The factory is quite small; however, this manufacturer has the attention of vanners around the country. For one thing, Regal is a custom manufacturer and is not afraid of a challenge.
I'd received word that the company had been working on a C class motorhome. It was to be unlike anything Regal had built before. And, true to Regal's reputation, it certainly was.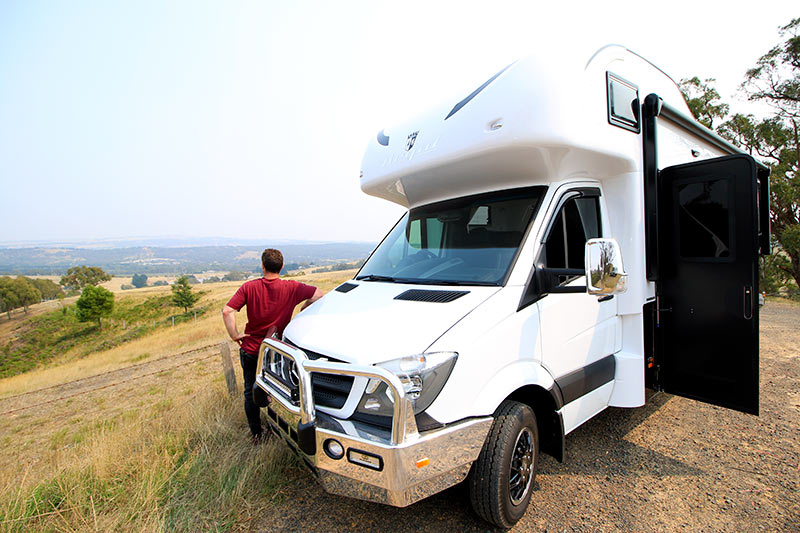 Called the Naralan, Regal's first ever C class motorhome is a Sprinter cab-chassis rig. It was waiting for me in the factory, standing tall and proud, its black decals contrasting boldly against the motorhome's white body.
Our review Regal Naralan was built simply because a customer requested it. At the time, Regal had no plans to branch into this market. However, with a few C class units now in production and with the campervan side of the business going from strength to strength, cab-chassis motorhomes appear to be a permanent addition to Regal's RV line-up.
REGAL NARALAN LIVING
The Mercedes Sprinter CDI 419 is a beauty to drive. It offers excellent forward vision and Regal has fitted a built-in rearview camera display to replace the factory rearview mirror.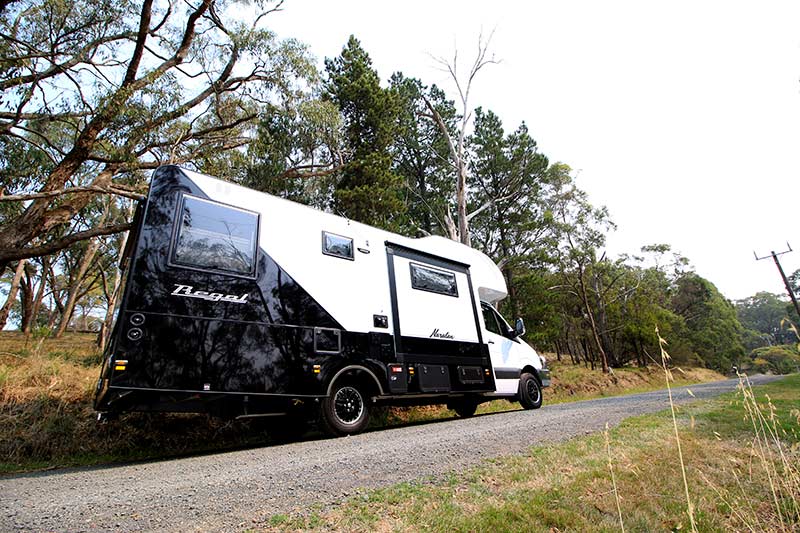 The Sprinter, furthermore, is particularly quick off the mark. Its 3L V6 diesel engine driving through a seven-speed automatic has no problem keeping pace with traffic.
The Naralan is built with a meranti timber frame clad with composite aluminium and an internal skin of ply. Regal prefers timber over aluminium for the framing material as it will 'move' with the cladding, unlike aluminium.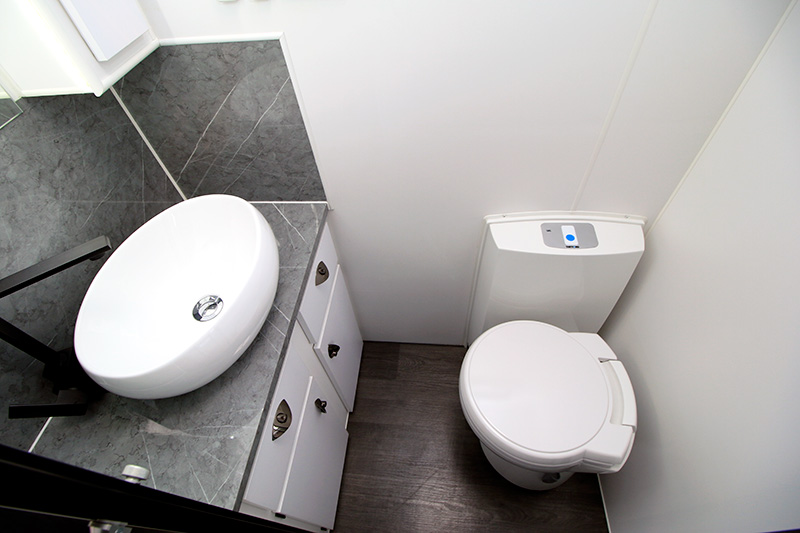 The overall fitout of the Naralan is very good but a few features stood out to me. First, the rear slide-out (the van also has an offside slide-out) allows for a large, sensible bedroom with plenty of storage, a couple of 12V Sirroco fan, an array of 12V/240V powerpoints, a flatscreen TV mounted to a swivel arm, and even a top-loading washing machine tucked into the cabinetry on the offside.
The slide-out opens at the push of a button, in the usual way, and it's then a matter of folding the split pillowtop mattress down onto the ply base. A portion of the mattress is folded into a vertical position at a special seam and retained by a couple of clips. But setting up the bed is, literally, a 60-second job – and that includes the time to open the slide-out.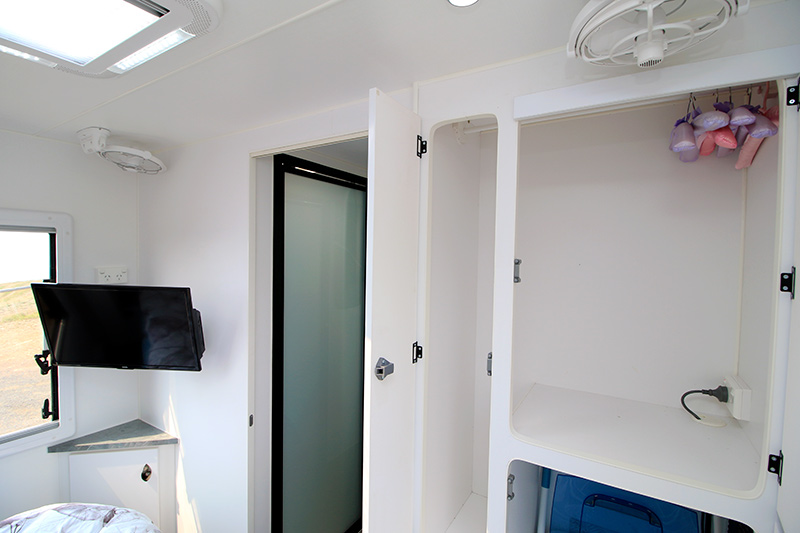 Now, the space between the cabinets and the foot of the bed is a little tight; however, this is because the customer requested a slightly larger-than-usual split bathroom. This bathroom is comprised of a big nearside shower cubicle and an offside toilet/vanity.
As you'd expect, the offside slide-out creates a massive amount of floorspace when open. Interestingly, Regal opted not to fit a fixed dining table for the lounge, which opens up the layout even more. Instead, the company provides a portable table (with benchtop to match the kitchen bench) that can be stored under the folding mattress when underway. Naturally, this table can also be used outside.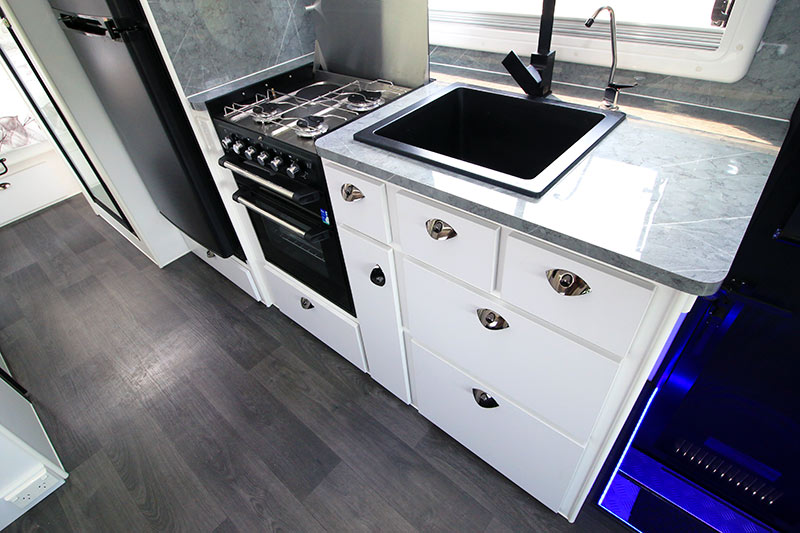 The kitchen is equipped with a large 12V Bushman fridge, a microwave, cooktop, griller and oven, filtered drinking water tap and more. Yes, bench space in the Naralan is on the small side; however, Regal has also fitted an extension piece that folds out of a cupboard in the entryway – I've seen this setup in other motorhomes before and it is a great idea. However, when in use it will block people from freely using the main door.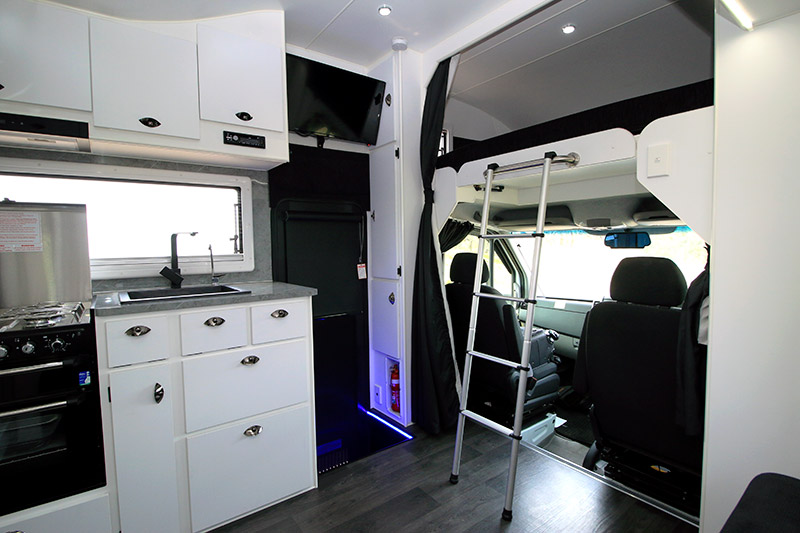 Fortunately, the Luton peak bed base lifts easily on gas struts, making entry to and from the driver's cab a breeze, so you can always use the passenger or driver's door to enter or exit the motorhome.
Among the features, our Naralan was equipped with a diesel heater (under the bed), a reverse-cycle air-conditioner, a double DIN CD player, and much more.
EXTERNAL STORAGE
Outside the Regal Naralan, there's a range of storage compartments. They are lined in checkerplate, so you can just throw your gear inside without worrying too much about damaging or scratching the motorhome. I particularly liked the external access hatch to the under-bed storage area.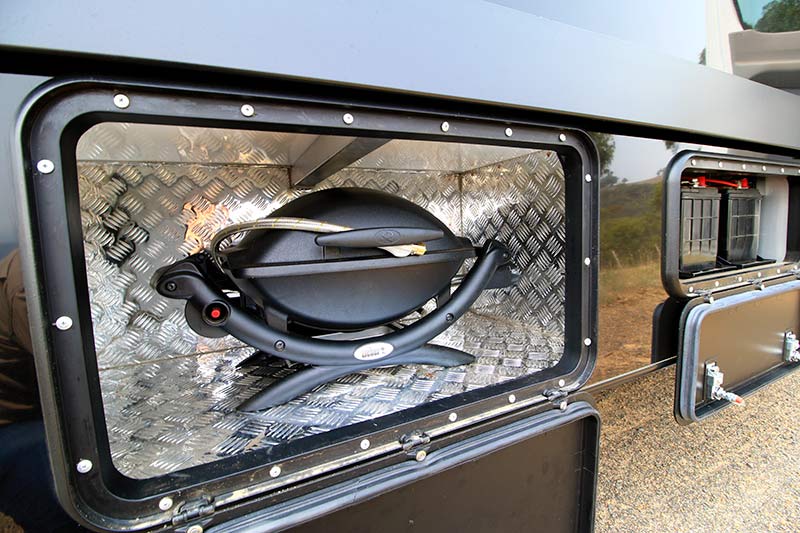 A couple of the storage compartments are under the offside slide-out, making access difficult when the slide-out is open. This, however, is a common problem and certainly not a deal-breaker.
The awning is fully electric. It can be opened by pushing a button inside the van, or by using a smartphone app. The awning, which has built-in strip LED lighting, will also automatically retract when it senses that the wind is becoming too strong.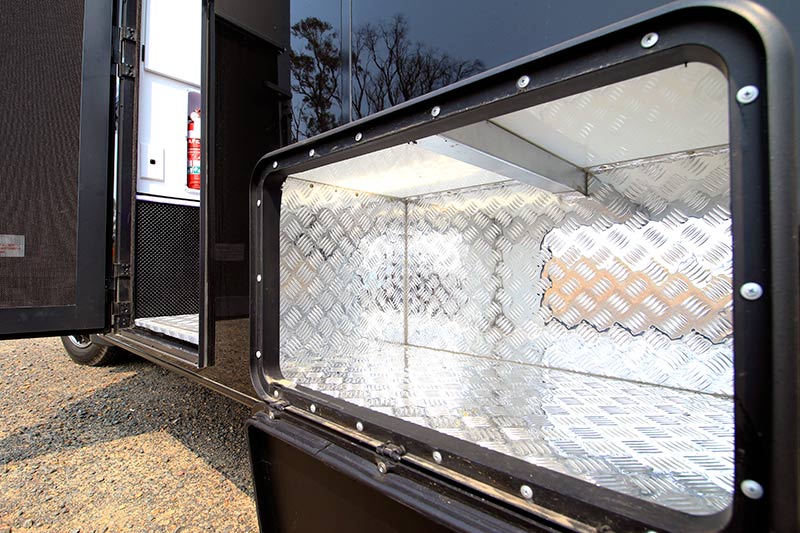 An offside 'entertainment box', with swivel arm, antenna and powerpoint for a TV, is included. On the offside, you'll find the mains water connection point, as well as a brass freshwater tap mounted to a piece of checkerplate.
The 12V system is comprised of dual 120Ah deep-cycle batteries and two 170W solar panels on the roof, while a 100L freshwater tank and a 50L grey water tank have also been fitted.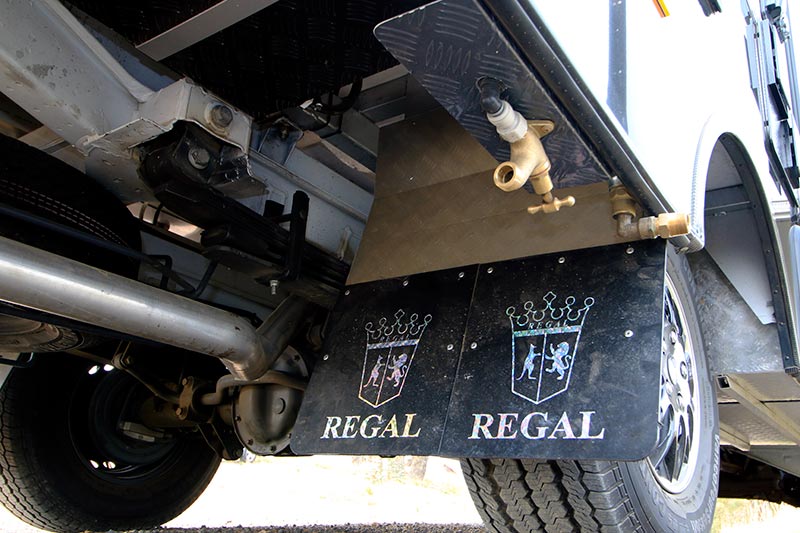 The Gross Vehicle Mass of our review Regal Naralan had been upgraded from 4495kg to 5000kg, which required larger rear wheels and stiffer leafspring suspension. Future models, however, will come with dual rear wheels to facilitate a five-tonne GVM.
Of course, this means the Regal Naralan can't be driven on a standard car licence. A Light Rigid licence will be required to pilot the rig.
GORV'S VERDICT
The Regal Naralan, to me, did not present as the first of its kind. The fitout was equal to, if not better, than some of its competitors who have been building these rigs for years. The layout is particularly user-friendly and I particularly liked the space-saving bed setup.
There are plenty of other things that Regal has done – space precludes a rundown of each and every feature – but as an example: electric brakes for towing a little get-around vehicle have been fitted, as well as a Winegard antenna, water gauges and even a power outlet for a CPAP machine.
Personally, I would opt for a fixed dining table, but that is a personal choice and, no doubt, Regal could accommodate requests such as these.
They are pretty clever over there.
THE SCORE
FIT AND FINISH

LAYOUT

INNOVATION

HITS & MISSES