We are so fortunate in Australia to have so many varied landscapes to explore. Flawless coastlines, snowy ranges, bushlands, red deserts and tropical rainforests to name but a few.
Regardless of how many times we explore our tropics, there is a certain magic in their plateaus: the rolling green hills, prehistoric forest and hidden waterholes housing thundering waterfalls that you can hear long before you can see. These are the kinds of landscapes that never cease to amaze us.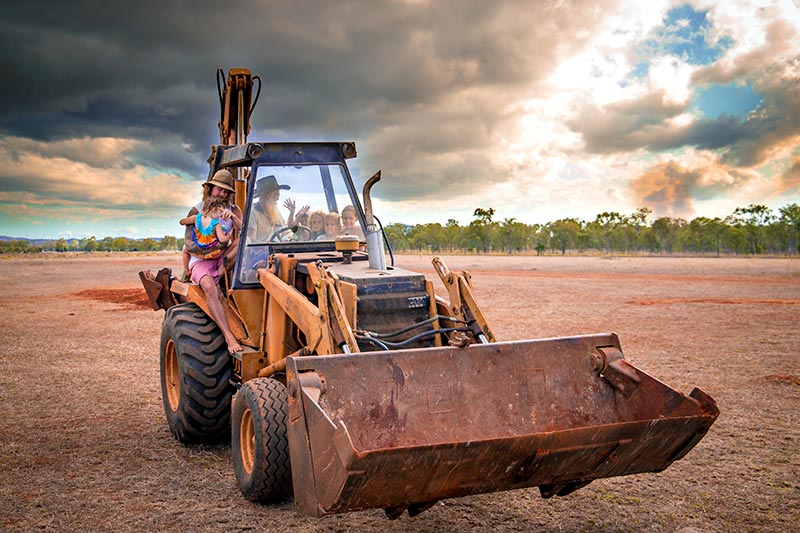 A few months back, we spent a week scratching the surface of what's on offer high up on the Tablelands in tropical north Queensland.  
If you're heading that way this year with your camping setup in tow, we reckon the following places are worth stopping by to enhance your exploring experience… 
RINGERS REST
In hearing some great reviews about Ringers Rest RV campground in Mareeba, we decided that was where we would base ourselves for the week.  
While the grounds don't have any fancy facilities, the budget site fees, free water and country feel are a huge part of its appeal. The owners of the RV camp, Dave and Tammy, are very friendly and accommodating – and the killer sunsets and sunrises combined with the atmosphere of 'togetherness' found at the communal fires certainly helped us fall in love with this place.
A UNIQUE VIEW
When we heard about the RV park's deal with Cairns Hot Air Ballooning, we decided to give it a go – even having a fear of heights, we decided the discounted experience was too good to pass up.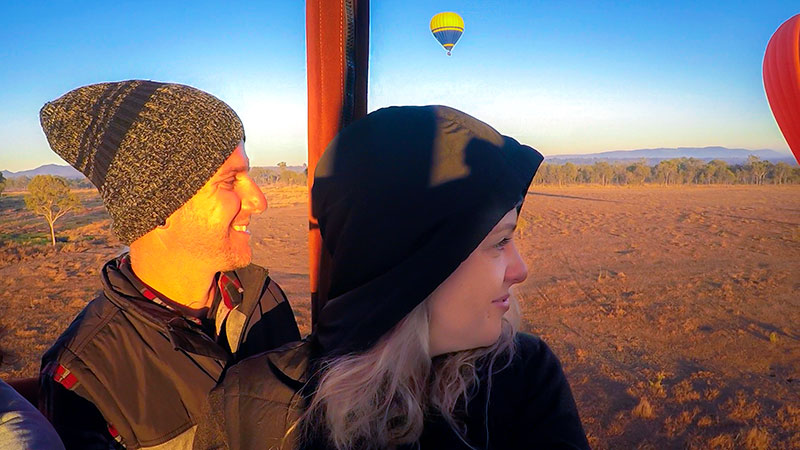 The special prices are only available to their campers, and in return the hot air balloons use part of their property as a landing ground. So, either way, you'll be able to watch the balloons from the grounds and hear the roar of their fire as they float over the top of your campsite, adding a unique and beautiful element to camping here (and, not to mention, some fantastic photos).
Or you could view the balloons from the alternative location… which is inside the balloons themselves. Isn't that what fuels our wanderlust souls, the pull of new experiences? Well, it is for us! The experience is one we'll remember for years to come.
RIDING THROUGH THE RAINFOREST
Another popular day out entails driving down to Cairns to jump on the Kuranda Scenic Railway and Skyrail Rainforest Cableway.    
Starting out on the train, it is easy to get lost in the history of this railway constructed by hand over steep grades and dense jungle. Countless tunnels, curves and difficult bridges needed to be dug and mounted, and it's hard to imagine the dangerous conditions these men went to work in day after day for the duration of the build.
The result of what we experience today, however, is the stunning natural beauty of the mountains from a perspective that would otherwise have been near impossible to obtain.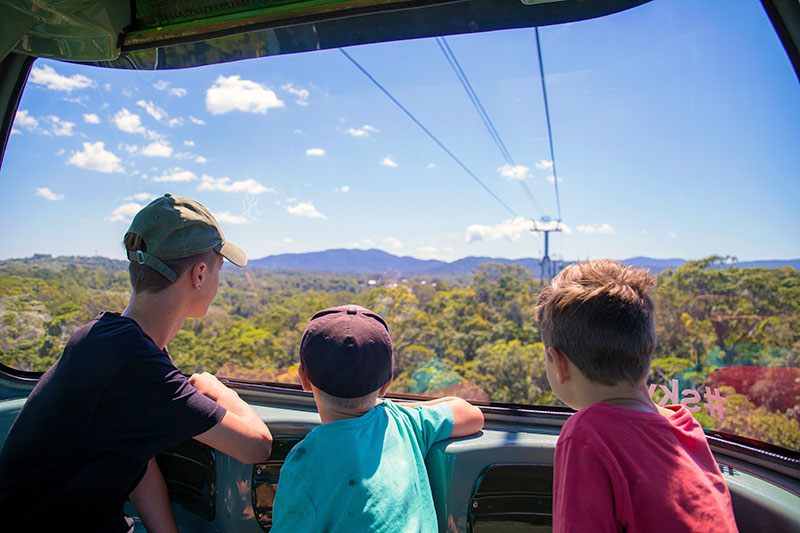 Once at the top you'll have time to check out what Kuranda Village has to offer before returning on the Skyrail over Australia's Wet Tropics World Heritage Area, home to the world's oldest surviving tropical rainforest.
THUNDERING WATERFALLS
There's certainly no shortage of stunning waterfalls within the Tablelands. Taking day trips, you can venture to a handful that are in close proximity to Mareeba. We recommend packing a picnic and taking your time to enjoy any of the following falls.
Barron Falls: A steep, tiered cascade waterfall that we first spotted when we visited Kuranda. If you happen to be a little queasy with heights, we'll warn you that this lookout platform has a glass bottom. These falls can also be seen from travelling on the Kuranda Scenic Railway.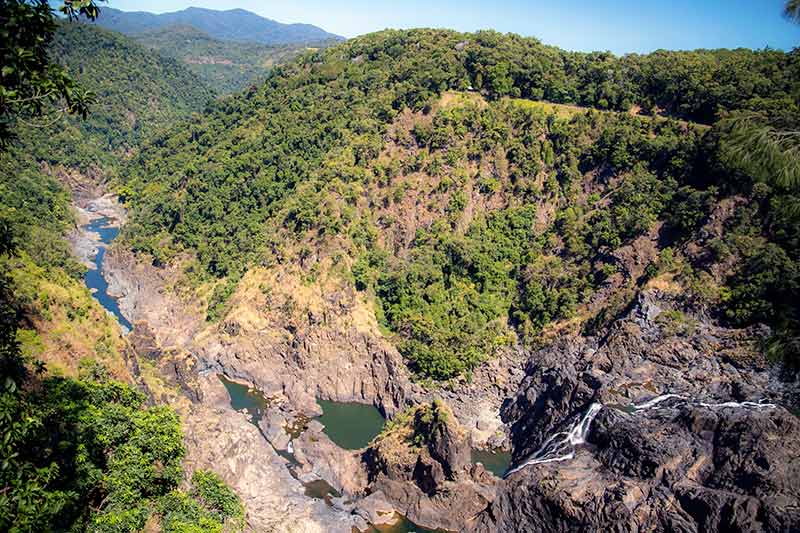 Crystal Cascades: A popular spot for swimming and a trail walk, you'll find many vantage points to view the flow of the water down the mountain. Swimming is allowed in designated areas and you'll be able to spot many fish and even turtles frequenting the water, too.
Davies Creek Falls: Located in Dinden National Park, Mareeba, a 20-minute walk through woodlands will bring you to a lookout, where you can witness the spectacular falls drop 75m to the small pools below.
Emerald Creek Falls: Arguably our favourite falls to visit, and only around 10 minutes from Mareeba, these falls have created many smaller cascades and pools where you can stop for a swim and picnic along the pathway to the larger falls.
OTHER NOTEWORTHY PLACES
There's a handful of other places we managed to visit that are worth a mention here, too – most of which are still within an hour radius of Mareeba:
Cairns Lagoon: A free swimming area provided along the Cairns Esplanade that is croc and stinger-free.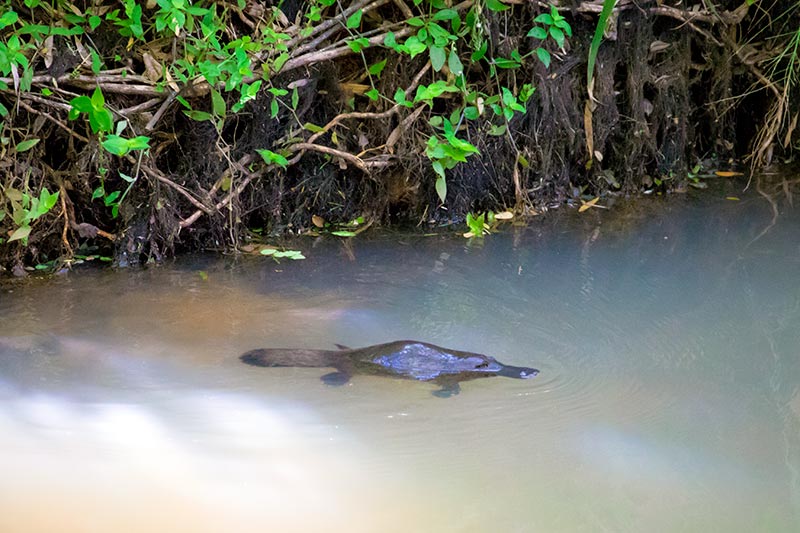 Platypus Viewing Platform in East Barron: Located along Peterson Creek, if you follow the track under the road you may be lucky enough to spot a platypus or two frolicking in the water.
Lake Tinaroo: A beautiful lake, perfect for a picnic, barbecue and a swim – or even fishing (with the required permit). The lake is a popular place for watersports and camping.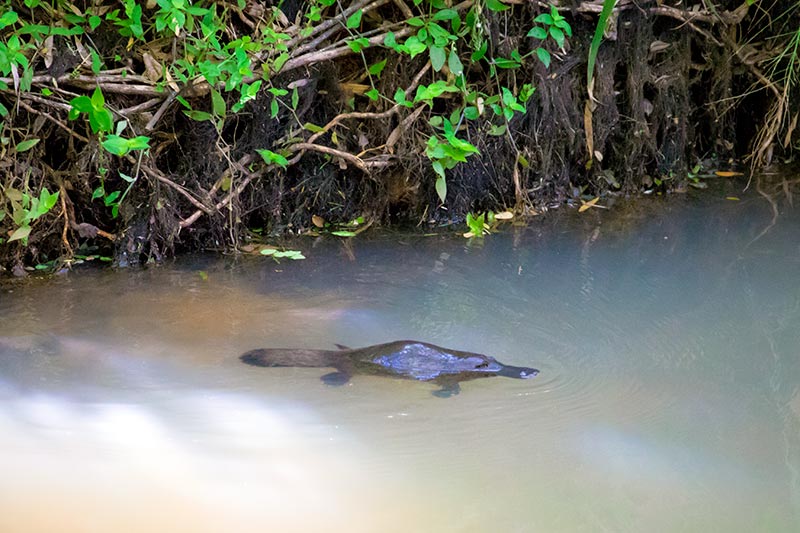 Curtain Fig Tree: Deriving its name from the unique way its roots fall to the ground in a curtain formation, the centuries old fig is an example of the power and beauty of mother nature. 
Happy exploring!
FAST FACTS
Ringers Rest RV Park: https://ringersrest.weebly.com/rv-park.html
Kuranda Scenic Railway: https://www.ksr.com.au/Stations/Pages/Cairns.aspx
Cairns Hot Air Ballonning: https://www.cairnshotairballoon.com.au
General Mareeba info: https://www.queensland.com/en-au/destination-information/mareeba
FOLLOW KOOL KAMPERS
Website: www.koolkampers.net
Facebook: www.facebook.com/koolkampers
Instagram: http://www.instagram.com/koolkampers_travelling_aust