Yes, Egypt and the pyramids are a long way from Melbourne – 3,966.903km by air to be exact – but you can see some pyramids much closer home than that.
Dotted around in a lovely wooded area not far from Halls Gap, Vic, and in sight of the Grampians, are some lovely pyramid-shaped buildings that in reality are luxurious accomodation units for families and/or friends.
Not only are the units set in a peaceful setting but they are in easy walking distance of a lake within the spacious grounds with kayaking facilities.
I first met the owner of this premises, Josephina, at a Probus meeting about eight years ago when she came to tell us about the ambitious plans she and husband Rohan had for the Halls Gap Lakeside Tourist Park.
I was getting a house built by the same people that were doing work at the park and I have been friends with Josephina ever since. You may remember some of the stories I've written about some exceptional caravans that have stayed at their park and one showing me flying the Boeing 737 simulator that is available for people staying in that particular glamping tent.
Having taken over the Halls Gap Lakeside Tourist Park in a run-down condition, Rohan and Josephina McDonald have transformed the park into one of the highest-rated RV parks in Australia. 
A NEW GRAMPIANS VENTURE
Rohan and Josephina are not afraid of taking on new projects and their latest venture is taking over the 'Grampians Getaway' resort and it's 'pyramids'.
I can just imagine RVers who want somewhere to hold a family reunion without the hassle of having to travel with their RVs to a suitable venue, spotting these units. Each pyramid can accommodate a whole grown-up family, or members of clubs or similar organisations looking for somewhere to have a gathering within reach of the wonderful Grampians and all of its attractions. 
There are plans afoot to completely refurnish the pyramids, put converted containers as accomodation on islands in the lake, including one special 'Love Island', and maybe at some time in the future they could even think about an area for RVs.
There's even going to be space where horse race enthusiast Rohan can keep his horses!
Knowing what they have already achieved at their Lakeside Tourist Park project, I am sure the 'Getaway' will enjoy a rosy future.
MEANWHILE, BACK AT THE RANCH
Josephina had suggested that I should call at their Halls Gap Lakeside Tourist Park and look at the new camp lounge and deck, so I did just that and, with a free coffee in my hand, I wandered down and was very impressed by the complete makeover of what was already a nice place for guests to gather.
I also noticed the addition of four new glamping tents near the open space where roos and other wildlife abound.
Although Josephina and Rohan now live at the Getaway, they are still actively involved in the park and as I sat with Josephina drinking yet another cup of their delicious coffee, I felt that they will succeed in anything they take on in the future.
A GIPPSLAND ODYSSEY
At last the news that Yemmy was ready to hit the road just in time for two events I wanted to attend in Gippsland.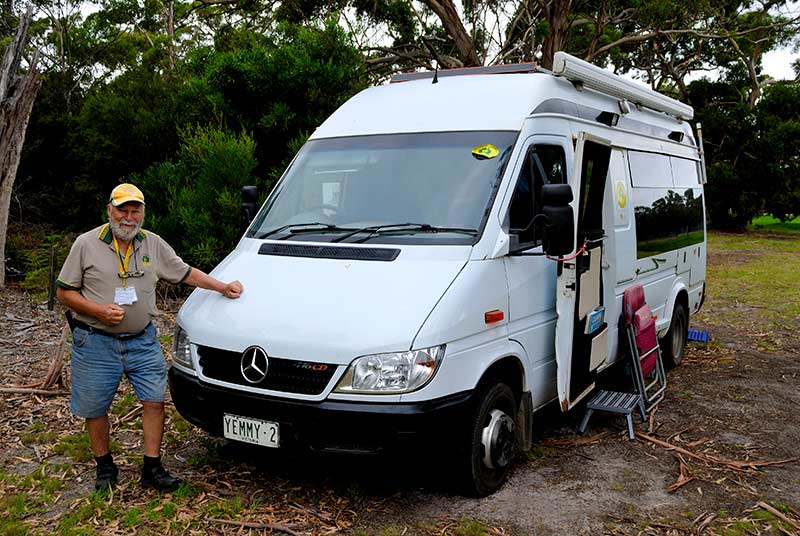 My daughter and her partner were kind enough to take me down to where Yemmy was. He had been stationary so long that a bird had nested on the roof next to the awning casing!
I was heading to Port Albert for an ACC Gippsland Gypsies muster and arrived in time for happy hour. Yemmy was soon set up and had his picture taken for our branch newsletter
We were at the Port Albert caravan park and the friendly owners put on a lovely lunch complete with white tablecloths for us in the camp kitchen on the Sunday. It was a wonder that we were hungry after a sumptuous dinner the night before at the Yarram Club.
MUSIC, MUSIC, MUSIC!
I played in the Mornington brass band for many years and I intended looking up one former player, Saul, who now lives in Port Albert, but he was quicker than me and had read on Facebook that I was visiting his area and popped in on Sunday morning for a catch-up.
Monday saw another catch-up when I stayed overnight in Korumburra with Doug, another Mornington band member. Doug was attending a rehearsal of the South Gippsland Concert Band that night so I dusted off my plastic trombone that travels in Yemmy and went along for what turned out to be a great night.
The Gippsland saga continued as I headed east past Lakes Entrance to Tostaree for an ACC Lone Trekkers Muster at the Tostaree Cottages – a lovely green area set in rolling hills with camping facilities for $20 powered or $10 unpowered sites.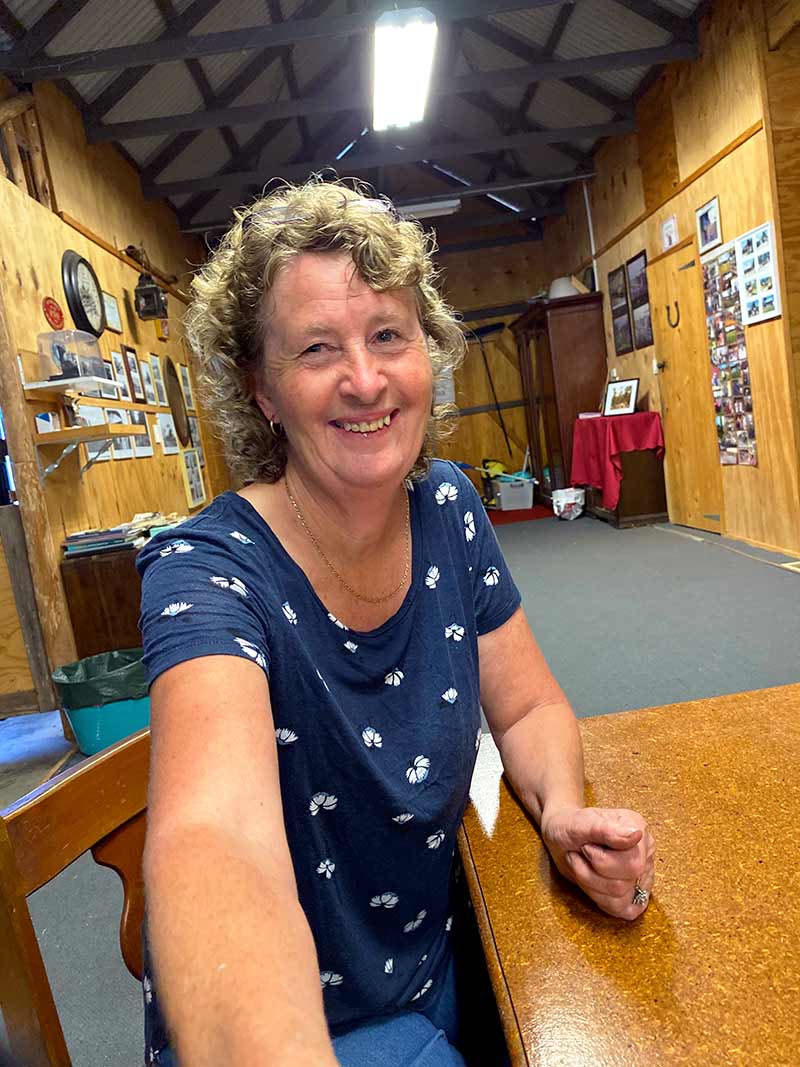 Friendly owners Greg and Vicky have three powered sites and lots of unpowered spots and were delighted when we booked in as we were the first since the bushfires. They have a huge building with tables, chairs, toilets and a shower, games equipment and a fireplace burning large logs. 
We had happy hour there each night with other campers, and Greg and Vicky often joined us. One of our members was from White Cliffs and one night kept us enthralled telling about the 'dugout' he and his brother excavated – a modern underground home.
SIGHTSEEING
Although Tostaree is just the name of an area – there's no township – it is a great hub for sightseeing with Orbost and Marlo further west and Lakes Entrance, Bruthen, Buchan and Lake Tyers back to the east.
There were only five of us at the muster – two ladies and us three blokes – so we used two cars to explore the district. Our first call on day one was to Marlo – the mouth of the Snowy River, and then lunch and a drive along the coast to Lake Conron.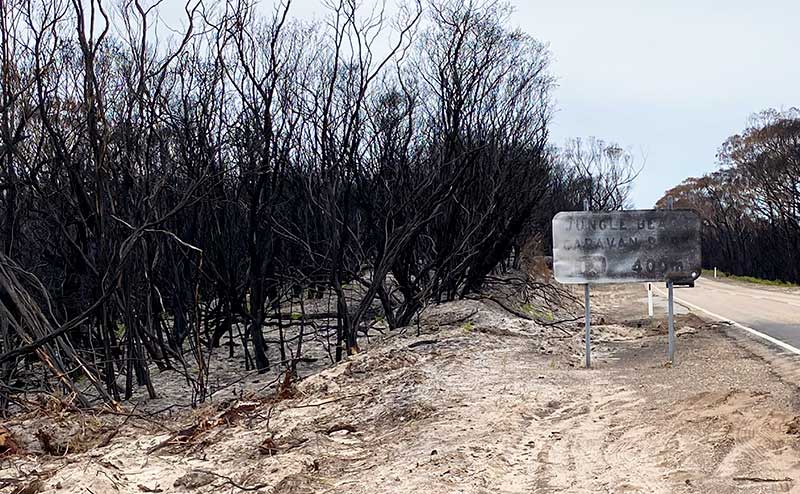 We saw first-hand the ravages of the recent bushfires but marvelled at the regeneration that's already taking place, with lots of green leaves on the trunks of trees and ferns flourishing.
Day two saw us head to Buchan and the caves, although we didn't go into the only cave that had re-opened since the fires. Being a public holiday weekend means the were lots of people around as we found out when we got to Bruthen for lunch and the poor, overwhelmed lady cooking in the cafe declared a 20-minute break before taking any more orders!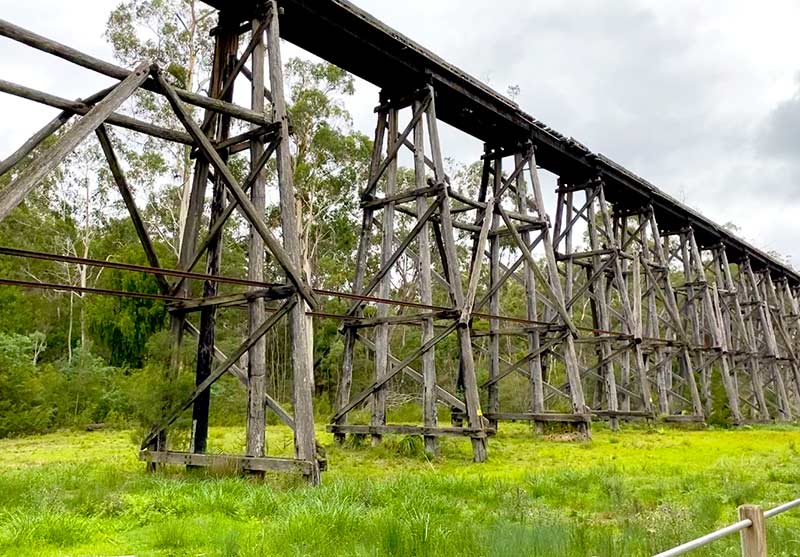 Before returning back to camp, we had a look at Lake Tyers and then Michael guided us to a huge trestle bridge near Nowa Nowa. It was built using hand tools and served the railway for many years.
A fascinating time came to an end with us all going our separate ways. I headed back through Melbourne to my home in the Wimmera, while one of our ladies was continuing her trip around Australia that she started from her home in Colac to attend our muster.