Regal has long made attractive, well-regarded caravans. The company has been in business for longer than I've been lurking around the industry, that's for certain. Nonetheless, it came as a surprise to discover that it was dabbling in B class motorhomes as well.
'Dabbling' is perhaps not the right word – the rig that I took for a test run presented as though it was built by a company with decades of experience converting commercial vans.
INTERNAL FITOUT
Regal is all about custom manufacturing, and this applies to its motorhomes, too. Our review rig was built on a Mercedes Sprinter 416CDI with a 2.1L twin turbodiesel engine and seven-speed automatic transmission.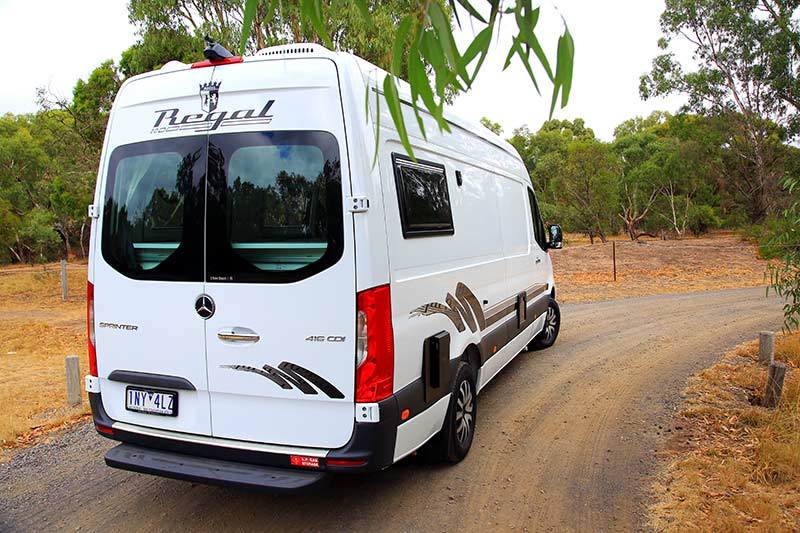 I have nothing against the other popular motorhome base, the Fiat Ducato, but the Sprinter is undoubtedly a cut above in terms of comfort and the overall driving experience. It offers a commanding view of the road ahead, its large side mirrors providing decent rearward vision.
Our Regal motorhome even had a Safety Dave rear-view camera paired to a windshield mirror that displayed the camera's live video feed. Should you wish to instead see behind by the mirror's reflection, the camera can be switched off.
Our Regal motorhome had a Tare of 3.2 tonnes. Mercedes gives the 416CDI a standard GVM of 3350kg; however, a Mercedes suspension upgrade increases that to 4100kg, and these are the vans supplied to Regal, allowing in this case for a payload capacity of 900kg. This should prove more than adequate.
Stepping inside through the 'whizz-bang' door, the fitout is pure Regal – certain design cues found in the company's caravans can be found in this motorhome.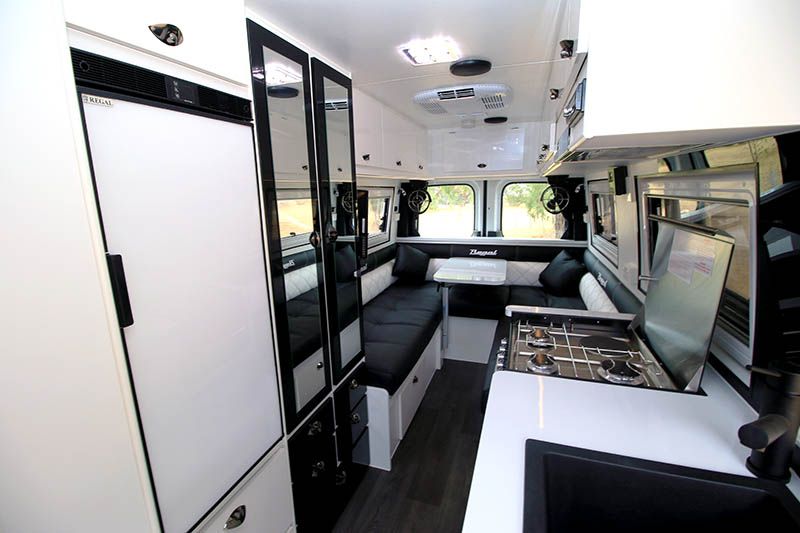 The layout of this Regal motorhome consists of a nearside kitchen incorporating a four-burner cooktop and griller, a rangehood, a stylish black sink with matching tapware, a microwave set sensibly low, and a couple of cupboards and drawers. There's not much bench space, but in a van conversion such as this, that's to be expected.
The back of the van is taken up by a large leather club lounge (which converts to the sleeping quarters) embossed with the Regal logo, a 12V fan and 12V points either side, and a 12V flatscreen TV/DVD player on the offside – this van also had a high definition antenna on the roof.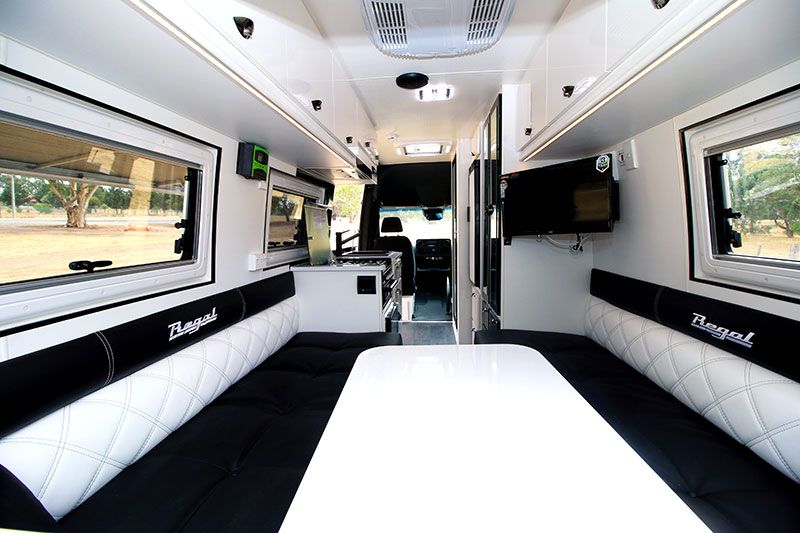 Beneath the lounge is a cavernous storage area that's home to a 120Ah AGM battery and battery charger on the nearside, and a gas-electric hot water service on the offside. Regal has also installed a small 'cubby' on the offside to house the 3kg gas cylinder. This is easily accessible from the rear of the motorhome.
The battery, being an item that doesn't require constant attention, is installed much deeper into this storage space. Should you need to tend to the battery or charger, you can do so by lifting the lounge cushions.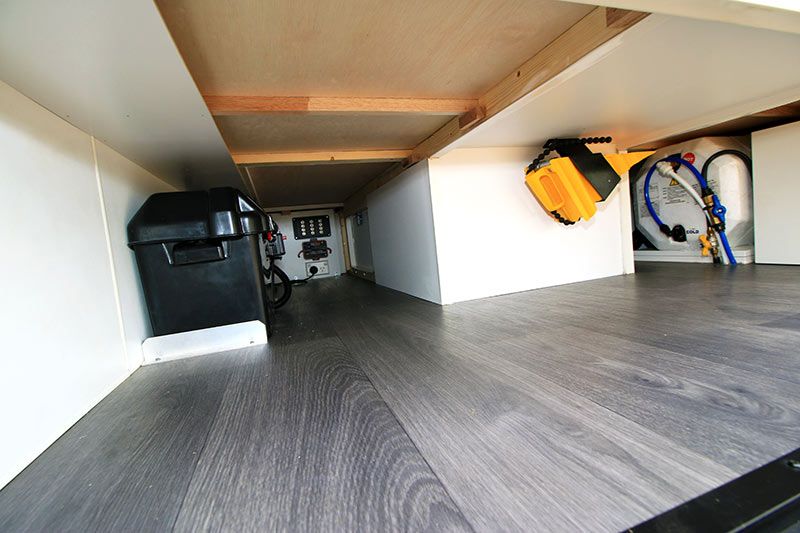 The offside, meanwhile, is taken up a wardrobe, a Thetford 90L compressor fridge, and a combo bathroom that's fitted behind the driver's seat. I have no complaints at all about the bathroom fitout. In fact, I like that a swivel cassette toilet was fitted instead of a bench-style toilet, and that Regal even included a curtain for the shower section.
The company has attempted to make use of all potential storage areas, going so far as to include a slimline cupboard under the sink directly adjacent to the entry step, and even a cupboard below the passenger seat.
There's a range of overhead lockers, too, including above the dinette with lockers either side and one at the very rear. The rearmost locker, however, can't be opened if either side locker is open.
Among the other features, you'll find a reverse-cycle air-conditioner, classy LED strip lighting above the dinette, a skylight/ventilation hatch just behind the driver's cab, and a Lagun dinette table that can be swivelled into any position.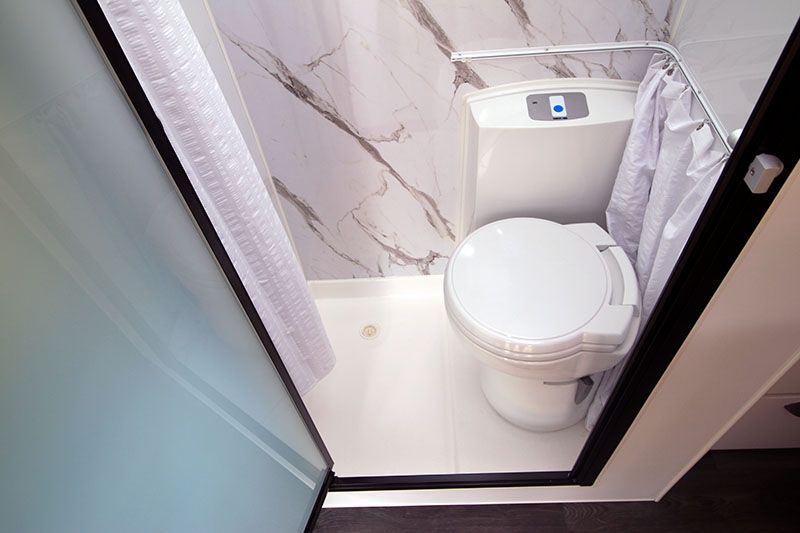 Our review Regal motorhome was fitted with some roof-mounted solar panels, but I felt that the solar regulator, mounted to the wall in the kitchen, was visually intrusive, detracting slightly from the overall elegance of the motorhome. I wondered if it could be moved to inside an overhead locker.
I could barely fault the overall fit and finish, other than to say the hole under the sink through which the drain runs was a little splintery. An extra rub of sandpaper, though, would fix that. Otherwise, it's a top-notch finish.
ON THE OUTSIDE
Externally, the van is equipped with a Fiamma wind-out awning set above the roof line, allowing the door to be opened without being obstructed.
The nearside is also fitted with a couple of speakers as well as a USB point. Regal has also mounted a gas bayonet to a piece of checkerplate that's secured to the van at the rear. This way, there's no need to pack an extra gas cylinder when cooking outdoors – just hook into the van's gas supply.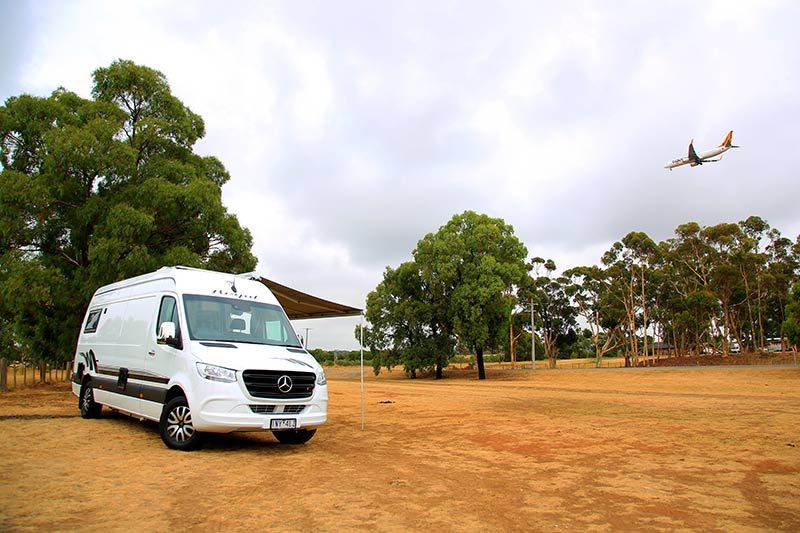 Speaking of which, is a 3kg gas cylinder enough? I'd be inclined to carry a spare – no big deal, really.
While this Regal isn't designed for extended off-grid camping, it does offer reasonable water storage capacity. Two 50L tanks even a 50L grey water tank are fitted which, for two people who were frugal with water use, should allow for three or so nights away from the van parks.
GORV'S VERDICT
Every motorhome squeaks and rattles a little in the back when being driven, but the Regal kept the noise to a bare, almost inaudible, minimum.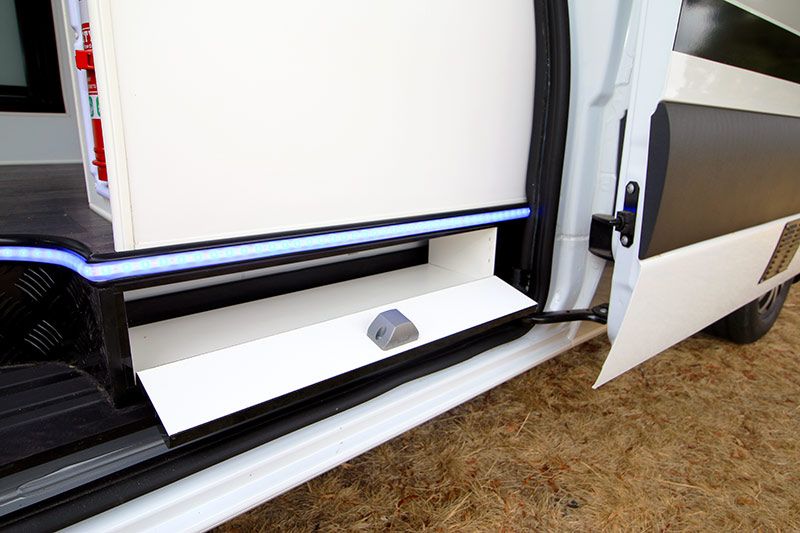 Because Regal will build to your requirements, what you see here is not what you have to have – not all manufacturers offer such flexibility.
Overall, I was struck by the attention to detail and thought that had gone into this motorhome, and the Sprinter base vehicle is as classy as they come. Welcome to the world of motorhomes, Regal.
THE SCORE
FIT AND FINISH

LAYOUT

INNOVATION

HITS & MISSES