Nova Caravans released its dedicated offroader, the Terra Sportz, in 2012. Until now, it was the company's sole rig for the offroad market. Riding on tandem axles, it's a well-regarded mid-sized van. However, this year, Nova Caravans offered caravan watchers such as myself a surprise: the Little Terra.
Think of it as the Terra Sportz's baby brother. This 13ft single-axle rig sports many of its big brother's design features and flourishes; however, with a smaller on-road 'footprint', it's set to appeal to vanners in search of a lighter rig that's easier to tow – especially in offroad terrain – and perhaps to store at home as well.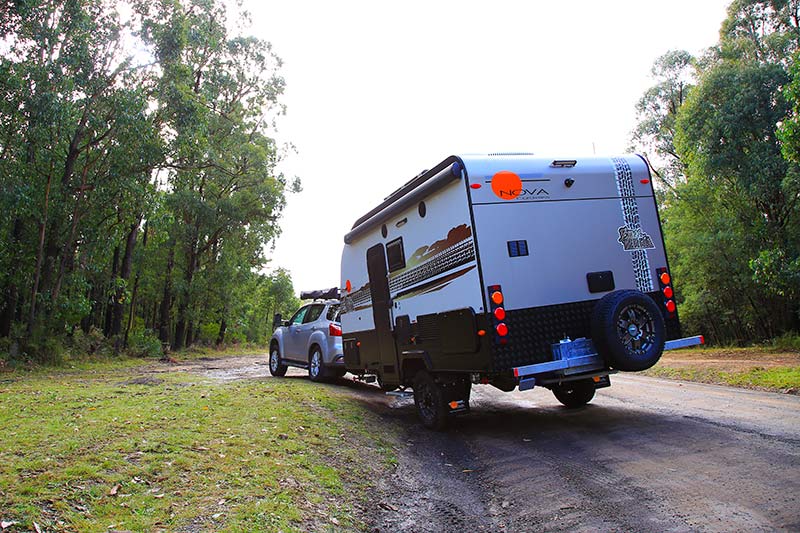 The Little Terra does things a little differently to other vans of its ilk, and it was with a great deal of anticipation that I hitched it up for a shakedown in one of my favourite offroad testing grounds.
INSIDE THE LITTLE TERRA
The inside of the Little Terra is pure Nova Caravans: smart and well-finished. By its very nature, the Little Terra is a van for two people. It incorporates an east-west bed in the nose of the van, a two-person vinyl-upholstered lounge on the offside, a small bench and a 175L Thetford compressor fridge between this bench and the full-width rear bathroom.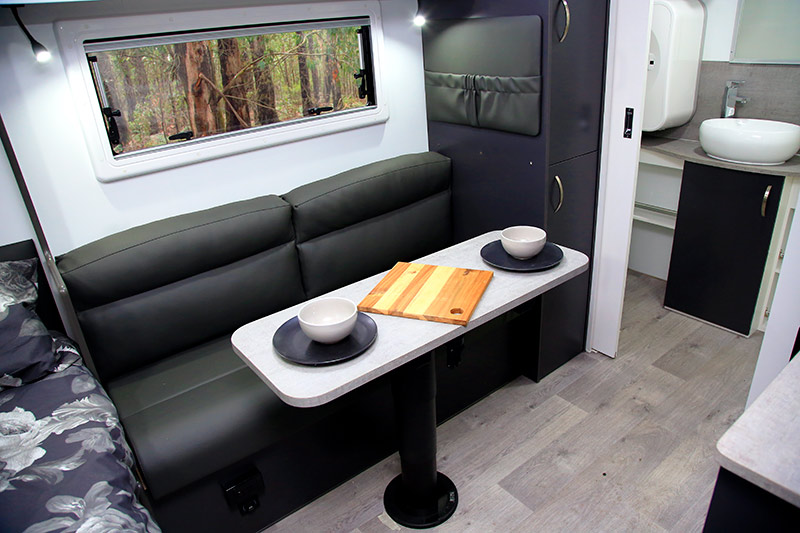 This van does particularly well in terms of its internal storage space. In fact, I was surprised to find a full-height pantry (with two separate cupboard doors) on the offside, facing the nearside fridge. Rather than fitting this pantry with slide-out shelving, Nova has sensibly opted for individual internal shelves. I say 'sensibly' because the space in this area is a little narrow – a slide-out pantry would've been a tight fit.
The rear bathroom is surprisingly spacious. Before stepping inside, I half-expected to find a combo shower/toilet. To fit a swivel cassette toilet, full vanity and fully-moulded fibreglass shower into a van such as this, without the living space feeling cramped, is a neat trick that Nova has pulled off quite nicely. What's more, there's even a wall-mounted washing machine – now that I was not expecting.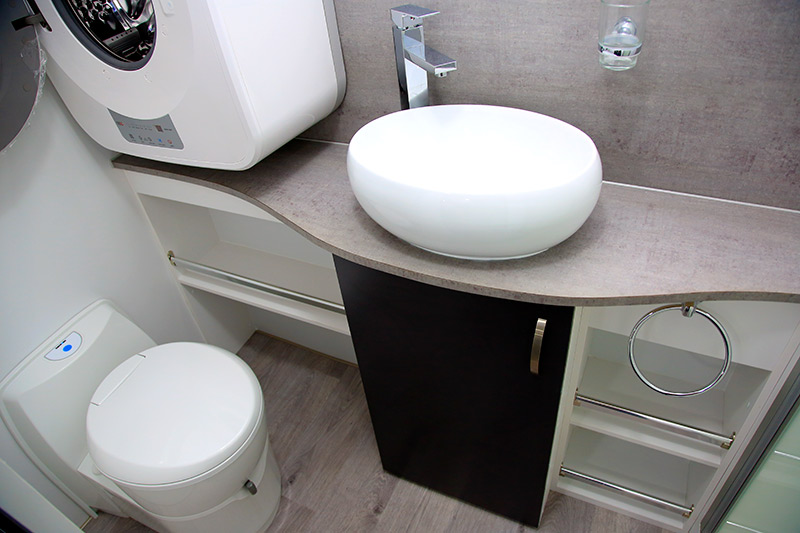 There are a few things about the bed area worth pointing out. Now, because of the east-west orientation of the bed, this van is equipped with just one wardrobe (at the foot of the bed); however, it also comes with a niche complete with 12V and 240V powerpoints. You'll also find these in the leg well of the dinette and even the nearby reading lights have integrated USB points.
The slatted bed base lifts on gas struts easily enough and I was impressed with the storage arrangement here. Yes, some of the space is occupied by the hot water service; however, there is enough room left over for your gear – I also liked the drawer fitted here for easy access.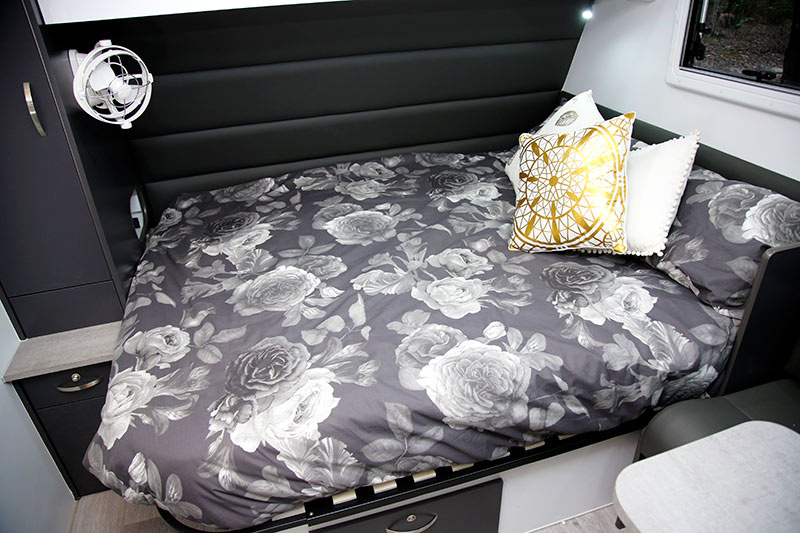 Two 12V Sirocco fans are are mounted to the ceiling, at the foot of the bed, and of course there's a reverse-cycle air-conditioner as well.
With the Little Terra being an offroad van, Nova has fitted the Dometic Dust Reduction System, which is designed to pressurise the van while it's under tow in order to minimise or eliminate dust ingress.
Plenty of other features are included as well. RV Wi-Fi, a 24in smart TV, a Bluetooth CD/stereo system with internal and external speakers… the list goes on.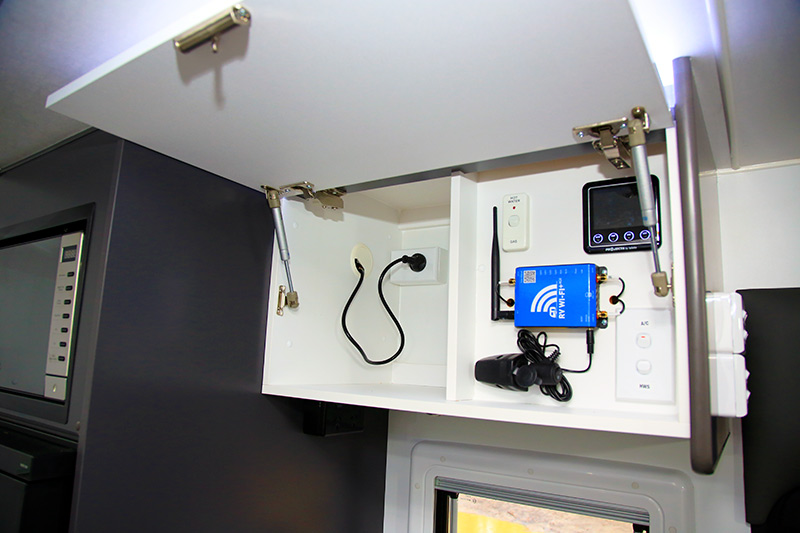 Now, you might be wondering about the kitchen. Well, in order to fit all of this into such a compact package, Nova has opted to give the Little Terra an outdoor kitchen only. Having said that, there is a microwave recessed above the fridge, but when it comes to making dinner, you'll need to step outside…
OUTDOOR COOKING
The Nova Little Terra is built on a 6in chassis with 6in A-frame and 2in chassis raiser to give it a little extra ground clearance. It sports Nova's Pro-Al wall construction comprised of structural one-piece aluminium composite panels for the walls and roof – no frame required.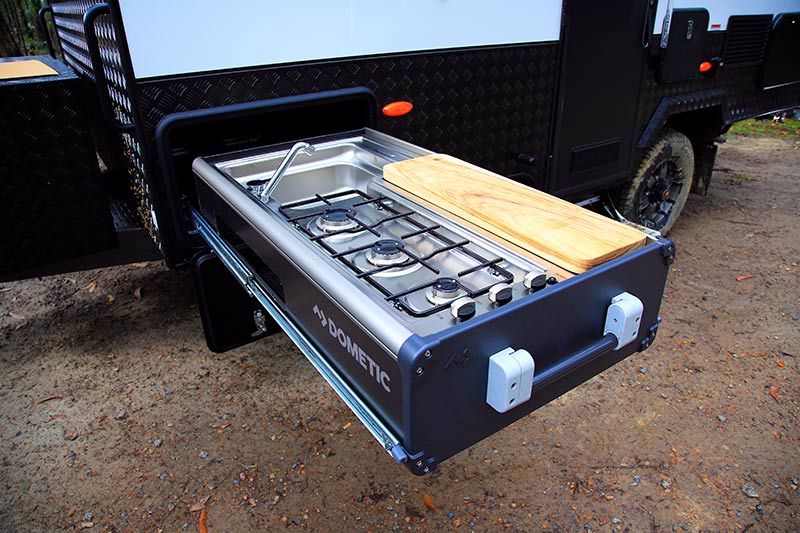 In lieu of an internal kitchen, Nova Caravans has fitted this van's with the premium Dometic slide-out kitchen on the nearside. This kitchen is self-supporting, so it's genuinely just a case of sliding it out, connecting it to the nearby gas bayonet, and connecting both the hot and cold water hoses. Easy.
In the event you need a little more cooking space, Nova has included a second gas bayonet, this one at the rear, near the fold-down picnic table.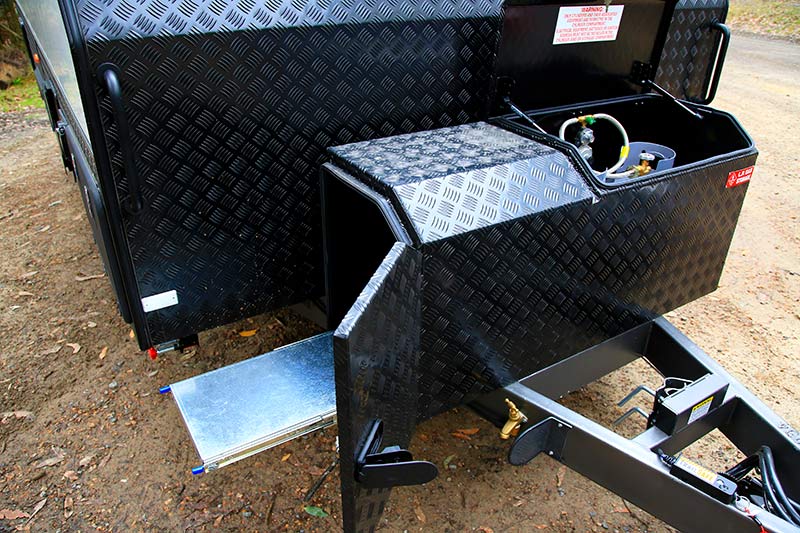 The A-frame is equipped with a DO35 coupling and a checkerplate storage box. The dual 9kg gas cylinders are housed in the main compartment, with a slide-out tray provided on the offside to suit a small generator and the like.
In terms of external storage space, the Little Terra is limited to this slide-out tray and the remaining space in the tunnel boot – bearing in mind that the Dometic kitchen takes up about half of it.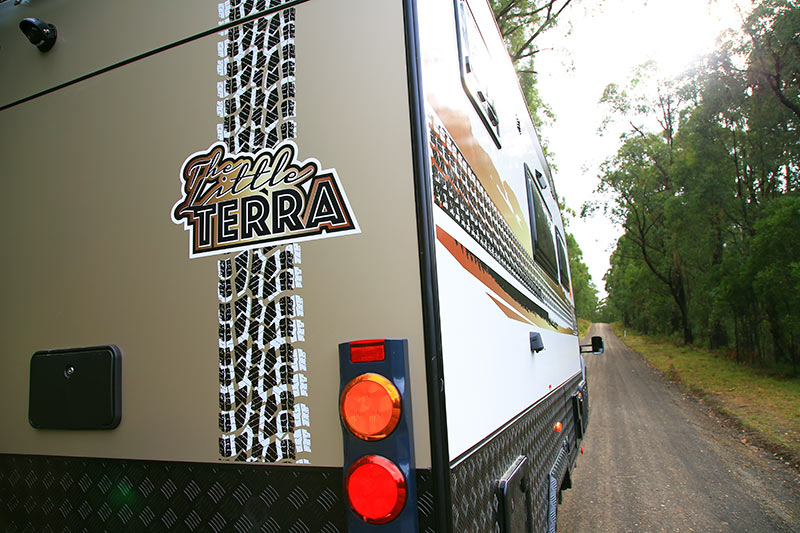 Other equipment on this van includes two 100Ah lithium batteries, two 170W roof-mounted solar panels, a grey water tank and two 95L protected fresh water tanks, and a couple of jerry can holders at the back. A single spare wheel is mounted to the rear bumper. Nova has even included a reversing camera and an LED light bar at the front and rear – perfect for setting up camp at night.
Our particular Little Terra weighed in at 1966kg Tare and had an ATM of 2496kg – a payload capacity of 530kg. Not bad at all. It's worth pointing out, though, that the unladen ball weight is 274kg. Our MU-X tow vehicle, with its 3000kg towing capacity and 300kg towbar maximum, was fine for the job since the van was unladen; however, with the van loaded up, the ball weight will increase – so always check your weights!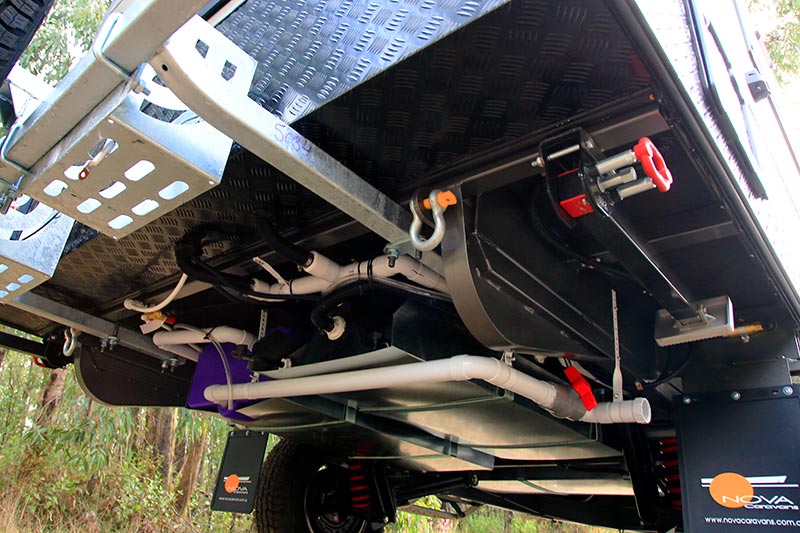 Having said that, the Little Terra was an absolute delight to tow. It felt balanced on the towbar and never once twitched, whether at highway speeds or on the gravel tracks of our testing ground. Point of fact, Nova Caravans fits Al-Ko Electronic Stability Control to all of its caravans and the Little Terra is no different.
GORV'S VERDICT
I can honestly say that I really liked the Nova Little Terra. Not only is there something to be said for opting for a compact van – especially for offroad work – Nova Caravans has nicely reworked the Terra Sportz for people with different tastes, needs and budgets.
Yes, you'll be doing your cooking outdoors – but isn't that what the RV lifestyle is all about? The tradeoff – lots of liveable space and a full ensuite – is more than worthwhile.
Good one, Nova. It's a thumbs-up from me.
THE SCORE
FIT AND FINISH –

LAYOUT –

INNOVATION –

HITS & MISSES