Your new caravan costs tens of thousands of dollars – and sometimes even more. Ultimately, why wouldn't you do everything you could to protect it? That's the way I look at products such as Vantec. I have been aware of Vantec, which is essentially a protective coating for your new RV, for many years. In fact, the product has been available for application to Australian RVs for about 36 years. However, I had personally not had experience with it. So when Vantec's Mark Hull invited me to learn more, I jumped at the chance.
A few years ago, Vantec became available in a whole new formula, which promised a new level of protection for your pride and joy. What better time than now to find out what sets Vantec apart from other protective coatings that are available?
A JOB FOR THE PROS
First, I learned that applying this product is not a DIY job. According to Mark Hull, it's a job for trained professionals and it is done at the RV dealership before handover to the customer. Applying the correct amount, using the correct process, takes training and experience.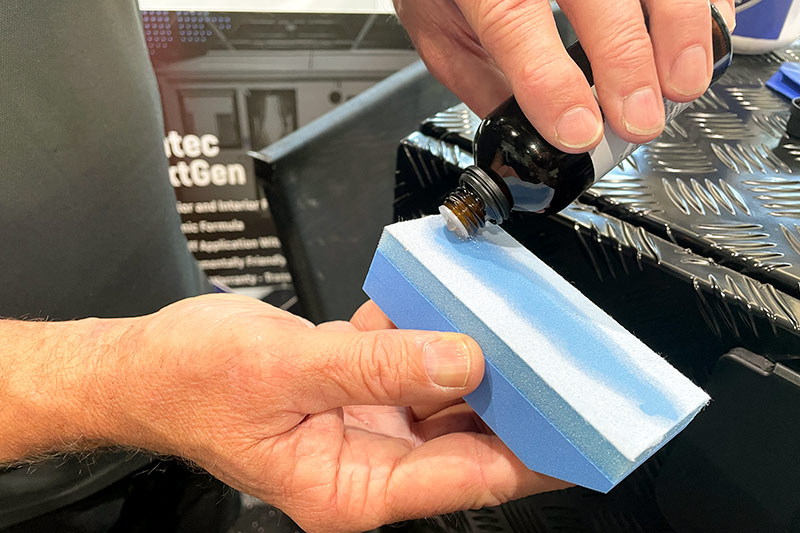 This product can be applied to most of the exterior components of the van. It is suitable for all cladding types, from ribbed aluminium to fibreglass sandwich panels, and is also applied to any checkerplate panels or storage boxes. Vantec does not, however, apply the product to an RV's windows, as doing so could void the warranty on the windows. However, the trim around the window is suitable and will be given the Vantec treatment.
The product can, however, be applied to the van's fold-down picnic table and even the doors of various external hatches.
Inside, it will be applied to the van's soft furnishings: all mattresses throughout as well as the dinette. So if something is spilled on a cushion or mattress, whether it be red wine or tomato sauce, it should wipe straight off. It will also reduce fading of the fabric or leather/leatherette.
But why go to the extra expense of having it applied to your new van? There are numerous reasons, really. Not only will this clear-drying product protect all surfaces it's applied to from damage caused by long-term exposure to UV rays, it will protect from degradation caused by bugs that have met their end on the front of your van, and many other environmental factors. 
Just cleaning the van after time on the road will be much easier. And according to Vantec, once it has been cleaned, all surfaces should look like they just left the showroom.
VANTEC: NEXTGEN FORMULA
Vantec, as mentioned, changed its formula a few years ago. Known as NextGen, this surface coating incorporates silicon carbide and special nano technology. The upshot: Vantec NextGen received a 9H result on the Mineral Ordinal Hardness Scale. For context, a 1cm 14-carat diamond is a 10 on the hardness scale, while various quartzes are a seven.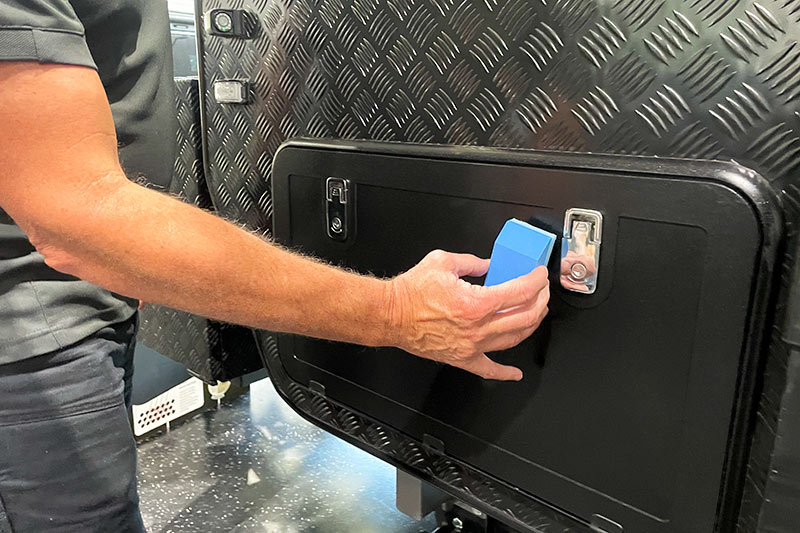 According to Vantec, the addition of silicon carbide has made NextGen four times stronger than conventional silicon dioxide coatings.
The nano technology, according to Vantec, allows NextGen to fill all microfine imperfections on exterior surfaces, reducing light refractions and creating an undistorted, glossy finish – all in a single application. Further, it comes with a lifetime warranty. Note: this warranty applies only to new RVs but it is transferable in the event you sell your van.
It's worth pointing out that the owner of the van has a role to play in terms of ensuring the longevity of the coating. They are given a maintenance pack of the product and are advised of what products to avoid when washing their van. Taking the van through a truck wash, for example, won't do the coating any good.
For the cost involved and the protection on offer, opting for Vantec before taking possession of your van at the dealership seems like a worthwhile proposition. Having chatted with Mark Hull and seen the product being applied, I will certainly consider it the next time I'm in a position to purchase a new van.
The cost varies from van to van; however, as a general guide, a full application of Vantec NextGen costs about $2490.
More information: www.vantec.com.au