Regular GoRV readers would know that Everest Caravans is a new manufacturer that recently appeared on our radar. In recent months, we have tested two of its models: the top-end Ice Glider and the mid-spec Kombat, both offroad vans with family layouts.
When I heard that Everest had developed a little brother to these rigs, I wasted no time. This van, known as the Camo, was hitched and ready for me when I arrived at Everest's unassuming Campbellfield, Vic, factory.
I took this 18ft (internal) offroader to one of my favourite testing grounds for a close look. And what I discovered was unique and more than a little intriguing. Read on…
CAMO THAT STANDS OUT
Camouflage is about blending in. But in the case of the Everest Caravans Camo, its cladding is a standout. In fact, the camouflage design found on its ribbed aluminium is the first of its kind in Australia, according to Everest.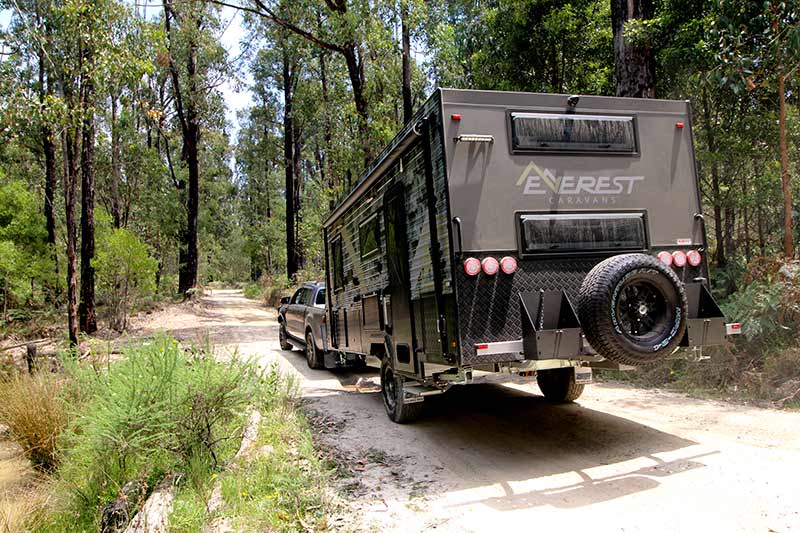 The camouflage pattern is not a decal, either. It is integral to the aluminium, so it won't peel off over time.
There were a number of things that I appreciated about this van. First, it offers sensible external storage options. There's a checkerplate storage box on the A-frame, behind two 9kg gas cylinders, and a large compartment on the nearside. At the rear, you'll find a tunnel boot accessible from both sides of the van.
Such is the volume of available storage that I struggle to understand how you'd use it all. It's certainly more than what you would find on a typical single-axle rig.
The van also comes with a full-length roll-out awning. It's a small point but I was pleased to note that the awning arms don't cover any windows or obstruct the door in any way. When the door is latched open, however, it does cover the door of the rear tunnel boot – but that's a minor inconvenience.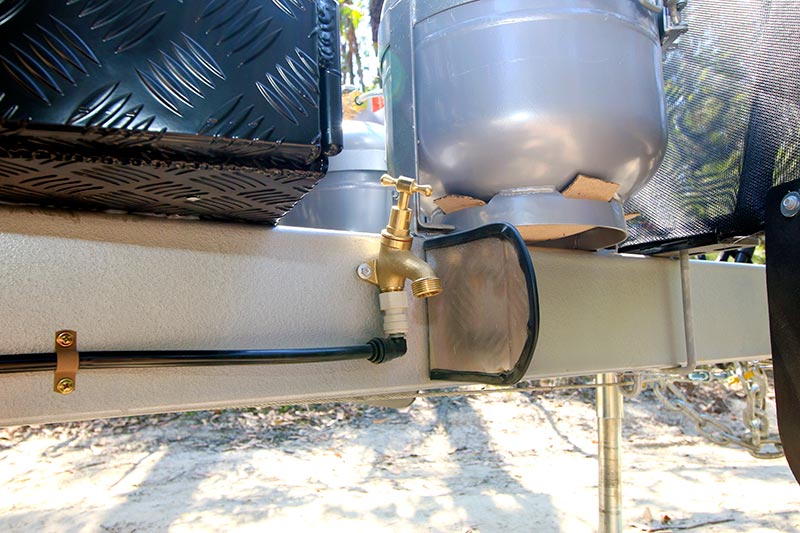 Everest has gone to some effort, too, to sensibly protect some of the underbody components – essential for any offroad caravan. The freshwater tap on the A-frame is protected, as is the PVC grey water outlet.
There is some exposed PVC grey water plumbing; however, it runs across the width of the van in front of the suspension, where it's less susceptible to stones that might be flicked up by the wheels.
On the same theme, the mains water inlet is mounted behind a chassis rail, up high and out of harm's way.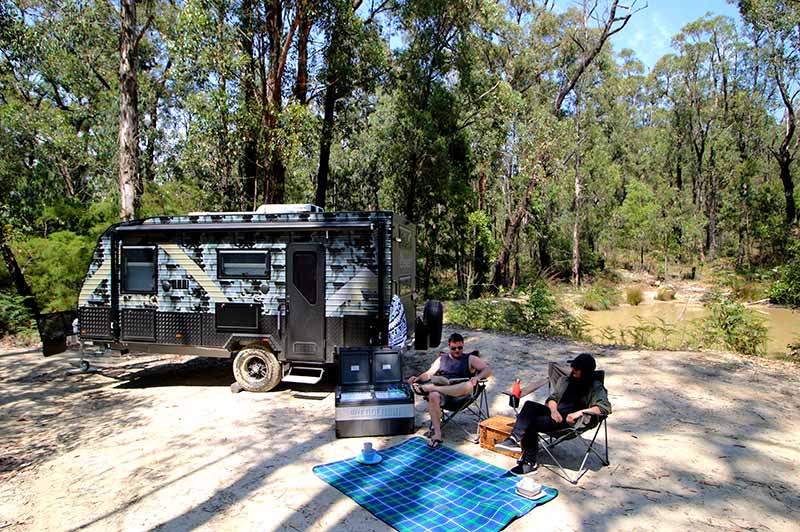 Up front, the Everest Caravans Camo is fitted as standard with a DO35 coupling and a mesh stoneguard. The 6in A-frame runs back to the 2.9-tonne OzTrekker independent coil suspension, with 6in main chassis rails on top.
The Everest Caravans Camo weighs 2380kg Tare and has an ATM of 2900kg, giving it a generous payload capacity of 520kg. It has an unladen ball weight of 260kg.
The laden ball weight, however, is very likely to be over the 300kg maximum towball mass of some mid-size 4WDs, such as the MU-X, but there are some available, such as the Pajero Sport (310kg); otherwise, you would probably be looking at one of the many 3500kg-rated dual cab utes or wagons when matching the Camo to a suitable tow vehicle.
As you'll see in the pictures, our Everest Caravans Camo had a bike rack mounted to the composite aluminium cladding at the front; however, this bike rack is an option. Fitting bikes to the front would strengthen the case for a tow vehicle with at least a 310kg TBM.
That said, the Everest Caravans Camo is certainly appealing. At the rear, there are a couple of jerry can holders and a reversing camera, while you'll find the two 100Ah house batteries inside a protective checkerplate compartment mounted to the offside main chassis member.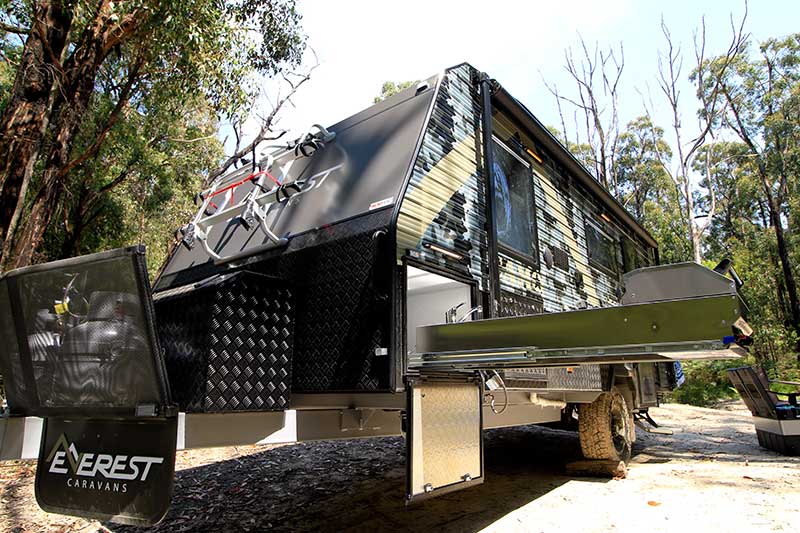 On the nearside, Everest has fitted a stainless steel slide-out kitchen that plumbs directly to the van's gas supply via a bayonet coupling, and a couple of taps are there, too, to hook the kitchen to the van's water tanks/hot water service.  
It all adds up to a well-featured and nicely built exterior.
CLEVER EVEREST CARAVANS CAMO
The real beauty of the Everest Caravans Camo is on the inside. As mentioned, its interior length is 18ft, but that hasn't prevented Everest Caravans from fitting it out as a true family caravan – with a split bathroom!
The secret is the east-west bed tucked into the front of the rig. Its orientation has freed up a lot of space for other important living features.
The front bedroom also comes with overhead lockers, a 12V fan, a rain sensor hatch with remote control, a reading light with USB port, and even a swivel arm for a flatscreen TV.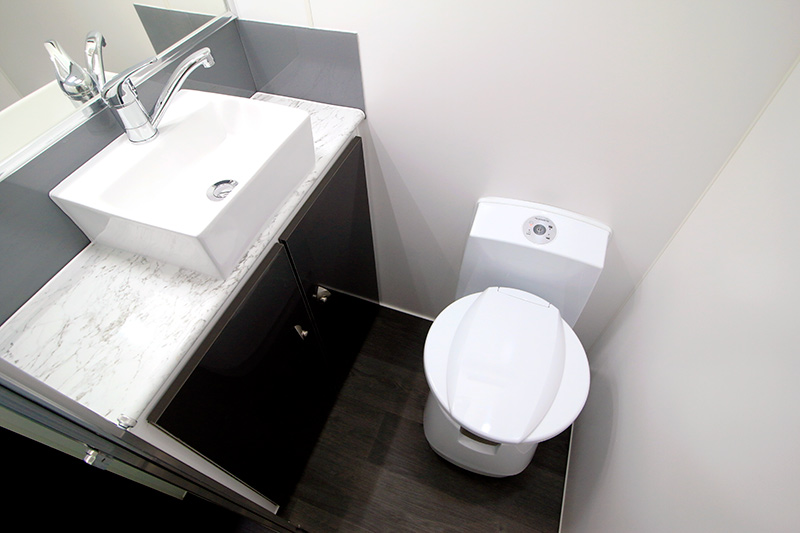 The split bathroom creates a 'walk-through' to the bedroom and also gives this area a sense of privacy.
The bathroom is comprised of an offside toilet/vanity cubicle and a nearside fully-moulded fibreglass shower, with each compartment having its own door. A side-benefit: because the doors open to the rear, they effectively become screens that will allow you to dress or towel off in privacy.
There is an L-shaped lounge facing the offside kitchen. The kitchen, while not big on bench space, still has the essentials covered: a four-burner cooktop and griller, a rangehood, a 141L three-way fridge and a range of storage options.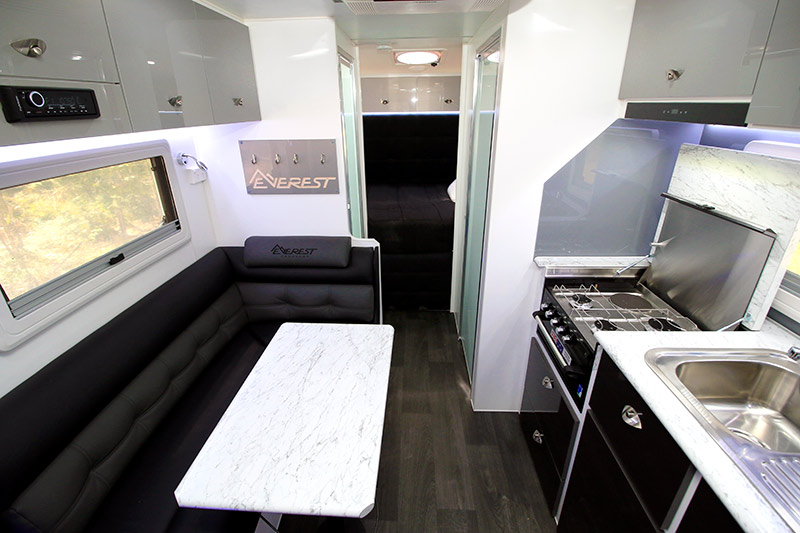 In one overhead locker, you'll find all switches and controls, including the BMPRO Genius battery management system and the solar panel regulator.
Across the rear of the Camo, Everest has fitted two bunks, but three can be fitted if necessary. A point of difference in this bunk setup: each has its own reading light that has a built-in 12V USB point, and a 12V fan – the kids are well looked after.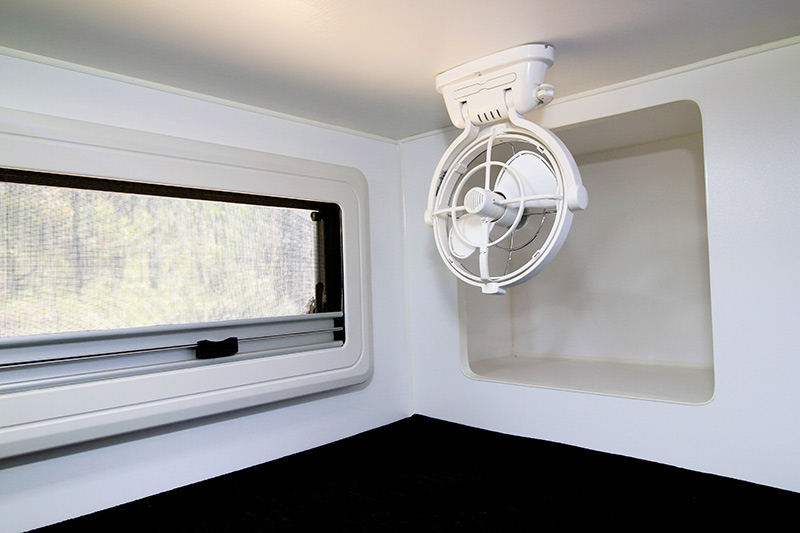 Furthermore, each bunk has its own storage 'cubby', allowing the kids easy access to their clothes, toys or electronic devices. These cubbyholes are behind a larger wardrobe in the van's entrance.
The truth is, despite the van's relatively small size and the other features on board, the Camo offers a lot of storage space. 
Naturally, the other expected features, such as a reverse-cycle air-conditioner, LED lighting and a microwave, are all fitted.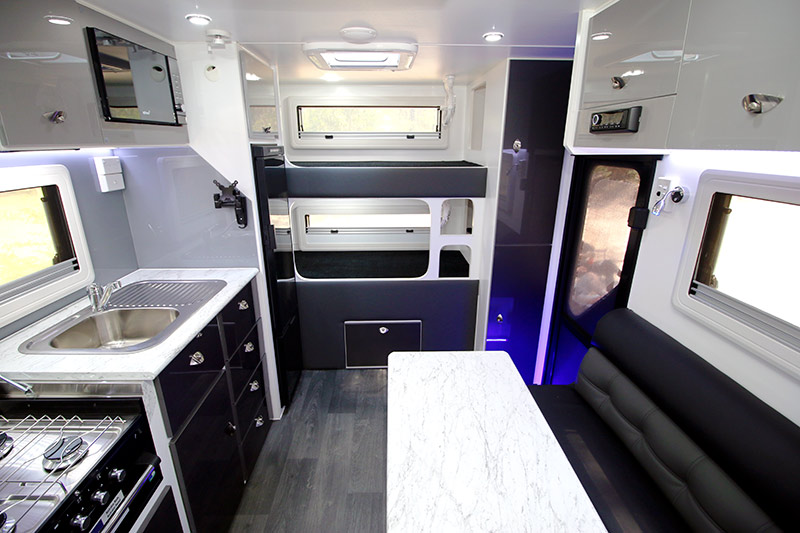 The Everest Camo shows what can achieved with lateral thinking, how limited space used well can create a truly liveable space.
GORV'S VERDICT
When shopping for an offroad caravan, I think there is a strong case to be made for compact caravans. The Everest Caravans Camo is smart, robust and well worth looking at if you're in the market for a new offroad rig.
THE SCORE
FIT AND FINISH –

LAYOUT –

INNOVATION –

HITS & MISSES