Everest Caravans is a relatively new player on the caravan scene. You wouldn't know it by stepping inside the offroad Ice Glider, however. As it happens, the owner of the company had been building caravans for many years before opening Everest.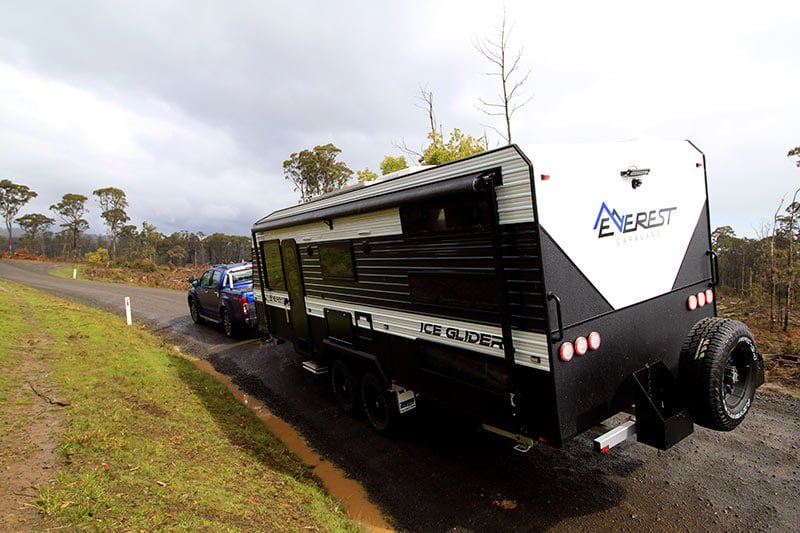 There are eight models in the range, from the diminutive 18ft Nitro to this top-end rig, which has an overall length of 22ft 8in, high ground clearance, and a sharp front profile. In short: the Ice Glider looks purposeful, with an aggressive attitude on the outside and a plush, comfortable interior.
INNER LIGHT
Our Ice Glider had a bunk layout, incorporating three rear nearside bunks, a separate bathroom opposite, a front bedroom and everything else in between.
While the van covers all the bases nicely, it's the little things that I appreciated. For example, the edge of each bunk bed is finished with leather-upholstered padding, which will afford the kids some protection as they throw themselves into bed. Each bunk also has its own curtain, which you won't find on every family van.
There's a large cupboard next to the bunks, too, and the adjacent bathroom is very nicely finished. A leakproof fully-moulded fibreglass shower has been fitted with its own door, along with a small vanity and cassette toilet. It certainly appears spacious and offers plenty of privacy.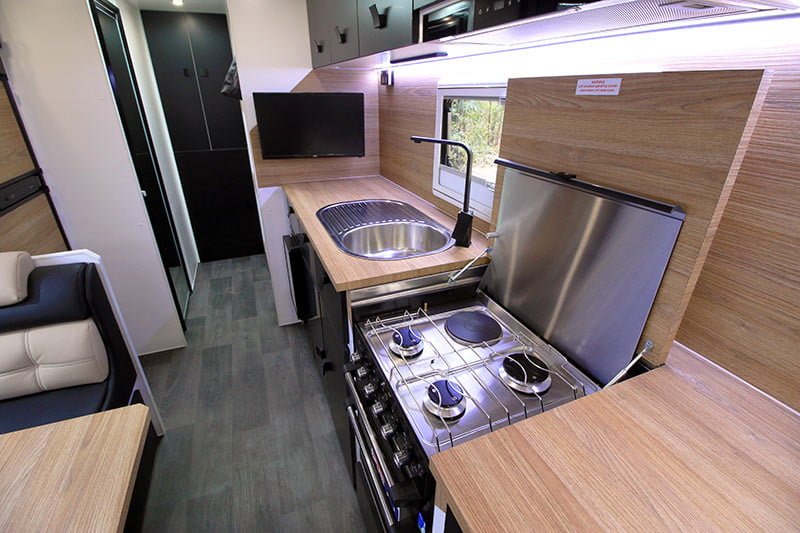 The kitchen is undeniably attractive. I loved the textured wooden benchtop, which matches the dinette table and the bathroom vanity. In fact, the decor throughout is very classy, while the functionality of the layout is up there with the best of them.
Truth is, many so-called family vans don't truly cater for a family, aside from the addition of the bunks. Not so here. The kitchen bench offers plenty of work space, the plush L-shaped dinette can comfortably seat four or five at a squeeze, a large 182L Thetford three-way fridge-freezer is fitted… and even the multidirectional reading lights throughout have integrated USB charging points.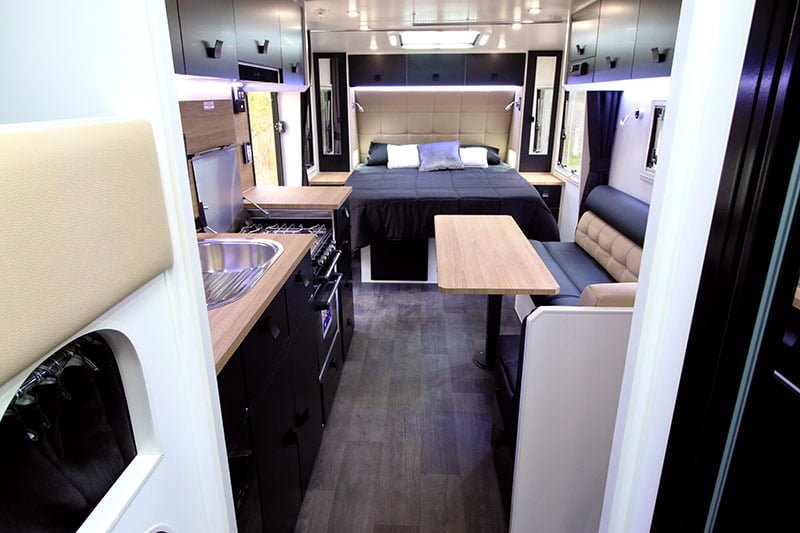 The kitchen offers a very good spread of storage options, from cupboards to drawers, and Everest has even included a fold-out ironing board that takes up very little space under the kitchen bench.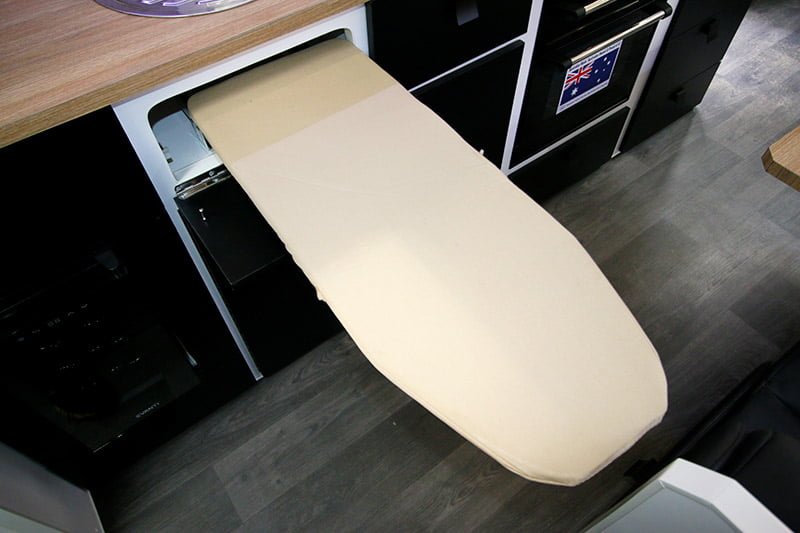 These unique touches continue in the bedroom. For example, each bedside wardrobe is fitted with a two-stage LED light, with a white light option and a blue night light. Naturally, there are 12V/240V powerpoint in each niche-accessible wardrobe, too, and the LED strip lighting beneath the bedroom's overhead lockers is a nice touch.
Finally, Everest Caravans has not forgotten to include a privacy curtain for the main bedroom, as is so often the case in family vans.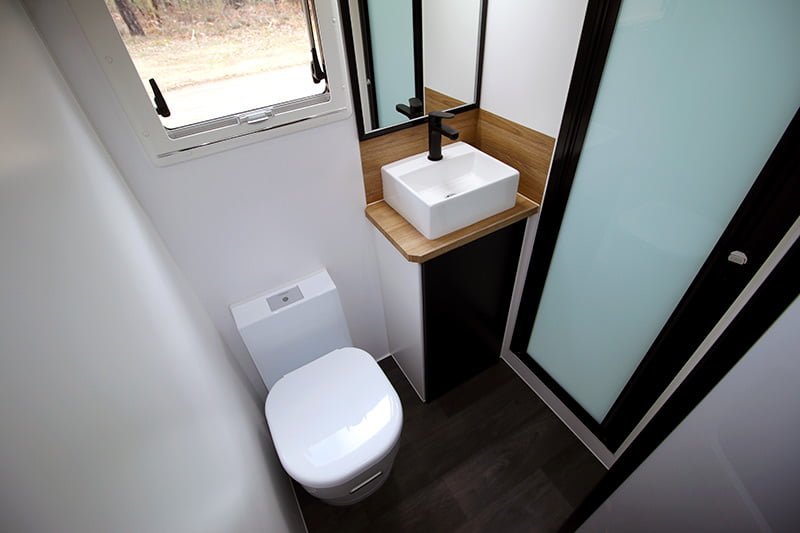 Despite the fact the tunnel boot encroaches into the under-bed storage space, there's a decent amount of room left over for general storage, and Everest Caravans has sensibly fitted a hatch for easy access, so you don't have to lift the bed base each time. Oh, and did I mention that the Ice Glider had a wine cooler?
Among the other features, Everest Caravans has fitted an Ibis 4 reverse-cycle air-conditioner, a BMPRO 35 SR battery management system, a 25L microwave, a 3kg washing machine, a 24in flatscreen TV, and much more. The internal cabinetry appears thoughtfully constructed, too.
OUTSIDE EVEREST CARAVANS ICE GLIDER
The Everest Caravans Ice Glider rides on 16in alloy wheels, 3.5-tonne-rated Oz Trekker independent coil suspension, and a 6in SupaGal chassis with 3in raiser. It uses a meranti timber frame clad with ribbed black and white 'carbon fibre-look' aluminium cladding on the sides and smooth composite aluminium cladding at the front and rear.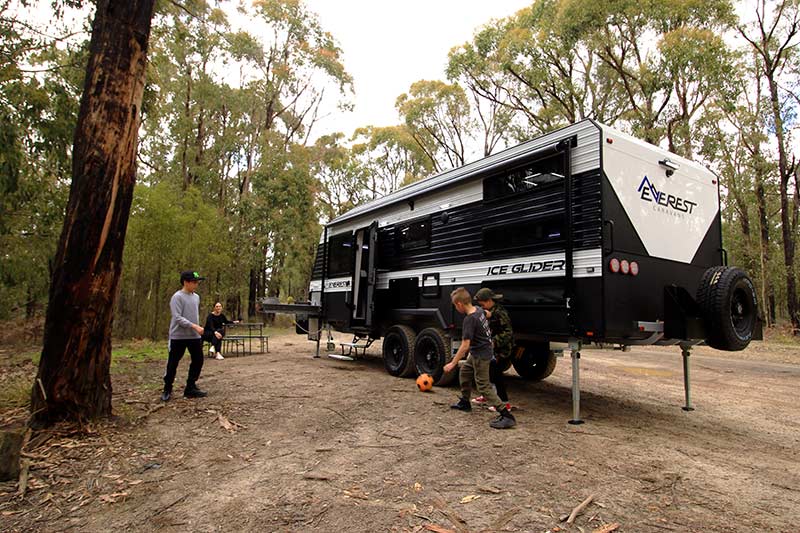 To the lower portion, Everest Caravans has opted for X-plate protection, rather than the traditional black checkerplate. It's not in wide use, but X-plate is certainly more attractive than checker, and it's supposedly stronger.
Up front, you'll find a DO35 offroad coupling, a couple of 9kg gas cylinders behind a mesh stoneguard, and a storage box fabricated from black checkerplate, which incorporates an offside slide-out tray to house a 2kVA generator. I'd like to see a stoneguard fitted to the gas regulator, though.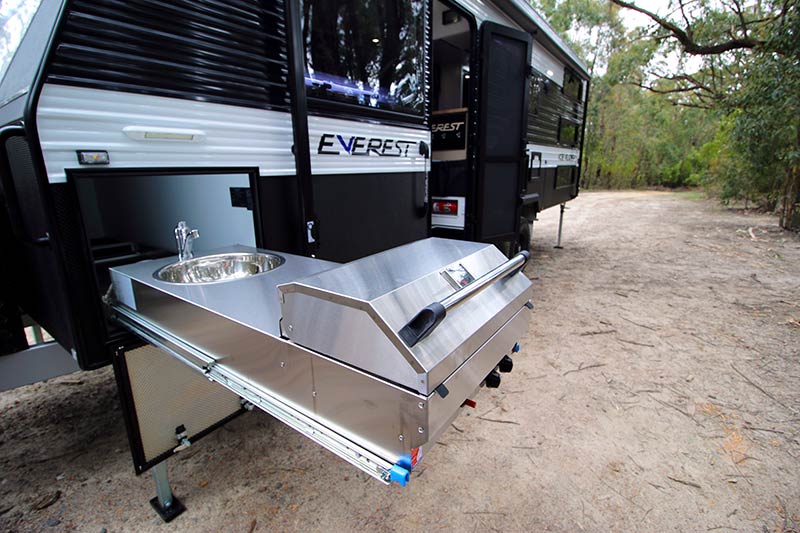 The van's main external attraction, however, is the nearside slide-out kitchen. Built of stainless steel, it incorporates a small barbecue and a sink with hot and cold water, with two chassis-mounted taps next to the gas bayonet to isolate the water supply.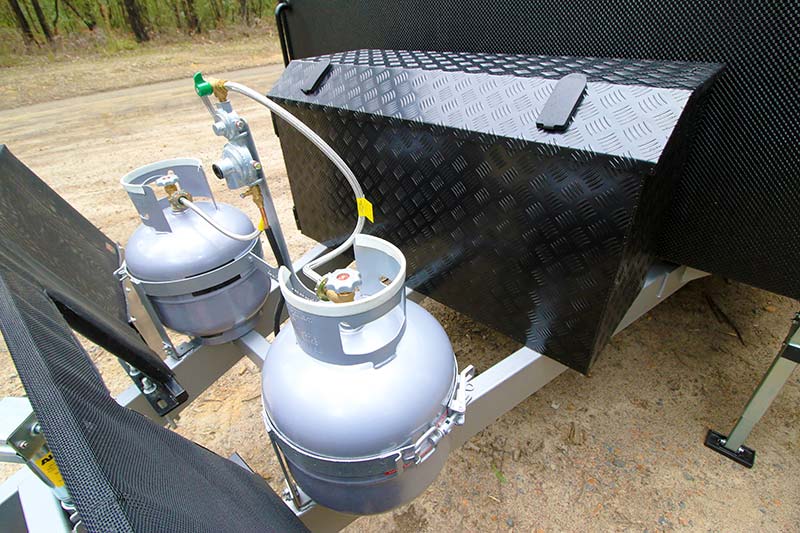 The nearside has a full-length awning, along with two LED awning lights, a couple of speakers, a fold-down picnic table, an entertainment locker with relevant antenna and 12V connections, and a fold-out entry step with two treads due to the increased ride height of the van.
As standard, the Everest Caravans Ice Glider is fitted with 340W of combined solar to maintain the charge of the dual 100Ah deep-cycle batteries. An Anderson Plug is fitted, too, allowing you to augment the solar input with a portable panel, if necessary.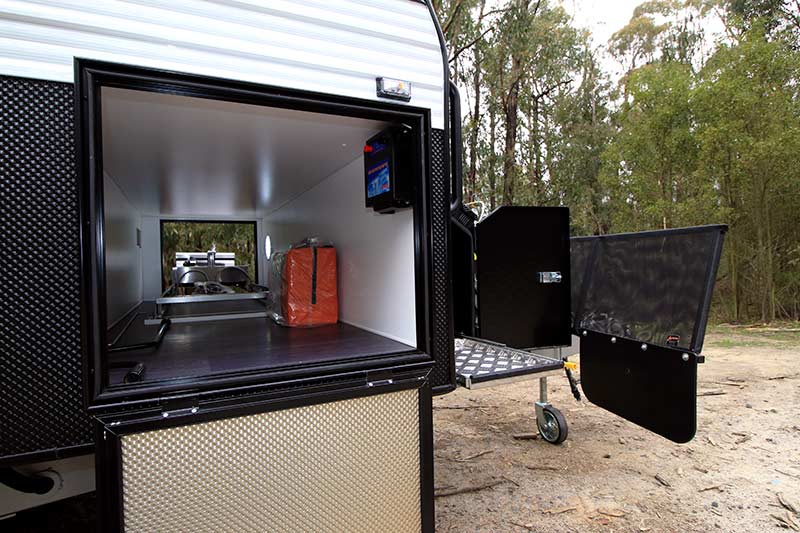 Underneath are two 95L water tanks and one 95L grey water tank. While the under-body components are mostly out of harm's way, the grey water tank's outlet and some water lines look vulnerable to stone-strike – a bit of checkerplate protection would be welcome.
The brass mains water inlet, however, is mounted behind a chassis member, near the jacking point, and therefore well protected.
A van as large and fully-featured as this comes at a cost in terms of weight. As shown, the Ice Glider tips the scales at 2940kg. With its ATM of 3500, a 560kg payload capacity is on offer.
Towing the van with a D-Max, without any load-levelling equipment, it showed no tendency to sway or pitch up and down on the tow pin.
GORV'S VERDICT
As presented, the Everest Caravans Ice Glider appears to be a capable offroad family van, though anything short of a 4WD with a 3.5-tonne tow rating with a realistic Gross Combined Mass won't pass muster.
It's on the high end of the price and weight scale, but it doesn't really lack for any equipment. It doesn't have DVD players in the bunks, but they're old-hat nowadays. Give a kid an iPad, and they'll work it out.
If you're in the market for a well-appointed family van with offroad credentials, it would be worth your time to give the Ice Glider a good look.
THE SCORE
FIT AND FINISH –

LAYOUT –

INNOVATION –

HIGHS & LOWS