Majestic Caravans has been building caravans for going on 20 years. It nowadays has six caravan models in its line-up, each built in Majestic's unassuming Campbellfield, Vic, factory, with numerous layout options available.
The Knight is the 'baby' of the bunch, Majestic Caravans' entry-level van that nonetheless offers all of the expected features and a good amount of living space. There are 20 layouts from which to choose, from an 18ft centre-door ensuite van to 19ft 6in rear door models, and even a 22ft 6in family van with a dinette.
In recent times, Majestic Caravans came out with the Knight Limited Edition. This van, as Majestic co-owner Liz Naumoska told me, was all about value. Majestic Caravans set about packaging as much gear as they could into this van so that it effectively sat between the Knight entry level van and the next highest model in the line-up.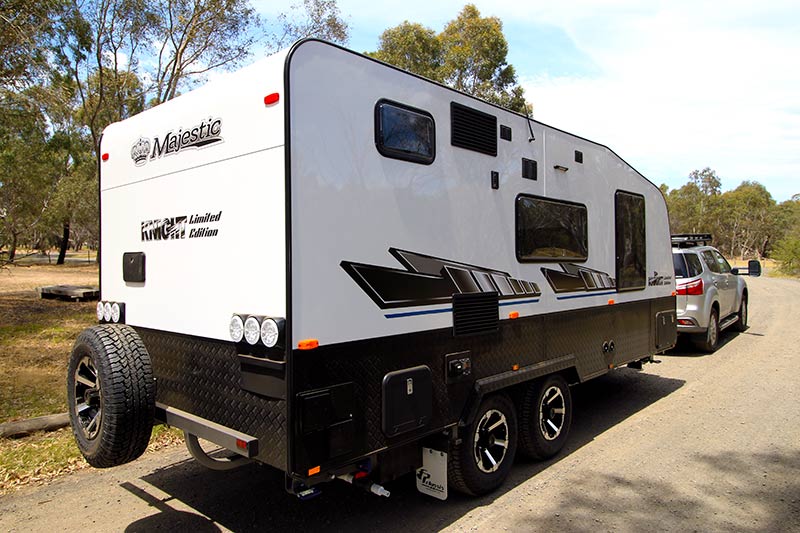 So, on a scorching Melbourne summer day, we hitched up the Limited Edition to take a closer look, towing it behind our Isuzu MU-X to one of our favourite testing grounds. 
MAJESTIC CARAVANS KNIGHT
Our 18ft 6in tandem-axle van review van was a centre-door model with a conventional layout that incorporated a front queen-size bed, offside kitchen and nearside L-shaped lounge, and a full-width rear bathroom.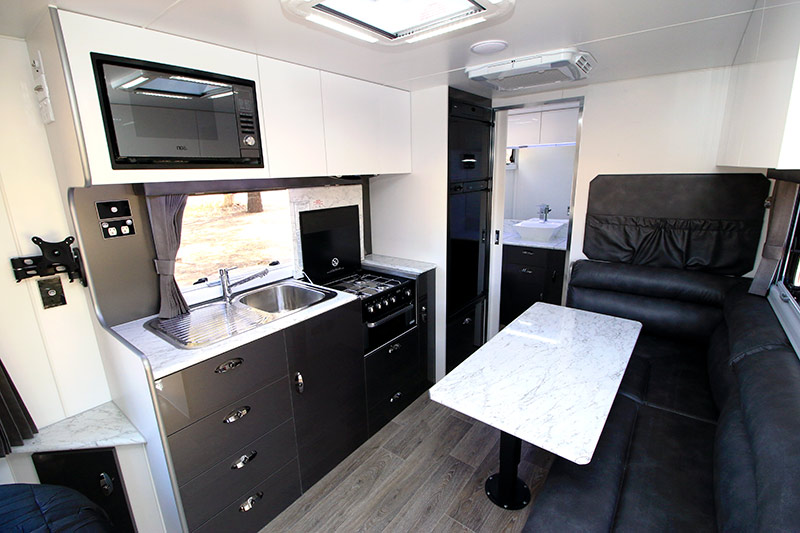 The van certainly gave a positive first impression. Stepping inside, I was struck by how light, bright and spacious it appeared to be. Closer inspection of the ply CNC-cut furniture revealed tight joins, well-applied silicone, and nothing out of the ordinary or that cried 'unprofessional'.
The bedroom comes with the standard overhead lockers and side wardrobe – each wardrobe has a niche with a 12V/240V powerpoint, a side drawer and a reasonable amount of space to hang clothes.
The under-bed storage space is occupied somewhat by the housing for the tunnel boot, which I personally don't mind since a) having a tunnel boot instead of a front boot decreases the length of the van, and b) the tunnel doesn't impinge too greatly on overall storage space.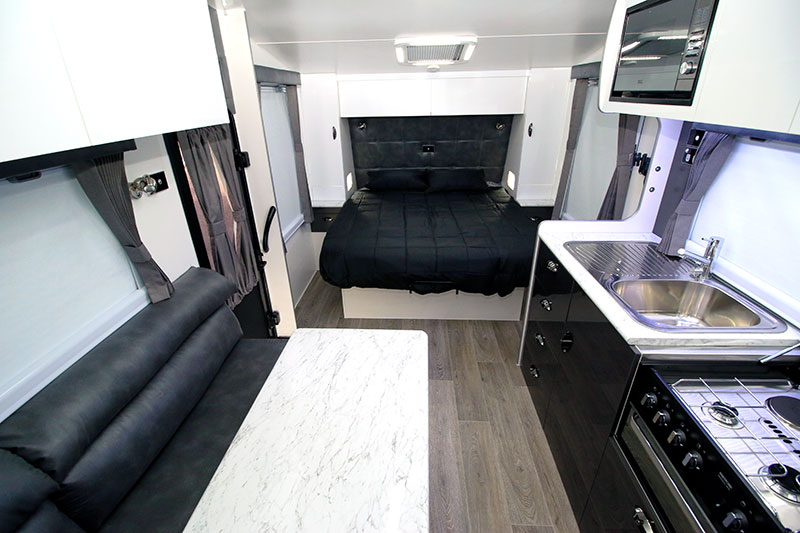 Above the bed, Majestic has fitted a padded lining on the front wall, which looked quite classy; however, I would prefer the light switch that's been fitted in the middle to be moved somewhere a little less visually obtrusive.
The kitchen is what you'd expect in an 18ft 6in van. There's a range of cupboards and drawers, filtered drinking water at the sink, a four-burner cooktop and griller (no oven), a microwave neatly recessed into the overhead cabinetry, and a couple of overhead lockers.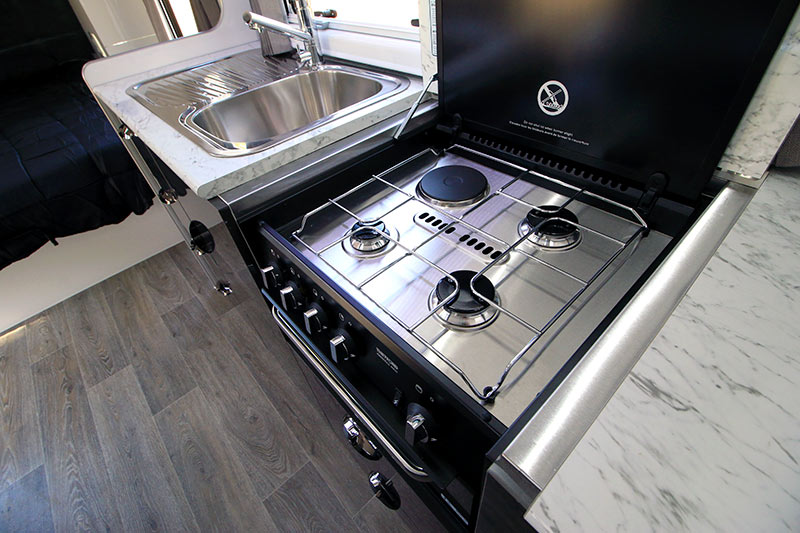 However, one of these lockers is taken up by the electrical switches and controls, as well as the BMPRO Genius battery management system and sound system. Again, I think this is a worthwhile compromise. Centralising all the switches and other unsightly equipment in a locker has left the interior looking uncluttered and elegant.
Between the kitchen and rear bathroom is a Thetford 182L three-way fridge-freezer with a drawer below.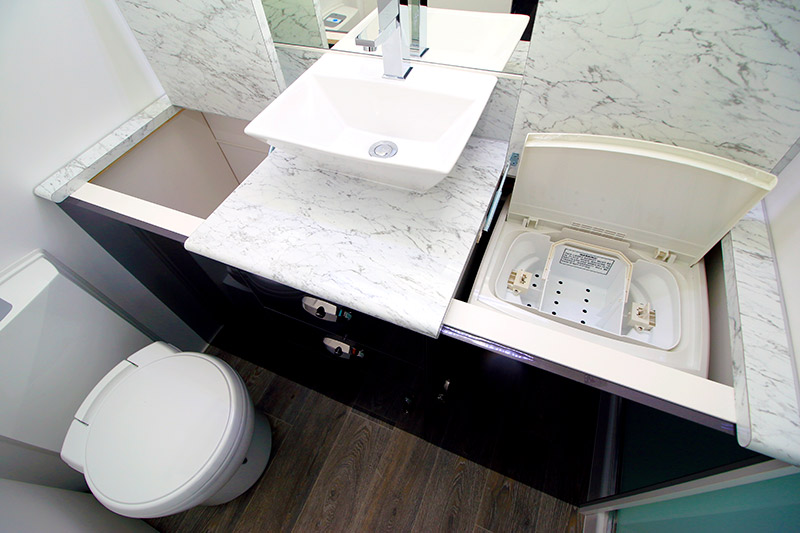 That leaves the bathroom. With its offside cassette toilet, central vanity and nearside fibreglass shower, there's nothing particularly mould-breaking here; however, the fitout is very good. One aspect of the vanity caught my eye, though: there are two large, identical compartments with hinged bench sections. One of these is for the top-loading washing machine next to the shower, and the other, which is next to the toilet, is for dirty clothes. 
Naturally, the van comes with other expected features: a reverse-cycle air-conditioner, roof hatches a stainless steel rangehood, Winegard Sensor HV antenna and more.
LIMITED EDITION FEATURES
But what do you get as part of the Limited Edition package that you wouldn't get in a standard Knight of the same size?
Most of these features can be found outside the van (though the aforementioned wardrobe nooks and an extra double powerpoint in the kitchen are Limited Edition features as well). These include 16in wheels, a 300mm A-frame extension, a checkerplate-fabricated toolbox on the A-frame, 600mm-high side checkerplate, a gas bayonet, external speakers, and insect lights and an offside light.
An external shower, nearside TV entertainment locker and 12V point and shock absorbers on the leaf-spring roller-rocker suspension are also part of the package.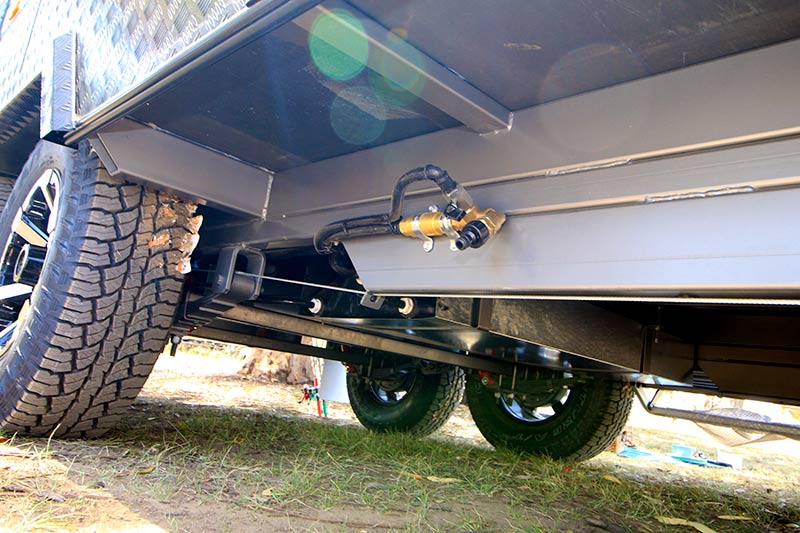 The Knight rides on a 4in SupaGal chassis (with 6in drawbar). Its self-sufficiency situation is quite good: dual 95L water tanks, a 95L grey water tank, a 150W solar panel and a 100Ah deep-cycle battery mounted to the offside chassis rail behind a piece of protective checkerplate. Majestic has also fitted an Anderson plug, which would allow you to plug in an auxiliary solar panel if needed.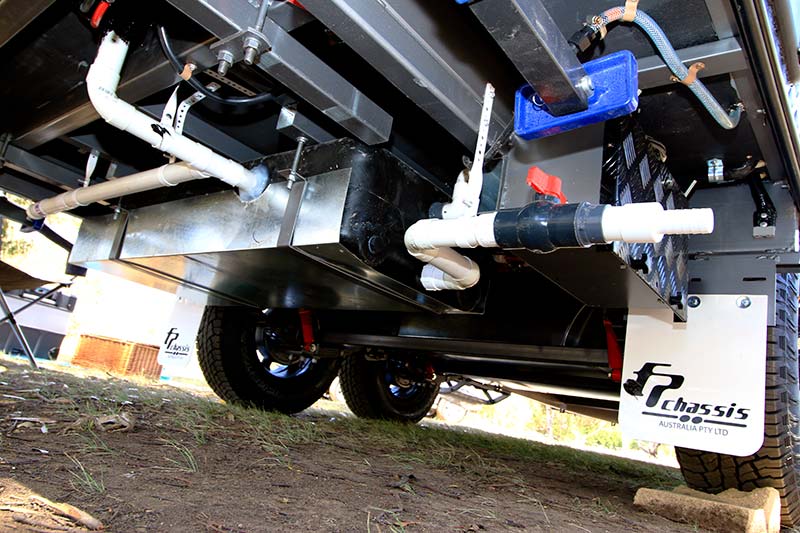 While this van is no-doubt capable of travelling on graded tracks, etc., it's very much a blacktop tourer – much of the plumbing and cabling beneath the van, as well as the mains water inlet on the offside, are unprotected.
The Knight Limited Edition, however has an impressive payload capacity and, out of the factory, it weighs a reasonable 2286kg. With its 3200kg ATM, you can load up 914kg worth of gear, water, gas, etc. 
As for towing, I found it to be quite exceptional. While every tow vehicle/caravan combination is different, I thought the van felt well balanced as I hauled it at 80-100km/h without any towing aids fitted.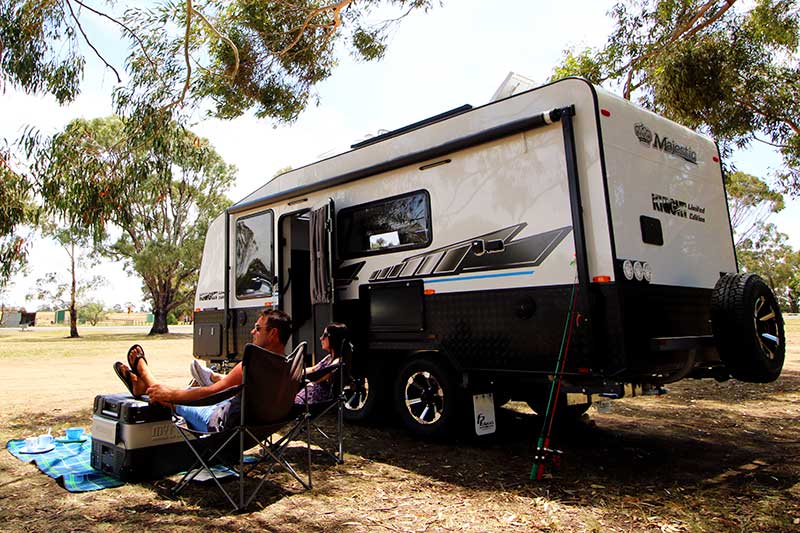 At the pointy end, you'll find a standard ball coupling and I noticed Majestic had opted for the Trailsafe break-away braking system. Among its various features, this unit meets New South Wales regulations when paired with the TrailCheck in-vehicle monitor.
GORV'S VERDICT
Coming with a three-year factory structural warranty, the Majestic Caravans Knight Limited Edition, as reviewed, presents as an attractive couple's van.
At $67,000 (RRP), it is fitted with most features and comforts – though a 12V fan would be a welcome addition – and has a classy internal fitout.
For on-road touring, I see no reason why this van wouldn't prove to be a very faithful companion. 
THE SCORE
FIT AND FINISH –

LAYOUT –

INNOVATION –

HITS & MISSES