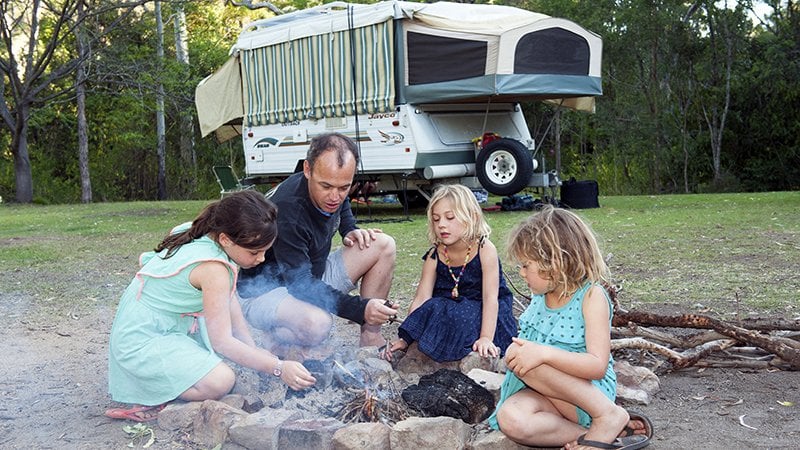 My wife, our three daughters and our three dogs have been travelling all over Australia in our Jayco Swan for over three years now and we have managed to keep our accommodation costs below $2 a day. Our daily expenses are also significantly less then when we lived in a house. In this article, I will tell you my top tips on how to travel Australia with your family on a budget and still have a wonderful experience.
[If you like this article, Like Go RV on Facebook!]
Whether you plan on travelling for a month, six months, a year or more, it doesn't have to cost the earth. The tips here are based on a certain way of travelling that would not suit everyone, but if you're the type of family that likes an adventure, that likes to go off the beaten track and get away from hustle and bustle, these tips will help you.
1. ACCOMMODATION
The first thing you should do, if you haven't already, is decide what you want to do and pick the type of RV to suit. I wanted to be independent. I didn't want to have to pay to sleep in my camper; I wanted to be able to go bush and give myself more options on where we could camp. A Jayco Swan was a perfect fit.
2. PREPARE
Make the necessary modifications to your RV that enable you to do what you want to do. My previous article on Top 10 Modifications might help.
3. TRAVEL LIGHT
Only keep what you use. If you have brought things with you that you're not using, get rid of them. If you think someone else can use it, donate it. By doing this, you'll not only be able to set-up camp easer, you will reduce your weight and save fuel.
4. WHERE TO CAMP?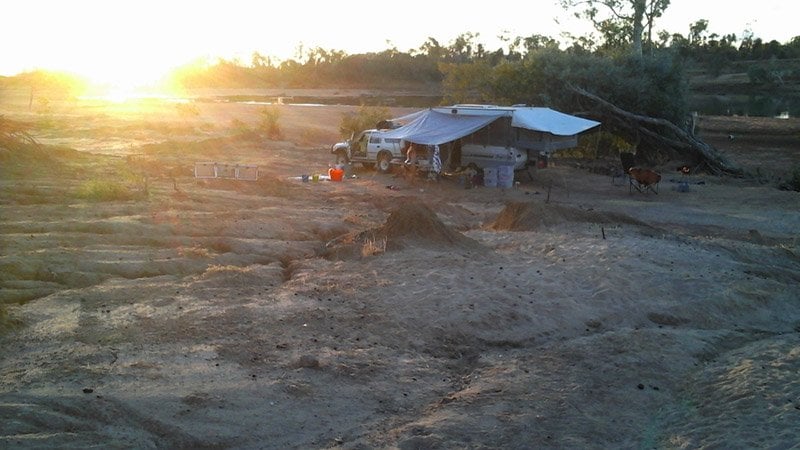 There are thousands of campsites in Australia that are either low in cost or free. Some of these camps are in the most spectacular locations: by a river, by the beach… and even on the beach in some places. We went for six months and only paid $40 in accommodation. Station stays and showgrounds can also be a cheap option. But please, wherever you camp, leave it better than you found it.
5. DO YOUR RESEARCH
There are some great apps, books and websites to help you find where the best campsites are. Find out the right time of year to be in certain places. For example, if you live on the east coast and you are travelling in December, you don't want to go to Cape York as you will be there in the wet season and a lot of the roads will be closed.
6. PLAN
Plan ahead for the next part of your journey, but be prepared to change that plan. With planning, I'm talking more about the grocery shopping. Look at the map to see where the major towns are and shop accordingly. For example, we were going from Port Augusta, SA, to Alice Springs, NT. This is 1227km and we wanted to take our time and have a look around so we made sure we had enough supplies for three weeks.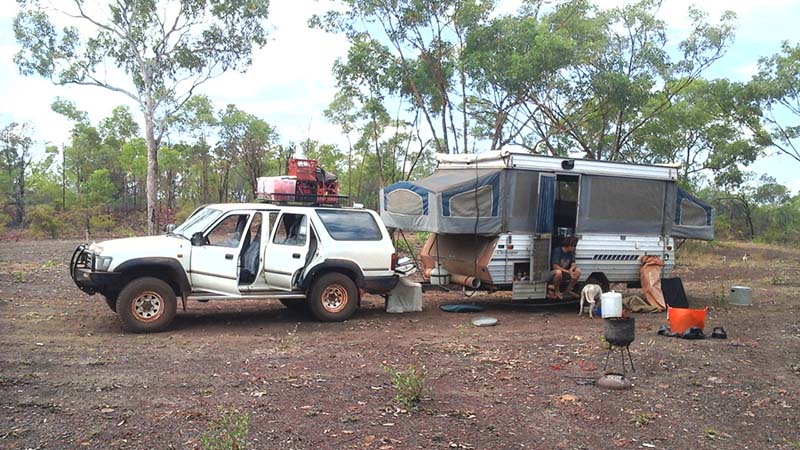 This required a lot of planning for meals, etc., but with the only a small IGA supermarket at Coober Pedy between Port Augusta and Alice Springs, we saved a lot of money by shopping in the larger towns. For example, I bought a loaf of bread in Port Augusta for $2 whereas in Coober Pedy I would've pay about $5. So just on bread, we saved $12.  Also, by doing a two or three-week shop, you go to the shops less, which means you don't purchase things on impulse that you can do without.
7. COOKING
When you can, use wood as your fuel for cooking. It's free and there is plenty of it. Over time this can save you a lot of money. But please follow the campfire rules that apply for the state you are in.
8. DRIVING
If you tow correctly and drive conservatively, you can save a lot of money on fuel. I like to keep my revs on 2000, which in my car is an average speed of 80km/h. If there is a strong headwind, I find a camp and wait until it changes. Make sure your tyre pressures for your car and van are correct. Also, get your weight distribution right. I had heavy duty springs and airbags fitted to my vehicle.
9. ASK QUESTIONS
Fellow travellers are very helpful and some have been on the road for a long time. You can get a lot of good information about great spots to camp along with tips about local activities and what to avoid. We were going to do a tour in Port Hedland, WA, but then we spoke to some travellers who had come from Roebourne, WA, who had done a similar tour for half the price. That saved us $40.
10. ROADSIDE ASSISTANCE AND INSURANCE
When you're spending a long time on the open road, it's a good idea to have both roadside assistance and insurance. We have premium cover with NRMA, which has a lot of benefits when towing a camper. We have used our roadside assistance twice and our insurance once. Our coverage has saved us more than $3000. Do your research and make sure you know all your entitlements; there are many different options available.
Also consider ambulance insurance for travellers, which also covers the Flying Doctor. It's valid in all states. If needed, this type of insurance will save you a lot of money.