Coromal has launched a new semi offroad caravan, the Thrill Seeker, to round out the marque's Seeker Series of caravans.
Available in six different sizes and layouts, the Thrill Seeker has options to suit solo travellers, couples and families, according to Coromal Caravans owner, Apollo RV. These include a 21ft 6in model with forward island bed and rear bunks and bathroom, and the baby of the bunch, an 18-footer with front bed and full-width rear bathroom.
We collected the 18ft 6in tandem-axle Thrill Seeker from the Kratzmann dealership on Brisbane's north side and hit the back tracks to test out a van that is among the Seeker Series of caravans.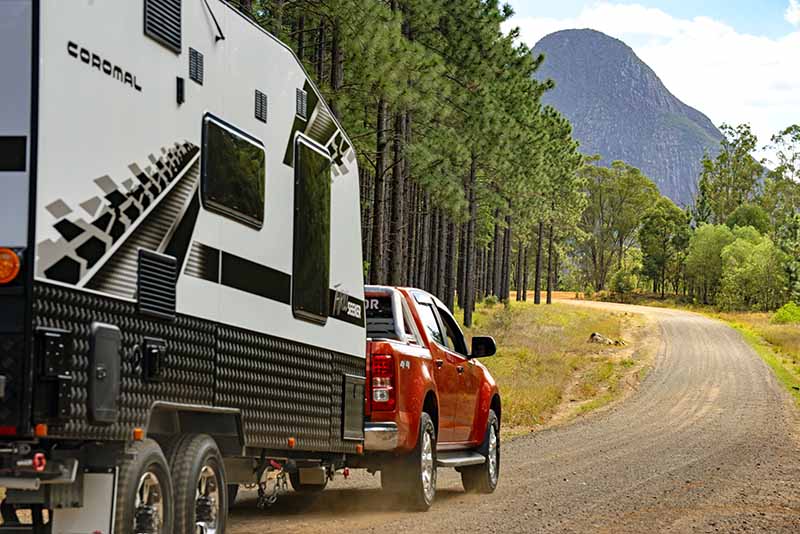 We headed to the Sunshine Coast hinterland just north of Brisbane to explore out-of-the-way places around the Glass House Mountains to see if this van lives up to the promise its name offers. This is what we found…
AROUND THE OUTSIDE
The Thrill Seeker has a timeless, tidy exterior livery of black and white. It's a conservative look aimed at keeping most people happy. 
When it comes to outdoor adventure, the first consideration is whether or not the chassis is fit for purpose. This van gets a solid 4in SupaGal chassis with 4in raiser, as well as a 6in A-frame.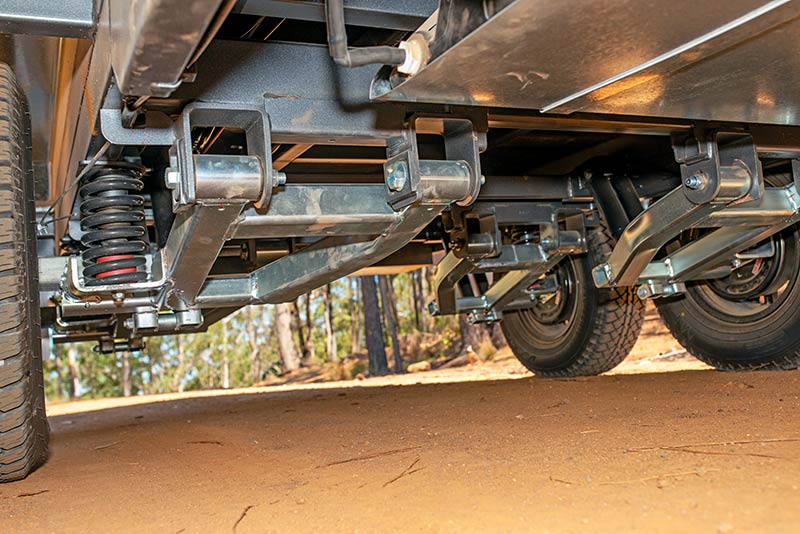 The caravan rides on Al-Ko's semi-offroad Enduro Cross Country suspension system (rated to 3300kg), which sports twin shock absorbers. We hauled this rig up, down and around these mountains, across some moderate tracks, and it towed easily.
It's not overly heavy, either, weighing in at 2250kg Tare. Its ATM of 3300kg gives this Thrill Seeker a very generous payload capacity.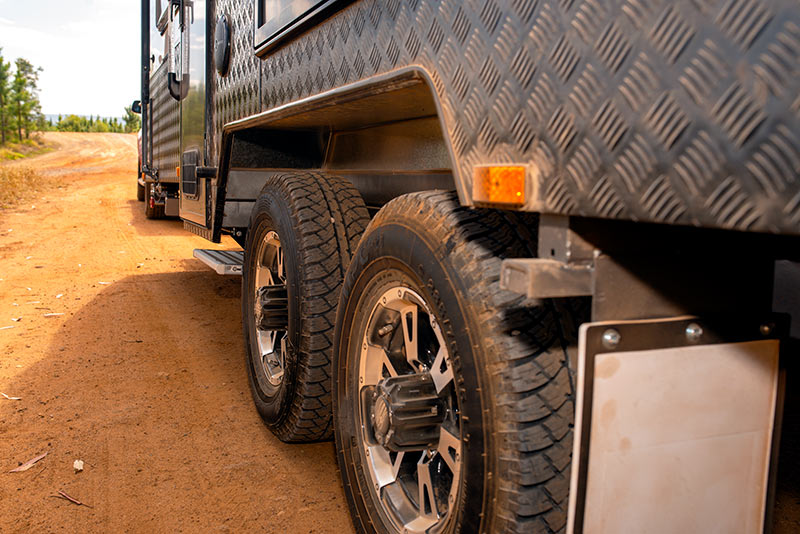 That nice handling was also helped along by the DO35 hitch, which is a tried and true favourite of offroad or rough-road caravanners.
External features of the Thrill Seeker also include a shower, a tunnel boot, a handy tool box up front, a roll-out awning and a drop-down picnic table. So all the essential boxes are ticked.
A single spare wheel at the back is enough for most purposes – remember, this is a semi-offroad caravan, so thoughts of a second spare wheel might not be warranted.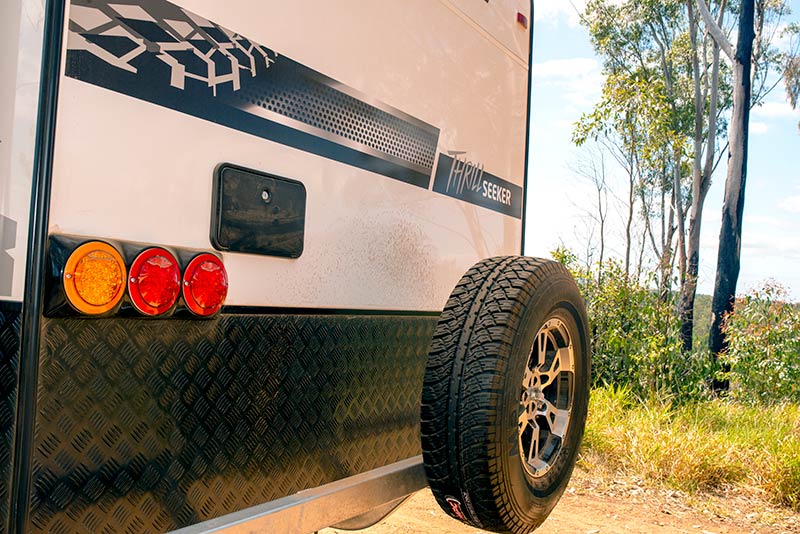 Underneath,  the two 95L fresh water tanks are a very good start, and represent the sort of capacity you are likely to expect at the $76,000 price tag this van carries. However, what is quite impressive underneath was the amount of protection in place to keep the water tanks safe.
The smaller details around the outside are also important. So it was good to see an accessible drawbar tap, making water access when you're outside the van so much easier. And it was well protected.
Up on the roof, those looking for a weekend away will find the single 170W solar panel adequate. However, this is perhaps a little on the light side for extended free-camping. Nonetheless, all caravanning is about compromise, and the combination of solid construction, good suspension, ease of towing and comfort make the Coromal Thrill Seeker an attractive proposition.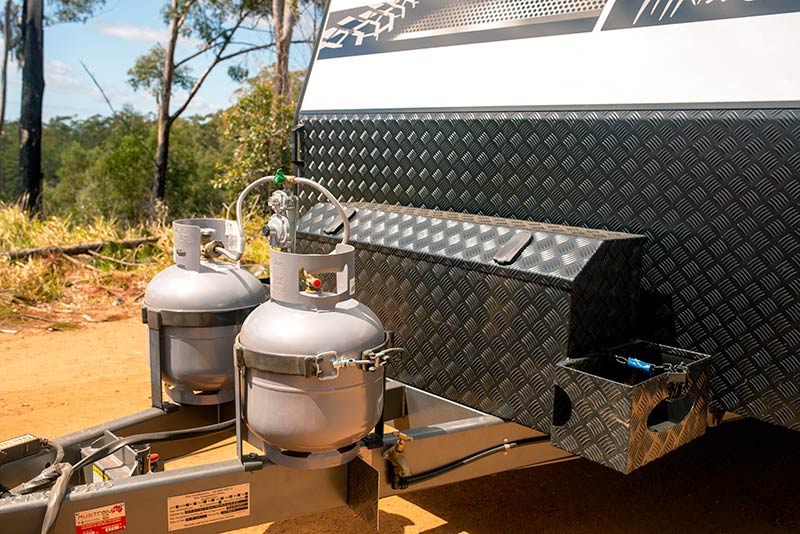 Looking around the outside, you're also likely to notice the large view-catching panoramic windows. Now, this is a hint at a really nice feature that you won't fully appreciate until you kick off the shoes on the fold-out steps, and flop back on the bed. More on that later…
STEPPING INSIDE THE COROMAL THRILL SEEKER
The interior livery is subdued, conservative and tasteful. It's likely to appeal to many who understand that good interior décor is all about bringing in the colour you want with highlights that are easy to change, like pillows and blankets. Neutral tones mean it's your space in which to add your own splash of colour as you see fit.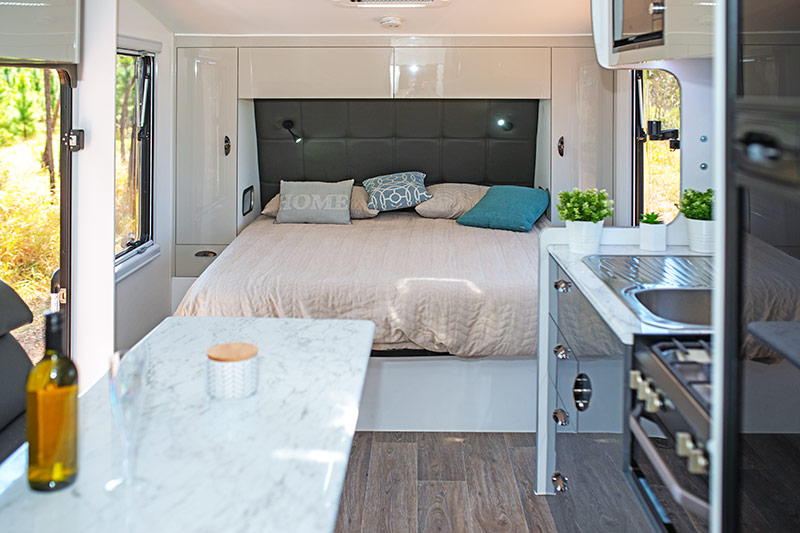 Now, as for that queen-size bed, it's a good size with a pillowtop mattress to help your sore back unwind and relax after a long day on the road. And then it's time for the treat: extra-large bedroom windows that haul the outside inside. As I sat on the bed, I had a clear view of the mountains on both sides of the van. That means no matter which side of the bed you choose, you get to enjoy the beauty of the natural world in which you are camped – fantastic.
If all that resting has you warn out and feeling a bit hungry, don't worry – this van has a comfortable dinette, a small but convenient slide-out pantry, a good fridge, cooktop, griller and microwave. The dedicated foodie might be slightly disappointed by the small bench space. But, once again, this is a caravanning compromise as there is a good-sized table on which to prepare meals. That's thanks to the L-shaped dinette design.
Move into the ensuite and you'll find a space that is nicely finished in line with the overall finish of this rig. Nothing is missing. There's a quality shower, vanity, toilet and plenty of space for the dirty clothes beside the on-board washing machine.
For those who are security-minded, the Coromal Thrill Seeker's door has a triple-lock mechanism as well as tough security mesh.
Storage-wise, there seemed to be plenty of well-made drawers, overhead lockers and bench storage in the kitchen and ensuite.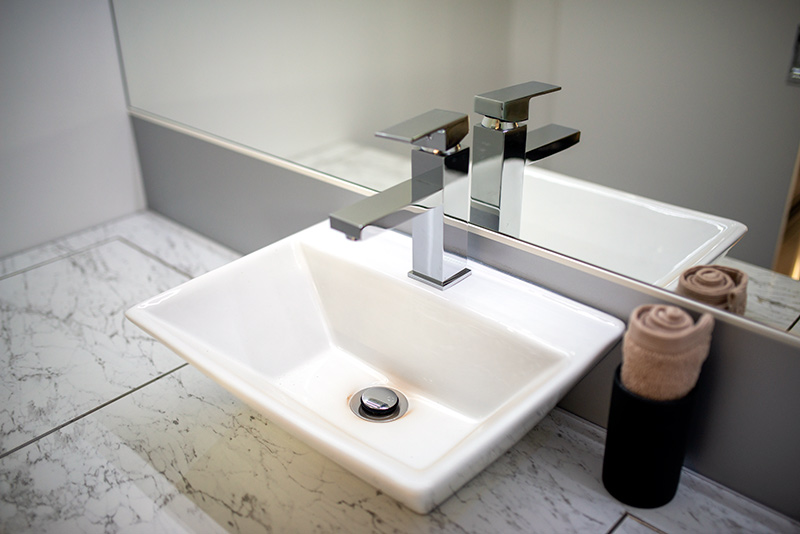 Creature comforts are always important. This rig has a standard array of comforts – although it boasted a space for a television without one fitted as standard. It did have quite a respectable sound system with internal and external speakers. Meanwhile, LED strip lighting throughout helps set the mood.
GORV'S VERDICT
The Coromal Thrill Seeker is clearly fitted out for comfortable semi-offroad touring, with the kit to carry you over some 'interesting' terrain – and that's more than half the battle. 
The interior is comfortable, with a quality design and attractive albeit conservative livery. 
Based on the time I spent with this caravan, it looks like a very worthy addition to the Coromal line-up and worthy of your consideration.
THE SCORE
FIT AND FINISH

LAYOUT

INNOVATION

HITS & MISSES