Independent coil spring suspension systems have been available for Australian caravans for many years. They provide a more comfortable ride and typically allow the caravan to access areas of the country that a beam-axle setup would not.
However, just because these suspension systems have been available for a long time and refined over the years does not mean there is no room for innovation. Enter Enduro X, 's latest offering to the Australian RV market. It has been in R&D for a few years and is now officially in production.
AL-KO Enduro suspension systems were released in 2015. Enduro X replaces the well-regarded heavy-duty offroad suspension system, Enduro Outback, but the semi-offroad system known as Cross Country remains unchanged. But just how different is Enduro X to the suspension system it replaces, as well as other offerings on the market?
We were invited behind the scenes at the AL-KO factory in Dandenong, Vic, to see what's involved in this unique suspension.
HOW IS AL-KO ENDURO X MADE?
Enduro X is still an independent trailing arm coil suspension system; however, key changes should make it even more suitable for Australia travellers.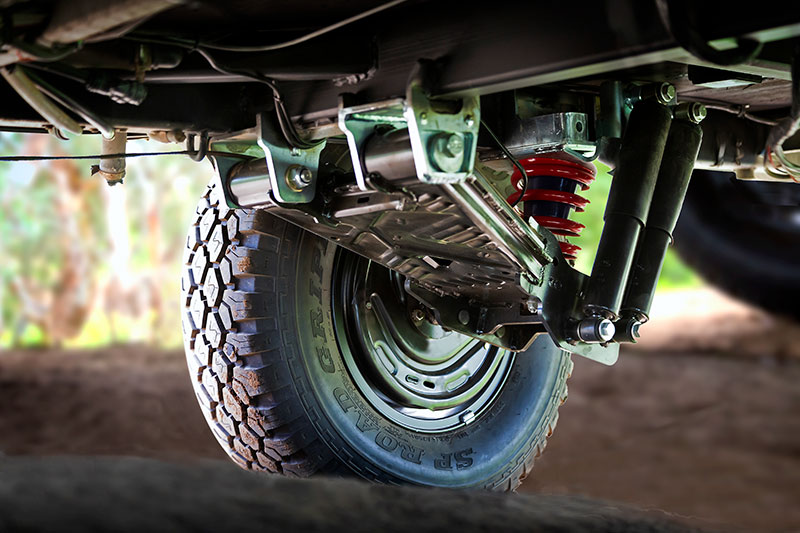 First, the suspension arm is no longer manufactured from tube steel. Rather, it's a two-piece pressed metal design that is robotically welded together and finished in a special automotive-grade 'eCoat' that's intended to protect it from chips, rust and other damage. Each piece of pressed steel features what looks like valleys and peaks – a design element that adds significant strength.
According to AL-KO, this design – an innovation of the company's Melbourne-based engineers – is lighter and stronger than the previous box-section arms found on the Enduro Outback system.
While Enduro Outback had fixed stub axles, Enduro X uses a forged-steel bolt-on stub that provides two adjustable ride heights: 210mm in the bottom position, and 160mm in the top position.
One of AL-KO's aims with Enduro X was to create a suspension system that could be fitted easily to all chassis types and suit all capacities and ride heights, making life much easier for chassis and caravan manufacturers.
It is also designed to accommodate airbags, should the caravan owner decide to fit them down the track, and it's also compatible with caravan disk braking systems, not to mention AL-KO Electronic Stability Control and the company's new Tow Assist towing safety package, which includes ABS.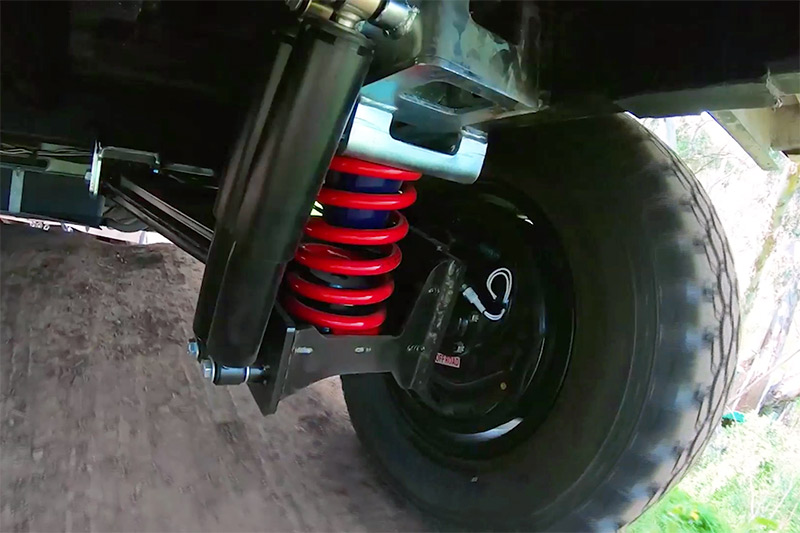 Like Enduro Outback, Enduro X gets two of AL-KO's premium shock absorbers per wheel; however, rather than being mounted behind the trailing arm, they are mounted parallel in the Enduro X. Fitting the shock absorbers in parallel to the arms has done away with the cross-rail between the shocks on both sides found on Enduro Outback, further reducing weight.
AL-KO Enduro X has a Gross Trailer Mass rating of 2500kg for single-axle caravans and a GTM rating of 4100kg for tandem-axle vans.
Just as they did with Enduro Outback, AL-KO's engineers conducted in-depth testing of AL-KO Enduro X at the Australian Automotive Research Centre in Anglesea, Vic. The testing facilities here encompass virtually all driving conditions found in Australia, from mild undulations to extreme offroad tracks – there's even a 'chassis twist course'.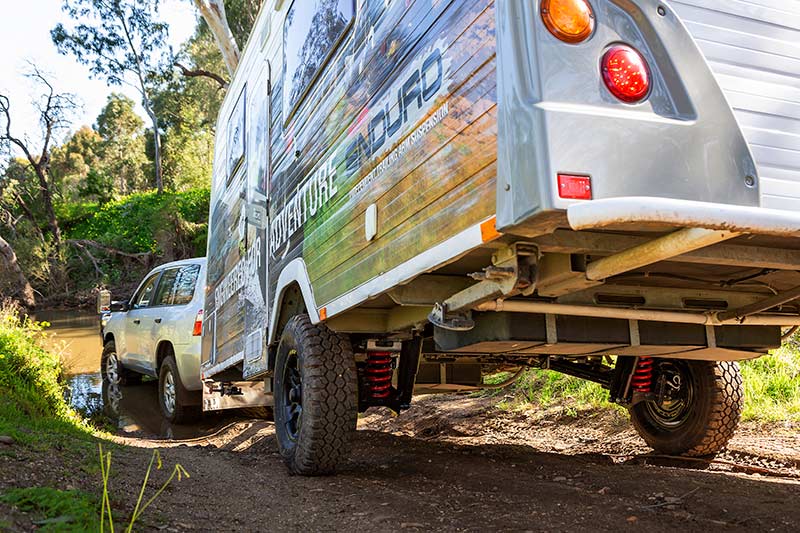 AL-KO Enduro X comes with a market-leading five-year warranty and is available now to be fitted to new caravans; however, it is not yet possible to retrofit it to used caravans. 
While we at GoRV are yet to tow a caravan fitted with Enduro X, we can say that it is certainly unlike anything else on the market – the pressed metal sections comprising the suspension arms look exceptionally strong and, let's face it, the entire system has been stress-tested using 'finite element analysis' at one of Australia's premier testing facilities.
AL-KO's semi-offroad system, Cross Country, remains in production unchanged for the time being. Personally, I can't wait to hitch up a van with Enduro X and put this new suspension system through its paces. Stay tuned – I'll let you know how it goes when I do!
More info: https://alko.com.au/product/solutions/suspension-systems/enduro-x/