Of all the manufacturer-based caravan clubs, none seem to match the enthusiasm of the members of the Hilltop Caravans club. They call themselves 'Hilltopians' and their pride in their vans is infectious. Having attended a few of their national gatherings, I've not once heard a bad word said about the owners of Hilltop Caravans, or the vans they build. Quite the opposite. In fact, it all seems like a very large, happy family.
Hilltop has an ever-growing range of vans available, from little single-axle units to large and luxurious tandem-axle rigs with all the fruit. The 17ft 6in Hilltop H-17 is one of Hilltop's latest vans and, with its green composite aluminium cladding and angular front profile, it looked pretty sharp behind my car as I towed it along the highway.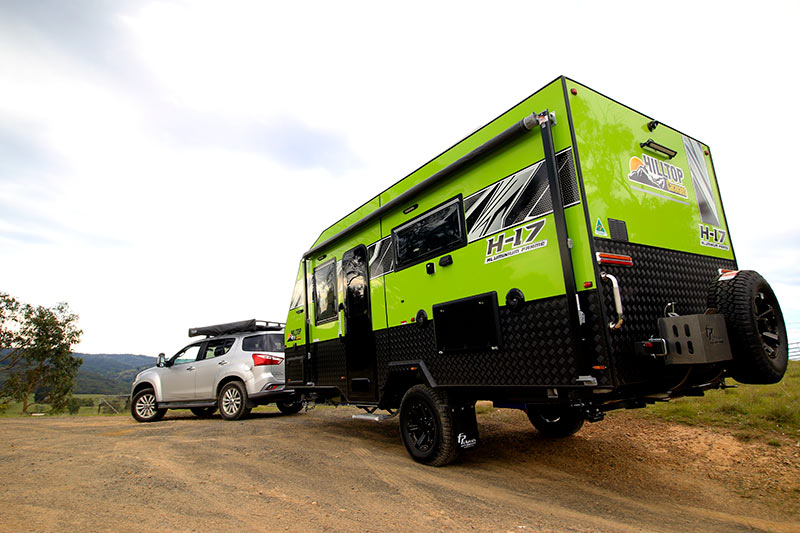 But what is it about these vans that make their owners so proud? I wondered as I hauled the H-17 at 100km/h north of Melbourne.
HILLTOP H-17 FITOUT
The Hilltopians I have spoken to each credit Damm and Dula, the owners of Hilltop Caravans, with their positive experience. The after-sales service is, apparently, first class. And that matters. The vans themselves, at least the ones I have checked out, all measure up, too. These are strong, sturdy caravans with sensible layouts – some of them are quite innovative, actually – and good-value equipment lists.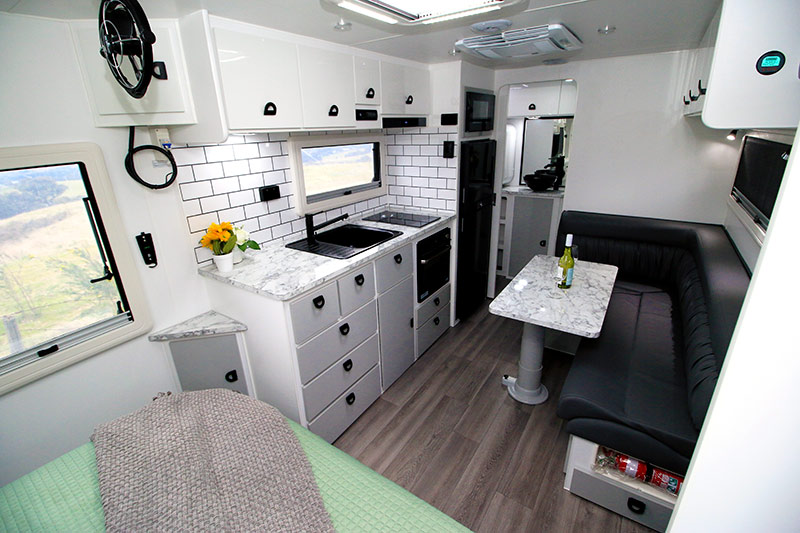 At first glance, the Hilltop H-17 was no different. Although this van has a smaller on-road 'footprint' than some of its bigger siblings, the layout in no way feels cramped or compromised. It has the traditional north-south bed in the front, an offside kitchen, nearside dinette, and a full-width bathroom in the rear. 
This van makes good use of the latest features available, too. For example, the kitchen gets a Thetford induction cooktop, backed by 400Ah worth of lithium batteries and three 200W solar panels on the roof, as well as a separate Thetford oven. Further, there's a 188L Dometic compressor fridge on board – more good equipment.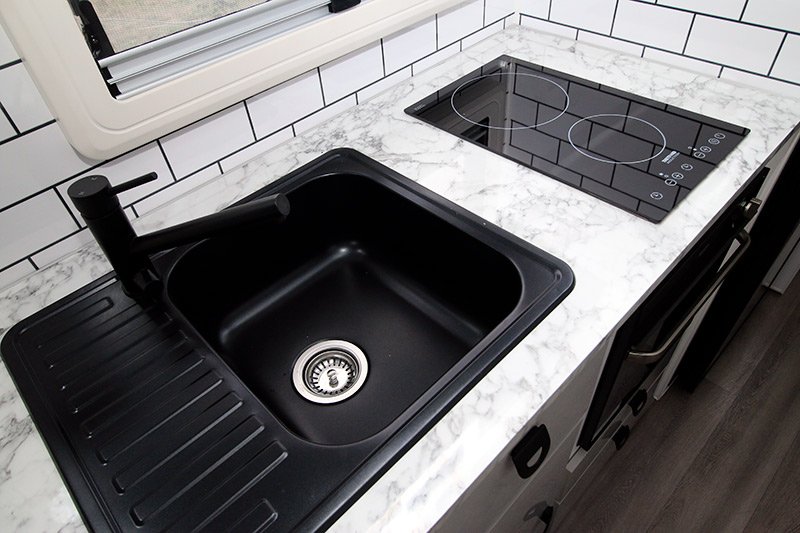 The dinette is fitted out with a multi-directional table and faux-leather upholstery for the seats. In the storage space underneath, Hilltop has fitted a 2000W pure sine wave inverter. I did wonder if the raw ply seat bases could've been finished in laminate; however, this is a small point since the seat bases are not visible without removing the seat cushions.
There's plenty of storage space under the bed, though, and I particularly appreciated the fact that a laminate-finished ply housing had been built around the diesel heater fitted in this space. This means that when you're tossing your gear in this area, there's no risk of damaging this appliance. Other manufacturers might take note.
Although I don't view it as a compromise, the bathroom is on the smaller side. Yet, it is still functional, with all the equipment you'll need – even a wall-mounted washing machine and a small nook next to the cassette toilet for your linen.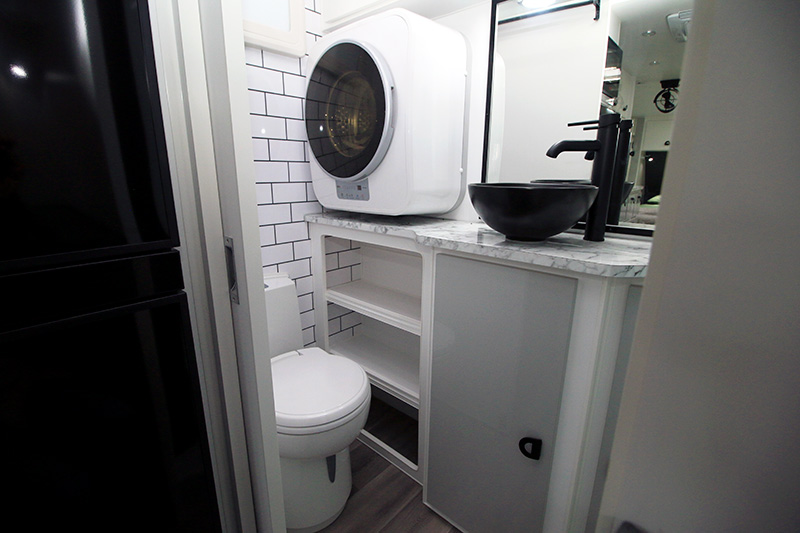 There are other features to mention, too, from the wireless battery monitor with a GPS tracking functionality to the filtered drinking water. There's classy black tapware throughout, wireless phone chargers built into each bedside table, the Dometic Dust Reduction System, a couple of 12V fans… the list goes on. And it's all packaged into a relatively small caravan without feeling cramped or as though things have been bolted on as an afterthought. There's a lot of appeal here.
TOWING AND EXTERNAL FEATURES
Towing it at highway speeds, the Hilltop H-17 was quite predictable and pleasing. It comes with sway control as standard, which is obviously welcome peace of mind.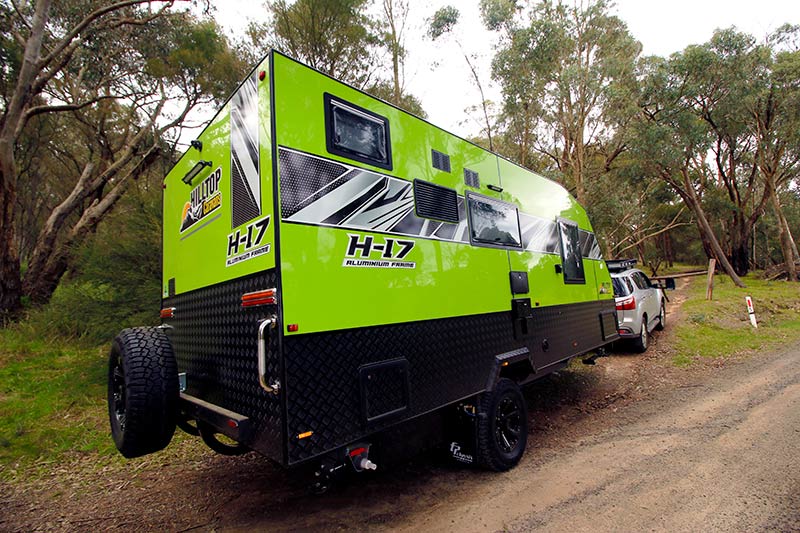 It is built upon a 4in SupaGal chassis with an extended A-frame, Cruisemaster XT coil suspension rated to 2.8 tonnes, a recessed DO35 coupling and 16in alloy wheels with all terrain tyres. Hilltop has framed this van with 20x40mm aluminium studs clad in composite aluminium.
One spare wheel is provided – it's mounted to the three-stay rear bumper, along with a jerry can holder. Above, you'll find a reversing camera and even an LED light bar.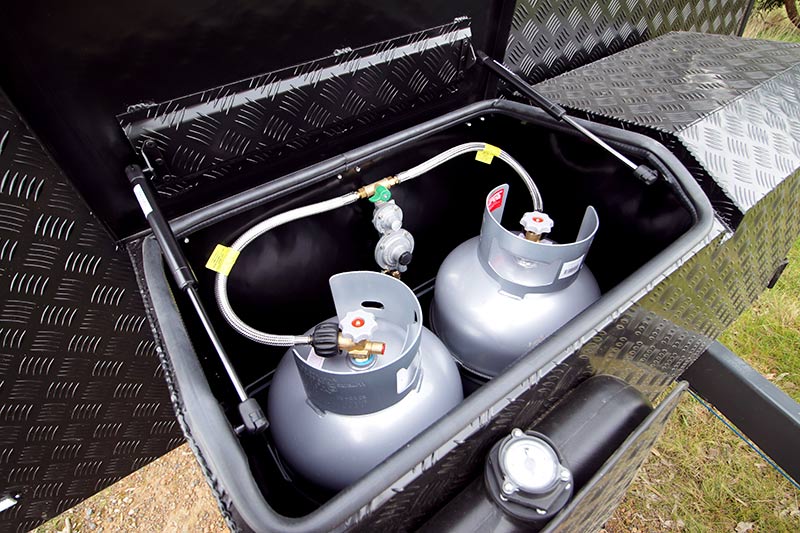 The A-frame setup is quite good. There's a checkerplate storage box split into two sections: the offside section contains the dual 9kg gas cylinders, while the nearside is for general storage or whatever you'd like to place on the slide-out tray, which is handy because the tunnel boot is half taken up by a slide-out barbecue. One point to make: I really liked that the gas bayonet is mounted into the wall, rather than being left to dangle precariously off the chassis rail.
The nearside has a 14ft roll-out awning, amber anti-insect lights, speakers, and a picnic table, while on the offside you'll find the batteries mounted to the chassis rail, behind some protective checkerplate.
But it was the underside of the van that particularly intrigued me. The 12mm marine-grade ply floor is actually protected by a sheet of vacuum-pressed aluminium. Yes, that adds weight, but it's worth it, I think.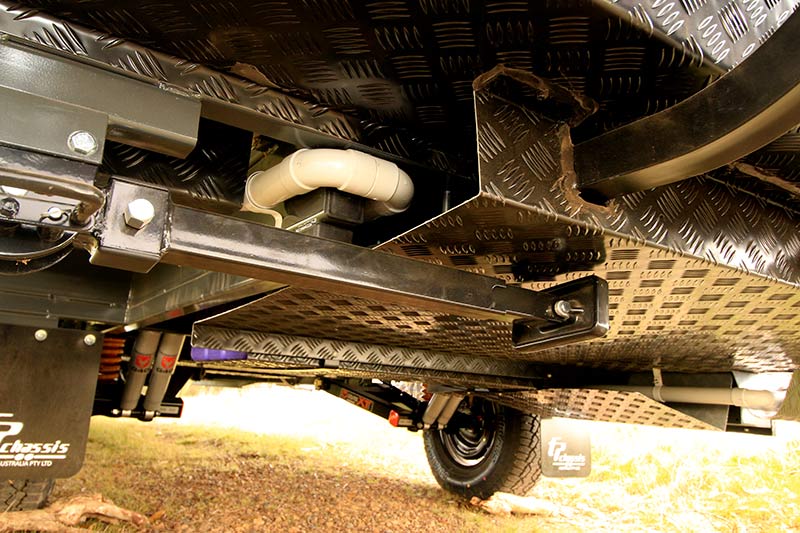 On the same subject, all components are adequately protected by checkerplate, from the water tanks to the PVC piping, including the grey water spout which, let's be honest, is often left unprotected by other manufacturers. Two of my other bugbears have been addressed, too: the A-frame's water tap has a stoneguard, and the wiring to the electric brakes is sheathed, with not a single dangling terminal block to be seen.
GORV'S VERDICT
I was very impressed by this caravan. The truth is, the more I see from Hilltop, the more I like these vans and can understand why Hilltopians are so pleased with their rigs.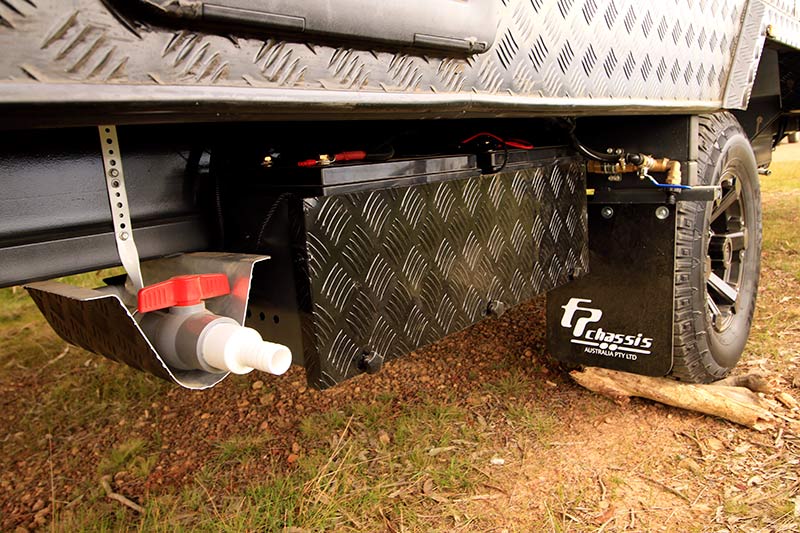 Our H-17 was a 'premium' version of the Hilltop H-17 so if you're on a budget, there's scope to scale it back a little, but in this 'premium' format, it simply has a great deal to offer in terms of long-haul travels around the country. More and more, I'm thinking about the van I'll buy for a big lap, and I reckon this one is now on my list.
THE SCORE
FIT AND FINISH –

LAYOUT –

INNOVATION –

HITS & MISSES