When you've decided to hitch up and hit the road for a Big Lap, there's no better feeling than finally getting into the perfect van for the trip. For Ray Agius and his wife, Natasha, that van was a Hilltop Caravans Macedon – only the second Macedon ever built!
The Macedon is Hilltop's high-end offroader. We were invited inside this attractive caravan for a grand tour during Hilltop Caravan's annual national gathering, held this year at Nagambie Lakes Leisure Park, Vic, in early March. About 85 Hilltops and their owners were in attendance for a weekend of fun and camaraderie. And it was the new Macedon's maiden voyage – Ray and Natasha's excitement was palpable.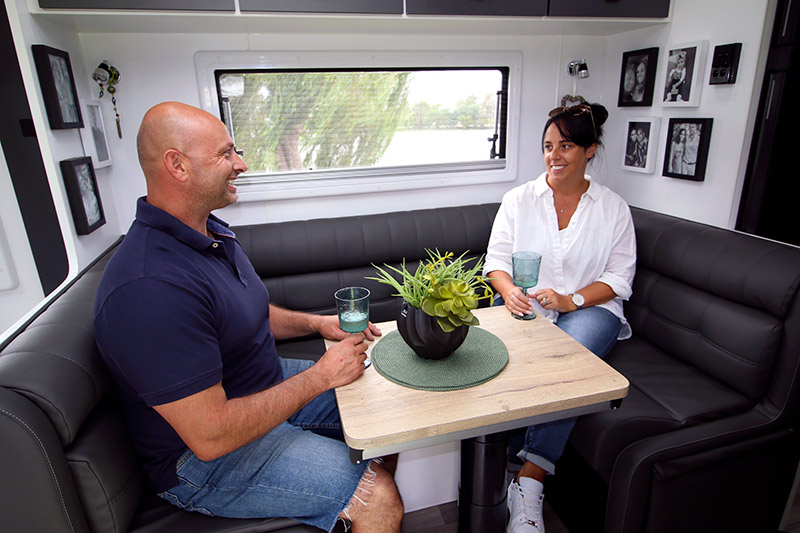 "We saw the Macedon advertised on the Hilltop website and we just knew that it was the van for us," Ray said.
TRUE SELF-SUFFICIENCY
Ray and Natasha previously owned a Hilltop Grampian, which they loved. When choosing their new van, the couple had some overarching stipulations: it had to be fully self-contained and have the ability to go anywhere they wanted, without compromises.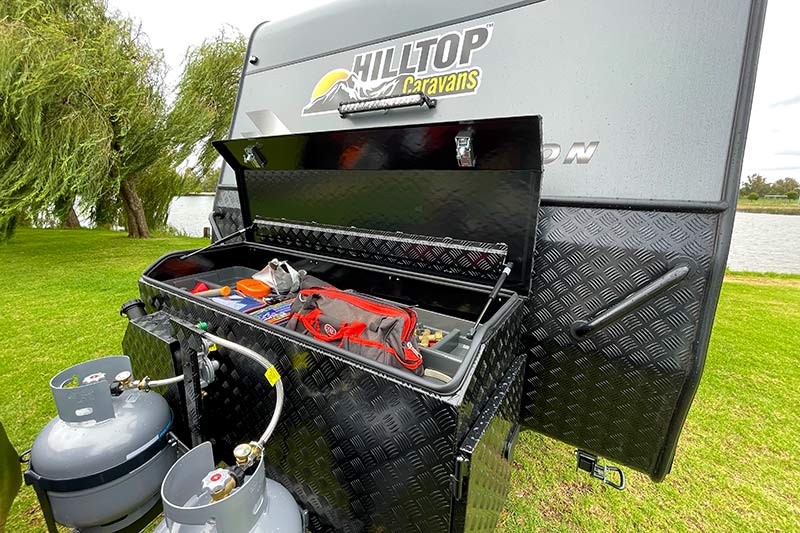 The Hilltop Macedon certainly meets their brief. Built on a 6in chassis, with a 6in drawbar and Cruisemaster XT suspension, it's easy to see this solid van following their 200 Series tow vehicle anywhere it can tow it. It was especially pleasing to see bash plates fitted to the grey water plumbing, the town water inlet, etc.
"We really wanted a van that we knew would be built well, reliable, and able to tackle the harsh Australian extremes," Ray said.
Ray, an electrician by trade, has an occupational focus on automation and robotics, so he was particularly keen to ensure the van had the right 12V system for their needs. It's comprised of 400Ah worth of lithium batteries, an incredible 800W worth of solar on the roof (with an Anderson plug on the offside to allow them to plug in a portable panel), a 50A DC-DC charger, and a 2000W inverter.
"It doesn't matter where I am, I can still run my air-conditioner, my toaster if I want to, the microwave… Anything that's 240V, no problem," Ray said.
And if, for whatever reason, the couple needs a generator back-up, the couple have a Honda 2kVA unit stored in the rear-nearside external compartment.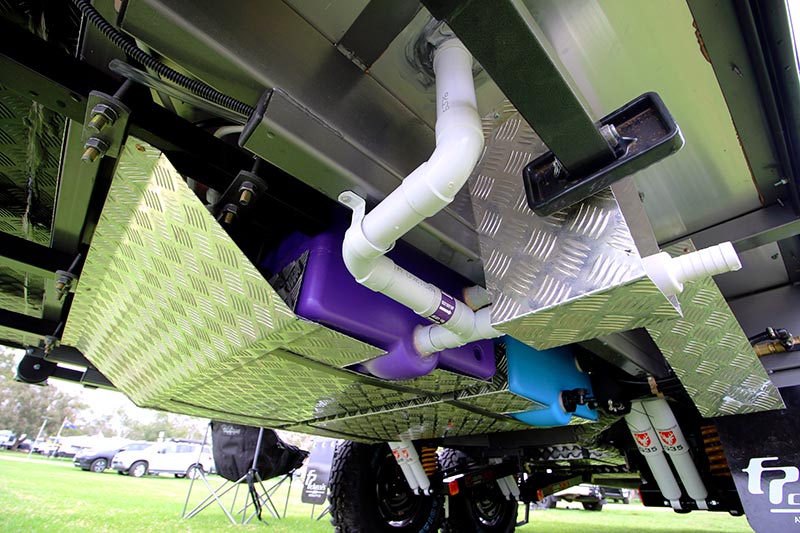 Their water needs are well and truly taken care of thanks to twin 110L water tanks and a separate 65L tank dedicated to drinking water, which is plumbed to the kitchen sink via a filter. There's also a 95L grey water tank.
A large checkerplate storage box has been fitted to the drawbar, behind the gas cylinders and mesh stoneguard. We noticed that Ray and Natasha even had a Bulldog electric jack fitted, which makes hitching an unhitching a breeze.
What would a van such as this be without an external kitchen or barbecue? Ray and Natasha opted for the premium Dometic slide-out kitchen, which will no doubt be put to very good use during their Big Lap.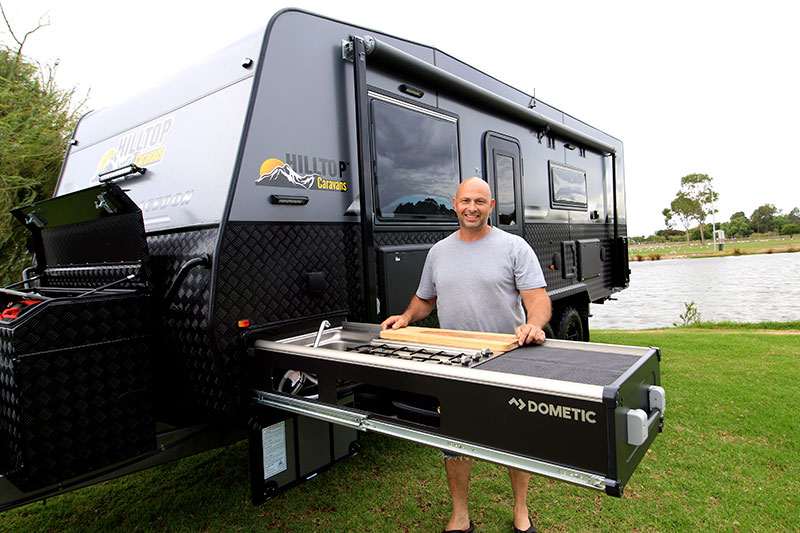 With two fold-down picnic tables, a large awning and awning lights, an external shower, reversing camera and so much more, it's hard to picture the pair as anything but supremely happy and comfortable in the bush or remote outback.
HILLTOP CARAVANS MACEDON: INNER GLOW
The interior of this Hilltop Caravans Macedon has wow factor in spades. The bathroom would have to be among the largest that we have ever seen. With a corner shower, loads of storage space and even a washing machine, the size and functionality of this brilliant bathroom was a genuine selling point for Ray and Natasha.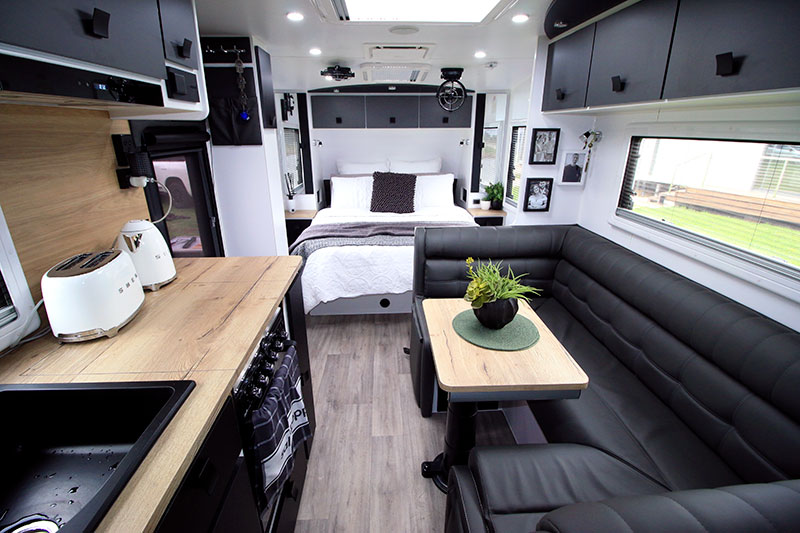 One of the couple's first orders of business upon taking delivery of their van – just in time for the Hilltop national gathering – was to decorate it with framed photos of family, so that no matter where they are in Australia, they have their loved ones with them.
The offside club lounge is another one of this van's highlights. It is simply huge. The kitchen is impressive as well, with a decent amount of bench space (especially with the lid over the cooktop closed), a classy black sink and matching tapware, and even a 220L compressor fridge-freezer.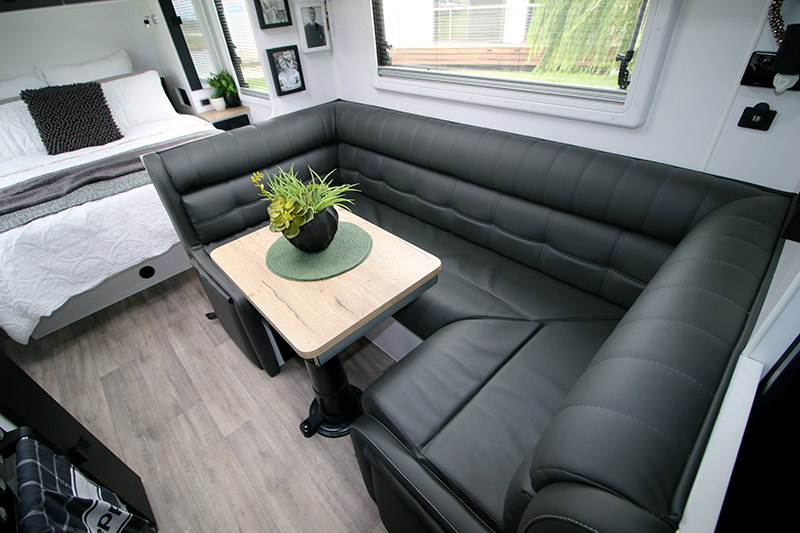 The fact that the Hilltop Caravans Macedon comes standard with a swag of features for comfortable and convenient remote-area touring was yet another selling point – especially the Satking satellite system and VAST box. At the push of a button, the roof-mounted satellite dish will automatically search for the best signal – much easier than lugging a portable dish around.
And then there's the Dometic Dust Reduction System, which should keep the van free of road dust. There's a custom-made 6ft 2in mattress for the bed, Sirocco fans, USB charging points in all the right places, a 28in smart TV, an instant hot water service… the list really does go on. And the choice of colours is impressive as well – the result of Natasha's keen eye for interior decorating.
This Hilltop Caravans Macedon weighs in at 3080kg Tare, with an unladen ball weight of 260kg and an ATM of 3500kg. Ray says it tows like a dream behind their Land Cruiser.
He has nothing but praise for the crew of Hilltop Caravans, too. "They're able to cater for anything you ask – nothing is too hard. They were amazing."