I'd had very little experience with ProRV Caravans when I pulled up to Highway Caravan Centre, a caravan dealership in Victoria's east. I was collecting a new ProRV van, the 21ft 6in Panda. Not knowing what to expect from this van, I remained open-minded as I hitched it up.
ProRV caravans are available in three different package options: Tourer, Bush and Wild. The Tourer pack is the base range of options that gives this van a massive range of upgrades, while the Bush pack, which is what our van had, turns it into a semi-offroader, with upgraded suspension, a DO35 coupling and a grey water tank. The Wild pack, however, turns the van into an impressive free-camping machine, including things like lithium batteries and an inverter.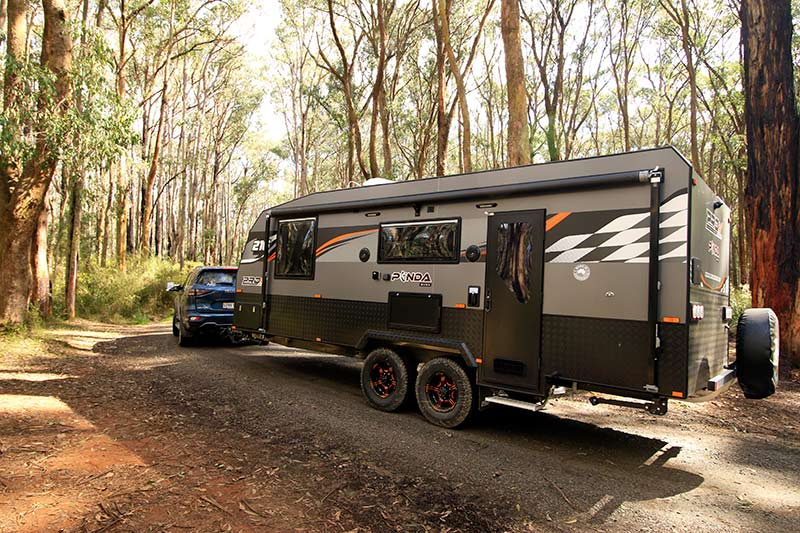 After hitching it up, I hit the road for one of my favourite local free camps… and almost came unstuck along the way.
INSIDE THE PRORV PANDA
Let me clarify: my GPS insisted I turn down a gravel road that twisted its way up and through the Dandenong Ranges. I decided to give it a crack. The narrow road was not caravan-friendly. But as I drove, I couldn't help but admire how well weighted the van was. Sometimes, it's as though the van needs some decent weight in it in order to feel 'settled' on the towbar. Not the case here. As I proceeded along that track, and as the road finally opened up, I noticed that I was receiving very little feedback from the van. No porpoising on the towbar or gentle side-sway. I was off to a very good start.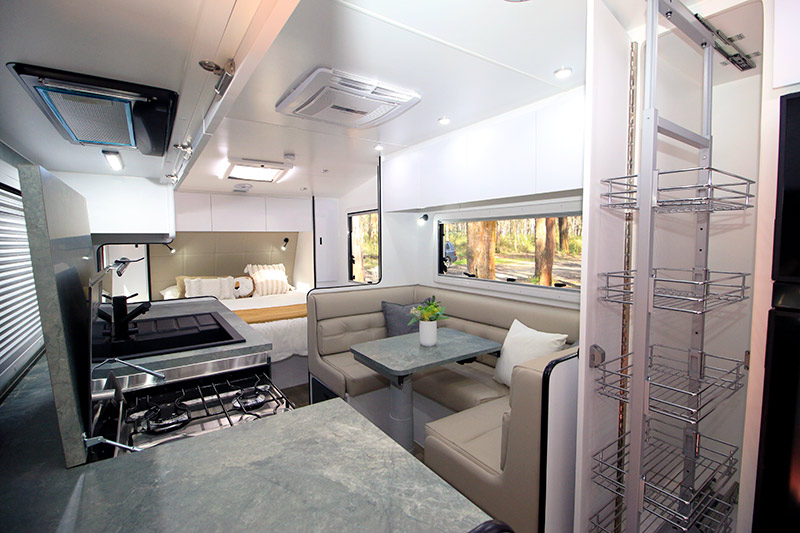 ProRV is big on customisation – any reasonable layout changes can be accommodated. The layout of our review van, however, ticks a lot of boxes. With its forward bed, nearside kitchen, large offside club lounge and rear bathroom, it's a sensible and functional layout for touring couples. The club lounge in particular is a winner in my book. There's loads of room for two people to be comfortable, with enough left over for a third or fourth. And should you need an extra bed, the dinette's table can lower to form the support for an infill cushion. It would better suit a child rather than an adult, though.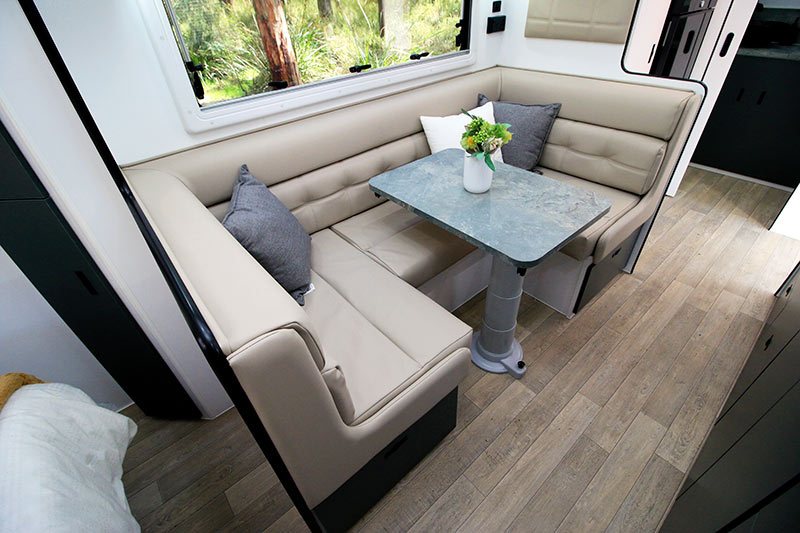 One aspect of the kitchen immediately caught my eye: the position of the microwave. While the vast majority of Australian caravan manufacturers position the microwave in the overhead cabinetry, ProRV has sensibly lowered it by about 300mm. The upshot: it's safer and easier for shorter people to remove hot food, as they probably won't have to stretch or stand on tip-toes. 
Further, the kitchen offers a massive array of storage options, from a large pot drawer to numerous cupboards, overheads and standard drawers. Opposite, between the dinette and the three-way fridge, ProRV has fitted a substantial full-height pantry with extra-wide shelves. It's quite brilliant, but it doesn't slide out very far.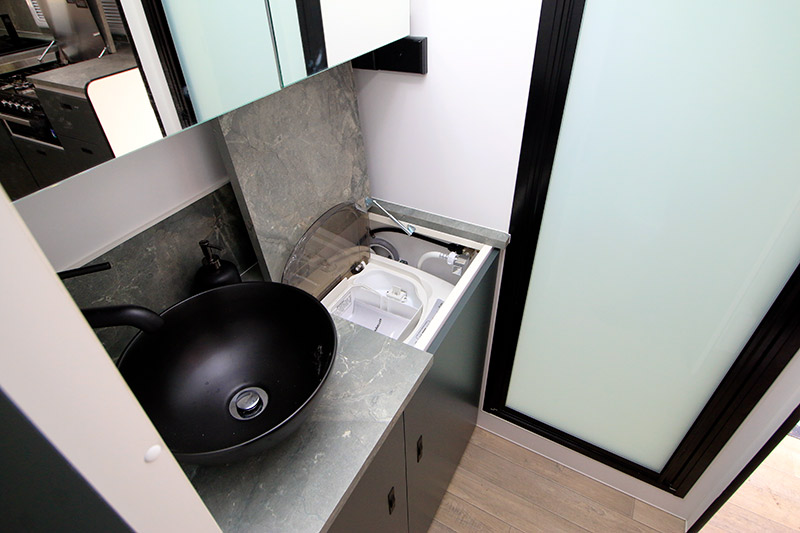 Being a larger caravan, it has no difficulty offering a reasonable amount of bench space, which is further enhanced when the lid over the four-burner cooktop and griller is closed. I liked the black sink and matching tapware – the filtered water tap is a plus.
The 21ft 6in Panda is equipped with a spacious rear bathroom complete with an under-bench washing machine, nearside shower, offside cassette toilet, and an excellent linen storage system.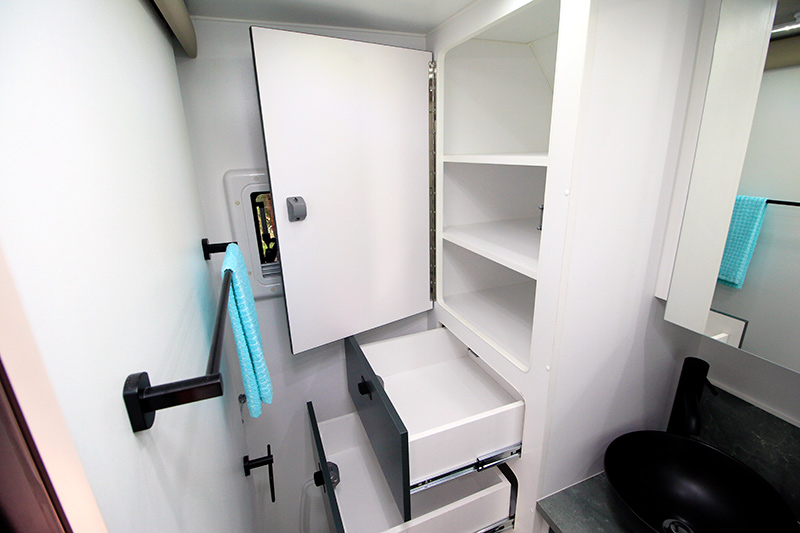 On the technology front, it offers the excellent BMPRO Trek digital control panel, which allows the user to control the lights, water pump, check the battery state of charge and more. There's also a BMPRO battery management system with OdysseyLink, which allows all that information to be sent directly to an app on your phone.
The list of features is quite lengthy, in reality. There's a 24in TV, a sound system, Ibis 4 reverse-cycle air-conditioner, an array of USB charging points, and more, all packaged into a comfortable, aesthetically-pleasing and sensibly designed space.
TIMBER OR ALUMINIUM?
The ProRV Panda is built atop a 4in SupaGal chassis with a 6in A-frame. Because our van had the Bush pack, it rode on 3.3-tonne-rated independent coil suspension with 16in wheels and 12in electric drum brakes. While our van was framed in meranti timber, customers can opt for an aluminium frame. I'm fairly agnostic on this issue – both have their advantages – but it's great to have the choice. The cladding for both types of frames is smooth composite aluminium and checkerplate.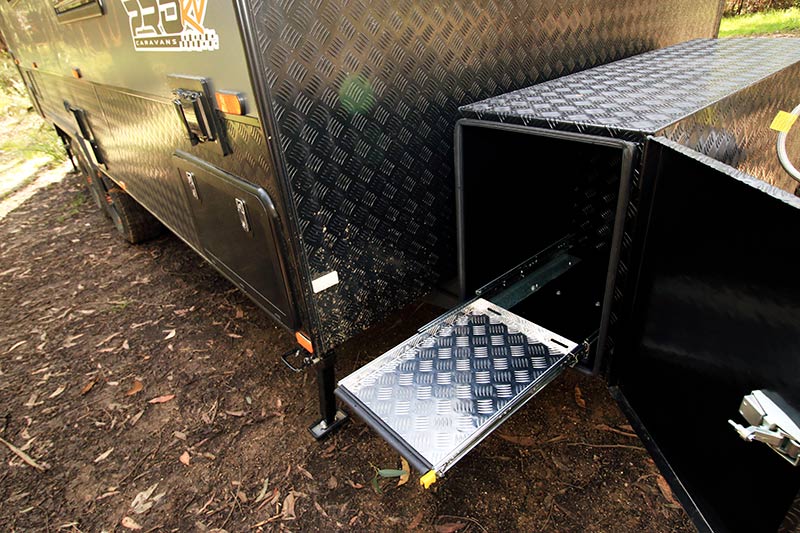 Up front, there's a storage box on the A-frame complete with dual slide-out trays. Two 9kg gas cylinders are fitted in front, and let's not forget the fresh water tap on the offside that's protected by a checker plate stoneguard. It would be great to have a stoneguard on the A-frame, too, but in truth, there's not enough room.
There's more external storage space in the form of a gal-lined tunnel boot, with the break-away module mounted on the offside, and yet more external storage is found at the offside-rear. Storage space really is one of the things this van does well.
A reversing camera and external shower are found at the rear, along with the spare wheel, while the nearside of the van comes complete with a roll-out awning, a couple of speakers, a fold-down picnic table, 12V and 240V points, and a couple of LED awning lights.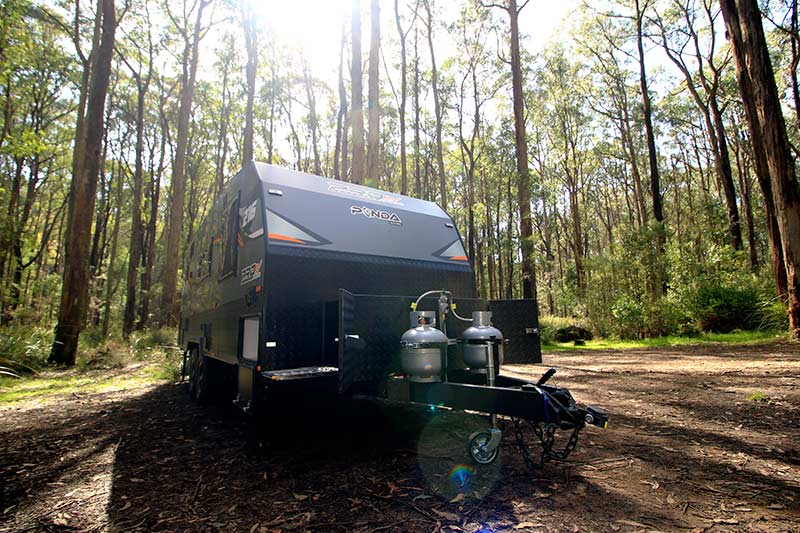 Our Panda weighed in at 2680kg Tare, with an ATM of 3300kg, providing a reasonably payload capacity of 620kg – about what I would expect for a van such as this. The unladen ball weight is 140kg. A side note: the two 95L water tanks are located forward of the axle set, so expect them to contribute somewhat to the ball weight. However, because it's reasonably low to start with, remaining within the 4WD's TBM shouldn't be difficult, especially since any likely tow vehicle would have a TBM of at least 300kg anyway.
GORV'S VERDICT
I'm told that ProRV currently offers an eight to 10-week lead time from ordering to hand-over – a timeframe that's almost unheard of in today's market.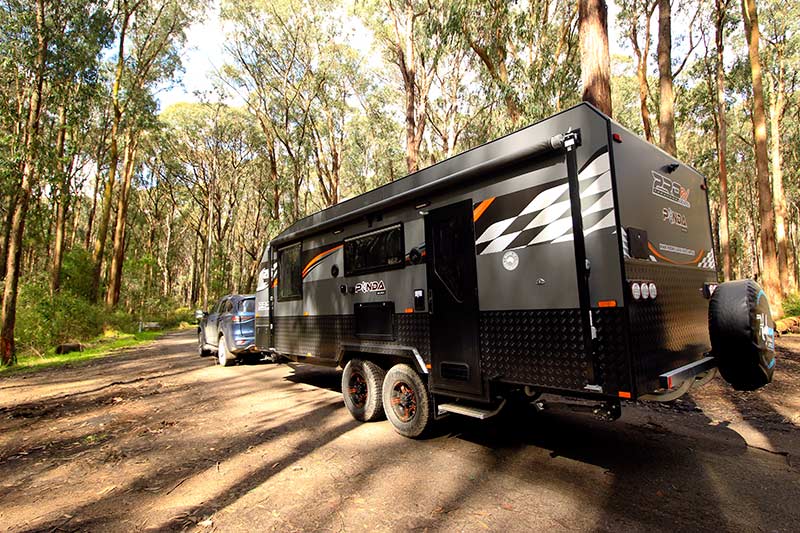 In my experience, the 21ft 6in ProRV Panda offers excellent towing characteristics – it's certainly one of the better-towing caravans I've hitched up in recent memory. While it's built using traditional materials and methods, it offers decent value for money. This is is a good, honest caravan.
THE SCORE
FIT AND FINISH –

LAYOUT –

INNOVATION –

HITS & MISSES