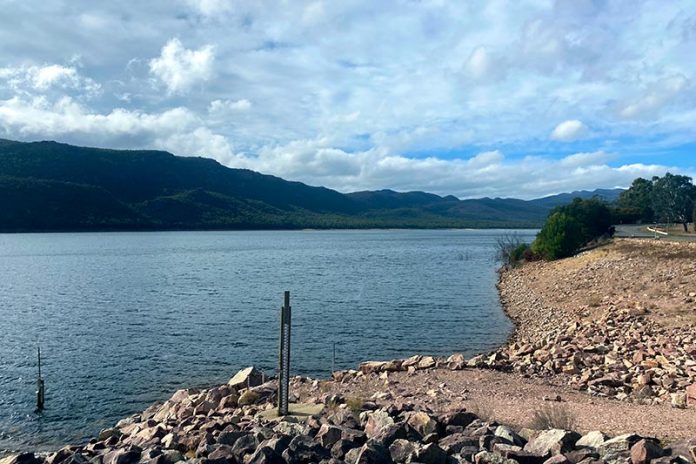 After a few relaxing days at Cape Le Grand National Park, WA, Lionel and I headed for the lovely seaside town of Esperance and the sea was the most beautiful blue. We drove to the top of a lookout with views over the bay – even from my spot in the parking bay the outlook was great. 
We continued along the coast to Albany – another nice town with what Lionel said was a history of whaling. I sat in the car park outside the old whaling station while he went in to see how they caught and slaughtered the whales in the old days. He didn't like what he saw and was in a bad mood for the rest of the day.
After Albany, we headed further west to Denmark. I heard him telling his friend Paul on the phone that the little bakery that made delicious custard tarts had burnt down and he had bought two at a new shop nearby. He told Paul he had eaten his own tart and was about to eat his. I couldn't hear what Paul replied but I've met him since and it seems he was amused. 
Lionel and Paul had done a whirlwind around-Oz trip in 33 days a few years back and were disappointed in Denmark because it was the only day the bakery had not made the custard tarts Lionel had raved about and he had even put them in one of his books!
Did I mention that Lionel talks to me sometimes as we drive along? He's a bit strange because he talks to dogs and other animals we pass by and even asks crows if they are enjoying their breakfast when we come across them eating road kill. He makes sure my wheels don't run over the remains of roos as that would make a smelly mess underneath me. 
He even talks to 'Tom' – his Tom Tom GPS – sometimes! He used to have a girl's voice in there and I once heard him tell her "don't get your knickers in a knot!" when she kept telling him to go a different way. He changed the voice to a man after that.
We saw some lovely sunsets along the WA coast as we headed up to Perth. We also ran into a tremendous rainstorm before we got to our next stop. 
Here's a map of where we have been so far on our journey – we've covered 3879km with lots more to go: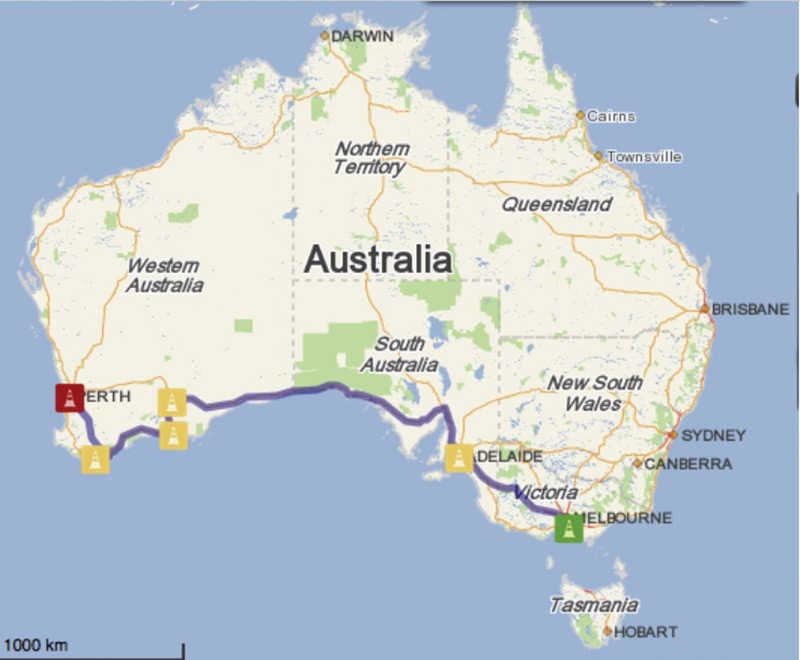 Lionel has Jayne, a sort of niece, in a suburb of Perth, so we had a nice spot in their driveway for a few days. My passenger sliding door lock was playing up from the hundreds of times the ambos had opened and closed it, so Lionel set about finding someone to repair me. 
He managed to find a Swiss mechanic who had worked on Sprinters like me in Europe and he soon had my door working like new with a new lock. 
After that, we had a few days to spare before we were meeting Lionel's daughter Jackie and her partner 'Duck' who had flown to Melbourne for a family funeral.
Lionel decided we should meander up the coast to Geraldton for a few days and we took the new Indian Ocean Drive with its lovely coastal views. 
On our way up the coast we camped at a lovely free area right on the beach and every night saw the sun set over the Indian Ocean. 
We stayed in a caravan park in Geraldton and Lionel was moaning about the poor internet coverage. He had to run a board meeting of the Australian Caravan Club on the computer that night and to try to get a better connection he put his modem up on my roof. Even then it was no good so he abandoned the meeting and went for a walk.
He went to bed and soon afterwards a huge storm broke and rain drummed on my roof. The modem was still up there and of course the water ruined it. Lionel was not pleased.
When we got back to Perth, he went to a Telstra shop to get a new modem but they sold him the wrong one that needed to be connected to what he called a landline. Next morning, he went back to the shop and told the man he needed 3000km of cable to make the modem work from his home in Mornington! They changed it for the right one but it still didn't work – Lionel blamed this fellow Murphy for it – and we had to wait till we got back to Geraldton and another Telstra shop where the technician soon had it working properly. 
We picked up Jackie and Duck from the airport and headed back up the Indian Ocean Drive to a little beachside caravan park where Lionel had booked a cabin for the other two and a spot for me. He'd bought meat and stuff for dinner for them all and when we got settled they went off to the camp kitchen to cook it and eat it there. I found out later that a woman introduced herself to them at the barbie and I heard her and Lionel still talking when he staggered home about midnight.
Next day I heard Lionel telling the others about his evening with 'Ros'. They had drunk a lot of wine and talked until midnight but he couldn't remember anything they had found to talk about!
WALKING IN THE COLD
It was freezing cold one recent Saturday morning and the wind was enough to blow me away, so silly me decided it was the day for walking the length of the Lake Bellfield Dam wall. I had to carry my cap or it would have blown away.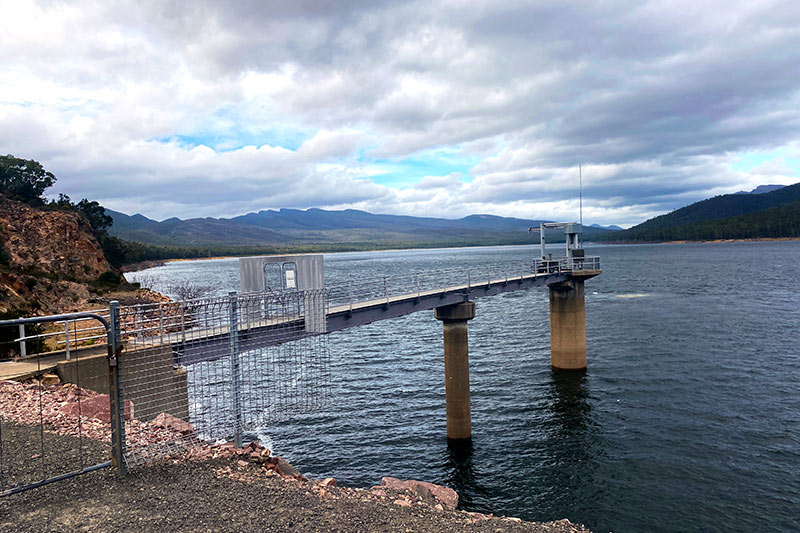 Despite the weather conditions it was a great walk and I was able to get some great photos. 
My phone app showed me that I'd walked 6175 steps for the day – no wonder I was a bit tired!
TWO PLACES AT ONCE
I know it's impossible but I'm really torn between staying at home with my family or heading back up to my winter hideaway in Far North Queensland.
My eldest daughter and her partner have been here since my birthday week in early November. They have been living in their Jayco caravan but sharing my facilities and it's been fantastic having them with me for such a long time. They usually don't stay so long but they have medical problems to sort out before they hit the road again.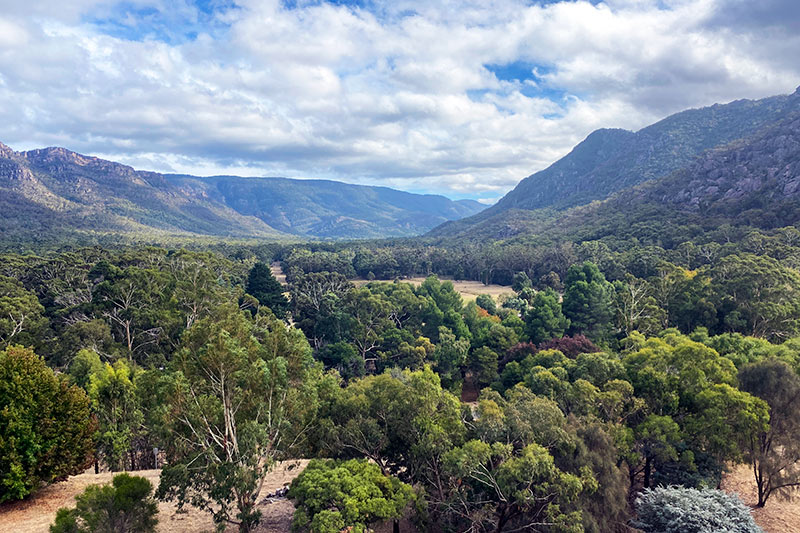 My home is on a separate block on my youngest daughter and her hubby's 20 acres, and their home is just a few metres from me. My dwelling is a 'dependent relative's unit', but in reality my home has two bedrooms, two bathrooms, a combined kitchen and lounge, and my 'office'. I can see the Grampians from my full-length veranda.
My plan is to leave here to attend an ACC Lone Trekkers muster at an ACC farm stay at Beechworth, Vic, just after Easter and then to leave there and head for Queensland by an inland route away from the floods that have been playing havoc nearer the New South Wales and Queensland coastal areas.
APEX 40 TO CELEBRATE 50 YEARS
During May, I'll be flying from Cairns to Darwin to attend a week-long gathering of Apex 40 members – it's been 50 years since we started this group to keep alive the friendships we made as Apexians.
Jetstar has been playing silly with my flight arrangements – take-off from Cairns is now listed as 6am! I've booked a parking spot from the evening before, so if I take Yemmy down to Cairns I can park – and sleep a bit – before  walking across to the terminal in the early hours. Coming back from Darwin, I won't arrive until after 8pm, so I've booked parking for that night as well so I can have a good sleep before driving back up the hill to the Walkamin Caravan Park next morning.