I said last month that I'd still be in Queensland when writing my column for the next issue but I didn't know then that I'd have no choice! When I was shopping last Sunday, Yemmy started making what sounded like an expensive noise somewhere in the drivetrain.
He seems to like riding on tilt trucks – this was his third this year. The RACQ depot, where he's staying at the moment, is too busy to look at him until next Monday, so fingers crossed it's nothing too expensive. In the meantime I'm twiddling my fingers in a nice cabin courtesy of the RACV at the Walkamin Caravan Park, where I have lots of friends who are keen to take me shopping or anywhere else whenever I like.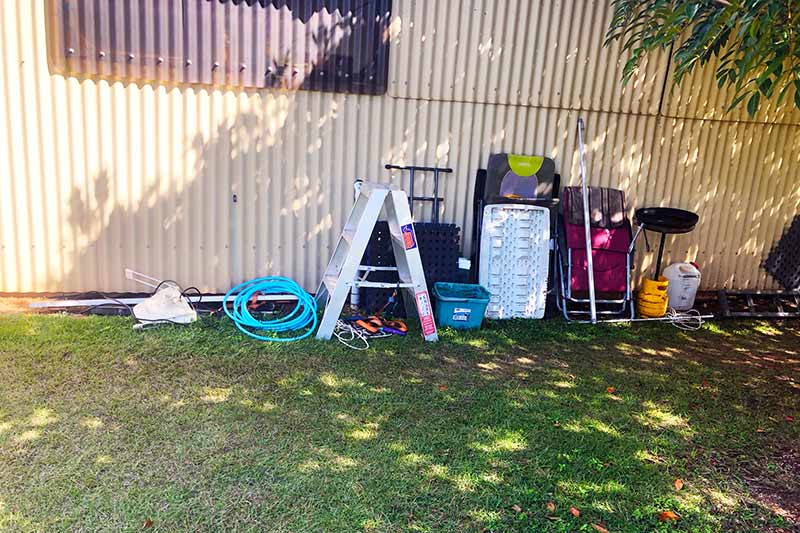 I'd left everything on the ground ready to hook back up after doing the shopping – it looked a bit like a tip but now all that gear is resting against the shed – and it looks like a garage sale.
READER FROM ACROSS THE SEA
I knew I had lots of followers of my daily blog from around Australia but I was pretty chuffed when I received this comment from a Bill Volstead: "Lionel, I just realised you were blogging again. I'm from the USA, specifically Wyoming at this point in time. Love your blog and writing. We have been to Australia before, and love it. Thanks for doing what you do, and even though I don't comment often, please understand that I am a faithful reader. God bless."
By the way, it's at https://lionelmussell1.blogspot.com
A SAD MOBILE PHONE TRAP
I had a call on my mobile the other morning that shows the danger of assuming it's the incoming call's owner who's ringing! The call said 'Ray'. I cheerfully answered, "G'day Ray, how ya goin'?"
The voice on the other end paused a moment and then said, "It's not Ray, it's his son. Ray passed away this morning."
I didn't even know he was ill – I'd spoken to him a few weeks ago and he was fine. He was a long-time friend and fellow musician and it's hard to realise he won't be there any more.
And another sad message came from New Zealand recently. The very first tagalong tour of the Australian Cara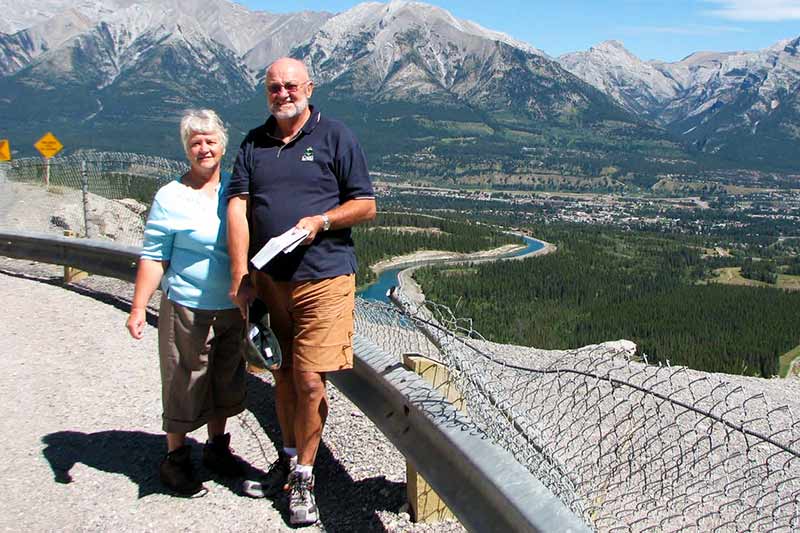 van Club was organised by John and Brenda Somerville of the Sunshine Nomads branch and I was privileged to take part, though I was not a member of their branch. They were Kiwis but had come to the Sunshine Coast to live some years previously.
The tour took in much of western Queensland and was the first of many organised by John and Brenda and I was on most of them, including a memorable tagalong of New Zealand's North Island. Being Kiwis they knew the best places to stay – we hired 18 motorhomes for the 17 couples and me!
The couple moved back to New Zealand a couple of years ago to be nearer to their family, including grandchildren, and it came as a shock three weeks ago when John emailed to say Brenda was ill with a malignant liver cancer. Two weeks later, she had gone.
Keen RVers, John and Brenda had bought a motorhome and joined a New Zealand RV club. Brenda will be missed by her family and many friends – it was a privilege to have known her.
THOSE TASSIES ARE EVERYWHERE
Sitting at happy hour recently, Christine, the lady opposite, said, "You look familiar."
It was no wonder because they are members of the Australian Caravan Club's Tassie Travellers Branch and I visited their fifth anniversary muster a couple of months ago and helped cut the lovely birthday cake!
Since Yemmy's been indisposed, Brian and Christine have run a great taxi service for me. We also met up with two other ACC Tassie Traveller couples for coffee at the Mareeba Visitors Centre and spent a great couple of hours reminiscing and swapping travelling yarns.
IS THIS THE ULTIMATE RV?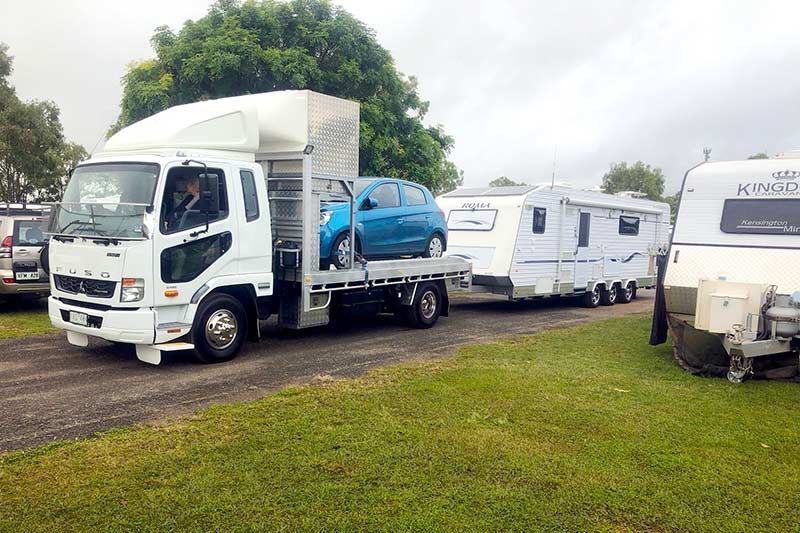 The story is on this website, but I thought I'd show you a picture of the outfit I wrote up recently. A tri-axle Roma van, a Fuso truck as the tug and a Mitsubishi Mirage on the tray of the truck, plus everything you could think of for luxury full time travelling.
THE WALKAMIN SPELL
The two readers rigs I wrote up here at Walkamin last year are back again this year. Looking around the tables at happy hour, I saw many familiar faces from other years, with new people who had dropped in for a night or two.
Although it's all over for another year, I must mention the State of Origin – they put up maroon and blue flags and wear the appropriate colour shirts and have a hilarious evening in the shed.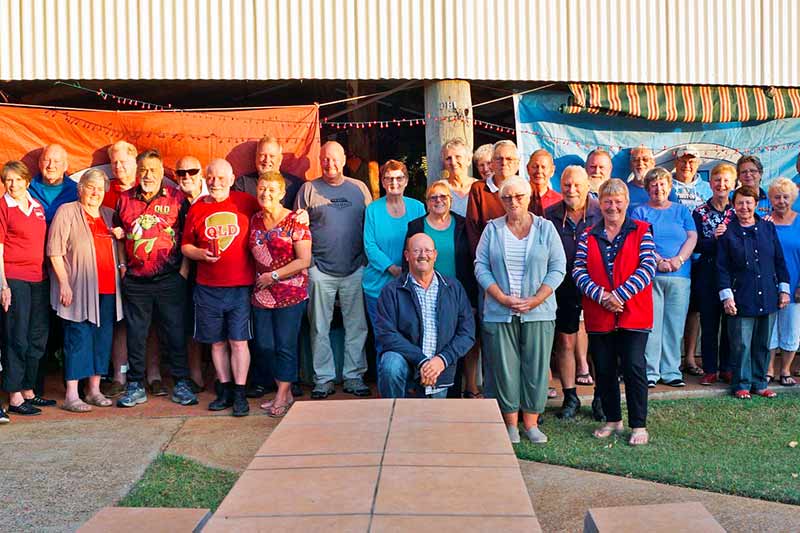 This year for the final game they took a picture of every one – moroons to the left, blues to the right, and those like me who don't care a scrap one way or another in the middle. My Tassie friend, Christine, took the shot – she managed to get in the picture herself (second from the right).
The office manager at one of my first jobs in Australia asked me what team I barracked for. "What's 'barrack'?" I asked. "What football team do you follow?"
When I told her I didn't follow any team, she said, "Oh you will have to – nobody will talk to you in Australia if you don't follow football!"
Now, 59 years later I still don't follow any football code and people still talk to me!
A BIT OF AMERICA COMES TO QUEENSLAND
The last place you would expect an authentic American diner is at Conway Beach Tourist Park, but believe it or not Georges Diner is just that!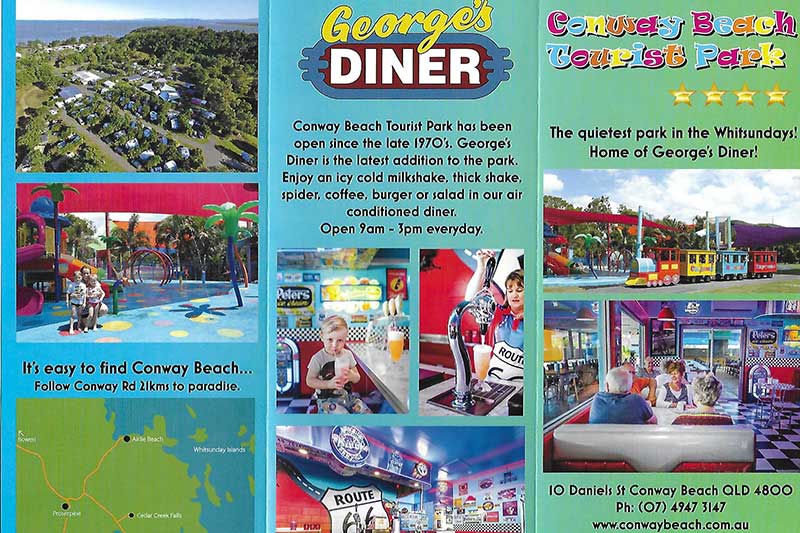 Here's the brochure telling it as it is!
KEEPING FIT – OR TRYING TO!
I'm a type 2 diabetic and since my three-monthly blood glucose readings were getting far too high, I've put myself on a fitness regime that includes eating less carbohydrates, drinking less alcohol and walking a minimum of 3000 steps every day – at at least most days.
It's had a great effect. From a glucose reading of 8.6, it was down to 6.8 last time it was checked and I'm sure it's down even more now. In case you are wondering, I don't do the daily finger pricking – I hate it and instead rely on blood tests. My average daily steps so far for July is 3,211 and distance walked is an average of 2.3km a day.
See you down the track.