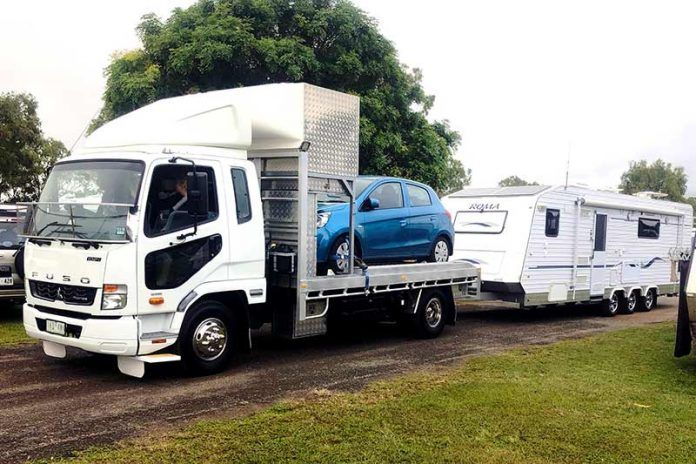 It's not often that you come across a rig that ticks all the boxes but Russell and Valerie Balfour have an outfit that would be the envy of any full-timing RVer.
Their tri-axle Roma caravan, Fuso truck tug and Mitsubishi run-around is as near perfect as they can get it, though it took seven years to get it exactly right.
With two slide-outs and lots of space, it's hard to believe you are in a caravan when you look from end to end inside. Sitting at the table in one of the comfortable swivel chairs, one of the two tellies is right there for relaxed watching. Another telly is placed just right for watching from bed. Of course, with the bed-head being in one of the slide-outs, there's plenty of distance from the TV to bed!
ULTIMATE CARAVAN?
Besides a cooktop, the Roma has a microwave and an electric oven. There's heaps of bench space, making the kitchen a cook's delight. Except, they rarely cook in the van as there's an external kitchen and sink, and a Weber Baby Q!
There's plenty of refrigeration. The main fridge is 225L, augmented by a 65L Waco, a 40L Engel, and a 40L Evakool.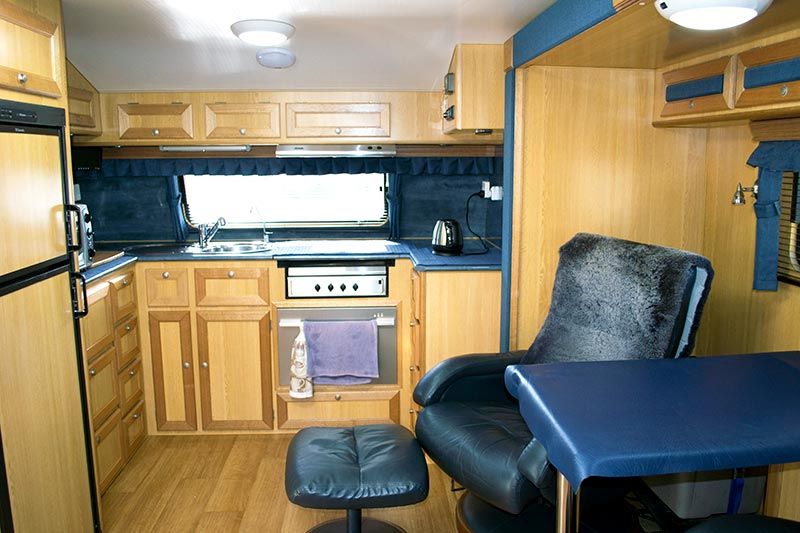 To keeps the electrics running there are 600W worth of solar panels on the roof and a 160W loose panel as well. In case it's overcast, the solar is supplemented by two Honda generators – one is for the air-conditioning, and the extra one is for an on-board welder, etc. There are two washing machines and a dishwasher as well.
They have a diesel heater to keep warm on chilly nights, and they say it's one of the best things they have fitted.
SUSPENSION AND COSTS
The van rides an leaf springs and the tyres are constantly overseen by a tyre pressure monitor. All up, the outfit checks in at 11 tonnes loaded for the road.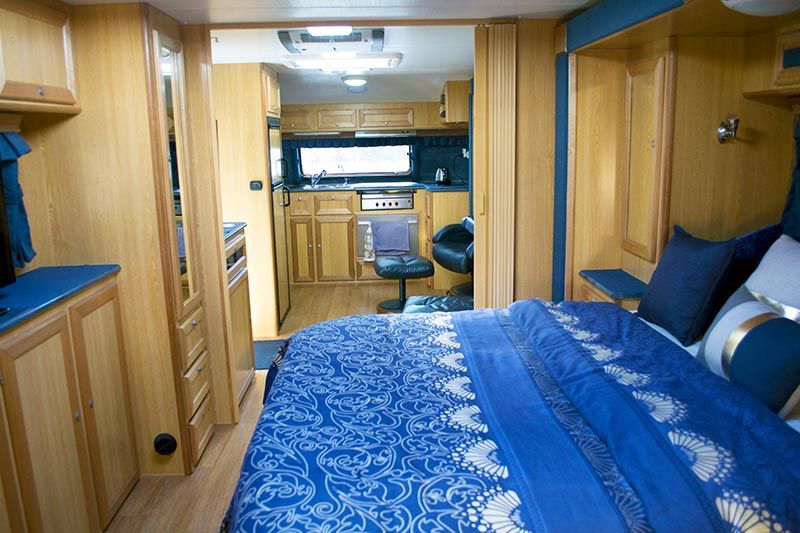 The costs come out around $135,000 for the van, $108,000 for the truck and $11,000 for the little Mitsubishi, for a total of about $254,000.
LOTS OF EXPERIENCE
The Balfours have had plenty of RVing experience, having had a motorhome, a fifth wheeler and caravans before settling on their current outfit.
Russell used this experience and his trade as a plumber to design the Roma van. The little Mitsubishi Mirage rides on the truck tray and the bonnet fits under the huge storage bin that they restock when they are travelling down south where there are Aldi stores.
Nowadays, the Balfours have no fixed address, but they did spend four years on Bribie Island, Qld. While in Brisbane, Russell plied his plumbing trade as Valerie worked as a personal assistant to the chancellor of the Queensland University of Technology.
VOLUNTARY WORK
I met Russell while staying at the lovely Walkamin Caravan Park on the Atherton Tableland and my motorhome had been leaking gas. Russell re-did the joints of the new regulator I'd installed – I'd used the wrong sealing tape and besides that, the job called for a licensed person to install it. When I thanked him he said, "Oh, it was only a five-minute job."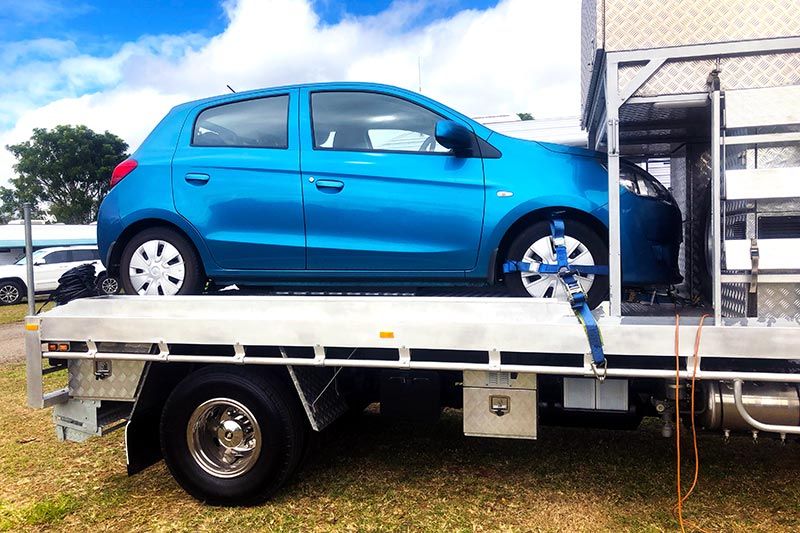 Five minutes for him, maybe, but a lot more for me! He's happy to do little plumbing jobs for RVers he meets along the way. "It gives me something to do," he said.
As I left to return to Yemmy, Russell was plugging a long air line into the truck's compressed air tank. " I've got 20 tyre pressures to check," he said.
Good luck with that, I thought. My seven are quite enough!