A towed caravan has to be heavier at its front than at its rear. If it is not, it will sway strongly, particularly if towed by a vehicle that is lighter. And as many dash-cam videos show, may even jack-knife if that occurs at high speed. But how does a weight distribution hitch come into play?
To limit swaying, most locally made caravans require about 10% of their laden weight to be carried by the rear of the tow vehicle. Short and compact units (such as camper trailers) cope with less: anywhere from about 5% to 15% is fine. UK/EU imports have about 5%, but 6-7% is preferable in Australia as they are towed faster than the UK/EU's mainly 80 km/h limit.
Conventional caravans are towed via a hitch typically 1.2 to 1.5 metres behind a tow vehicle's rear axle. That, as does a heavy person on one end of a see-saw cause a lighter person on the other end to rise, pushes down the rear of that tow vehicle and causes its front to rise. This reduces the weight on its front tyres and prejudices its handling. 
WEIGHT DISTRIBUTION HITCH
This initially became an issue in the USA decades ago. There, increasingly long and heavy caravans proved increasingly dangerous to tow even by the more massive of their passenger vehicles. The solution was to insert a semi-flexible sprung beam between the caravan and tow vehicle. Called a weight distributing hitch, it levered up the rear of that tow vehicle, and levered down the front of that vehicle, in effect lessening some of that tow ball weight on the tow vehicle's rear tyres to restore that on its front tyres. A smaller amount was also transferred to the caravan's tyres.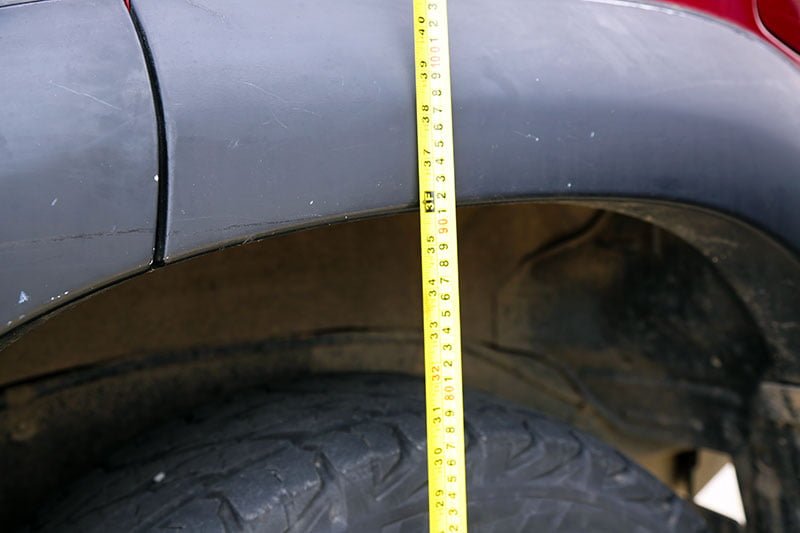 At first, this seemed a win-win solution and was rapidly adopted. Later, as some Australian-made caravans too became obese (yet towed by vehicles that were not), the now-called weight distribution hitches (WDH) began to be used here. Now many caravans over about 2000 kg use them.
A WDH has, however, can have an undesirable effect: while it wholly or partly counteracts that tow ball weight, it cannot counteract the sometimes-massive side forces imposed on the rear of the tow vehicle when a conventional caravan yaws (snakes). Worse, as the WDH transfers the effect of that tow ball weight from the tow vehicle's rear tyres, it reduces their 'cornering power' (by a typical 25%). This is rarely an issue in normal driving, but it may become an issue unexpectedly in an emergency swerve, and/or by side wind forces from closely passing trucks.
LIGHT VEHICLE, HEAVY VAN
A weight distribution hitch imposes a devil-and-deep-blue-sea situation. Heavy caravans towed by a vehicle that is lighter need a WDH as that tow vehicle cannot otherwise cope. But if a WDH is used, that vehicle cannot corner as effectively as before. 
The above was realised by US engineer Richard Klein in the 1970s but his work was only taken seriously a decade or so ago. It has since become a major part of the US J2807 Recommendations for Towed Vehicles and now accepted by all US and most of Japan's vehicle makers.
Also in the USA, a WDH manufacturer realised the implications some years ago. Its chief engineer advised all users to adjust the hitches to restore only 50% of that 'lost' weight from the front of the vehicle, not 100% as previously advised. Any WDH usage inherently reduces cornering power but restricting the effect of weight distribution to 50% lessens that undesirable effect.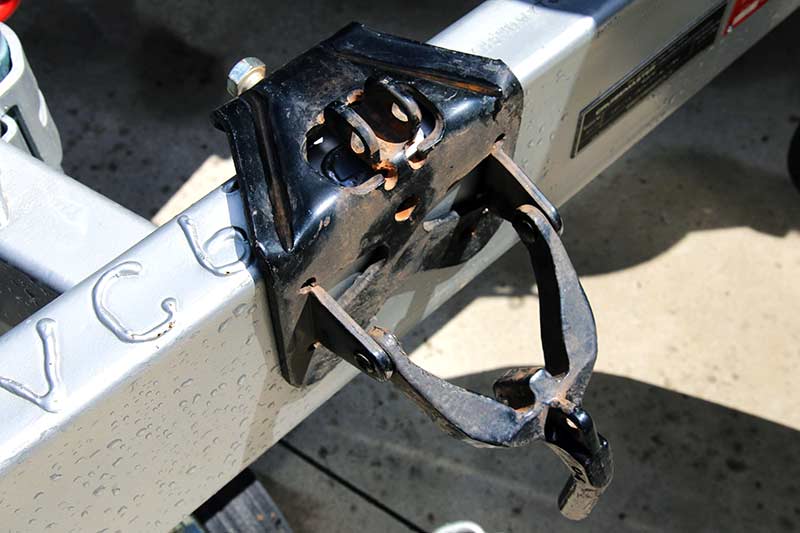 In essence, the laws of physics are absolute. But owners can reduce the risks in various ways. The major one is never to speed, particularly on motorways. Do not locate anything heavy at the extreme rear of the caravan, including toolboxes, fuel cans and bicycles.
Of truly major importance is to use a tow hitch with the shortest possible overhang: stability is far more important than perceived ease of coupling and uncoupling.
TYRE PRESSURES
Never increase tow vehicle front tyre pressures for towing. Ideally, reduce it by about 3-5 psi (20-35kPa). Tow vehicle rear tyre pressure needs to be about 5-7 psi (35-50 kPa) higher when towing for most tow vehicles if tow ball mass exceeds 200 kg. It can be proportionally lower for tow ball mass below that, but some adjustment is advisable — exactness is not critical. In essence, one is adjusting the pressures to reflect the weight carried when towing. Doing so restores its non-towing behaviour.
Except for light camper trailers, do not even think of exceeding 100 km/h (and this article does not imply even that speed is safe for all caravans). Be ultra careful of a few recently made (heavy) caravans that rely on full water tanks for their tow ball weight. One has a barely credible 2.5% if they are not full.
It is quite possible that a fundamentally unbalanced rig will appear fine as it is rare to encounter the forces that cause a jack-knife. However, some demonstrably do. The risk is very much related to speed. The heavier the caravan and lighter the tow vehicle, the lower the speed at which a jack-knife is likely. 
If your caravan is heavier than your tow vehicle, in my opinion it would not be wise to rely on a weight distribution hitch for towing stability. The only ethical advice is to either buy a heavier tow vehicle or lighter caravan, as adding a WDH fixes one problem but introduces others. The rig may well feel more stable but its ultimate cornering power is inherently reduced.
If stability remains a concern, consider purchasing a fifth wheeler. Because their point of attachment is directly (or almost directly) above the rear axle(s) of the tow vehicle, they are inherently more stable than a caravan because if either the tow vehicle or fifth wheeler sways slightly, it does not in any way affect the other.
Collyn Rivers worked for some years for Vauxhall Bedford's Chaul End Research Lab where he designed and built a wide range of testing equipment in the vehicle stability area and he has kept abreast of this topic ever since. Visit http://vauxpedianet.uk2sitebuilder.com/vauxhall—chaul-end-engineering-research-test-centre for more information.
He, together with Andrew Woodmansey (author of the Caravan Buyers Guide) are about to launch a new book (and website) that covers all this and a great deal more in truly plain English.