It's compact. It sleeps four people. It's an offroader that won't break the bank. It's the new Parkes 15 by EzyTrail.
EzyTrail was established 11 years ago with a focus on camper trailers but about 12 months ago, it branched into hybrids with the launch of the Parkes 13, which according to EzyTrail's group general manager, Dean Porter, has proven to be a serious winner for the company. And the Parkes 15, officially launched at 2017 Melbourne Leisurefest, is now also making waves – EzyTrail sold 20 of them sight-unseen, with the buyers relying only on photos and website promotional material.
The Parkes 15 is so new, in fact, that it is just being rolled out to dealers as I type. "Once it hits the showrooms, the Parkes 15 could well surpass the 13 in popularity," Dean said.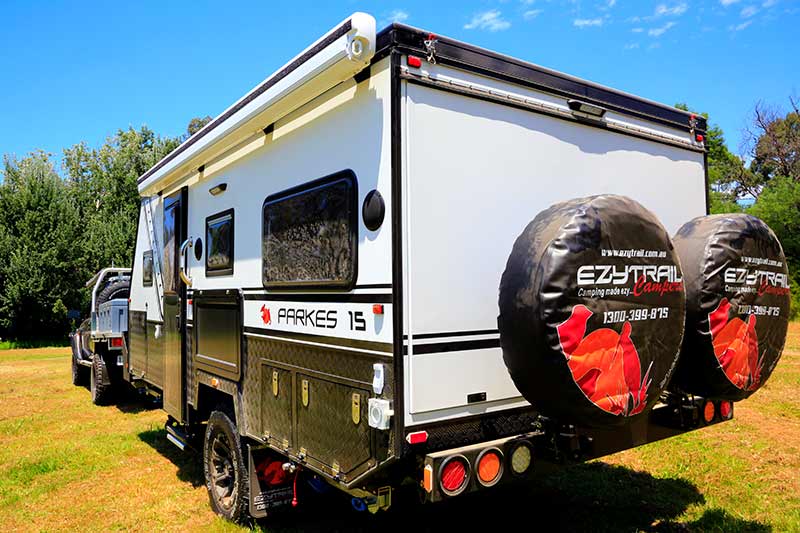 Now, EzyTrail vans are built in China. It's a fact the company promotes. Dean told GoRV that EzyTrail was the "first camper company to actively inform consumers that we are an imported brand from China".
EzyTrail was also the first importer of China-built campers to be accepted into the Caravan Industry Association of Victoria as members, on the basis that the company carries out a certain amount of its manufacturing in Australia and has a commitment to local jobs.
Nonetheless, its CIAV membership is something EzyTrail is "quite proud of", Dean said.
"Our products are engineered in Australia for offroad use. We collaborate with our Chinese supplier and develop CAD drawings that are tested in Australia by an Australian engineering firm to ensure our chassis and drawbar are ADE-compliant for offroad use."
EASY EZYTRAIL
Admittedly, the Parkes 15 isn't the lightest rig in the free camp. It weighs in, unladen, at 2400kg and has a 600kg payload capacity. This means there's plenty of scope to pack a lot of gear for extended trips into the bush.
With its price tag of circa $45,000, the Parkes 15 is a relatively affordable offroad family van. Sure, it takes a little setting up but, to my mind, it's a five-minute exercise that one person can do while the other wrangles the kids. It's simply a matter of opening up the expandable rear section (which fits the main bed) by lowering the rear bumper (fitted with two spare tyres), lifting the lid, fitting the two side panels that swing out from within, and lifting the rear wall panel into position. Everything locks neatly into place with over-centre catches and sliding bolts. If it sounds challenging, rest assured it isn't. The roof simply pops up from the inside.
The Parkes 15 has an aluminium frame clad with smooth composite aluminium panels and I didn't spot any ripples or imperfections. Naturally, there's a decent waist of checkerplate along the sides and front.
Underneath, you'll find two stainless steel water tanks, one forward of the suspension and one to the rear, both protected by sheets of checkerplate. The gas bayonet is, perhaps, a little vulnerable but for the most part, the underside of the Parkes 15 is well presented.
On the drawbar, you'll find a 3.5-tonne McHitch offroad coupling, a large storage box and gas cylinders either side, each protected by a large stoneguard.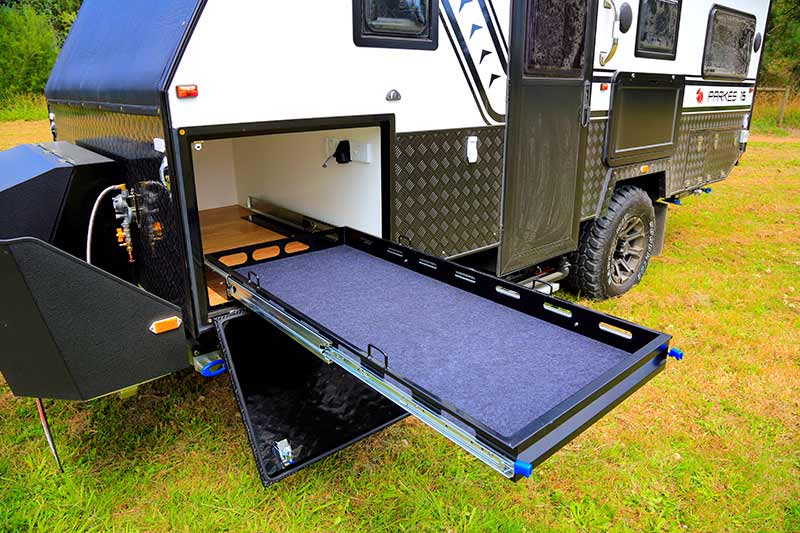 The van is all about outdoor living. In fact, there's no internal fridge or kitchen on the Parks 15 (though there is a small sink inside). This means you'll need to factor in a portable fridge for the front-nearside slide-out tray – the tray is designed to accomodate the 95L CFX (not included) but obviously fridges of similar sizes will fit too. Thankfully, a 12V point to power the fridge hasn't been forgotten.
The slide-out kitchen, fitted at the back of the van, is the real deal. It includes wind-deflectors for the four-burner cooktop, hot and cold water for the sink, a work light, a flip-up rack, slide-out cutlery draw, a slide-out bench, and some storage nooks.
There's a smaller slide-out tray, just in front of the kitchen, that could house a 2kVA generator or perhaps a secondary (smaller) fridge packed with that night's steaks and a sneaky beer or two.
FOUR-BERTH FITOUT
"As a family hybrid, people are loving the Parkes 15," Dean Porter said. "This is mainly due to the fact that the bunks are up the front, as this gives you liveable space even though the bunks remain set-up."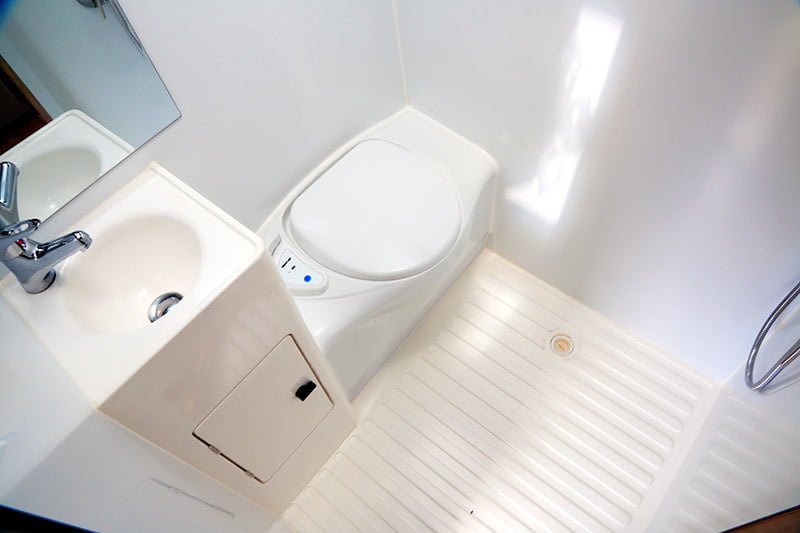 This van's biggest trick, I believe, is the fact it incorporates a sizeable bathroom into modest dimensions, along with those front bunks and the rear queen-size bed. And it does it all without feeling particularly cramped.
But every layout involves a compromise. For the Parkes 15, that comprise is the lack of an internal kitchen and fridge; however, a sink is fitted to the offside, between a full-height wardrobe and the bathroom. Does the fact you will always be cooking outside let the van down? Not really, especially considering the trade-off is a large bathroom.
And here's a scoop: a Parkes 18 is on its way. It has a similar layout to the 15 but incorporates an internal kitchen (in addition the external kitchen) and even a club lounge.
The main bed fills the entire width of the van. The mattress folds forward when the rear expandable section is closed, and you'll need to lift it right up and out of the way to access the three AGM batteries, 1.5kW inverter and 20A charger. It's an awkward process but, thankfully, these are low-service items so you won't be doing it too often.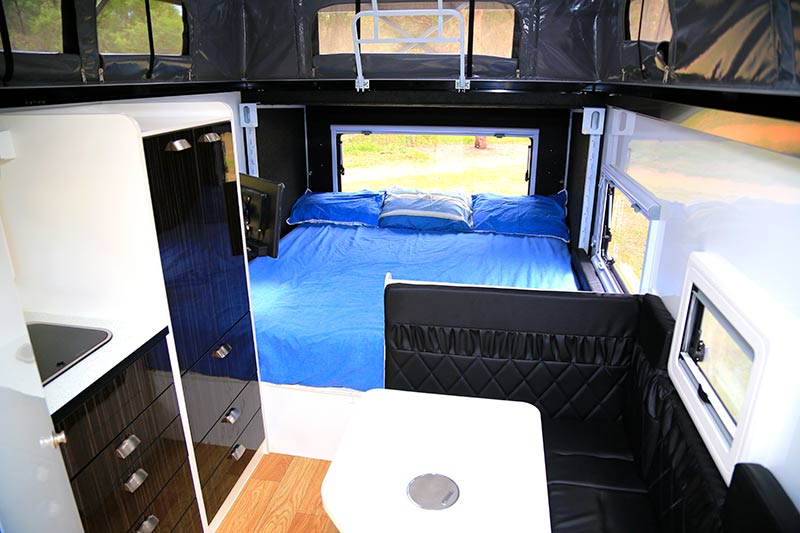 When it's time to kick back, there's a 19in high-definition TV mounted on a swivel-arm so it can be watched from the bed or the dinette. The van is also fitted with a CD/DVD/USB player linked to four speakers.
The bathroom includes a bench-style cassette toilet, a separate washbasin and hand-held shower. In short, there's plenty of room to do your thing. I did, however, think the joins of the bathroom walls could be a little tighter, although everything looked adequately sealed with silicone.
Beneath the lower bunk, next to a couple of drawers, is a locker containing a panel controlling power to the dual onboard water pumps, lights and the fridge. There's also a master power switch and dual water gauges. If that sounds like a mess, think again. The panel is aesthetically interesting, with a somehow retro look.
In short: the interior of the Parkes 15 has swags of family appeal. With a decent spread of 12V sockets, two bunks, a queen-size bed, a sink, dinette and that big bathroom, there's little to complain about.
GORV'S VERDICT
The Parkes 15, at $44,990 (plus on-road costs), seems like good value, especially when you consider it also comes with a 4.58×2.47×2.79m (LxWxH) annexe.
You would probably want to option in some solar and, if you haven't already got one, you'll need a fridge too. But overall, it's an attractive package that would suit a family of four.
THE SCORE
FIT AND FINISH –

LAYOUT –

INNOVATION –

HITS & MISSES