We were on the road quite early in the morning but then Murphy took a hand and made me lose all the air in one of my tyres. I'm a bit heavy and they couldn't prevent the jack they were using from sinking into the ground.
Lionel was pleased his friend Duck was there to help him because my spare wheel lives under the floor at the back and is very heavy to lift. 
When we got to the caravan park in Geraldton, Jackie and Duck soon had their Toyota and camper trailer organised and we went into town to get a new tyre for me and to get Lionel's modem connected.
Next morning, we headed north and for the next few nights camped together at lovely campsites along the coast. 
Some nights we had a fire and Duck cooked them dinner on their little Hot Ozy Barby – Lionel has one of those as well. All I need is a tank of diesel from time to time.
Near the blowholes at Quobba we found the campsite was chokka with vans and tents crowded together all along the coast side of the road. We were lucky because the caretaker let us stay at the spacious turnaround area at the end of the road because we only wanted to stay one night. We had the best spot and great views.
Next day, we stayed at a camping area alongside a lovely river quite a way from the Monkey Mia dolphin viewing area. 
Lionel had seen the dolphins at Monkey Mia some years before but he took Jackie and Duck to the beach where they come in each day to mix with tourists – and get a feed of fish supplied by the rangers. 
I don't know how he saw to drive as my lights could hardly penetrate the thick fog.
It was fun camping with the others and at one camp they lit a lovely fire and sat around it yarning.
Lionel and Duck had fun at one lovely campsite overlooking the ocean. The gas stove in the camper trailer stopped working and they had to get out and under to look for a problem with a gas line. They had already walked a long way up the beach and back to pay the caretaker for the campsite and Lionel was not amused when she arrived on a quad bike and arrogantly demanded that Lionel put a sticker on me immediately!
We passed by the road sign to Marble Bar – the town that holds the record for being the hottest place in Australia but didn't bother going in. 
At one place where we stayed, a farm, there was a group of people towing caravans behind their Chamberlain tractors and Lionel took the opportunity to write a story about them.
All too soon we arrived in Port Hedland and for the first time booked into a very busy caravan park where Jackie and Duck managed to get work, Jackie as a cleaner and Duck as a gardener/maintenance man. 
We had been together all the way up the coast and it had been great but, after a few days at Port Hedland, it was time for us to continue our round-Australia trip. 
HEADING FOR MY WINTER HIDEAWAY
I think everybody knows that I head for the caravan park at Walkamin in far north Queensland for the winter, but this year I started my trip by attending an Australian Caravan Club Lone Trekkers Muster at a farm stay at Beechworth in northern Victoria.
It was a perfect camping location with green grass and a lovely view. Our hosts were the best – Alan and Vicki went out of their way to make our stay enjoyable.
Unfortunately, for a number of reasons our original numbers dropped out so that my friend, Michael, and I were the only two members there but we still had a great time.
Besides exploration of the local coffee and pie shops and taking our hosts to dinner at a nice hotel one night, we explored the area, including a rough bush track up to the top of a hill overlooking a fantastic view. Michael proved his four-wheel driving skills to negotiate some very rocky climbs. Fortunately, his vehicle has plates underneath for protection.
DATSUN HIGHLIGHT
We were lucky to attend a rally of Datsun cars in Beechworth on Anzac Day and I drooled over a sports model!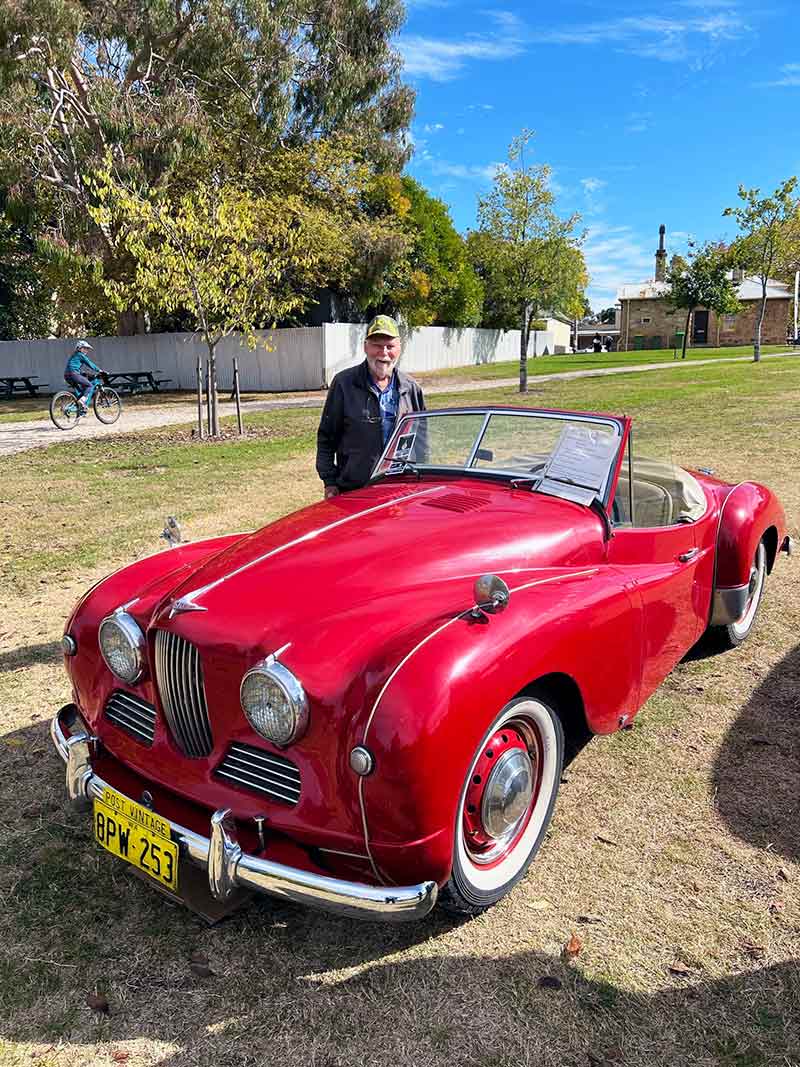 Another highlight was a guided walking tour of the historical parts of Beechworth.
I left Beechworth on the Tuesday morning and headed north – the first night  was one of my favourite stops, the Peak Hill Caravan Park, which is run nowadays by the previous owner's daughter and son-in-law. The Chinese food at the RSL is just as good as I remembered it but it was a shame to see so many closed shops.
The Charleville Bush Caravan Park is one of my  favourites. I've written about it before but it's a great place and they light a big campfire each night and everyone sits around and chats.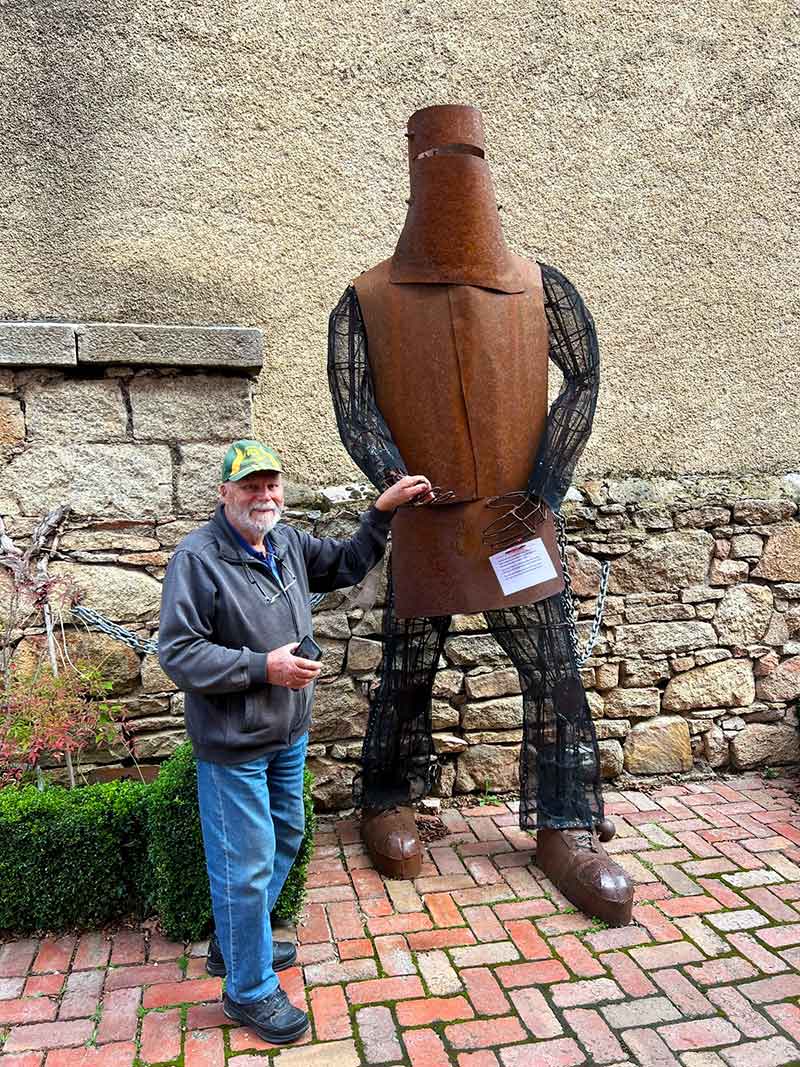 I took one of my books over and passed it around the circle. Without me pushing it, five people wanted an autographed copy!
NO WATER
I often stop a few nights at the Elphinstone Lake but it was dry this year and there were only about six RVs staying there so I only stayed one night.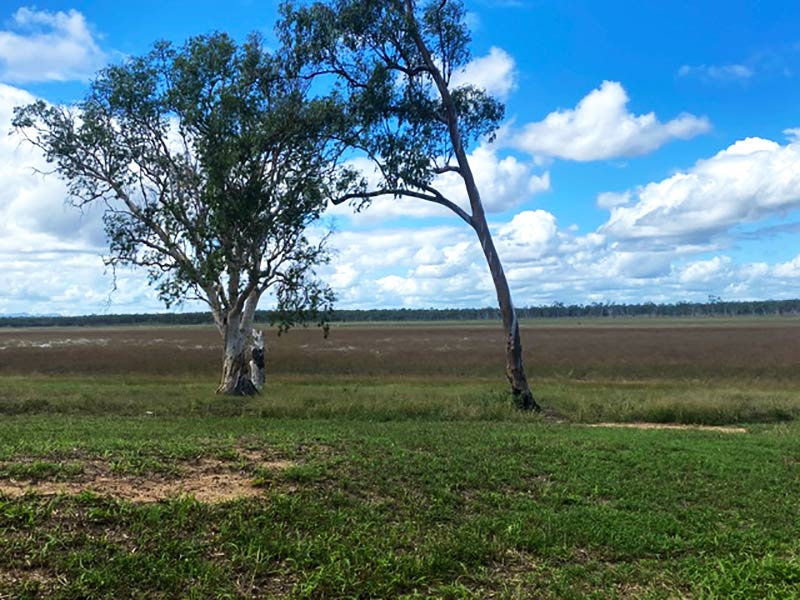 When I've stayed there some other times, I've headed for Mackay and called on my friends Tony and Denyse – but a phone call and that was scrubbed as they were leaving for a week away.
The shortest way from there north is via Glenden, Biliando Junction and Charters Towers but I hadn't reckoned on the 200km of rough, dusty gravel! Yemmy has collected a lot of red dust everywhere! A few things shook loose and I've fixed most of them!
Shortest, yes. But quickest? No!
GREENVALE CARAVAN PARK WAS CLOSED!
I pushed myself to get to Greenvale CP to leave an easy run to Walkamin next morning and was disappointed when the caravan park was closed for renovation. However, there was free parking at the hotel and they served great food. I sat with another travelling couple and their company was great.
Next morning was the last on the road and I arrived around lunchtime for a very warm welcome at the Walkamin Caravan Park and was soon set-up on a lovely site next to a lovely new garden. 
THE TRIP
From April 21 when I left home to May 3 when I arrived at Walkamin, I had covered 3332km –some on lovely smooth highways, some on less used secondary roads, and some on rough, dusty gravel stretches… but is was all enjoyable.
I'm flying to Darwin to the 50-year gathering of Apex 40 on May 18 – more about that next month.