Anyone with a passing interest in caravanning would have heard of the iconic brand Viscount, whose history dates back to the 1950s. A couple of years ago, Viscount was given a new lease on life, with thoroughly modern vans being produced in Campbellfield, Vic.
Among the Viscounts on offer is the brand new Wild Shark. This 20ft 8in caravan is undeniably attractive, as it should be since it sits atop the Viscount Caravans range as the marque's new high-end van.
Viscount Caravans wanted to build a van that was outgoing, exciting and different, which would allow the company to show-off new colours and equipment.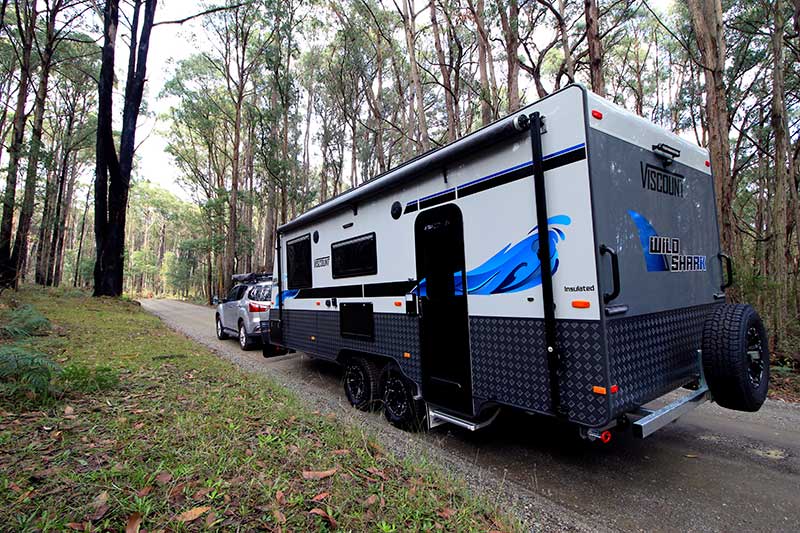 Launched at the Victorian Caravan & Camping Show in April, the tandem-axle Viscount Wild Shark has a striking appearance, with its 'mouse grey' 3mm composite aluminium side cladding, 'heritage grey' rear panel, grey checkerplate and blue decals. Thanks to Viscount dealer Canterbury Caravans, we were among the first to hitch this van up for a closer inspection…
OUTSIDE THE WILD SHARK
Behind our MU-X, as we meandered along various made and unmade roads, this semi-offroader behaved as well as expected, given the van's pedigree. Viscount, after all, is owned by the Concept group of companies, one of Australia's largest caravan manufacturing groups, which also includes Concept, Franklin and Newlands – each a well-respected brand in its own right.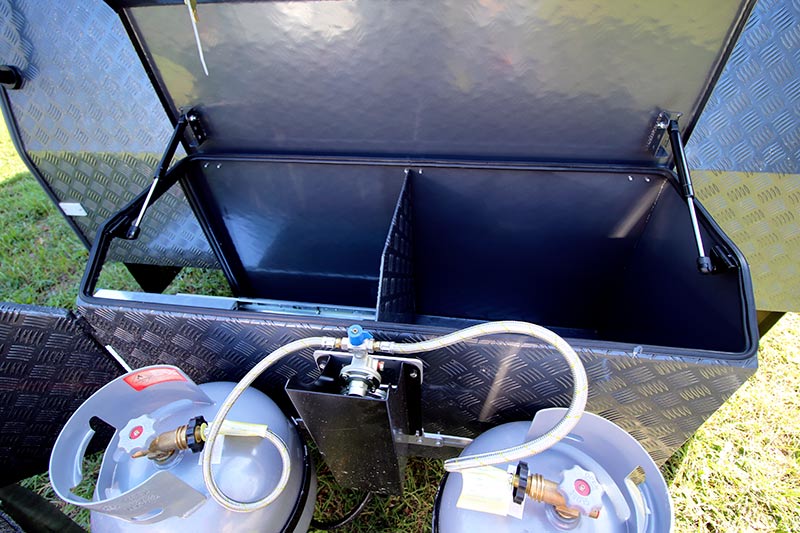 Further, the group manufacturers each caravan in-house, from the ground up. It has its own chassis design and manufacturing company (RV Dynamics) as well as its own CNC factory. It's fair to say that Viscount comes from healthy stock.
Up front, on the 6in A-frame, you'll find two 9kg gas cylinders protected by an optional mesh stoneguard, while the gas regulator and holder are protected by a bit of sheet metal – not something you see very often, unfortunately. Behind this, Viscount has fitted a large toolbox complete with an offside tray that should suit a 2kVA generator. Behind the toolbox, you'll find a tunnel boot.
The van gets a DO35 coupling as standard, as well as a nearside fresh water tap, which is also protected by a folded piece of sheet metal.
At the front and rear, the Viscount Wild Shark has also been fitted with an LED bar light – perfect for setting up camp at night. 
The van is built on 6in main chassis members, and sports Al-Ko's Enduro Cross Country 2.0 semi-offroad suspension system, a trailing arm setup with single-shock that has a remote reservoir designed to improve heat dissipation. It's also 26kg lighter per axle than the previous-generation system.
As standard, Viscount fits the Wild Shark with two 95L water tanks and a grey water tank, while the 12V system is comprised of a 110Ah deep-cycle battery, dual 170W solar panels, and a BMPRO BatteryPlus35-II-HA lithium-ready battery management system. A BMPRO Trek3 digital display is included, too, providing instant updates on the vans levels, from the battery's state of charge to the amount of water left in the tanks.
Naturally, there's a full-length roll-out awning, a picnic table, a 12V charging point, some external speakers, and even a reversing camera.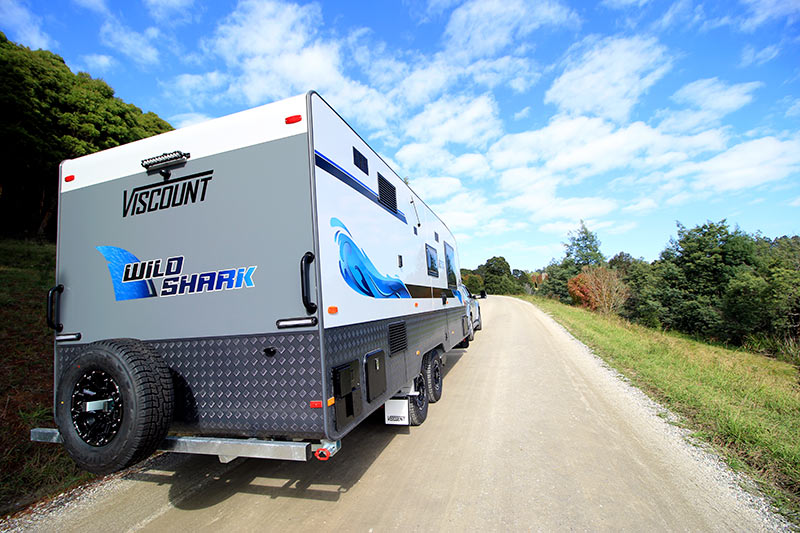 The Viscount Wild Shark weighs what you might expect for a mid-size caravan. Tipping the scales at 2508kg Tare, with an ATM of 3008kg, it offers 500kg of payload capacity. Technically, my MU-X (towing capacity: 3000kg) could not accommodate that extra 8kg of payload; however, there are a number of vehicles available that could, from the latest MU-X to the Pajero Sport.
VISCOUNT WILD SHARK: INNER SANCTUM
While the Viscount Wild Shark has plenty of street appeal, it's the interior that really grabbed my attention. The layout doesn't break new ground but the quality of the fit and finish is up there with the best of them.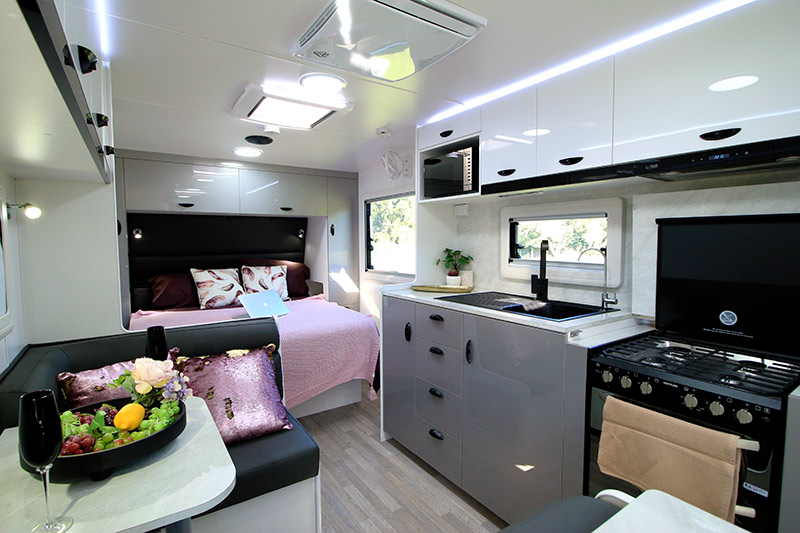 A north-south queen-size bed is fitted in the nose of the van, surrounded by wardrobes and overhead lockers. Each wardrobe has a niche complete with 240V and 12V points, as well as a drawer and hanging space. Features include an (optional) Sirocco fan either side, a swivel arm for a 24in flatscreen TV, a hatch for ventilation and increased natural light, and of course storage space under the bed.
The cafe-style dinette, with its tri-fold table with adjustable-height leg, is spacious and stylish. Of course, there's a 240V and 12V point here as well, allowing you to charge your devices while reading or working.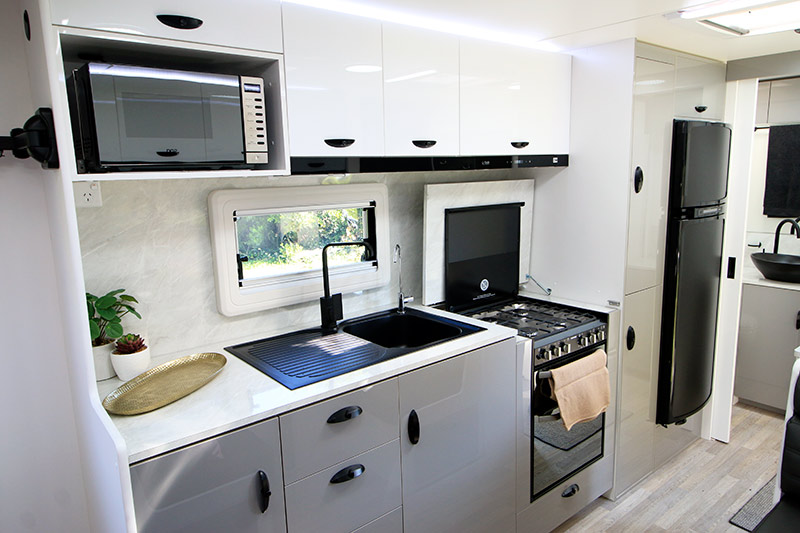 The internal storage space on offer is an absolute highpoint of the Viscount Wild Shark. It sports a conventional slide-out pantry under the kitchen bench; however, the floor-to-ceiling pantry between the kitchen and 208L Thetford Bounty fridge, is generous indeed.
There is a reasonable amount of kitchen bench space, which is only increased when the lid over the cooktop is closed. The hinged bench section fits squarely, too – I've seen some dodgy jobs over the years and this is not one of them. The entry/exit points for the plumbing are neat and tidy too – no giant wads of silastic to be seen. Instead, they're tucked out of sight, under the cabinets.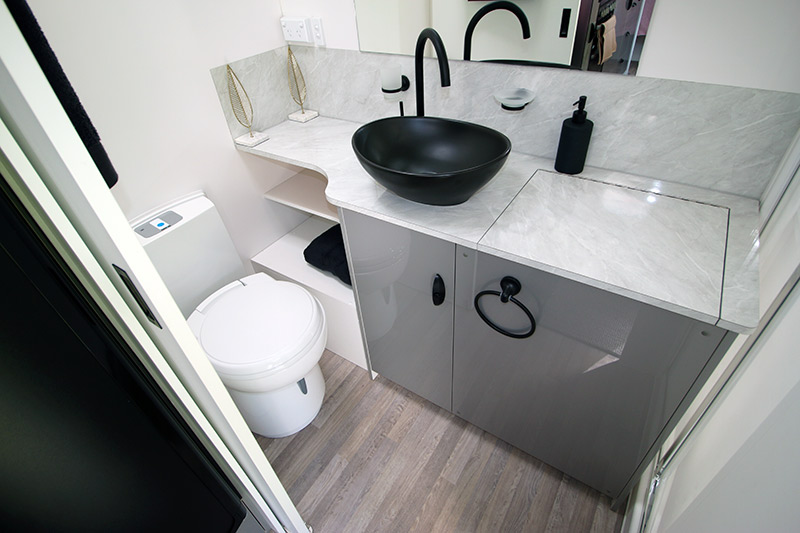 Like the kitchen, the bathroom is also complete with generous storage space. It has the usual fittings, such as a swivel cassette toilet, vanity, fully-moulded fibreglass shower, and the sliding door locks securely in place for travel. 
I'm not much of an interior designer, but the black kitchen and bathroom sink, black tapware and black handles to all drawers and lockers are particularly stylish.
Naturally, there's a swag of other features included, from a roof-mounted reverse-cycle air-conditioner to a top-loading washing machine in the bathroom. A sound system, speakers, microwave… the list goes on.
GORV'S VERDICT
The Viscount Wild Shark appears to be an excellent addition to the Viscount range. It was a pleasure to tow, and nothing broke or bent during our time with the van.
Further, it comes with a generous list of standard features – it is fully equipped from the factory to get out there, without you having to add anything. Of course, you could upgrade to lithium batteries later on without having to upgrade the BMS.
I could easily see myself travelling the country with the Viscount Wild Shark. It's definitely worth a good look.
THE SCORE
FIT AND FINISH –

LAYOUT –

INNOVATION –

HITS & MISSES