There was a massive turnout at Hilltop Caravans' second annual gathering. Almost 40 vans along with their owners – known as 'Hilltopians' – arrived at the Nagambie Lakes Leisure Park, Vic, in mid February to swap yarns, ideas and celebrate their lifestyle.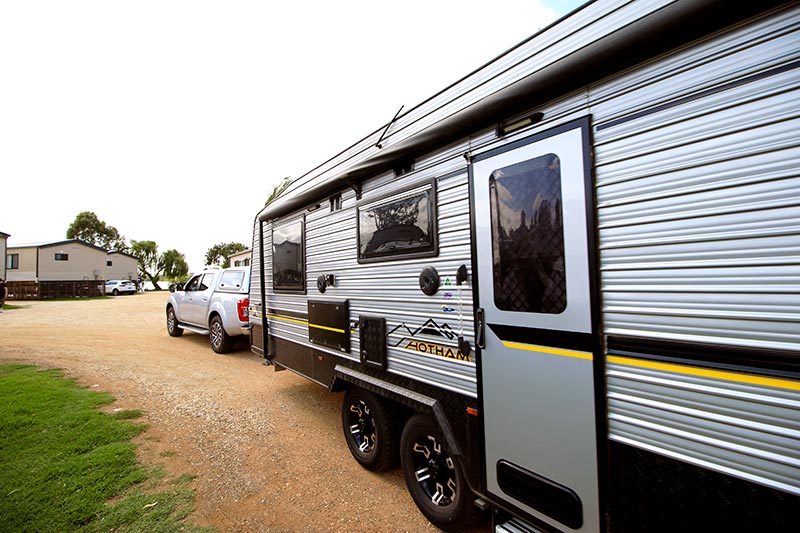 But one van stood out to us: this 2017 Hilltop Hotham. Its owners, the lovely Brendan and Ruth McMahon have travelled more than 30,000km with their rig and were only too happy to open its door to me and chat about life in their Hilltop over a cuppa.
INSIDE THE HILLTOP HOTHAM
The van's rear-door layout is the popular front bedroom, rear bathroom variety, with everything else in between. This includes a well-appointed nearside kitchen, a cafe-style dinette on the offside, and a fridge between the dinette and bathroom.
For couples, this layout is a winner, as it allows for plenty of living space and sensible storage options.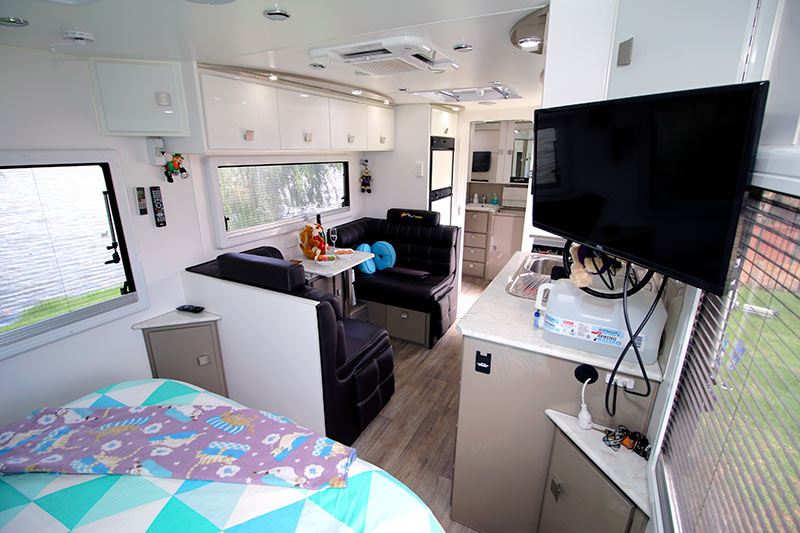 "The layout is great," Brendan said. "We're happy with what we've got; it works well." 
They particularly like the snap-up footrests on the leather dinette, which allow them to recline on the lounge seats and put their feet up.
And then there's the fit and finish of the van, which Brendan and Ruth are very pleased with. Having a poke around, I could see why: it's very neat and tidy, with no rough edges or poor joins.
In fact, when the McMahons were searching for a new van, this 20ft 6in Hilltop Hotham sold itself. 
"We wanted a new van as our other one was quite small," Ruth said. "When we saw this one, it just sparkled. It had everything we wanted and we fell in love with it straight away."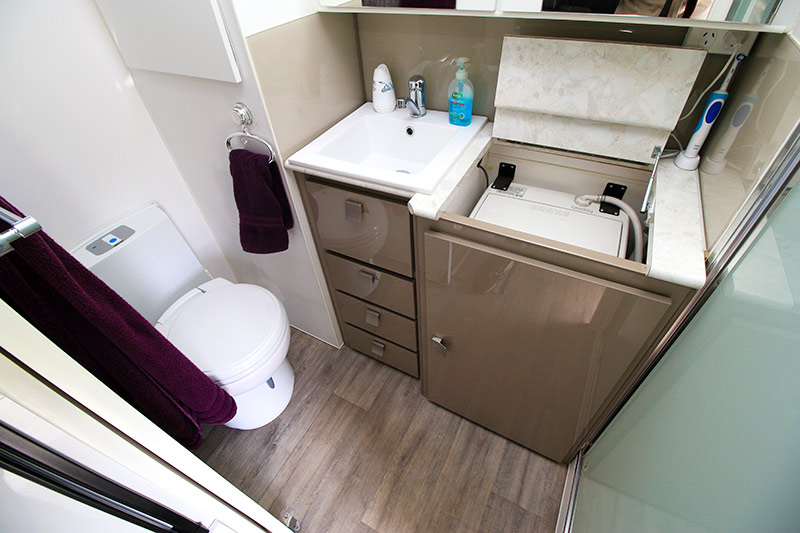 I particularly liked the bathroom, with its large linen cupboard next to the offside cassette toilet, central vanity unit with washing machine, and offside shower. 
Brendan pointed out two metal rails secured within the Four Seasons hatch. Hilltop had fitted these rails to allow owners to hang towels as they travelled, and Brendan challenged me to pull on them as hard as I could. I hung from them, and they supported my entire body weight. They were certainly strong.
IMPRESSIVE ELECTRICAL SYSTEM
Brendan and Ruth travel well. The 2480kg (Tare) Hilltop Hotham is hauled by a Nissan Navara and is usually loaded to about 2700 to 2800kg – well within the Navara's range of abilities. The van is also fitted with Dexter sway control.
"It really is very stable," Brendan said. "We have never experienced any sway issues – the van tows like a dream behind the Navara."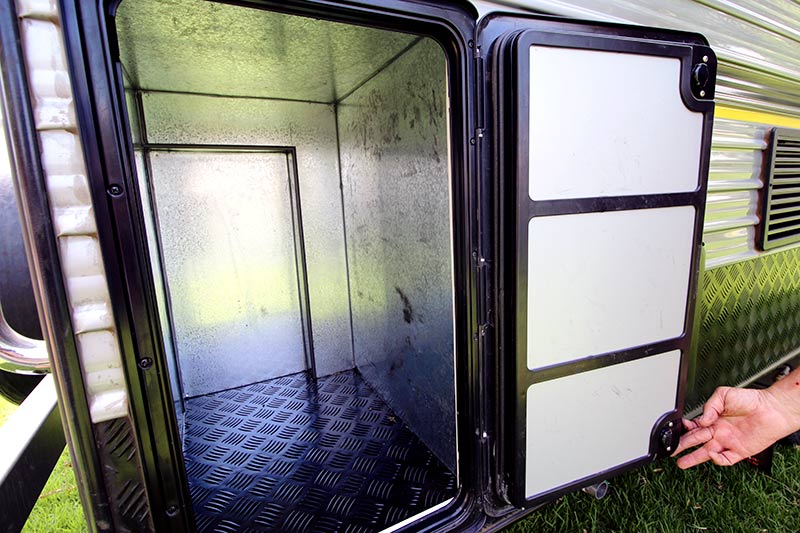 Their power needs are well and truly taken care of. Their Hotham came with a rear-offside generator box as standard; however, the McMahons had it extended slightly to accommodate their 4kVA Redback generator.
And then there's their 12V system. Brendan and Ruth fitted a second 120W solar panel to the roof as well as a second 110Ah deep-cycle battery. A 3000W inverter was fitted in a kitchen cabinet, giving them scope to run some 240V appliances without turning on the generator. After all, even the quietest generators aren't welcome in some areas.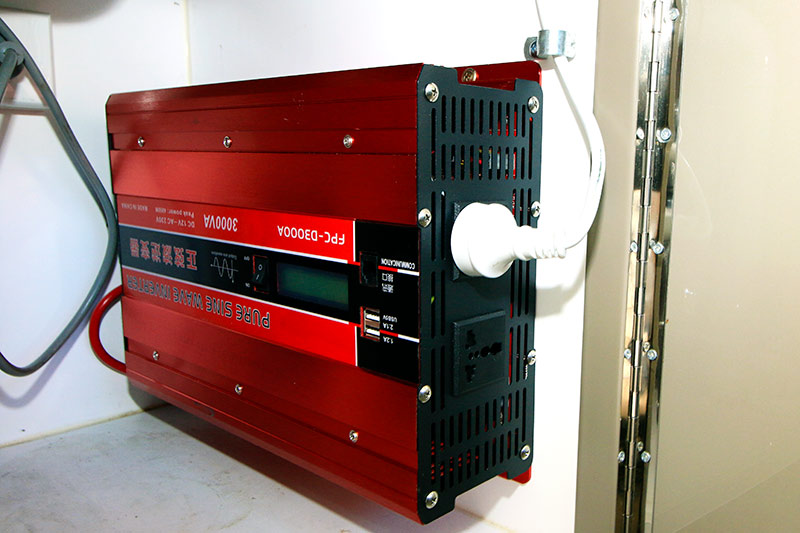 As you can see, this van is well and truly self-contained. It even has two 95L water tanks and a grey water tank. But that's not enough for the McMahons: they travel with a portable satellite dish, which is stowed in the Navara, and connects to the van via through-the-wall fittings. 
I assumed it was a VAST setup. In fact, they've simply installed their home Foxtel box in one of the van's overhead cupboards – and it works a treat. 
FLYING THE FLAG
Wherever they travel, the McMahons proudly display the Australian flag once they've set-up camp, with the flagpole held in place by the jockey wheel clamp. Brendan, after all, served for decades in the Australian Defence Force.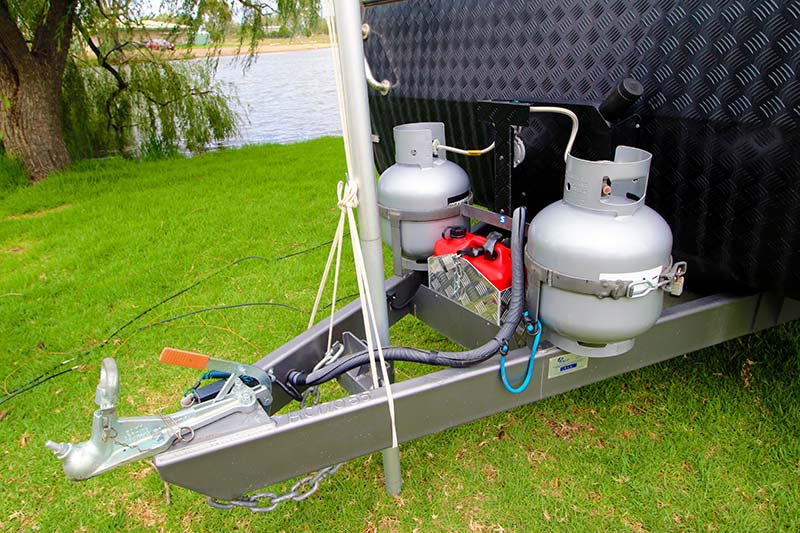 The drawbar is also home to a couple of 9kg gas cylinders, a small fuel tank for the generator fuel, and a separate diesel tank for their onboard diesel heater. Both fuel tanks sit within protective checkerplate housings.
The heater control is mounted near the bedhead, so they can turn it on and wait for the van to warm up before getting out of bed. They had the heater fitted at the time of purchase and would no longer go without one: "It's just beautiful when it snows in places like Tenterfield (NSW) during the winter," Brendan said.
The Hotham has a 50mm ball coupling and rides on tandem-axle leaf-spring suspension. Like all Hilltop caravans, it has a meranti timber frame and it appears to be a solid, substantial caravan.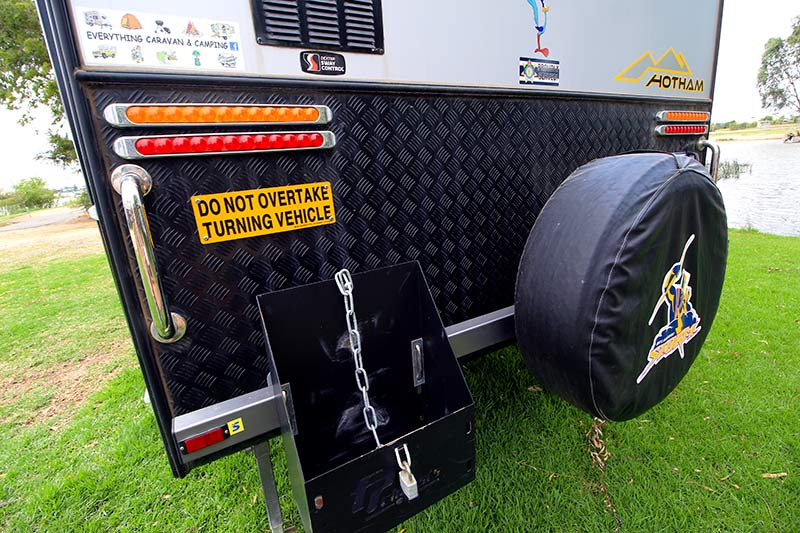 External storage includes a front gal-lined tunnel boot, a rear jerry can holder, and the generator compartment, and there are numerous neat touches worth appreciating, such as the protective sleeve for the wiring for the electric brakes – it's surprising how often this wiring is left exposed on new caravans.
Brendan and Ruth had nothing but praise for the manufacturer and especially its after-sales service.
"Hilltop run one of the best warranty service programs in Australia, in our opinion," Brendan said. "They really look after their customers. We are extremely happy and couldn't ask for anything else."
BIG LAP ON THE HORIZON
The McMahons have travelled around Victoria, New South Wales and Central Australia, taking in sights such as Phillip Island, Lightning Ridge, Burke and Coober Pedy, but will head off for a six-month around-Australia trip later this year.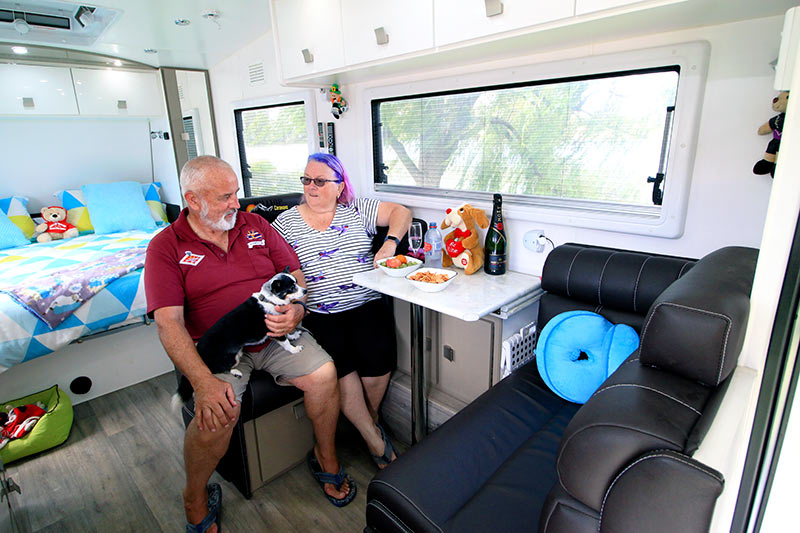 Their touring setup is spacious and logical, comfortable and refined. Both the 240V (generator and inverter) and 12V electrical system of their Hilltop Hotham are impressive, but what I truly appreciated about the rig is the fact it is a true home on wheels, with all needs and comforts covered. And yet, it typically weighs less than 2800kg fully loaded. That's not bad.
"When we're travelling, we'll pull up somewhere and almost without fail someone will come up and say 'we love your van, can we have a look inside?'" Ruth said. "These vans really do sell themselves."